LG G5 vs. Samsung Galaxy S7 edge: Flagship slugfest
Flagship slugfest
GSMArena team, 24 February, 2016.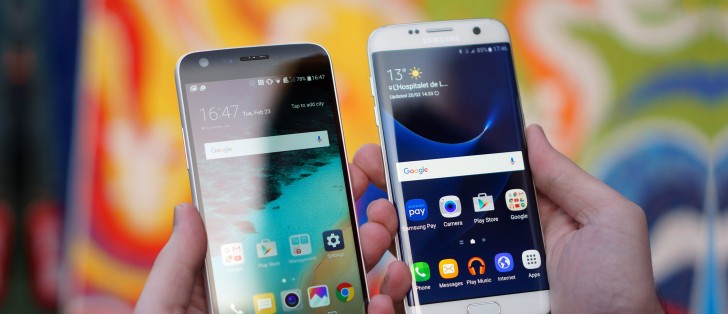 Introduction
This is why we love the MWC - some of the best phones of the year were announced almost side by side. Two of the headliners are the LG G5 and the Samsung Galaxy S7 edge and we know how heated the competition between the G-series and the Galaxy flagship can get.
LG took the innovation route and created a phone with limited modularity. It may not be at Project Ara level, but also unlike Ara, it is consumer-ready. We have two modules so far - a camera battery grip and a high-quality audio DSP. LG (and partners) have a chance to keep the G5 fresh by releasing new modules.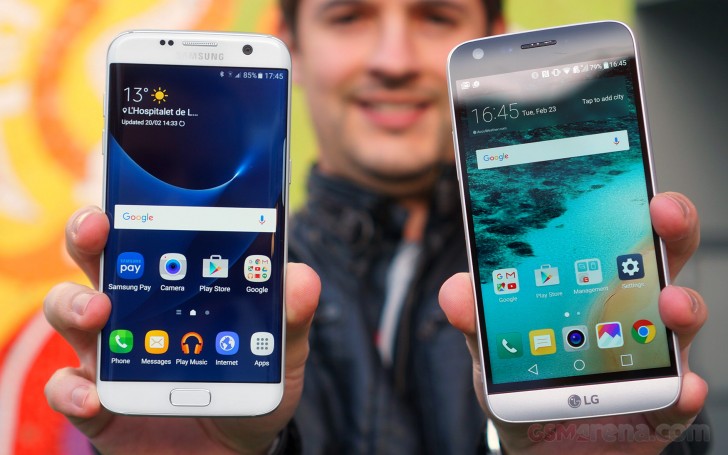 Samsung walked off the beaten path last year, this launch was all about polish. Or more precisely about putting back what the S6 took away. Samsung's identity has always been "all and every feature" and the Galaxy S7 edge resumes this tradition. The only thing we can think of that the S7 lacks is stereo speakers.
Here are our favorite features of each of the two flagships.
LG G5

Samsung Galaxy S7 edge

Seamless all-metal design (no antenna lines)
Add-on modules leave room for future upgrades
Secondary 135° camera

Slightly bigger screen for same body size, 5.5" vs. 5.3"
AMOLED screen with perfect colors, great contrast
Water resistant, IP68
Dual Pixel autofocus, brighter aperture (f/1.7)
Bigger battery, 3,600mAh vs. 2,800mAh
The Samsung Galaxy S7 edge is closer to launch - it targets March 11 - while the LG G5 will come out in April (giving its engineers the option for final tweaks).
We don't have to wait that long for first impressions, though, we already have some findings to share about the cameras and performance.
Sorry, but lg g5 doesn't have direct support to custom google cameras, also 120fps slow mo is very outdated that year for such flagship models.
AnonD-639901
30 Jan 2017
8jS
You're not a very smart person are you? Have you used both phones for one day straight? Did you shot any photos or watched any 4k movie on them? Definitely no. So shut up and do your homework cuz' you don't know what you're talking about.
@rhapponce22
30 Sep 2016
t7u
Then why LG win's this survey??? tell me my friend why,,,,