LG G7 One, G7 Fit hands-on review
GSMArena team, 30 August 2018.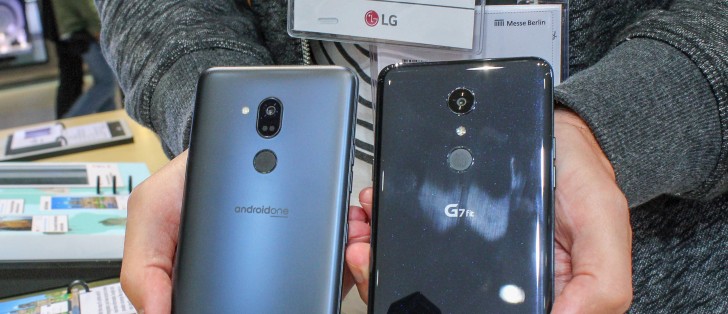 Introduction
LG has so many ideas that it can't fit them all in one phone, so it releases several versions of each phone. It happened to the V30 and it's happening to the LG G7 ThinQ. There are two new G7 models, one is the company's first Android One phone, the other is a 'lite' version of the G-series flagship.
Let's fight through the feeling of deja vu and meet the LG G7 One and G7 Fit. Both share their physical dimensions with the ThinQ model and the front looks identical. The first signs of change are visible on the back.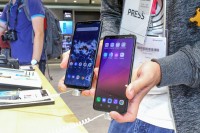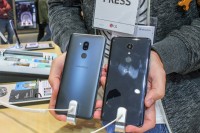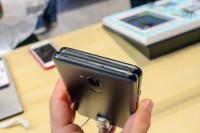 LG G7 One (left) and LG G7 Fit (right)
As you can guess from its name, the LG G7 One runs Android One. If you've ever said "I like LG's hardware, but not its software" then this one's for you. In an ideal world, it would have been just a G7 ThinQ with a different ROM, but that's not the case.
In the interest of clarity, here are the three major changes that separate the G7 One from the G7 ThinQ: the G7 One has a Snapdragon 835 chipset, lower RAM/storage capacity and it lacks the wide-angle camera on the back. The full spec list is below.
LG G7 One at a glance
Body: IP68 waterproof, MI-STD-810G compliant
Display: 6.1" IPS LCD, 1,440 x 3,120px, 19.5:9 aspect ratio, 563ppi; HDR10/Dolby Vision; Always On Display
Rear camera: single 16MP camera, f/1.6 aperture, 1.0µm pixels; PDAF and Laser AF; 2160p/30fps, 1080p/30fps
Front camera: 8MP, f/1.9; 1080p/30fps
OS/Software: Android 8.1 Oreo, Android One
Chipset: Snapdragon 835: octa-core CPU (4x2.35GHz Kryo 280 Gold+ 4x1.9GHz Kryo 280 Silver), Adreno 540 GPU
Memory: 4GB of RAM; 32GB of storage; microSD card slot (up to 512GB)
Battery: 3,000mAh Li-Po (sealed); Quick Charge 3.0; WPC&PMA wireless charging (US model only)
Connectivity: Singe and Dual SIM versions available in certain markets; USB-C 3.1; Wi-Fi a/b/g/n/ac; Bluetooth 5.0 LE with aptX; GPS/GLONASS/Beidou; NFC; FM radio
Misc: 3.5mm headphone jack with QuadDAC; Boombox speaker
The LG G7 Fit sticks with LG's customized version of Android. Its purpose is to be an affordable LG G7 ThinQ - think of it as "G7 Lite". It too sacrifices the wide camera on the back, which is unfortunate as that's our favorite LG G-series feature. And it winds the chipset even further back in time, it's a Snapdragon 821, aka the LG G6 chipset.
You still get a sharp HDR-capable display inside an IP68/MIL-STD body. There's a 3.5mm audio jack backed by Quad DACs to boot. Here's a more complete list of differences between the LG G7 Fit and One.
LG G7 Fit at a glance
Same as above, except...
Chipset: Snapdragon 821: quad-core CPU (2x2.15GHz Kryo + 2x1.6 Kryo); Adreno 530 GPU
OS/Software: Android 8.1 Oreo (with LG customizations)
Rear camera: single 16MP camera, f/2.2 aperture; PDAF and Laser AF; 2160p/30fps, 1080p/30fps video
Storage: 32GB or 64GB storage
Battery: same capacity, no wireless charging
How much is Android One worth to you? Before you answer, consider how rare flagships running One are. While the S835 isn't bleeding edge anymore, it's still faster than the 710. And sure, some maker skins still have their fans, e.g. MIUI and Samsung, but how often do you hear people defending the LG skin?
As for the G7 Fit, you may scoff at the Snapdragon from 2016, but the G6 used the same chipset and it was a fine phone. Honestly, we think we'll miss the wide-angle camera more - those are rare and significantly more useful than "depth sensors". Some value them more than even telephoto cameras.
Alright, that will do for introductions, let's go for a closer look. By the way, on the 4th page you'll find photos of the latest color option of the LG G7 ThinQ (that's the premium model).
I am using LG g7 and reasonably good phone but i am disappointed with its face unlock it opens with the close eye as well
why the hell are they releasing with only 32gb internal? such a good phone with only 32 gb option! serious?
Anonymous
31 Oct 2018
PA7
And having bootloop as bonus? Cheap and freeze go grab poco & 6+, I prefer motorola z3