LG G7 ThinQ review
GSMArena team, 03 July 2018.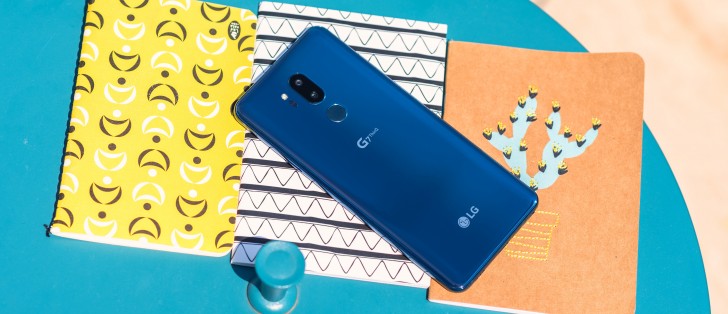 Android Oreo with LG UX
The LG G7 runs on Android 8.0 Oreo. LG's own UX is the default launcher and it comes with its own take on the skin, settings, and default apps. The AI Pack 2.0 is onboard powered by Google's Assistant, while some regions could also benefit from Q Voice. LG promises that Android P is coming soon, as the firmware update is already in development.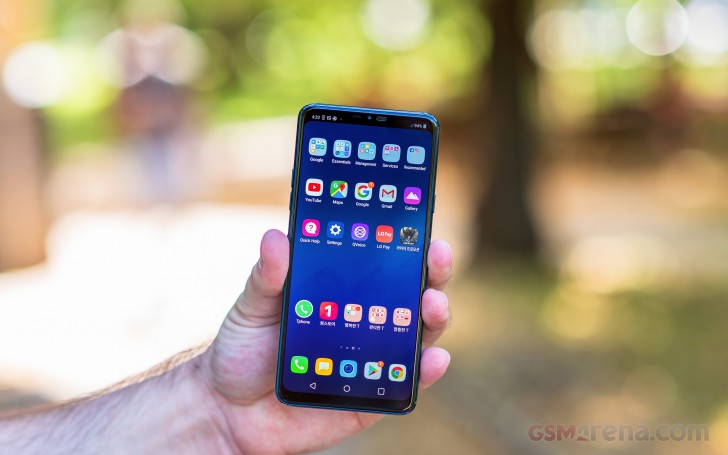 The G7 has an always-on display, just like the V30, even though the screen is not an OLED one. You can have one out six designs in total, notifications from all apps can be shown, and you can also set up a period when the feature will be turned off - pretty much the usual AOD stuff.
The G7 features a notch, but LG calls it a New Second Screen and claims this is an enhanced version of the second screen from the V10 and V20. But no matter the name, the notch is there and thus it splits the top of the screen. It still fits the usual stuff - notification icons, status items, the clock and network bars. You can assign custom colors to the horns, or just use black to make it less, well, irritating.
The G7 ThinQ lockscreen stays true to recent LG designs. You get two shortcuts in the bottom corners by default - to the dialer and the camera. You can, however, have up to 5 shortcuts there, to apps of your own choosing.
You have multiple options for a secure unlock - the usual PIN, pattern or password, fingerprint (the sensor is always on), face (fast but less secure, or slow but more secure), and even voice. For the latter you can pick a phrase of your own - you don't have to use a pre-set one. You say it out loud to the phone 4 times, so it can learn the specifics of your voice, and you're all set. The phone is constantly listening too, you don't need to wake it up. It works most of the time, but seems less secure than fingerprints.
The nice tghing is that these work simultaneously, and the phone will unlock with the first successful option.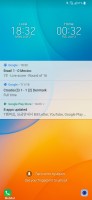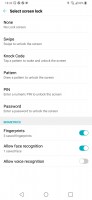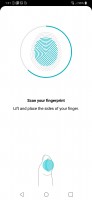 Lockscreen • ...and its settings • Fingerprint setup
Past the lockscreen is the homescreen which LG insists should be done the Apple way - without an app drawer. That's the default setting though, but you do get an option to switch back to the stock Android way.
Smart Bulletin is your leftmost pane with various widgets to help you organize your day.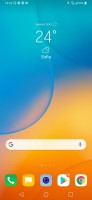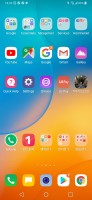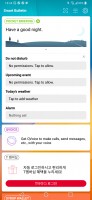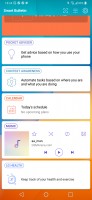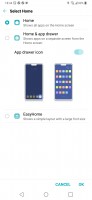 Homescreen • Homescreen • Smart Bulletin • Smart Bulletin• Types of Homes
The task switcher has a 'clear all' button, plus a pin you can tap on each app if you want it to remain after you've killed the rest. That's different from screen pinning (needs to be enabled in settings), where you can, um, pin a single app to stay on the display regardless of the user's attempts to tap away from it. You go out of this with a simple press-and-hold of the back button, but you can also set it up to require unlocking so it could be used as a privacy measure or a kid's mode of sorts.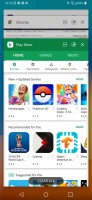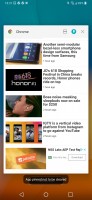 Task switcher • Screen pinning
There's, of course, split-screen multitasking, though not all apps support it. You can use it in either portrait and landscape. You can change this from the Developers options - there you can force Android to enable split-screen multitasking for all apps. There are no guarantees they will work properly, though. Also from here, you can make all apps movable to the microSD card.
In split screen view, the Home button shows your homescreen but does not dismiss the apps - the app switcher button shows the split screen icon and double tapping it brings back the two. This is great since normally you can only pick apps from the app switcher rolodex for split screen use, but in this state, any app you launch from the homescreen goes straight into split screen mode.
QSlide, LG's floating app implementation, is still available in some places - the Phone, and the video player. But those are the exception rather than the rule.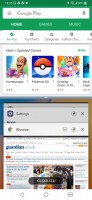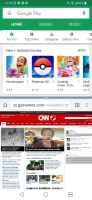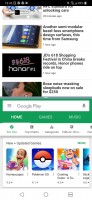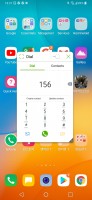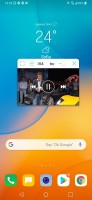 Split screen • Split Screen • Split Screen • QSlide • QSlite
The notification area followed what custom skins have been doing for ages and put some quick toggles on the top row. LG added to that a brightness slider with an Auto checkbox.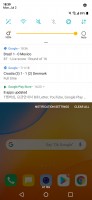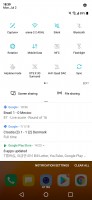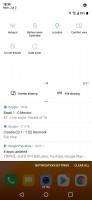 The notification area • Quick toggles galore • Quick toggles galore
The search (swipe down anywhere on your homescreen) does what it says - sifts through your apps, contacts, and settings for the search term you input. You can specify where exactly it looks into, so it doesn't have access to sensitive apps like instant messengers (or whatever it is that you prefer to stay private).
LG acknowledges that not all apps may be willing to play nice with the 19.5:9 display, so it's included a compatibility mode for those that don't. This makes the navigation bar taller (2:9, instead of the usual 1.3:9), so the apps can treat the screen like a 16:9 one with no navigation bar.
Finally, there is a dedicated hardware key to summon the Google Assistant. The G7 doesn't have the option to assign a different functionality to this key at launch, but LG is considering allowing this with an update. If you are keen on using the Assistant, you'll be happy with this key. Otherwise, let's hope an update will allow for customization.
Q Voice is available in some regions, and while it's not among the well-established AI helpers, it may be worth giving it a try.
Performance and benchmarks
The LG G7 ThinQ is powered by the latest Snapdragon 845 chipset. It's the same SoC found in many flagships - the US Galaxy S9, HTC U12, OnePlus 6, or the Xiaomi Mi 8. It's a been a while since LG managed to secure the most current Qualcomm chip for its G series.
So, the Snapdragon 845 should be quite familiar to our regular readers - it has an octa-core Kryo CPU, and a powerful Adreno 630 GPU. The G7 is available with either 4 or 6 GB of RAM, depending on the storage capacity - 64 or 128 GB. Ours has 4 gigs.
Now let's run some benchmarks.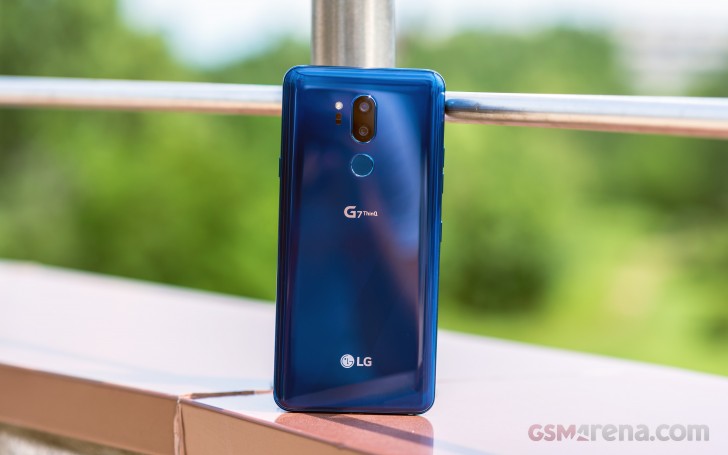 Geekbench is what we usually fire up first. Samsung's and Apple's custom cores have more oomph per unit as evidenced by the results in single-core GeekBench. Here, the LG G7 posts numbers virtually identical to the other Snapdragon 845 phones we've tested, except the Snapdragon Galaxy S9+, which underdelivers a bit.
GeekBench 4.1 (single-core)
Higher is better
Apple iPhone X
4256
Samsung Galaxy S9+
3771
HTC U12+
2456
OnePlus 6
2450
Xiaomi Mi 8
2431
LG G7 ThinQ
2395
Samsung Galaxy S9+ (S845)
2199
Google Pixel 2 XL
1915
Huawei P20 Pro
1907
LG V30
1901
LG G6
1767
In the multi-core test, the LG G7 turned as powerful as the Exynos S9+, but the top spot is still ruled by Apple.
GeekBench 4.1 (multi-core)
Higher is better
Apple iPhone X
10215
OnePlus 6
9011
HTC U12+
9001
Samsung Galaxy S9+
8883
LG G7 ThinQ
8865
Xiaomi Mi 8
8494
Samsung Galaxy S9+ (S845)
8349
Huawei P20 Pro
6679
Google Pixel 2 XL
6428
LG V30
6365
LG G6
4175
The Adreno 630 in the S845 is a proven performer and in the LG G7 it pumps out similar theoretical frame rates to the Galaxy S9+, OnePlus 6 and HTC U12+.
GFX 3.1 Manhattan (1080p offscreen)
Higher is better
Samsung Galaxy S9+ (S845)
61
HTC U12+
60
OnePlus 6
58
LG G7 ThinQ
57
Xiaomi Mi 8
53
Samsung Galaxy S9+
47
Apple iPhone X
44
Google Pixel 2 XL
42
LG V30
41
Huawei P20 Pro
40
LG G6
26
GFX 3.1 Car scene (1080p offscreen)
Higher is better
LG G7 ThinQ
35
Samsung Galaxy S9+ (S845)
35
HTC U12+
35
OnePlus 6
35
Xiaomi Mi 8
33
Samsung Galaxy S9+
28
Google Pixel 2 XL
25
LG V30
24
Huawei P20 Pro
23
LG G6
16
The QHD resolution screen inevitably leads to a much lower score than the 1080p phones - the iPhone X, OnePlus 6 and Xiaomi Mi 8. But the posted frames still translate as flagship-grade scores.
GFX 3.1 Manhattan (onscreen)
Higher is better
OnePlus 6
55
Apple iPhone X
51
Xiaomi Mi 8
50
Huawei P20 Pro
37
Samsung Galaxy S9+ (S845)
34
HTC U12+
33
LG G7 ThinQ
30
Samsung Galaxy S9+
24
Google Pixel 2 XL
21
LG V30
19
LG G6
12
GFX 3.1 Car scene (onscreen)
Higher is better
Xiaomi Mi 8
33
OnePlus 6
33
Huawei P20 Pro
21
Samsung Galaxy S9+ (S845)
20
HTC U12+
20
LG G7 ThinQ
18
Samsung Galaxy S9+
14
LG V30
13
Google Pixel 2 XL
13
LG G6
8.5
Antutu is the most popular test as a single tell-all number, and in our testing the LG G7 inches ahead of the Exynos-powered Galaxy S9 and has the same power as the HTC U12+. The G7 score is very close to all leaders in the chart, so we'd call it a win for this all-round test.
AnTuTu 7
Higher is better
OnePlus 6
264200
Samsung Galaxy S9+ (S845)
264044
HTC U12+
263696
LG G7 ThinQ
259393
Samsung Galaxy S9+
246660
Xiaomi Mi 8
217298
Huawei P20 Pro
209884
Google Pixel 2 XL
203119
LG V30
182374
LG G6
158785
We can only praise the LG G7 performance. The LG UX is well optimized and doesn't bog down Android since it is lean and snappy. Running a benchmark repeatedly slows the phone a bit. But the difference in the scores was minor, while the glass body didn't heat up to worrisome levels. And if it weren't for the minor difference in the tests' scores, we wouldn't have noticed the throttling at all.
So, the LG G7 has the fastest chip available to an Android smartphone, runs smooth and lag-free, the LG UX is greatly optimized, and no one will be able to notice throttling. That's a win by our books.
Android Pie update brings this feature(hdmi out via USB C using suitable adapter)to LG G7 . Just got the update today and tested this function. Soon after connecting, get black bars on all 4 sides. Just pinch out, you get a normal display on TV. Nice...
Android Pie update brings this feature(hdmi out via USB C using suitable adapter)to LG G7 . Just got the update today and tested this function. Soon after connecting, get black bars on all 4 sides. Just pinch out, you get a normal display on TV. Nice...
Ha ha ha .. Pixel user does not use iPhone..