LG G Pad 8.3 review: Couch surfer
Couch surfer
GSMArena team, 25 October 2013.
5 megapixel camera with still image HDR
The main camera on the LG G Pad 8.3 has a 5MP sensor that captures photos at a maximum resolution of 2592 x 1944 and 1080p videos at 30fps. There's also a 1.3MP front-facing camera that shoots 720p videos.
The interface has been remodeled since the Optimus G Pro, but retains a similar layout of controls. You get a bar on the right with the still/video toggle, a virtual shutter key and gallery shortcut on the right and a column with three shortcuts on the left.
The top shortcut toggles between the front and back cameras, the second lets you select the shooting mode, and the gear icon at the bottom opens up a tiled panel of shooting options.
You can choose between one of nine shooting modes - Normal, HDR, two Panorama modes, Continuous shot, Beauty shot, Time machine capture, Sports, and Night mode.
The Time catch shot feature (also called Time machine camera) snaps a photo, but also records several photos of what happened before you hit the shutter key. You can save any of the photos on that list that you like.
There's also the VR Panorama, basically another name for Photo Spheres. You snap one central photo and then move the phone around to fill out as much of the sphere as you want, blue rectangles appear to guide you.
Still image quality on the G Pad is not great, as the 5MP sensor had a hard time finding the proper exposure. As a result, highlights were blown out in almost every image, and there was a fair amount of noise. Looking past that, the colors are more or less accurate, but the contrast could use some work as well.
If your scene is mostly in the shadow, you might want to try HDR mode. It brings out detail in darker areas of the image (with mixed results) though it sacrifices highlights, which is something to watch out for.
Photo quality comparison
Check out how the LG G Pad 8.3 compares to the other 5MP shooters in our database. You can also see how it stacks up with 8MP and 13MP cameras as well. The tools' page will tell you all you need to know.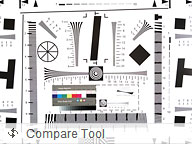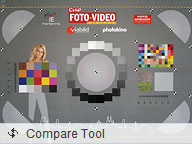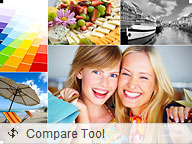 LG G Pad 8.3 in our Photo compare tool
Video camera with dual recording
The interface on the video camera is basically the same as on the still camera.
The LG G Pad 8.3 can record 1080p videos at 30fps with the primary camera, and 720p videos with the front-facer. There's no dual-recording mode, and HDR is not available for videos.
Live effects can be applied real-time (that is, ones that are visible in the viewfinder as you shoot the video, not ones applied during post-processing).
You can either use funny face effects (with automatic face detection) or do a sort-of green-screen effect by replacing the static background of the video with something more exciting (this works best with a tripod as shaking the camera causes the whole image to change).
Videos are stored in MP4 files with a bitrate of right around 17Mbps for 1080p@30fps mode. Audio is recorded in stereo at 156Kbps and a sampling rate of 48kHz.
Although it has a smaller sensor than found on the LG G2, the G Pad again has an overly-aggressive autofocus, although not to such an extreme degree. Otherwise, the camcorder features the same issues found on the still camera: generally overexposed images and low contrast plus a fair amount of noise.
Check out this FullHD video sample from the G Pad 8.3.
Video quality comparison
Check out how the G Pad 8.3's videos stack up against other 1080p shooters with our dedicated photo compare tool.
AnonD-142628
19 Dec 2013
xpA
People complaing bout poor camera quality? well i don't care about the camera on a tablet. who takes pics with a tablet anyway....thats stupid.
AnonD-142628
19 Dec 2013
xpA
Great review. Sounds like serious competition for Nexus 7 2013. I was about to buy nexus 7, but i'll wait and try out LG G Pad first.I like the bigger screen..it's much wider. Only thing i don't like is LG UI. Nexus is 32 GB, LG only 16 GB, but LG is...