LG GC900 Viewty Smart review: S-class act
S-class act
GSMArena team, 10 July 2009.
Phonebook omits kinetic scrolling
The Viewty Smart, just like the LG Arena sports one of the most attractive and best touch-optimized phonebooks we've seen so far on a mobile phone.
The Contact list has tiny separators with the corresponding alphabetical letter. If not expanded, every field has a picture icon, a name and a green call button for quick dial. To display the full contact details you simply tap on it and its contents expand in a dropdown right between the neighboring phonebook names. There you can also find the different buttons for calls, messages and editing organized in a scrollable row.
Like most of the interface on the GC900 Viewty Smart, the phonebook is highly touch-optimized too. Scrolling is as smooth as possible with no lags and this is the only UI currently on the market to match the fluid response of the iPhone. There is a scroll bar on the right side to allow movement through the phonebook.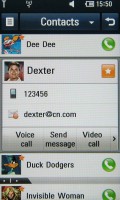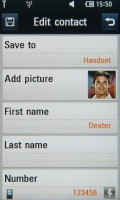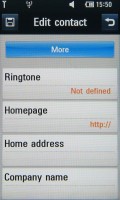 Phonebook • Editing a contact • Contacts homescreen
Of course there is a search option and it's available at the top of your contact list. The other way to access it is by the dedicated options button in the upper left corner. In the same two locations you'll also find the "New contact" buttons. The available fields are pretty standard and offer whatever you can think up.
Finally you can put a shortcut on the photo contact homescreen by selecting the small star button next to a contact. This contact then automatically appears in the appropriate place and you can reorder via tap-and-hold on the contact homescreen.
You'll hear us compare (and quite favorably too) the S-Class UI with the iPhone but here comes a feature the Viewty Smart (and the Arena for that matter) is short of. Kinetic scrolling would've made the great phonebook just perfect.
Excellent telephony
The LG Viewty Smart handles phone calls flawlessly, as you have every right to expect. The phone dialer works with an on-screen numeric keypad.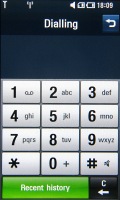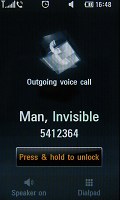 The history button • Phone dialer with smart dial • Making a call
As with any LG handset - the green receiver key (only virtual on the Viewty Smart, though) takes you to the list of all calls. You can access them from the main menu too, but unlike the previous LG handsets, you won't find call time counters and the web data counter here. Instead, those are moved to the Call settings menu.
Smart dial is also onboard. As usual, you can type any numbers and you'll receive suggestions immediately. They'll be organized in a dropdown window, same as a contact's details.
Call history is accessed by the virtual green button at the bottom of the dialer screen and it also takes after the phonebook with its dropdown layout. The readings you get there are the usual call duration, time and type of call.
The LG GC900 Viewty Smart scored pretty well in our loudspeaker performance test. Here is it stacks up against some of the other handsets we've put through it. More info on our test is available here.
| | | | | |
| --- | --- | --- | --- | --- |
| Speakerphone test | Voice, dB | Pink noise/ Music, dB | Ringing phone, dB | Overall score |
| Apple iPhone 3G | 66.1 | 62.1 | 71.7 | Below Average |
| LG KC910 Renoir | 71.9 | 65.6 | 72.0 | Good |
| Nokia 5800 XpressMusic | 75.7 | 66.5 | 68.5 | Good |
| LG KM900 Arena | 70.9 | 68.2 | 78.3 | Good |
| LG GC900 Viewty Smart | 75.7 | 69.5 | 76.7 | Very Good |
| Samsung M8800 Pixon | 75.7 | 69.6 | 82.1 | Very Good |
| LG KF900 Prada | 77.1 | 75.7 | 82.0 | Excellent |
Cool messaging
There are only two major sections in the main menu - Messaging and Email. The LG Viewty Smart supports sending and receiving SMS, MMS, and email messages. Much like the Arena, Renoir and Viewty, SMS and MMS share the same editor.
The messages are neatly organized in a standard list view and sorted by date. You can choose a filter - SMS, MMS or notifications. Naturally, the Inbox is the default location when you enter the Messaging menu, but you can change it to Outbox, Sent, Drafts or My Folders. There is also an option for a threaded view.
For typing you can use either the number pad, or you can flip the Viewty Smart on its side and go for the landscape QWERTY keyboard. There is touch feedback either way, and typing is very accurate even if the QWERTY keyboard buttons are a bit small. Either way, thanks to the capacitive screen both produce no lag and are as responsive as the iPhone's virtual QWERTY.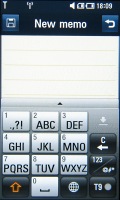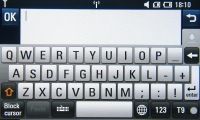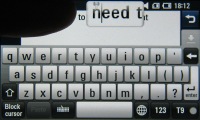 The alphanumeric and QWERTY keyboards
When it comes to emails, set up on the LG Viewty Smart is hassle-free. Adding an email account is a breeze thanks to the clever setup scheme. For a Gmail account for example, all we had to do was fill in the account and password fields - the connection settings were retrieved automatically.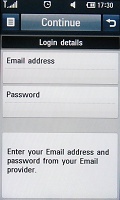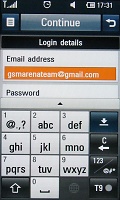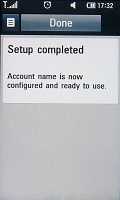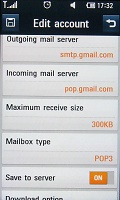 Setting email is easy • Email settings
In case you have to setup your email account manually, there is a host of settings that you need to enter. Both POP3 and IMAP4 protocols are supported and you can set the handset to auto retrieve new mail at a preset interval with a dedicated setting for roaming. The email client supports SSL encryption too.
Maximum attachment size for both outgoing and incoming mail is 1MB, as it was on the LG Arena. This is not enough for a 8 megapixel photo, a shame really. A 3.2 MP snap or a small video will go through, while attachments such as documents or presentations should not be a problem.
The LG Renoir for example had a 2MB limit, which is still restricting, but a bit more adequate. If you decide to attach a picture in the Viewty Smart's email client it won't even resize automatically. The only way for the phone to do it for you is choosing the "Attach - Take a picture" button in the email client.
Quite naturally, archive files such as ZIP or RAR are not among the supported file types for attachments, but still you can save those to the phone memory when you receive them. MS Office and PDF files can be opened and viewed directly inside the email client.
Once you've downloaded your messages, you can use the search feature to find specific emails or you can sort them by various filters such as date, sender, priority, read/unread, subject, size, etc. There is also an option for setting multiple emails as "Read".
i read here that we cant stream using wi-fi but i am using this phone and i can stream using wi-fi but cant stream using gprs/edge even when i am having its streaming setting..
i am using this phone and i cant stream using egde or gprs but i am able to stream using wi-fi even without setting up any streaming settings..
well i bought this phone and was disappointed. a fault started right from the start. they have tried to fix it but now they have decided to give me my money back. only good thing about it was the camera. now back to the drawing board for me.