LG GC900 Viewty Smart review: S-class act
S-class act
GSMArena team, 10 July 2009.
FM radio
The Viewty Smart comes with an FM radio that you can liste to both via the headphones and the loudspeaker. In either case you've got to have the headphones plugged in as they serve as an antenna.
The radio stores up to 50 stations and there is support for receiving two-line radio station info over RDS. Scrolling stations is very easy and intuitive - you have quick access via the two rows of buttons below the main window.
Much like the music player, when the FM radio is running in the background you can control it using the home screen widget.
Naturally a Bluetooth headset is also supported, allowing you to listen to music via stereo Bluetooth earphones.
Pretty good audio
The LG GC900 Viewty smart demonstarted excellent audio output, getting commendable scores on most of the readings in our traditional audio quality test. The handset even manages to slightly outdo the Apple iPhone 3GS on some criterias and that's about as good as they get.
The only notable problem with the Viewty Smart audio quality are its cut-off bass frequencies, probably due to some kind of high-pass filter meant to improve sound on small size headphones. We had exactly the same issue with the KM900 Arena.
On the positive side the LG GC900 Viewty Smart has decent intermodulation distortion and oustanding dynamic range, noise level and stereo crosstalk readings. The total harmonic distortion extremely low value is also commendable achievement. And here go the results so you can see for yourselves.
| | | | | | | |
| --- | --- | --- | --- | --- | --- | --- |
| Test | Frequency response | Noise level | Dynamic range | THD | IMD + Noise | Stereo crosstalk |
| LG GC900 Viewty Smart | +0.13, -2.20 | -92.3 | 92.4 | 0.0019 | 0.120 | -91.9 |
| LG KM900 Arena | +0.09, -1.61 | -91.6 | 91.7 | 0.0017 | 0.101 | -90.4 |
| Apple iPod Touch 2G | +0.04, -0.05 | -91.4 | 91.5 | 0.0027 | 0.012 | -90.0 |
| Apple iPhone 3GS | +0.01, -0.05 | -92.1 | 92.1 | 0.0035 | 0.011 | -95.0 |
| LG KF900 Prada | +0.17, -1.56 | -89.6 | 86.4 | 0.036 | 0.083 | -21.0 |
| Samsung M8800 Pixon | +0.54, -1.25 | -86.4 | 85.7 | 0.0048 | 0.0165 | -38.3 |
| Sony Ericsson W995 | +0.04, -0.40 | -89.1 | 89.0 | 0.0033 | 0.048 | -88.7 |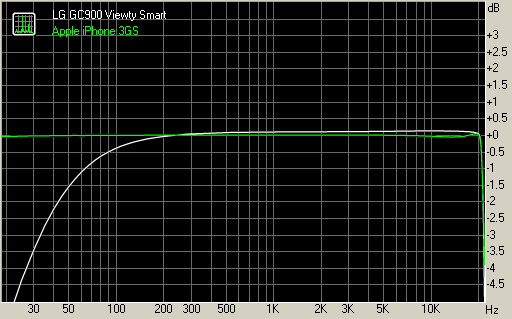 LG GC900 Viewty Smart vs Apple iPhone 3GS frequency response graphs
You can learn more about the whole testing process here.
The video player does its job… most of the time
The LG Viewty Smart comes with a high-res WVGA and relatively large touch screen at 3". That, along with the DivX/XviD support turns it into a potentially excellent portable video player.
Unfortunately, the only DivX videos we managed to play on the Viewty Smart were those processed by the DivX converter on the supplied CD. The LG Renoir for example managed to play every desktop XViD/DivX video we threw at it.
To switch the video player to full screen mode you only need to rotate the phone to landscape position. A tap on the touch screen reveals the onscreen overlay controls. Alongside the standard controls (such as play/pause, volume, etc.) you can also change playing speed to 2x or 4x and to zoom in or out.
The Dolby for Mobile sound enhancement can also be applied during video playback on the LG Viewty Smart. Of course, that enhancement is put to best use with headphones.
Really, is it so hard to add Wi-Fi streaming?
The Viewty Smart comes with YouTube integration and you can upload videos to YouTube directly from the handset. Bear in mind that the option is available only in the video player and not in the file manager.
Unfortunately, the LG Viewty Smart web browser, as every other LG phone, doesn't have Flash support, so watching YouTube videos on the desktop version of the web site is a no-go. The only way to watch your favorite videos is via the mobile version of YouTube.com.
Unfortunately and typically, the LG Viewty Smart allows you to watch streaming media (of any type) only over the EDGE or UMTS connection, so in essence - you cannot watch the streaming mobile YouTube videos over Wi-Fi. A real bummer, we know. The same strange issue plagues the Arena, the Prada 2 and the Renoir. Is it really impossible for LG to add that feature?
And since a lot of users don't seem aware of this fact, here's a tip - to watch streaming videos (such as YouTube) you first need to set up the dedicated streaming settings of the phone to use the same internet profile as your mobile web browser. The place you do that is on Settings row>Connectivity> Streaming settings.
i read here that we cant stream using wi-fi but i am using this phone and i can stream using wi-fi but cant stream using gprs/edge even when i am having its streaming setting..
i am using this phone and i cant stream using egde or gprs but i am able to stream using wi-fi even without setting up any streaming settings..
well i bought this phone and was disappointed. a fault started right from the start. they have tried to fix it but now they have decided to give me my money back. only good thing about it was the camera. now back to the drawing board for me.