LG KS20 review: Fashion Pocket PC
Fashion Pocket PC
GSMArena team, 29 January 2008.
Office - a little extra
Windows Mobile offers several time-management features and all of them are easily syncable with MS Outlook. The Calendar is improved in comparison to the one used in Windows Mobile 5, as now it allows searching for events to come. It offers daily, weekly and monthly view. You can have the week start on either Monday or Sunday. You can also hide weekends form the Calendar if you use it for business purposes only.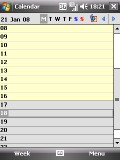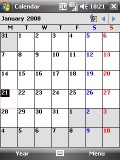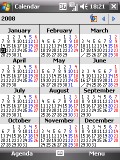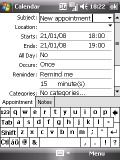 The Calendar offers daily, weekly, monthly and yearly view • adding a new calendar entry
The To-Do list allows you to add tasks and assign them priority. The Notes also come in handy, as you can either type or directly write the text down on the screen.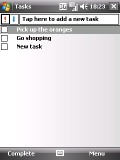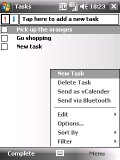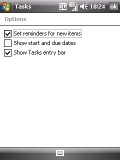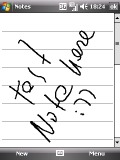 The To-Do list • putting down a handwritten note
The Alarm clock has three alarm slots. Each Alarm can have its own repeat pattern. As a frequently used feature, Microsoft should have put more effort into making the alarm clock easily accessible. Instead, it's buried deep down in the Settings menu. Alongside, you will also find the dual-zone clock. The Calculator is another well-known application (as ugly as it gets).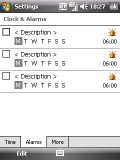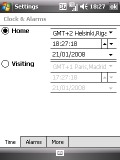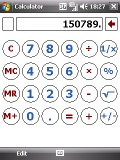 The Alarm clock • the dual zone clock • the calculator
Among the other interesting applications that come with the LG KS20 are the Office Mobile package and the proprietary LG application PSNote, which turned out quite a performer. The Office Mobile features support for viewing and editing Word, Excel, and PowerPoint files.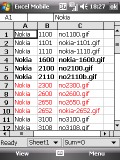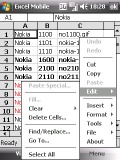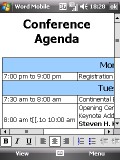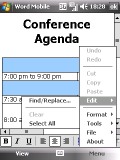 A spreadsheet and a text document and some options
The PSNote is an alternative to the standard Notes application but with much more features and increased input capabilities. The handwritten text is automatically translated in computer text with great accuracy.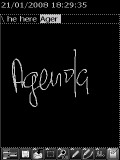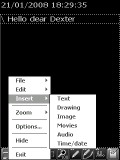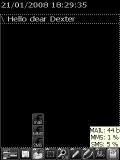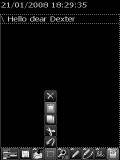 The PSNote software and some options
Among the numerous options are copying, editing, zooming, changing the font color and size, formatting, etc. Inserting an image, clip, audio or other objects is also part of the rich functionality of this application. Once the text is ready, you can send it right away via SMS, MMS or email.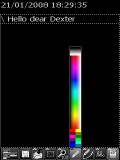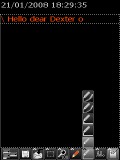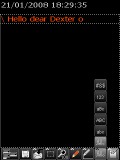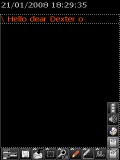 Other menus of the PSNote application
In our Vodafone version of the phone the Google Maps application was preinstalled. If the other firmware versions happen not to include it, you can easily download it for free from the Google website.
With Google Maps you can get help finding your way, view information about your current location and save your favorite locations. To use all features of the Google Maps internet access is a must.
| | |
| --- | --- |
| "... With the KS20 LG are having a go at the Pocket PC niche, and they do it in style. Adding that Prada flavor to the Windows Mobile Pro performance, the LG KS20 will be kept busy and will get you noticed ..." | <#AdRectangle#> |
Two different views are available - Satellite and Map view. Traffic information is another important feature here. The user interface is nice and intuitive.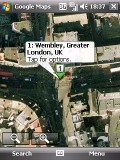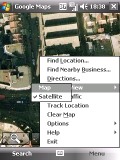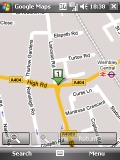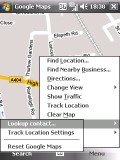 Zooming in on satellite view brings you to street level details • the Map view is a bit easier to deal with
We look forward to the hybrid view of Google Maps, which is being developed. It is far better way of tracking addresses due to its integrated Satellite and Map views.
The final extra of the LG KS20 is the FM radio (with RDS support), a feature rarely incorporated in smartphones and PPCs. The FM radio interface is rather basic. RDS support can be switched off, while there is an auto scan option to look for the available radio FM stations. Each station can be saved with its own name in the general list. The FM radio interface could've had a little more spirit, but that's just us, nitpickers.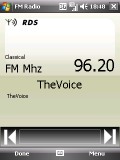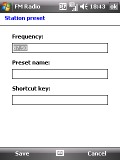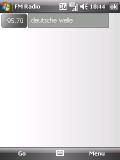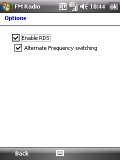 FM radio with RDS and plain user interface
So long WM games
The LG KS20 has something to offer gaming fans on top of the standard Windows Mobile titles. Two entertaining games come preinstalled: Bejeweled and Block Breaker deluxe are popular pastime choices. Sadly, they are only trial versions.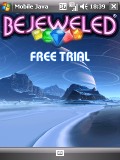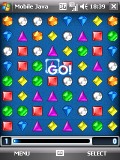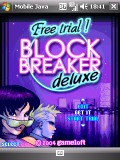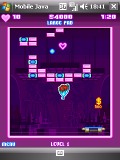 Bejeweled and Block Breaker deluxe trials
Conclusion
With the KS20 LG are having a go at the Pocket PC niche, and they do it in style. Adding that Prada flavor to the Windows Mobile Pro performance, the LG KS20 will be kept busy and will get you noticed. Even if LG are reluctant to pitch the KS20 for its Windows Mobile Pro competence, it's a full-fledged Pocket PC and has a few strong points in standing its ground to the rivals. It's a compact and refined device, heavy on style to stand out in the bunch of heavy-duty devices. Not least, it offers one of the best cameras in the Pocket PC segment.
Of course, it could've done better in certain areas. While audio quality is hardly a decisive factor for a Windows Mobile Pro device, the lack of GPS and quad-band support could be the deal breakers for Pocket PC users. The TyTNs and the Touch Cruise by HTC seem more than serious contenders here.
Anyway, with full connectivity and data options, including WiFi and HSDPA, LG KS20 is an option worth considering if you're after a Pocket PC. Even more so, if you want a gadget that turns heads.
how to change launguade???
I use this phone;i mean lgks20 for 4months i cannot connect the modem to PC,
I've been using this phone for the last 2 yrs. And the phone has been to service center more than 4 times, this phone carry out with some bizzare problems. It has issues with its joystick, with its touch screen, battery life, small keyboard, no way t...