LG Nexus 5 review: Back to the future
Back to the future
GSMArena team, 13 November 2013.
Controls and handling
Other than the display at the front, there's a 1.3MP front-facing camera above it. As per tradition, there's also a notification LED light at the bottom. It pulsates when there's a missed call or a new message in 10-second intervals. Sadly, Android provides no out-of-the-box way to customize the duration, so you'll have to use third-party apps for that.



The front-facing camera at the top • LED notification light at the bottom
The left side of the LG Nexus 5 holds the volume rocker, while the right houses the Power/Lock key. All buttons are made of ceramic and feel extremely solid. A slight downside is that they can sometimes feel rough since their edges aren't perfectly smooth.
Below the Power/Lock key lies the micro-SIM card slot tray that's accessed via the provided pin tool. Using tools for accessing the SIM slot isn't ideal when you need to switch cards on the go, but luckily that's not something that happens too often.





The buttons on the Nexus 5 are made of ceramic
The top of the Nexus 5 is where you find the 3.5mm headphone jack and the secondary microphone. The microphone is used for active noise cancellation, but unfortunately it doesn't enable stereo sound recording out of box. You can enable that with a tweak if you are knowledgeable enough, but it's downright disappointing that you need to do that in the first place.



The 3.5mm headphone jack and secondary mic are on top
The bottom part is pleasantly designed with precision cut holes that sadly hold a single speaker and a microphone, rather than a stereo setup. It's located on the left to the microUSB port.


The bottom looks cool with the cutout grills
Finally, we come to the back, where the 8MP camera is heavily accented by the protruding and large protective glass cover. Below it sits the LED flash and a large Nexus logo joined by a smaller LG one below it.
The Nexus 5 carries a low price tag, but this shouldn't get you fooled into thinking it's a cheaply made smartphone. It's not and feels solidly built with its underrated minimalist design. The soft touch plastic at the back helps the grip quite a lot.
The 5" form-factor has reasonable operability with one hand, while pocketing the smartphone is rarely a problem either.
Battery life
Under the soft touch back cover sits a 2,300mAh Li-Ion battery, which Google rates to last up to 17 hours of 3G talk time. Naturally, we run the Nexus 5 through our circle of battery endurance tests and it managed an endurance rating of 40 hours. You can find a full breakdown of how it did in our dedicated Nexus 5 battery life blog post.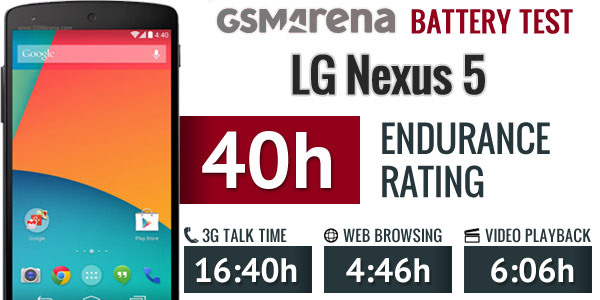 Update: The Nexus 5 was updated to Android 5.0 Lollipop, so we re-ran the battery test. You can find more details on how Lollipop affected battery life here.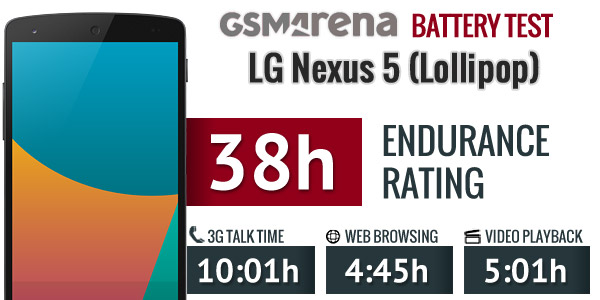 Display
At the front of the Google Nexus 5 stands a 5" True HD IPS of Full HD resolution. In theory it should be a panel similar to the 5.2" one in the LG G2, although we found it to be slightly different and not just due to the different tuning.
The display is impressively sharp, thanks to the amazing pixel density of 445ppi. Here's what the screen looks like through the eye of our digital microscope: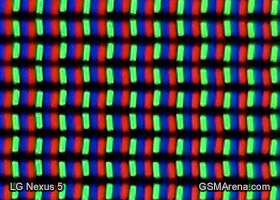 The color balance is quite good and slightly better than even what the G2 offered. Contrast is a lower though and so is saturation, which means some of the extra punchiness is gone. Those who favor more natural reproduction will certainly be happy with the Nexus 5 screen, though.
Display test
50% brightness
100% brightness
Black, cd/m2
White, cd/m2
Contrast ratio
Black, cd/m2
White, cd/m2
Contrast ratio
LG Nexus 5
0.31
298
948
0.54
526
967
LG G2
0.10
149
1522
0.45
667
1495
LG Optimus G
0.14
197
1445
0.33
417
1438
Sony Xperia Z1
-
-
-
0.38
580
1513
Samsung I9505 Galaxy S4
0
201
∞
0
404
∞
HTC One
0.13
205
1580
0.42
647
1541
Oppo Find 5
0.17
176
1123
0.51
565
1107
The overall screen reflectiveness is very low and the display is very bright. There is some contrast loss when you are viewing the screen at an angle, but it's minor and won't take away from the otherwise good picture quality.
Sunlight contrast ratio
Nokia 808 PureView
4.698
Apple iPhone 5
3.997
Samsung Galaxy Note 3
3.997
Samsung I9300 Galaxy S III
3.419
Nokia Lumia 925
3.402
Samsung I9505 Galaxy S4
3.352
Samsung Omnia W
3.301
Samsung Galaxy S
3.155
Samsung Galaxy S4 mini
3.127
Samsung Galaxy S4 zoom
3.118
Nokia N9
3.069
Samsung Galaxy Note
2.970
Sony Xperia Z1
2.950
HTC One S
2.901
BlackBerry Q10
2.856
Samsung Galaxy S II
2.832
Samsung Galaxy S II Plus
2.801
BlackBerry Z30
2.790
Huawei Ascend P1
2.655
Sony Xperia ZR
2.672
Nokia Lumia 900
2.562
HTC One Max
2.537
Nokia Lumia 720
2.512
HTC One
2.504
Sony Xperia Z
2.462
Samsung Galaxy S III mini
2.422
Motorola RAZR i
2.366
Samsung Galaxy Note II
2.307
Apple iPhone 4S
2.269
HTC Desire 600 dual sim
2.262
LG Nexus 5
2.228
HTC One X
2.158
Nokia N8
2.144
Oppo Find 5
2.088
BlackBerry Z10
2.051
Apple iPhone 4
2.016
HTC One mini
2.003
LG G2
1.976
Sony Ericsson Xperia ray
1.955
Samsung Galaxy Camera
1.938
HTC Butterfly
1.873
Huawei Ascend P6
1.865
Sony Xperia V
1.792
Sony Xperia U
1.758
Meizu MX3
1.754
LG Optimus 4X HD
1.691
HTC One V
1.685
BlackBerry Q5
1.682
LG Optimus Vu
1.680
LG Optimus GJ
1.666
HTC Desire V
1.646
Sony Xperia Z Ultra
1.578
Samsung Galaxy Core
1.563
LG Optimus G Pro
1.552
LG Optimus 3D
1.542
Nokia Asha 302
1.537
Sony Xperia M
1.473
Nokia Lumia 610
1.432
Gigabyte GSmart G1355
1.361
HTC Desire C
1.300
Nokia Asha 501
1.270
LG Optimus L7
1.269
LG Optimus L9
1.227
Meizu MX
1.221
Sony Xperia E dual
1.203
Samsung Galaxy Pocket
1.180
Sony Xperia tipo
1.166
Samsung Galaxy mini 2
1.114
Anonymous
10 Feb 2017
fCZ
Can i use this phone in 4G
Dabeer Shaikb
24 Sep 2016
f}x
Android 6 fast in nexus 5
Anonymous
20 Jul 2016
QMu
Hey Guys I had 2 questions about this phone. I found one on ebay and was wondering is this the same phone as on this page? LG Nexus 5 D820 And also can anyone confirm if It plays pokemon go and uses the AR Capabilitys? I ask cause my Current Phone wh...