LG Optimus G Pro review: Proceed to checkout
Proceed to checkout
GSMArena team, 8 March 2013.
13 megapixel camera with HDR stills and video
The main camera on the LG Optimus G Pro has a 13MP sensor that captures photos with a maximum resolution of 4208 x 3120 and 1080p videos at 30fps. There's also a 2.1MP front-facing camera that, too, shoots 1080p videos.
The interface has been remodeled from the Optimus G, but retains a similar controls layout. You get a bar on the right with the still/video toggle, a virtual shutter key and gallery shortcut on the right and a column with five shortcuts on the left.
You can edit the top four of these shortcuts so you can have one-tap access to the features you use most. By default, the top shortcut toggles between the front and back cameras, the second activates the "cheese shutter" (which lets you snap a photo by saying "Cheese!", "LG" or a few other words), the Time catch shot (we'll get to it in a moment), shooting mode and the settings shortcut.
You can pick between one of four shooting modes - Normal, HDR, Panorama and Continuous shot. There's also the Intelligent Auto mode, which automatically selects the right scene.
The Time catch shot feature (also called Time machine camera) snaps a photo, but also records several photos of what happened before you hit the shutter key. You can save any of the photos on that list that you like.
There's also a new feature called VR Panorama, basically another name for Photo Spheres. You snap one central photo and then move the phone around to fill out as much of the sphere as you want, blue rectangles appear to guide you.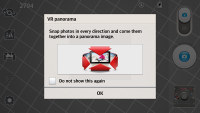 VR Panorama is like a Photo Sphere
The image quality of the photos shot with the LG Optimus G Pro is very good. There is noise, which eats into the fine detail, and sharpening, which strengthens the noise. Still, the amount of fine detail left is good and colors are reasonably accurate, though slightly oversaturated. Shadows tend to get underexposed though.







LG Optimus G Pro camera samples
If your scene has is mostly in the shadow, you might want to try HDR mode. It brings out detail in darker areas of the image (with mixed results) though it sacrifices highlights, which is something to watch out for.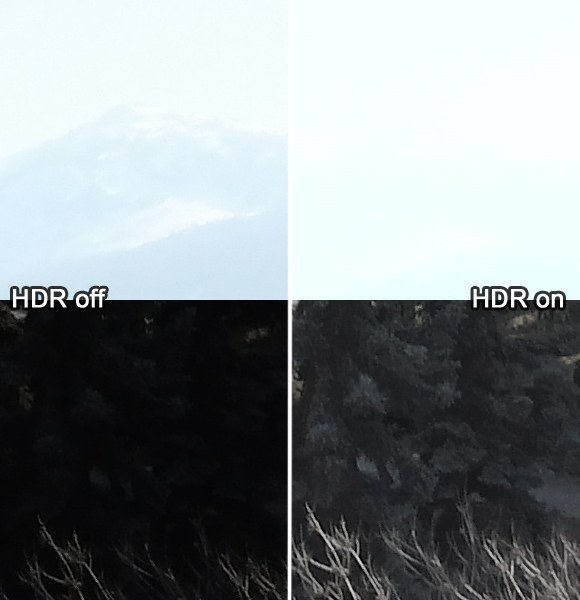 Here are the full resolution photos used to make the crop.





HDR off • HDR on • HDR off • HDR on
We also shot a couple of photos with the Optimus G to see how the G Pro compares. The image quality seems almost the same though the cameras are not identical. The Optimus G Pro preferred short exposure at ISO 50, while the Optimus G stuck to ISO 100 and longer exposure. The G Pro photos are slightly darker and with a colder white balance.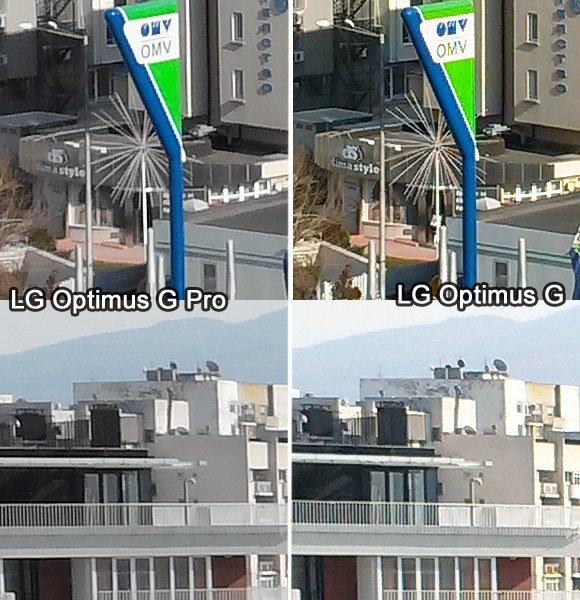 Here are the photos used for this crop.





LG Optimus G Pro • LG Optimus G
And a VR Panorama sample:
Photo quality comparison
The LG Optimus G Pro has an advantage over 8MP shooters in our database, but can it beat them? There's a growing number of 13MP phones to compete with too.
How i activat 3g or 4g on my lg G pro mobile plzzzz plzz say me i activated but not show on uper screen bar plzz say me
The quick remote is on my lock screen like 5 times. I've been trying for months to find out how to get it off ! When i go to the shortcut setting for the lock screen it is showing that i don't have any ! Please help me !
My LG Optimus G Pro working perfectly fine but Suddenly "Sim-Card Is Not Detected". Tried Factory Reset but still " Not Detecting Any Sim-Card". Tried different Sim Cards, but same result. Any solution??