LG Optimus L9 review: Living large
GSMArena team, 04 January 2013.
A 4.7-inch qHD display
The LG Optimus L9's 4.7" qHD screen (960 x 540 pixels) uses IPS technology and provides better contrast and viewing angles than the standard LCDs. The display has a density 234 pixels per inch, and while that's far from a standard-setting number, images are pleasantly detailed and crisp.
As long as you don't stare from too closely even small fonts are sharp enough and there's no pixelation. The L9 cannot quite match the deep blacks of AMOLED and the resulting contrast, but it's doing quite well in its price range.
Display test
50% brightness
100% brightness
Black, cd/m2
White, cd/m2
Contrast ratio
Black, cd/m2
White, cd/m2
Contrast ratio
LG Optimus L9
0.13
128
981
0.47
477
1019
Samsung Galaxy S III mini
0
221
∞
0
385
∞
Samsung I9300 Galaxy S III
0
174
∞
0
330
∞
Samsung I9070 Galaxy S Advance
0
185
∞
0
326
∞
Samsung I9103 Galaxy R
0.51
407
806
0.92
785
858
Sony Xperia J
0.22
289
1290
0.41
562
1359
HTC Desire X
0.18
226
1273
0.33
421
1275
HTC Desire V
0.33
340
1027
0.48
506
1054
Sony Xperia tipo
-
-
-
0.75
561
751
HTC Desire C
0.23
186
814
0.5
360
723
HTC One X
0.15
200
1375
0.39
550
1410
Sony Xperia U
0.35
287
831
0.55
515
930
Samsung S7500 Galaxy Ace Plus
0.27
239
873
0.6
528
888
Samsung I9001 Galaxy S Plus
0
251
∞
0
408
∞
Contrast ratio
Nokia 808 PureView
4.698
Samsung I9300 Galaxy S III
3.419
Samsung Omnia W
3.301
Samsung Galaxy S
3.155
Nokia N9
3.069
Samsung Galaxy Note
2.970
HTC One S
2.901
Samsung Galaxy S II
2.832
Huawei Ascend P1
2.655
Nokia Lumia 900
2.562
Samsung Galaxy S III mini
2.422
Motorola RAZR i
2.366
Apple iPhone 4S
2.269
HTC One X
2.158
Nokia N8
2.144
Apple iPhone 4
2.016
Sony Ericsson Xperia ray
1.955
Sony Xperia U
1.758
LG Optimus 4X HD
1.691
HTC One V
1.685
LG Optimus Vu
1.680
HTC Desire V
1.646
LG Optimus 3D
1.542
Nokia Asha 302
1.537
Nokia Lumia 610
1.432
Gigabyte GSmart G1355
1.361
HTC Desire C
1.300
LG Optimus L7
1.269
LG Optimus L9
1.227
Meizu MX
1.221
Samsung Galaxy Pocket
1.180
Sony Xperia tipo
1.166
Samsung Galaxy mini 2
1.114
We snapped a shot of the display under a microscope.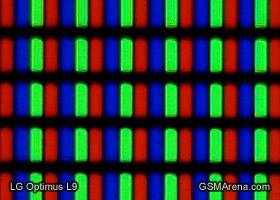 LG Optimus L9 screen under a microscope
Handling
The Optimus L9 could be well out of some people's comfort zone with that 4.7" display but LG did a splendid job of using the available space. The nicely shaped sides and back of the handset allow a comfortable grip - more so than the 4X HD. The textured back looks somewhat simple, though by no means cheap, but is more secure that the fancy glass finish of the Optimus G.



LG Optimus L9 handles reasonably well given its screen size
The L9 is well-built and quite good-looking, which should hardly be a surprise. The L-series is more about looks than specs (even though the L9 is trying to raise the bid with a qHD screen and a dual-core processor). LG must've recognized the need of a reasonably powered and attractive alternative that costs significantly less than flagships. On the outside, it seems they got it right with the Optimus L9.
Asus VivoWatch With 10 Day Battery Backup Is Awesome And Unbelievable
The screen of this phone is just pathetic. The brightness is so low which makes the outside visibilaty so poor, I can't even see what's on the screen. I wouldn't take this phone when there're beter phones for the same price, the huawei P6 is a far be...
Hi guys, have this phone for a week now and this is my experience after using an HTC Desire S. The screen is good, no distortion of colours from any angle. Internet seems faster on Edge with Vodacom SA than the Desire S, after switching on 3G the int...