LG V30 review: All screen
All screen
GSMArena team, 13 September 2017.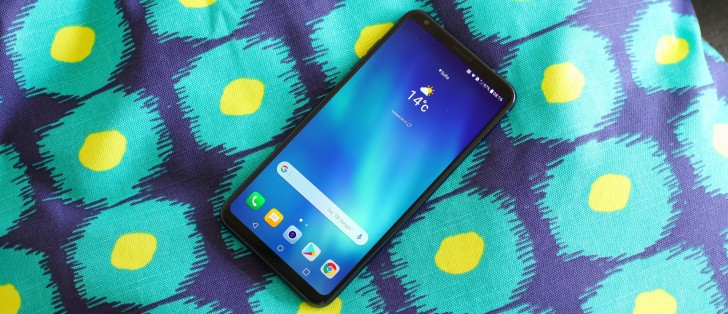 User interface
The LG V30 runs on Android 7.1.2 Nougat, the latest pre-Oreo release. LG promised that it might announce its update schedule by the end of the year, and we read that as don't expect Android 8.0 anytime soon, in stark contrast to the V20 which was the first device to launch on Nougat.
LG made a big about the squares in the G6 interface, but it's less of a focus on the V30, though there are still interface elements that employ a two squares side-by-side concept.
Anyway, with the secondary display gone, the notifications now go on the always on display. You can have one of a total of nine designs, notifications from all apps can be shown, and you can also set up a time period when the feature will be turned off - pretty much the usual AOD stuff.
The other function of the secondary display is replaced by the Floating bar. It reminds a little of Samsung's Edge Panels, and offers similar functionality. You can have shortcuts to apps or features, as well as quick access to contacts and music player controls.
The V30's lockscreen stays true to recent LG designs. You get two shortcuts in the bottom corners by default - to the dialer and the camera. You can, however, have up to 5 shortcuts there, to apps of your own choosing. The lockscreen will also give you a weather update by a live wallpaper with raindrops or snowflakes falling down. Obviously, Nougat's interactive bundled notifications are here too, though you wont be able to act upon them without unlocking the phone, though.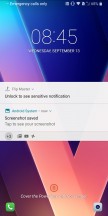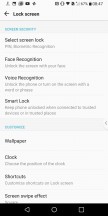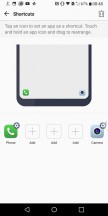 Lockscreen • ...and its settings • Pick your own shortcuts
Which you're most likely to do with the fingerprint reader on the back. It's just the way we like it - it only needs a light touch of your finger (you don't even need to press it). It unlocks instantly and bypasses the lockscreen. Up to 5 fingers can be set up. When you set up the fingerprint, you are required to select an alternative unlock method - like PIN. The Content lock feature also uses the fingerprint to secure Gallery and QuickMemo+ items.
Alternatively, and that's a new one, you can have the V30 with voice recognition. You can pick a phrase of your own - you don't have to use a pre-set one. You say it out loud to the phone 4 times, so it can learn the specifics of your voice, and you're all set. The phone is constantly listening too, you don't need to wake it up. It works most of time, but is less secure than fingerprints.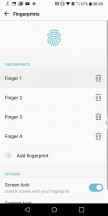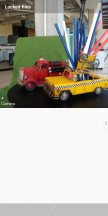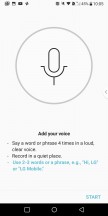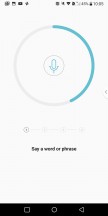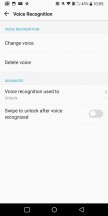 Fingerprint setup • Content lock • Voice recognition
Past the lockscreen is the homescreen which LG insists should be done the Apple way - without an app drawer. That's the default setting though, and you do get an option to do it the Android way. Oddly, folder view is different between the two.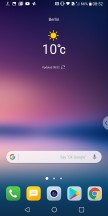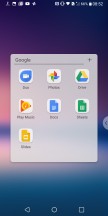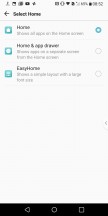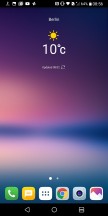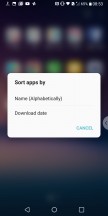 Homescreen without an app drawer • Folder view • Types of Homes • App drawer is back • Sorting options
There's of course split-screen multitasking, though, of course, not all apps work in it. You can use it in either portrait and landscape, but note that the dividing line has very limited adjustment range - in portrait it can be in one of three positions (50/50, 60/40-ish and 40/60), and in landscape it's just half-half. When an app needs a keyboard, the other app is squished into a small space to give room to the keyboard.
Note: from the Developers options, you can force Android to enable split-screen multitasking for all apps. There are no guarantees they will work properly, though. Also from here, you can make all apps movable to the microSD card.
In split screen view, the Home button shows your homescreen but does not dismiss the apps - the app switcher button shows the split screen icon and double tapping it brings back the two. This is great since normally you can only pick apps from the app switcher rolodex for split screen use, but in this state, any app you launch from the homescreen goes straight into split screen mode.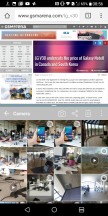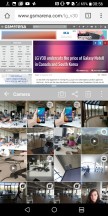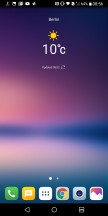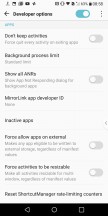 Launching split screen • Resizing • Navi bar in black when you're in multi-view • Forcing compatibility
Anyway, some apps have a natural interaction with the split screen view. In Chrome, for example, selecting the "Open in another window" option on a shortcut opens the new page on the other half of the screen. However, if you you go back to single app view, all Chrome tabs go into one place and you can't view the two side by side anymore.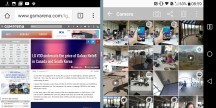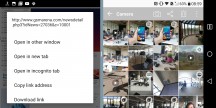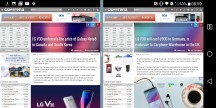 Multi-window in landscape • Open in other window is the only way to have two Chromes side by side
QSlide, LG's floating app implementation, is still available in some places - the Phone, and the video player. But those are the exception rather than the rule.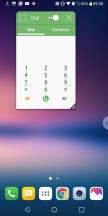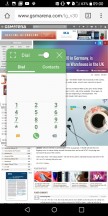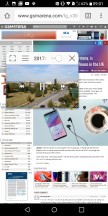 QSlide works for some apps - it creates a resizeable, floating (optionally translucent) window)
The notification area followed what custom skins have been doing for ages and put some quick toggles on the top row. LG added to that a brightness slider with an Auto checkbox. The Edit button lets you re-arrange toggles and hide the ones you don't need.
The notifications have Quick actions. Quick reply is perhaps the most common of those, letting you reply to a message from the notification. Other actions like share, archive, delete and so on are available too.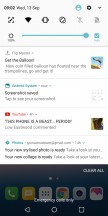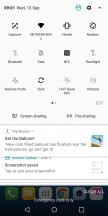 The notification area • Quick toggles galore
One issue with the taller display is that the notification shade is further up than usual and requires an extra stretch to reach. It can't be evoked with a swipe on the fingerprint sensor like some makers do it, and you can pull it by swiping down on an empty area of the homescreen - that brings up the In-app search screen.
There is a solution to that, if not the most elegant one. LG lets you customize the navigation strip by rearranging the default Back/Home/Task switcher trio any way you like, plus it gives you the option to add shortcuts to the notification shade (the one we're after), the Qslide mini apps, and the Capture+ screenshot utility. While we do appreciate the customizability, having more than the three standard buttons just feels unnatural and will require getting used to if you take that approach.
In-app search does what it says - sifts through your apps, contacts, and settings for the search term you input. You can specify where exactly it looks into, so it doesn't have access to sensitive apps like instant messengers (or whatever it is that you have to hide).
The task switcher has a 'clear all' button, plus a pin you can tap on each app if you want it to remain after you've killed the rest. That's different from screen pinning (needs to be enabled in settings), where you can, um, pin a single app to stay on the display regardless of the user's attempts to tap away from it. You go out of this with a simple press-and-hold of the back button, but you can also set it up to require unlocking so it could be used as a privacy measure.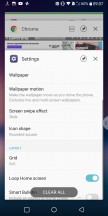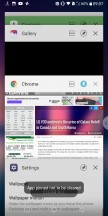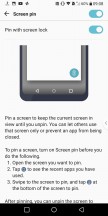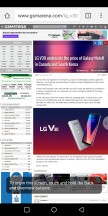 Task switcher • Screen pinning
LG acknowledges that not all apps may be willing to play nice with the 18:9 display, so it's included a compatibility mode for those that don't. This makes the navigation bar taller (2:9, instead of the usual 1.3:9), so the apps can treat the screen like a 16:9 one with no navigation bar.
Still rocking my V30+ Must have got lucky because my display is superb. None of the problems reported with the earlier model. Superb clarity and colour balance. Performance isn't as buttery smooth as today's phone but that's to be expected. Still ...
I'm still waiting here in the U.S.
The LG V30 is a very well built phone and easy to repair too. Lookup JerryRig testing it. It obviously has a glass back, so a protector for the back or a book case will make it virtually indestructible. MIL-STD-810G is not a joke. My V30 is still go...