LG V30 ThinQ long-term review
GSMArena team, 30 April 2018.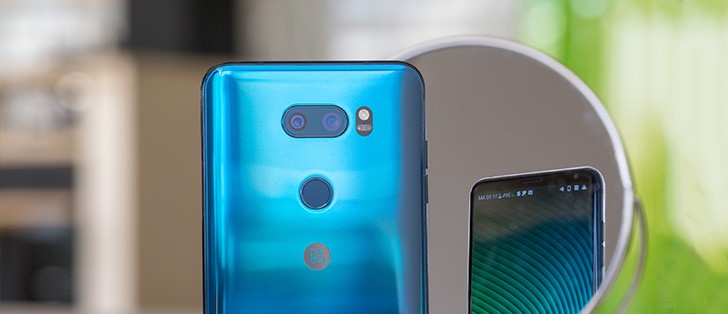 Design
Everyone's doing the metal and glass sandwich thing for flagships nowadays, and LG is no exception. The V30S is, in our subjective opinion, one of the best looking handsets released in recent times. It may not be a sales champion, but that doesn't make it less attractive. And while it doesn't come with a mesmerizing Twilight color version like Huawei's latest top of the line offerings, the New Moroccan Blue paint job our unit has is still very pretty.
The back's finish doesn't go too far on the shininess scale, yet it does have an understated premium look. For OCD sufferers, we have to note that the fingerprint sensor's color isn't identical to the rest of the back, though we're not sure if this was intentional - to make it stand out more since it is after all the power button too - or just a consequence of how hard it is to match hues applied on different materials.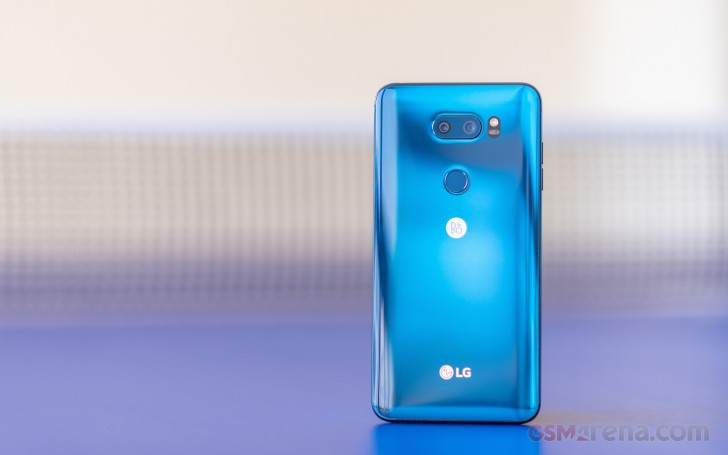 The V30S is rather slippery, but surprisingly easy to hold and operate with one hand without a fear of it sliding out of your grip. The front is refreshingly symmetrical, and it looks like it will be the last LG flagship to go for that look - notches are in, symmetry is out this year.
The top and bottom bezels are identical in size, but do note that the side bezels are not tiny. That said, you probably won't mind given the handset's respectable 81.2% screen-to-body ratio. Unlike the G6, the V30S doesn't have a logo on the front, as there simply wasn't enough room on the bottom bezel for it.
The metal frame seems sturdy and it's managed to survive a drop on a tiled floor from around 70cm with just one dent - although the blue color chipped away from that particular spot in the process. The V30S is MIL-STD-810G compliant for resistance to extreme conditions, which should further enhance its durability. Of course most of the handset is still covered in glass, so you will want to be wary of dropping it too often (or at all).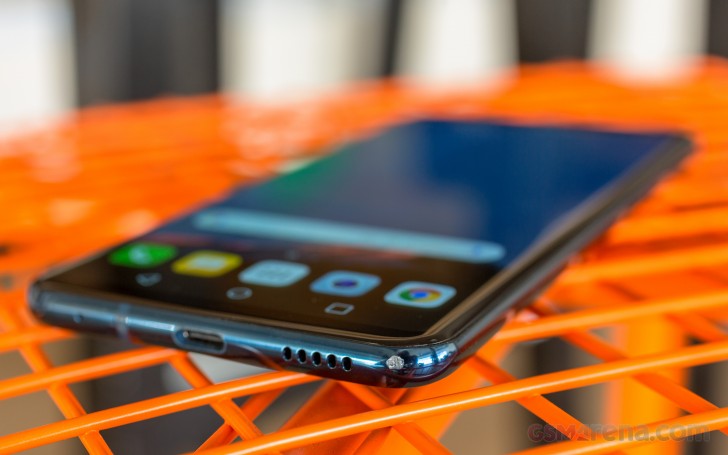 The back has that robot look with the cameras serving as the 'eyes' and the power button being the 'nose', which is more cute than disturbing in our view. The B&O logo could even be considered the 'mouth', perhaps, though a weirdly circular one.
Overall, the V30S is solidly built and is a joy to hold, handle, and use. While it might be mistaken for a Samsung from the front by someone not very familiar with the difference in the way the display sides curve, we appreciate the fact that both Korean companies are going for the symmetrical look - at least for now.
Display
Like the V30 before it, the V30S employs LG's first P-OLED panel with 18:9 aspect ratio and very small top and bottom bezels. Unfortunately, if the rumors about the G7 pan out, it will also be the last LG handset to don that setup, and we're a tad conflicted about this.
The OLED panel inside the V30 and the Google Pixel 2 XL caught a lot of flack for the fact that it can't measure up to Samsung's best in a few key areas, but that doesn't mean it's a bad screen per se. The fact that quality control seemed to be pretty hit and miss at the beginning of its production run didn't help either, but while your experience may still differ, we can only discuss the display of our V30S unit. And, in a word, it's fine.
We've seen better sunlight legibility, but that doesn't mean the V30S' is bad, it's just good without being record-breaking. The 'bluish whites' trend that has taken most of the mobile world by storm in recent years is alive and well here too, yet most people seem to tolerate unnaturally blue whites quite well so you aren't likely to be bothered by this at all. And if you don't enjoy the default Normal screen color, you can always switch to another preset from Settings, or even make your own custom combination by adjusting the color temperature and RGB levels.
The panel does suffer from the infamous 'blue tint' color shifting when you view it at an odd angle - meaning that parts of the screen that are the furthest away from your eyes get bluer. Since this only occurs at pretty steep angles, we're betting that only those with a serious OCD affliction will really notice it all the time.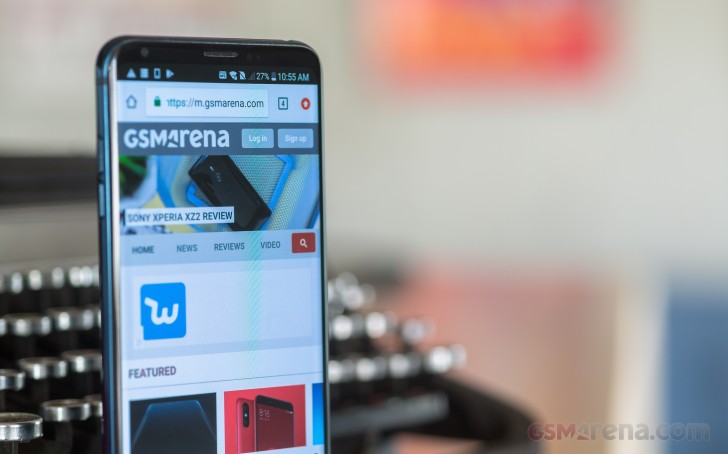 There's also some graininess if you glance real close at various shades of grey. Yes, you may accidentally spot this even if you aren't specifically searching for it, but you'll probably only mind if for some reason you look at a lot of pictures of solid grey variations. Because most of what people do on a phone isn't that, we assume the average user won't be put off by this.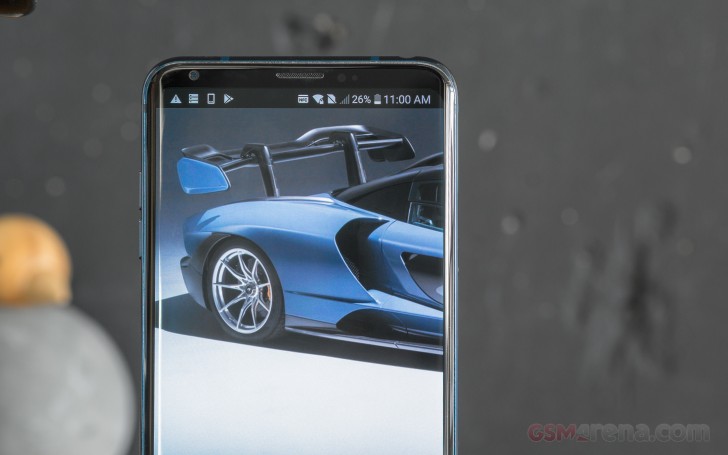 All in all, it's not a perfect display, but it is high-res, bright, vibrant, has nice blacks and you will enjoy it much more than it will frustrate you. And that's why it would be a shame if LG gave up on OLED for its smartphones - within a few iterations its tech should be able to achieve parity with Samsung's best, and that would be great news for consumers.
I agree. Same situation as I had with the phone. Very nice.
Created an account just to rate this phone. Bought it like... 1-2 years ago. Such a great phone! I've had a Unicorn Beetle case for it, dropped it a few times, but it has remained in super condition. Great battery still, everything working as sm...
It is like some pple are paid jst to talk negative abt lg