LG V50 ThinQ 5G with LG Dual Screen hands-on
Yordan, 13 October 2019
LG V50 ThinQ is one of the first 5G smartphones on the market and is currently selling in the handful of countries that support the next-gen connectivity. One of its more impressive features is that it can work with the LG Dual Screen attachment - now they are both in the office and we share our first impressions.
The LG V50 ThinQ on itself is a pretty decent phone - Snapdragon 855 chipset, three impressive cameras, a sweet 6.4" OLED screen with QHD+ resolution and huge 4,000 mAh battery that supports wireless charging. LG once again slapped its user interface on top of the Android Pie experience, so there is some bloatware that you will end up uninstalling or disabling.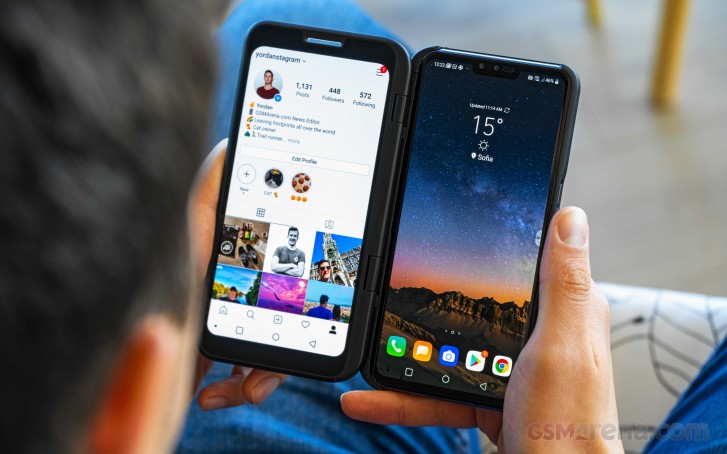 We immediately snatch on the LG Dual Screen - when closed, you can't really use the front - it is not a screen, even if it looks like one. It opens in either 90 or 180 degrees and that's when the multitasking begins.
All apps are cloned and you can run two applications at once. However, you can't use two instances of the same app on the two screens. You also can't to use both screens as one, even if you are willing to live with the thick border in between.
You cannot use the secondary screen as a controller, but you can use it for a huge keyboard when the device is in landscape orientation. I ended up using both screens for separate social media accounts, but this quickly becomes overwhelming - you get twice the social anxiety without being able to concentrate on either of the feeds.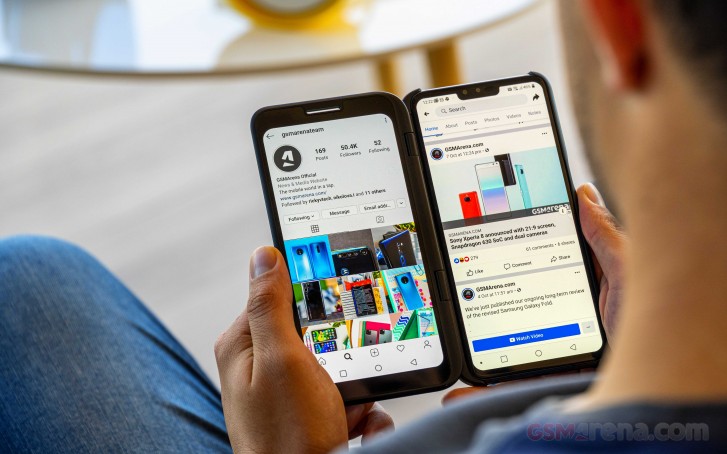 Luckily, LG already has an updated version of the Dual Screen that actually has a small external display for Always-On Display features. With the first iteration that is in our hands, you can swap the screen on which the camera app is launched. This is helpful in video calls where you can keep browsing and look at yourself at whoever you are chatting to at the same time.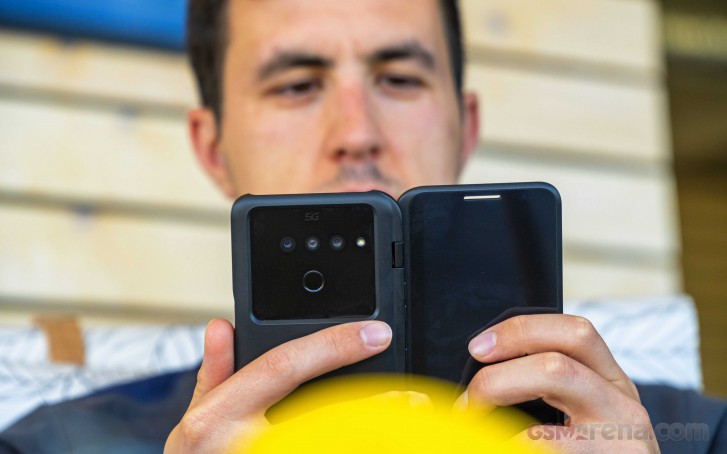 The LG V50 ThinQ is a smartphone, but with the LG Dual Screen it becomes an experience. Its 5G nature and limited availability means it will always be a niche product, but it might do a good job serving as an open beta test ahead of the upcoming G8X ThinQ.
Related
The dual screen is only for Gamers,and multi Taskers
Usb-c high speed connected to a large 4k monitor with dual boot to real Linux environment
Popular articles
Popular devices
Electric Vehicles