LG Wing 5G review
GSMArena team, 12 October 2020.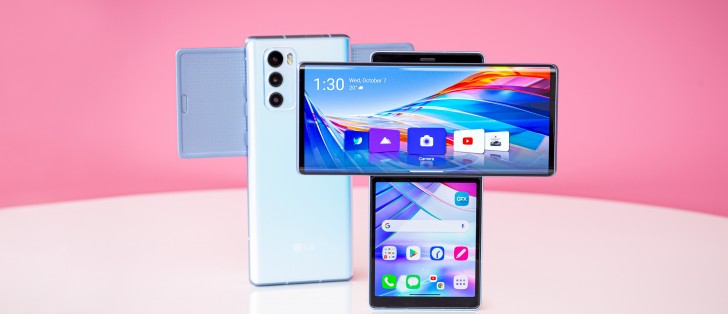 Android 10 with LG UX on top
The LG Wing runs on Android 10, with the custom LG UX skin on top, much like its siblings, like the LG V60 and Velvet. LG UX is quite clean, as far as Android skins go, and has a certain polish level one would expect from a big brand manufacturer. The Wing, in particular, features a few notable exceptions to that general statement, though, but we'll get to that. In any case, we won't be giving an in-depth tour of the core parts of LG UX here, since that's not the interesting bit here. If you want more info on that front, hit-up our LG Velvet review.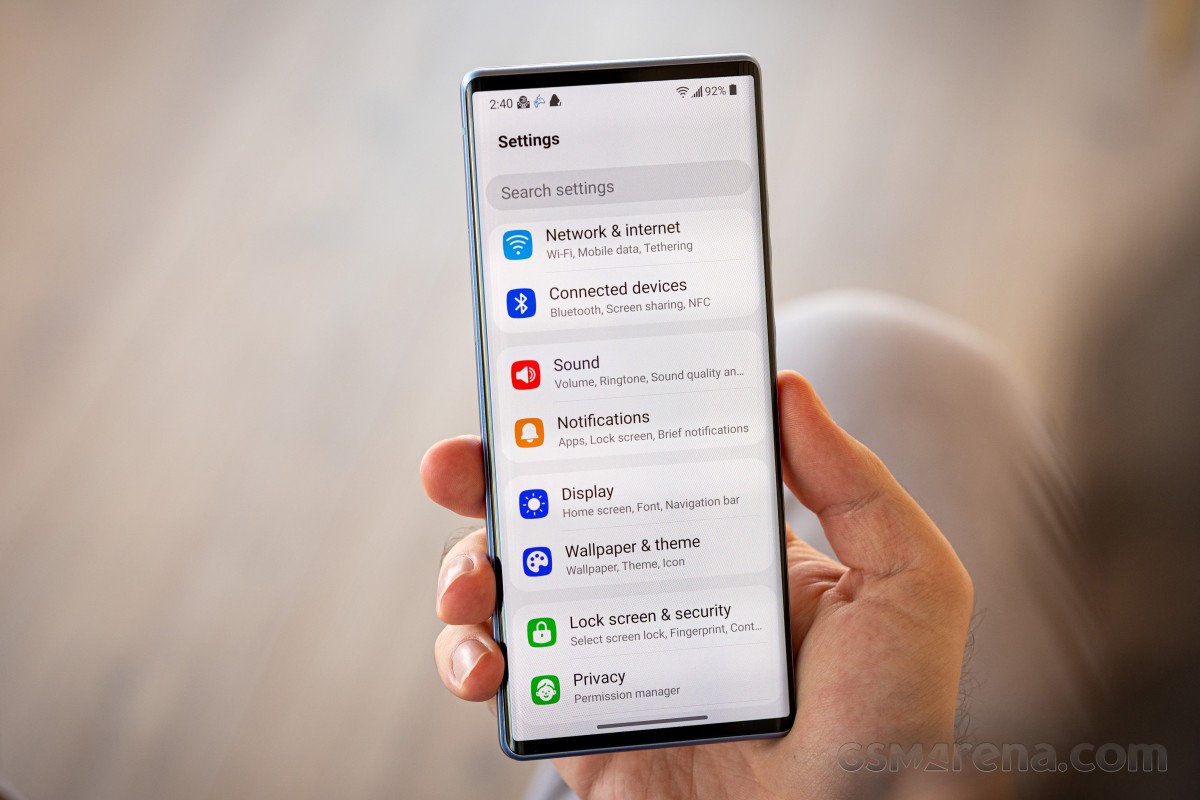 Setting up the LG Wing for the first time is quite the involved experience. LG opted for an admittedly new incredibly guided approach and one of the lengthiest setups we have encountered.
We admit that getting some immediate info on the unique Swivel mode and the second screen was pretty convenient, though.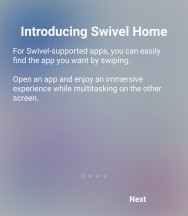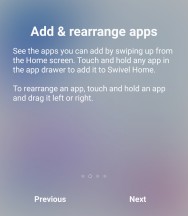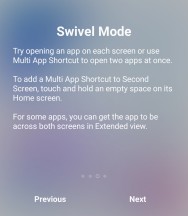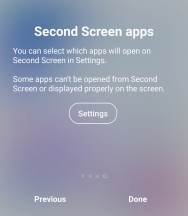 Second screen and Swivel mode guide
Most people will naturally opt for the under-display fingerprint unit as their primary unlock method on the Wing. Once the phone is in its open state, however, that reader ends up in an awkward place, to the right of the swiveled part. A pin or pattern is kind of a must on the Swing in these cases.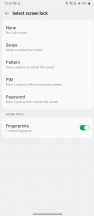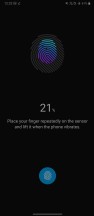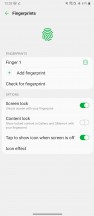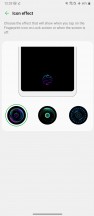 Unlock options • Fingerprint unlock
Despite maintaining an impressively clean look on the surface, LG UX actually offers a fair bit of depth, especially when it comes to customization. Starting from the lock screen, you can swap clock styles, get a stylish weather animation going, and freely swap the two quick app shortcuts to anything you desire.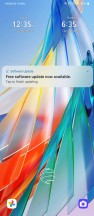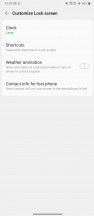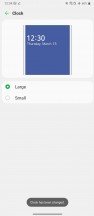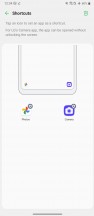 Lock screen • Lock screen customization
Same goes for the Home screen. You can fine-tune things like swipe effects, icon shapes, swipe up and down gestures, and enable or disable the right-most Google feed.
The Wing home screen experience can actually be set up in one of three distinct ways. The default mode skips a traditional app drawer, dumping everything on home screen panes, instead. If that is not to your liking, you can get the app drawer back and even choose whether to have a dedicated button for it or not. Lastly, there is EasyHome, which leaves just a few essentials on the home screen and locks many of the interactions and brings the system UI and font size up all at once. It is great for youngsters of less tech-savvy elders.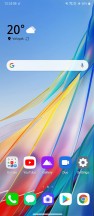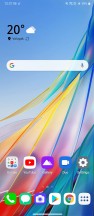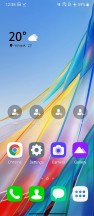 Home screen and app drawer variants
System navigation is equally customizable. Gesture controls are the default setting, but you can easily get the old-school trio of on-screen buttons back. Even better - you can choose on which side the back button should go, so you can go retro-Android with ease.
While we love this extra flexibility of LG UX, this level of freedom can often leave you with a somewhat odd mixture of slick, new and retro, traditional UI elements. Not necessarily a bad thing in itself, but worth pointing out. For example, the app drawer, folders, and recent apps switcher look rather traditional.
In contrast, the notification shade and especially quick toggles area are very "trendy" with their transparent, "frosted" look.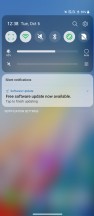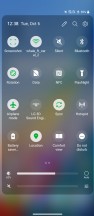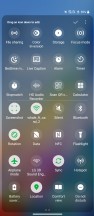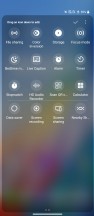 Notification shade and quick toggles
The volume control UI also looks modern and mostly follows in the same style. We particularly appreciate the availability of Google's fairly new automatic captions feature.
Then, abruptly switching gears once more, we find the always-on interface, which, while extraordinarily in-depth and customizable, has a few graphical options that can even go beyond merely looking retro, straight into tacky territory. Like having a colorful, drawn GIF animation there on loop.
Again, this is not just us needlessly criticizing the looks of the Wing's UI. That's a subjective thing. This overarching theme of mixing styles is just a bit hard to ignore once you get to LG's exclusive interfaces for the Swivel display.
Swivel mode, Swivel Home and the second display experience
Now we're getting into the exciting bits. When you open the LG Wing up, the main display switches over to a special interface LG calls Swivel Home. It is a rather simple carousel that, in our opinion, both looks and feels very retro.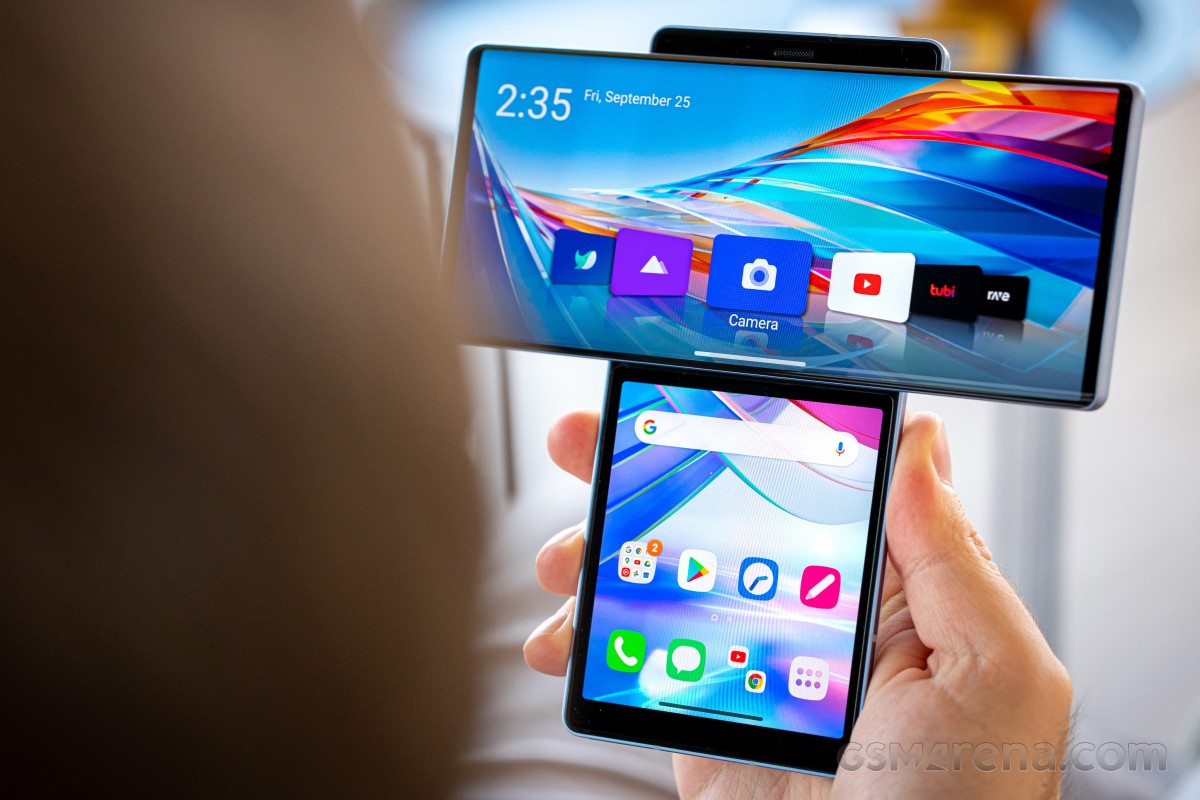 The animations are slow, and you need a few swipes to actually get from app to app. An experience quite reminiscent of a bygone era when both the developers and UI designers did this on purpose to show off the fancy, "futuristic" 3D visualization their product is capable of. We'll stop ripping on Swivel Home and leave it at that, though.
In keeping with the separation paradigm between the primary and the secondary display on the Swing, you get a separate set of options for Swivel Home. Since it is nothing more than a fancy Home screen, you can still control the basics, like having an app drawer button or not, the swiping transition effect, and what the swipe up and swipe down gestures trigger. You can still bring-up the familiar notification and quick toggles shade.
Multi App Shortcuts is a powerful and quite self-explanatory feature. It allows you to create a shortcut for two apps - one will open on the main display, while the other on the secondary one. The interface itself allows you to swap positions around and is both potent and straight-forward.
Overall, it is clear that LG has put in a lot of effort in simplifying the operation of the two displays here. And, for the most part, has succeeded in the endeavor. You might have noticed that the Multi App Shortcut setup UI has some of the apps grayed-out, particularly for opening on the secondary display. This is by design. All apps, except those pre-approved by LG and known to work, are hidden from the secondary screen's UI.
To get any other apps to open on the small display, you have to specifically enable them in a whitelist. For most apps, this results in a prompt warning you that things might not scale properly. In our experience, that is rarely the case for apps. Game engines, with their particular touch input and scaling schemes, are definitely more problematic on average. Then again, we don't see the secondary display getting a lot of dedicated gaming action.
Frankly, most users are likely to have on the secondary display most often is the keyboard. Typing on the small panel requires a bit of a learning curve, but it does become easier and can eventually be a pleasant experience. Not to mention a lot less-obtrusive, since you can continue to enjoy whatever is on the main display entirely uninterrupted.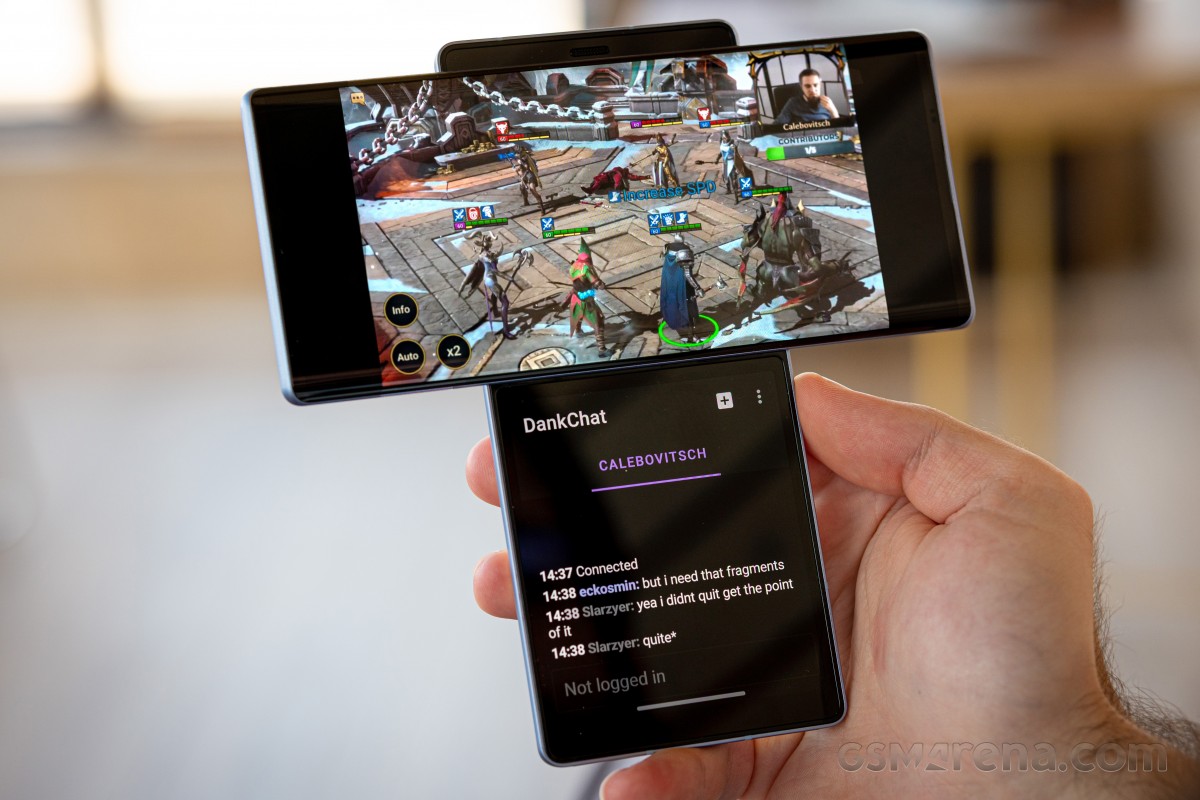 There are some essential specifics to note on how the LG Wing actually handles focus and its secondary display. The default behavior mostly has the two displays entirely separate, as their own "isolated" spaces. That allows certain things like opening two different apps on the two displays and using them concurrently. That, however, doesn't necessarily mean that both will be fully active at the same time. Due to the way Android works, you can expect something like a video stream to continue playing on one display, as you are interacting with the other one. However, an app simply left open on one display while interacting with the other might not get its UI updated until you switch focus to it. This is important to know, for things like messengers. Although those will still have their background notifications to potentially inform you when new content is available.
This focus-based logic also becomes apparent when you start capturing screenshots on the Wing. The last display that you interacted with will generally be the one that gets captured in the screengrab. This is also why you can't have the same app open on both displays simultaneously. Well, at least you can't do that with most third-party apps. That's because most apps are programmed to only have one active instance at a time.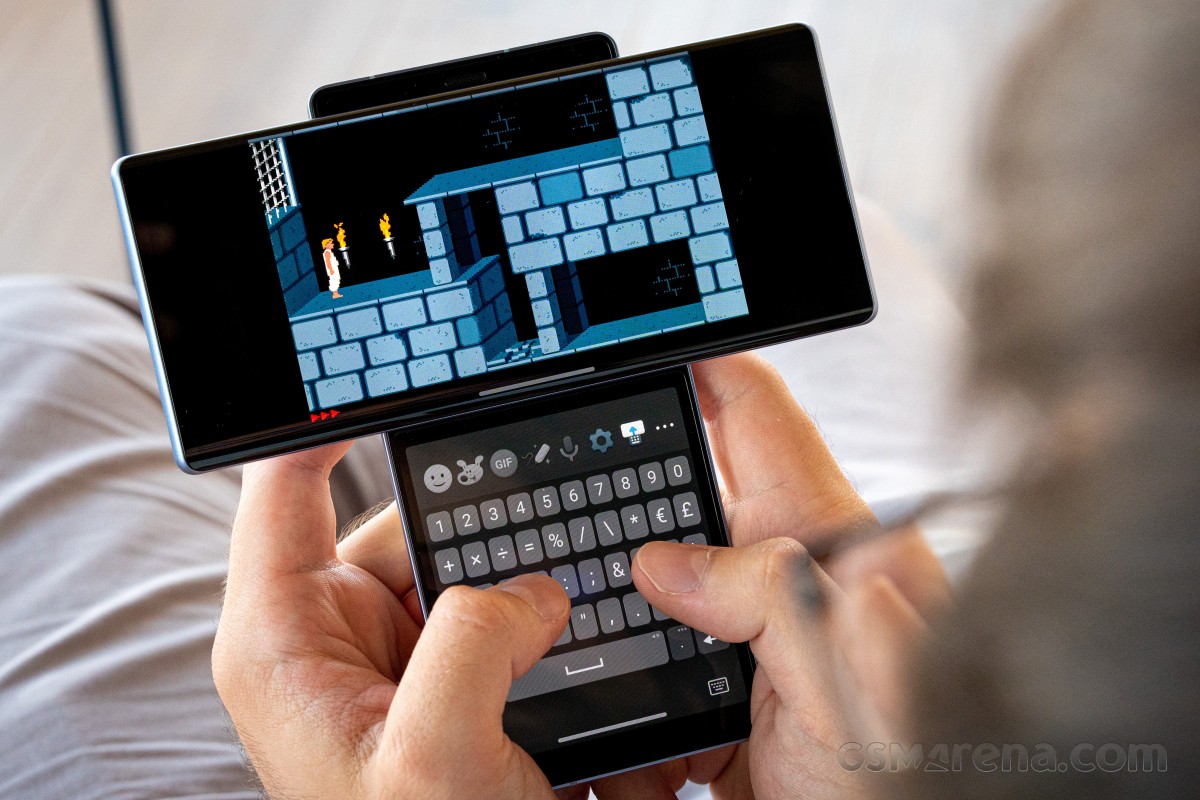 There are notable exceptions to this behavior, though. And not just in proper dual-display apps and games, which we will talk about in a bit. The default LG keyboard, for instance, operates in such a manner that it leaves app focus on the main display, even though you may be typing on the secondary one.
This initially got us very excited about the possibility of using something like a third-party keyboard that mimics controller input on the second display, to control a game on the main one. LG notably lacks any such baked-in feature of its own. A real shame since pulling-off proper on-screen control mapping on the second screen could be a "killer app" for certain gaming use cases.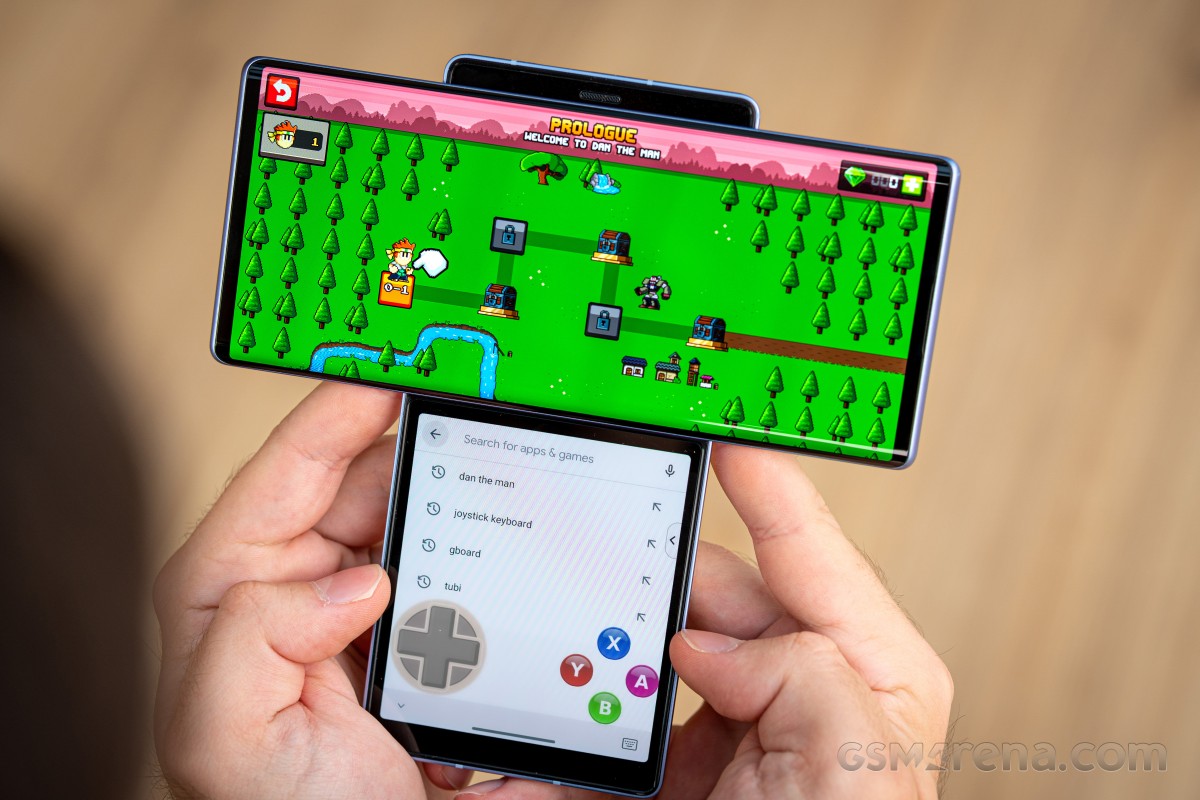 Long story short, whatever LG is doing with its default keyboard is sadly not a transferable behavior to third-party keyboards - normal or mimicking joystick input. Installing a different keyboard like Gboard entirely breaks this seamless experience of having uninterrupted content on the big display and a keyboard on the second one. The keyboard just crams itself in horizontal orientation onto the main display, just like it would on any normal phone.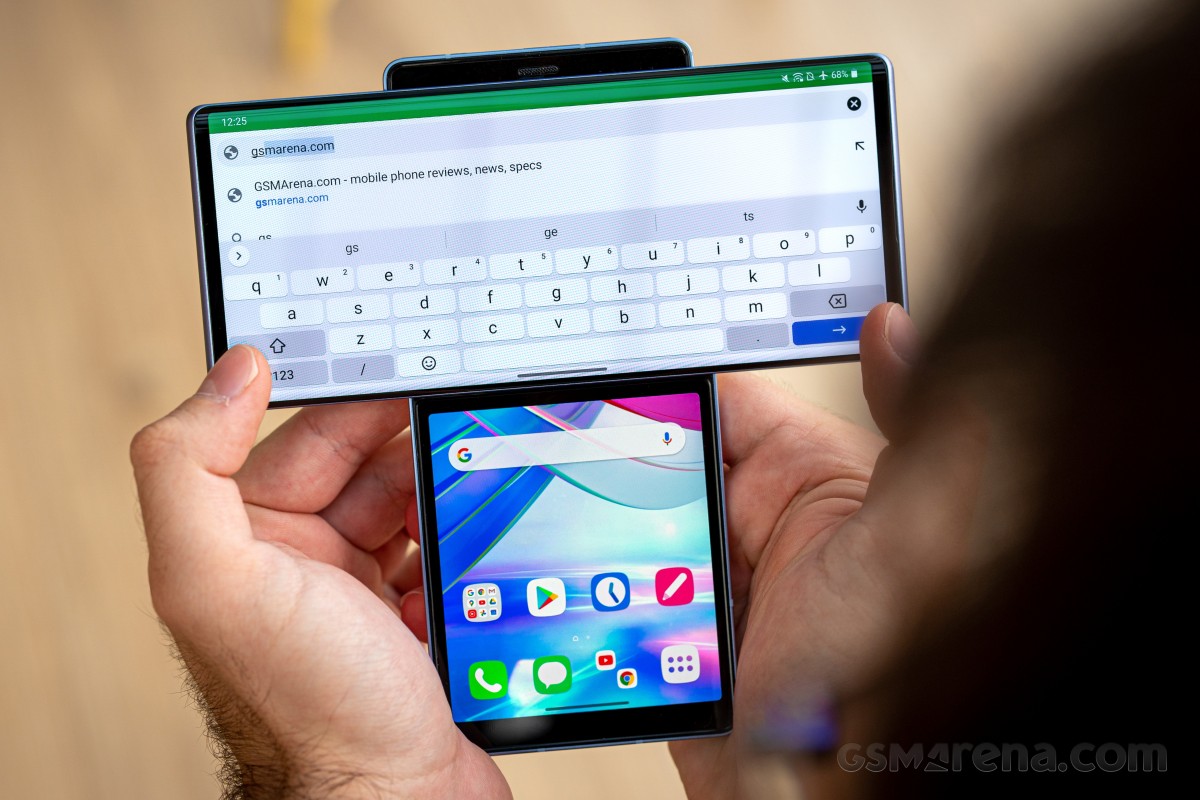 LG has clearly thought of at least a few other interesting usage scenarios for the second display and included things like a virtual trackpad that spawns a mouse pointer on the main display and a temporary input lock for the secondary screen, called Grip lock.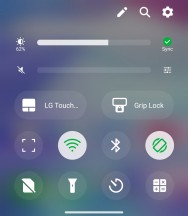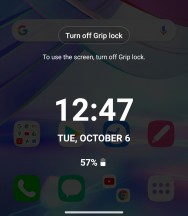 Second screen quick toggles • Grip lock
Proper second-screen experiences on the LG Wing
Proper terminology is still kind of scarce when discussing fancy new form factors and additional displays on smartphones. Yet, we need to make a clear distinction between simply having two separate apps or an app and its keyboard input on two different screens, as opposed to an app or game making use of two displays. That doesn't mean simply spanning its UI over said displays either, but rather actually taking into account the existence of a second display and using it in a specific and sensible manner.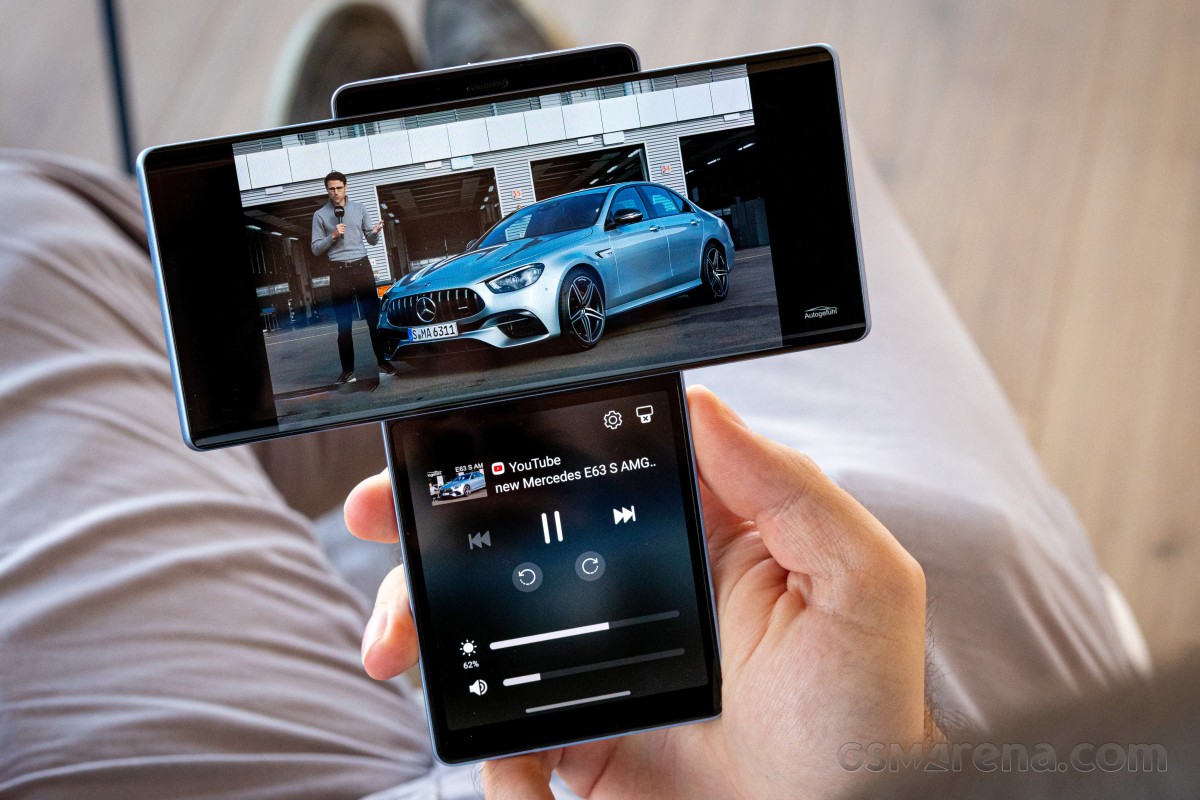 The best analogy we can think of is to second-screen gaming, which is a thing, even if it never got amazingly popular. Notable examples include the Nintendo DS line of handheld consoles and later some games on the Nintendo Wii U. So, for the time being, we're dubbing these second-screen experiences.
The LG Wing has access to a limited set of these. Starting with its default apps, the Camera is probably the most prominent example, as featured in all of the promo materials. This is actually the only way to use the Wing's fancy and feature-rich gimbal video mode, as well as its dual-recording mode. We will discuss both in the camera section, but both simply have their controls placed on the second display, which the user is expected to grip, while the main display handles viewfinder functionality.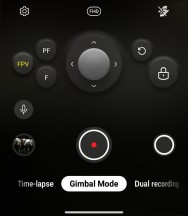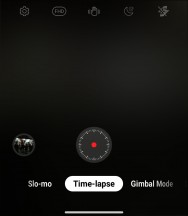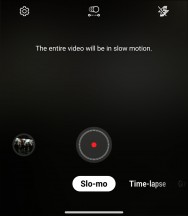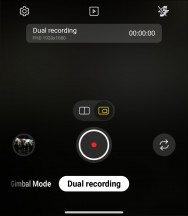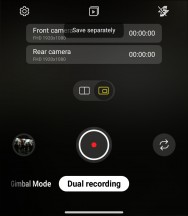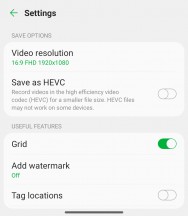 Second-screen mode in camera app
The Wing also allows you to do slow-mo and time-lapse shots in this particular mode, as well as access some camera settings. Oddly enough, though, there is no way to capture a photo with the main or selfie cameras in this setup.
The default Gallery app makes use of the second display both for quickly and conveniently scrubbing through albums or video playback controls, as well as to accommodate the entire photo editing interface.
At first, that struck as a bit odd, since the image and the editor controls end up on the small display, making things a bit cramped. However, on the plus side, you get to instantly compare your edits to the original image, still displayed on the main screen. A surprisingly pleasant setup.
YouTube, as well as a few other "player-style" apps we tried, like YouTube Music, Spotify, and Netflix, all spawn a similar and standard playback control UI on the second display. This is probably and quite cleverly an adapted interface variant for the notification player controls of said apps. The system works surprisingly well. Extra points for LG for coming-up with such a clever solution.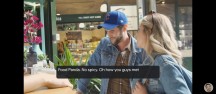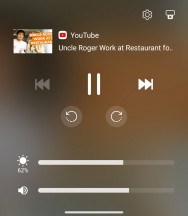 YouTube second-screen mode: main screen • second screen controls
LG has even included a "collapse" button that hides the whole thing away to the side and lets you use the second display for other tasks, with the ability to quickly call the media controls back-up.
Speaking of clever standardized implementations, there is a Game tools UI baked into the Wing that operates in much the same way as the media controls one. On enabled games, you get access to some options on the second display while gaming. Once again, complete with a "collapse" or minimize button.
Last and probably least, a few apps specifically support the additional display of the LG Wing. There are few and hard to search for online with any sort of certainty. Asphalt 9 is a title we can confirm as offering true second-screen gaming on the LG Wing. Particularly, you get your quick live map on the smaller display.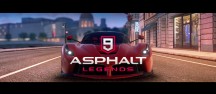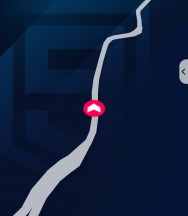 Asphalt 9 true second-screen gaming: main display • second display
LG has also struck a few partnerships with app developers for showcase experiences. We had what we can only describe as mixed-success with these. Whale is a Chrome-based browser that offers the ability to click on a web video and have it play full-screen on the main display, while you continue browsing on the bottom one. It's a cool idea, but one that didn't work reliably with many popular websites and popular web video formats. Reddit was a no-go, and so was Imgur. In general, Whale seemed to not like WEBM or GIF formats. Or at least we didn't manage to get it working.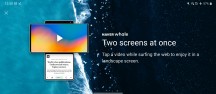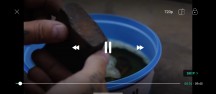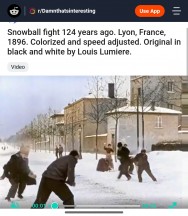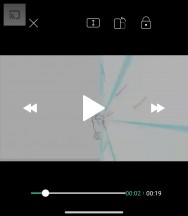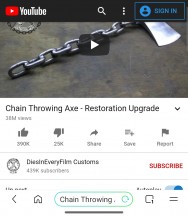 Whale app: main display • main display • second display
YouTube worked reliably. But why would you use Whale for that instead of the YouTube app?
Tubi and Ficto are both free video streaming services with a slightly different focus. Tubi was not available in our region, and when we sideloaded it, it still failed to load content. From what we can gather, it seems to use the second display for searching and browsing. Probably playback controls too.
Ficto did work fine for us. It uses the second display for advertising content and for multimedia controls, including additional tabs for info on what you are watching and quick navigation between episodes.
Finally, there is Rave, which is a nifty app that allows you to host a room in which you stream content from several sources and have your friends join in to watch along and chat. We're not exactly sure of the legality of all of this. That's not the point, though, Rave uses the second display on the Wing to house said chat interface, which is a nice boost to the overall immersion of the experience, since you don't have to interrupt your content to discuss it.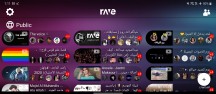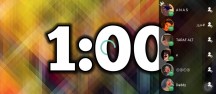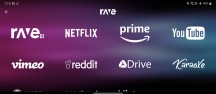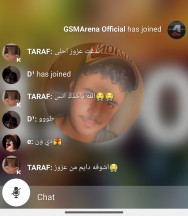 Rave second-screen experience.
These showcase experiences were generally cool but only left is wanting more general utility out of the second display on the Wing. Don't get us wrong, there is plenty already there, and it works quite well. Especially considering the experimental nature of the product as a whole. Plus, some of the things we would have liked to have "non-hacky" solutions for, like having Twitch chat on the second display without installing a third-party Twitch chat client, or playing DOS games in an emulator with a desktop-style virtual keyboard on the second display are up to developers to implement, not LG.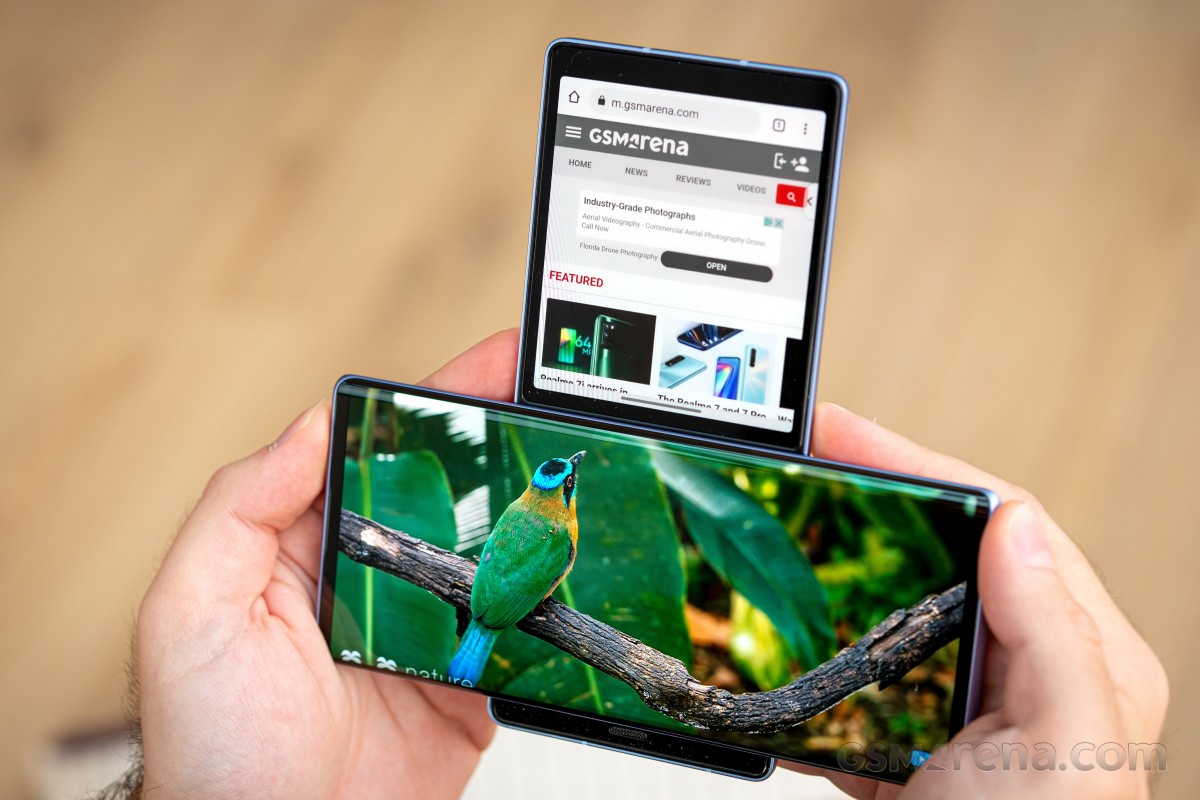 That being said, LG has a responsibility to try and entice said developers to invest the extra work into such experiences. We doubt that the Wing, in particular, will manage to be a significant catalyst for second-screen in any meaningful way, but at least it is good to see some advancements are happening. Plus, with the proliferation of foldable displays and different form-factors going on in the industry, experiences like second-screen apps and gaming seem to have a bright future ahead of them.
Performance and benchmarks
The LG Wing is powered by a Snapdragon 765G, which is sure to be a contentious point for many. It is technically an upper mid-range chipset instead of a proper flagship, like the Snapdragon 865. A valid argument can definitely be made for offering the best possible silicon available in a device like the Wing. However, we can think of at least a few arguably better arguments as to why the Snapdragon 765G is a perfect fit. Or rather, a Snapdragon 865 would be an unnecessary and potentially detrimental addition.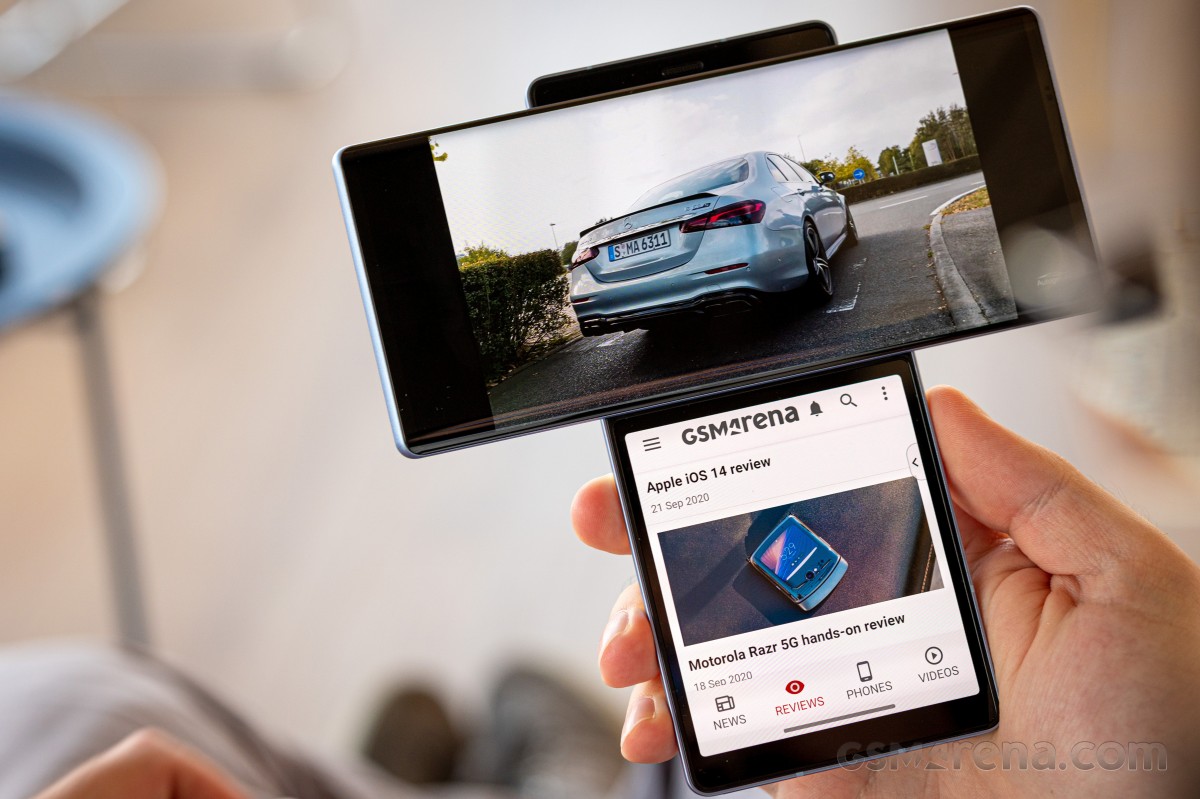 Cost concerns aside, the Snapdragon 865 is bigger and requires way more internal space. Both because of its external X55 modem and its higher thermal output, which mandates a beefier cooling solution. It is also more power-hungry—all of that without offering much else on top beyond raw processing power. Of course, there are valid arguments to be made on the opposite side of the debate. Overall, however, we think the Snapdragon 765G is a great and more practical fit, offering all of the important modern extras and features and more in tune with the goals set forth by the LG Explorer Project overall.
The LG Wing hence has a total of eight Krio 475 (custom ARM A76) CPU cores at its disposal - a prime one, going up to 2.4 GHz, a Gold one, at 2.2 GHz, and six Silver ones, with a frequency cap of 1.8 GHz. Those are the ones that are going to make good use of the 7nm manufacturing process for the sake of battery efficiency, as opposed to using it to benefit raw performance, like the Snapdragon 865 does. Graphics are handled by an Adreno 620 GPU, and there are 8GB of RAM inside the Wing. Our review unit, as tested, is the bigger 256GB storage variant.
We kick things off with some pure-CPU loads and GeekBench 5.1. We decided to throw in a wide selection of competing chipset offers, like the Snapdragon 720G, 730, 732G, and the flagship 865+ and the Huawei Kirin 990 5G. The latter two are there for perspective and because they are powering odd, trendy form-factor devices themselves. MediaTek is also well represented, with the G80, G90T, and the G95.
GeekBench 5.1 (single-core)
Higher is better
Samsung Galaxy Z Fold2 5G
950
Huawei Mate Xs
751
vivo X50 Pro
636
LG Wing 5G
618
Xiaomi Mi 10 Lite 5G
616
OnePlus Nord
610
LG Velvet
586
Motorola Edge
586
Oppo Reno4 Pro
569
Poco X3 NFC
568
Samsung Galaxy A71
542
Realme 7
536
Redmi Note 8 Pro
493
Realme 6i
388
Samsung Galaxy A51
347
GeekBench 5.1 (multi-core)
Higher is better
Huawei Mate Xs
2980
Samsung Galaxy Z Fold2 5G
2715
OnePlus Nord
1953
LG Wing 5G
1952
vivo X50 Pro
1937
Xiaomi Mi 10 Lite 5G
1927
LG Velvet
1905
Motorola Edge
1862
Oppo Reno4 Pro
1781
Poco X3 NFC
1777
Samsung Galaxy A71
1733
Realme 7
1681
Redmi Note 8 Pro
1622
Realme 6i
1349
Samsung Galaxy A51
1294
The first and most important thing to note here is that the Snapdragon 765G inside the LG Wing performs to spec and can keep up perfectly with other devices with the same chip - like OnePlus Nord and LG's own Velvet. The Wing doesn't get hot under load and does not thermal-throttle. Honestly, the raw performance numbers it puts out are quite competitive and plenty to run a smooth experience. That goes for the Snapdragon 765G in general.
AnTuTu 8 is a much more-compound benchmark that takes other hardware and its specs and performance into account for a better overall performance picture. We can see the same general trends once again - the LG Wing and its Snapdragon 765G holding their own perfectly well, outpacing most other competing mid-range offers.
AnTuTu 8
Higher is better
Samsung Galaxy Z Fold2 5G
564907
Huawei Mate Xs
459274
vivo X50 Pro
323736
Xiaomi Mi 10 Lite 5G
318117
LG Wing 5G
315688
OnePlus Nord
312794
LG Wing 5G (secondary display)
309919
Motorola Edge
305989
LG Velvet
297372
Realme 7
292828
Poco X3 NFC
283750
Redmi Note 8 Pro
279355
Samsung Galaxy A71
263396
Oppo Reno4 Pro
261359
Realme 6i
202275
Samsung Galaxy A51
175363
The Wing is no slouch in GPU performance either. The Adreno 620 is a capable chip. While nowhere near the raw performance of something like the Adreno 650 or even the older-flagship Adreno 640, in real-world terms, it has plenty of "oomph" to drive even the more demanding Android games. Remember, synthetic loads are nowhere near representative to real-world ones. Actual modern games are well optimized.
GFX 3.0 Manhattan (1080p offscreen)
Higher is better
Samsung Galaxy Z Fold2 5G
128
Huawei Mate Xs
115
Samsung Galaxy Fold
101
Xiaomi Mi 10 Lite 5G
55
OnePlus Nord
55
LG Wing 5G
54
Realme 7
54
LG Wing 5G (secondary display)
53
vivo X50 Pro
51
Motorola Edge
50
LG Velvet
49
Redmi Note 8 Pro
48
Poco X3 NFC
44
Oppo Reno4 Pro
42
Samsung Galaxy A71
41
Realme 6i
24
Samsung Galaxy A51
16
GFX 3.0 Manhattan (onscreen)
Higher is better
Samsung Galaxy Z Fold2 5G
84
Samsung Galaxy Fold
59
Huawei Mate Xs
59
LG Wing 5G (secondary display)
58
OnePlus Nord
50
Xiaomi Mi 10 Lite 5G
48
Motorola Edge
48
LG Wing 5G
45
vivo X50 Pro
45
LG Velvet
43
Realme 6i
43
Realme 7
42
Redmi Note 8 Pro
40
Samsung Galaxy A71
37
Oppo Reno4 Pro
36
Poco X3 NFC
33
Samsung Galaxy A51
15
Of course, out of nothing more than morbid curiosity, we just had to run all of the tests on the secondary display, as well. Quite expectedly, its lower resolution, especially when combined with the odd aspect ratio, forcing every on-screen 16:9 aspect test to take up just a fraction of the actual screen, resulted in noticeably higher on-screen numbers. Hardly relevant in any way, since nobody is realistically going to game on the small display.
GFX 3.1 Manhattan (1080p offscreen)
Higher is better
Samsung Galaxy Z Fold2 5G
91
Samsung Galaxy Fold
71
Huawei Mate Xs
66
Xiaomi Mi 10 Lite 5G
38
OnePlus Nord
38
LG Wing 5G
37
LG Wing 5G (secondary display)
37
vivo X50 Pro
36
Motorola Edge
34
Realme 7
34
LG Velvet
33
Poco X3 NFC
33
Oppo Reno4 Pro
31
Samsung Galaxy A71
30
Redmi Note 8 Pro
29
Realme 6i
16
Samsung Galaxy A51
10
GFX 3.1 Manhattan (onscreen)
Higher is better
Huawei Mate Xs
54
Samsung Galaxy Z Fold2 5G
53
Samsung Galaxy Fold
52
LG Wing 5G (secondary display)
51
OnePlus Nord
34
Xiaomi Mi 10 Lite 5G
32
Motorola Edge
32
LG Wing 5G
31
vivo X50 Pro
31
Realme 6i
31
LG Velvet
29
Realme 7
28
Poco X3 NFC
27
Samsung Galaxy A71
27
Oppo Reno4 Pro
26
Redmi Note 8 Pro
24
Samsung Galaxy A51
8.9
Speaking of the secondary display, however, there are certain titles that can already make use of both panels at the same time for a proper dual-screen gaming experience. Unfortunately, tracking such titles down is tough and often frustrating, since support is not guaranteed and often shifts. We can confirm that as of writing this review Asphalt 9 makes use of the second display to show a track map. Shadowgun War Games and Shadowgun Legends, however, both of which used to work fine with the TwinView dock on the ROG Phone 3 were not supported by the LG Wing.
GFX 3.1 Car scene (1080p offscreen)
Higher is better
Samsung Galaxy Z Fold2 5G
55
Samsung Galaxy Fold
42
Huawei Mate Xs
36
LG Wing 5G
21
LG Wing 5G (secondary display)
21
Xiaomi Mi 10 Lite 5G
21
OnePlus Nord
21
vivo X50 Pro
20
Realme 7
20
LG Velvet
19
Motorola Edge
19
Poco X3 NFC
19
Oppo Reno4 Pro
18
Redmi Note 8 Pro
18
Samsung Galaxy A71
17
Realme 6i
9.4
Samsung Galaxy A51
6.6
GFX 3.1 Car scene (onscreen)
Higher is better
Samsung Galaxy Z Fold2 5G
33
Samsung Galaxy Fold
32
LG Wing 5G (secondary display)
31
Huawei Mate Xs
30
OnePlus Nord
19
Motorola Edge
18
LG Wing 5G
17
Xiaomi Mi 10 Lite 5G
17
vivo X50 Pro
17
Realme 6i
17
Realme 7
17
LG Velvet
16
Poco X3 NFC
16
Oppo Reno4 Pro
15
Samsung Galaxy A71
15
Redmi Note 8 Pro
14
Samsung Galaxy A51
5.6
On top of that, LG did not think to include any convenient native way to map on-screen controls from the main display on to virtual buttons on the secondary display, which just seems like a massive missed opportunity. There are some things you can try to pull-off with custom keyboard implementations of controllers, but those rarely tend to work either, since clicking the secondary display, generally makes it the active one and pauses the app on the main one. Unless you are using apps that are specifically designed not to do so. We'll discuss that in more depth in the software section, but it mostly boils down to a frustratingly-limited second display gaming experience.
Anyway, rounding off the GPU tests, we were happy to see that the secondary display had no issues with alternative renderers, like Vulkan. As evidenced by the converging numbers.
Aztek Vulkan High (onscreen)
Higher is better
Samsung Galaxy Z Fold2 5G
22
LG Wing 5G (secondary display)
21
Huawei Mate Xs
16
OnePlus Nord
13
LG Wing 5G
12
Xiaomi Mi 10 Lite 5G
12
Motorola Edge
12
LG Velvet
11
Poco X3 NFC
11
Realme 7
11
Oppo Reno4 Pro
10
Redmi Note 8 Pro
9.4
Samsung Galaxy A71
9.3
Realme 6i
9.3
Samsung Galaxy A51
5.6
Aztek OpenGL ES 3.1 High (onscreen)
Higher is better
Huawei Mate Xs
23
Samsung Galaxy Z Fold2 5G
22
LG Wing 5G (secondary display)
20
OnePlus Nord
13
LG Wing 5G
12
Xiaomi Mi 10 Lite 5G
12
Motorola Edge
12
Realme 7
12
LG Velvet
11
Poco X3 NFC
11
Realme 6i
11
Oppo Reno4 Pro
10
Samsung Galaxy A71
10
Redmi Note 8 Pro
10
Samsung Galaxy A51
5.6
That is to say, beyond the clear practical issues with trying to actually play a 16:9 game on a small part of the already small secondary display. That's actually a good practical note to make, most games we tried to force to run on there were happy to oblige but, with just a few exceptions, seemed to render in a more traditional horizontal aspect - 16:9 or perhaps, in some cases, a bit wider. That being said, depending on how controls are implemented in any given game, you can end up with totally unusable or misaligned input. To put it simply - the second display is not meant to accommodate games, other than actually supported dual-screen titles.
3DMark SSE OpenGL ES 3.1 1440p
Higher is better
Samsung Galaxy Z Fold2 5G
7035
Huawei Mate Xs
5759
Samsung Galaxy Fold
5510
Xiaomi Mi 10 Lite 5G
3294
OnePlus Nord
3285
LG Wing 5G
3273
vivo X50 Pro
3214
LG Wing 5G (secondary display)
3190
Motorola Edge
3004
LG Velvet
2987
Realme 7
2709
Poco X3 NFC
2689
Oppo Reno4 Pro
2512
Samsung Galaxy A71
2464
Redmi Note 8 Pro
2363
Samsung Galaxy A51
1574
Realme 6i
1363
3DMark SSE Vulkan 1440p
Higher is better
Samsung Galaxy Z Fold2 5G
5879
Samsung Galaxy Fold
4856
Huawei Mate Xs
4362
Xiaomi Mi 10 Lite 5G
3080
OnePlus Nord
3067
LG Wing 5G
3066
LG Wing 5G (secondary display)
3028
vivo X50 Pro
2983
Motorola Edge
2801
Realme 7
2772
LG Velvet
2758
Poco X3 NFC
2495
Redmi Note 8 Pro
2447
Oppo Reno4 Pro
2377
Samsung Galaxy A71
2253
Samsung Galaxy A51
1554
Realme 6i
1347
Second-display usability concerns and dual-screen game shortage aside, we have no complaints about the actual performance of the LG Wing. The Snapdragon 765G suits it well, runs nice and cool and is utilized to its full potential.
This is good for camera vlog or not who can try this please tell me good or not
Because the company shut down a long ago.
Joseph Weindl
16 Apr 2023
k%n
How do I find Hunger Games music on FM radio? How do I get to listen to ads that are actually funny on Spofify instead of the boring lawyer ads on FM radio? See why FM is inferior? Unless you tell me how to find The Dark Knight and Hunger Games music...