Meizu m3 note review: To the metal
To the metal
GSMArena team, 27 May, 2016.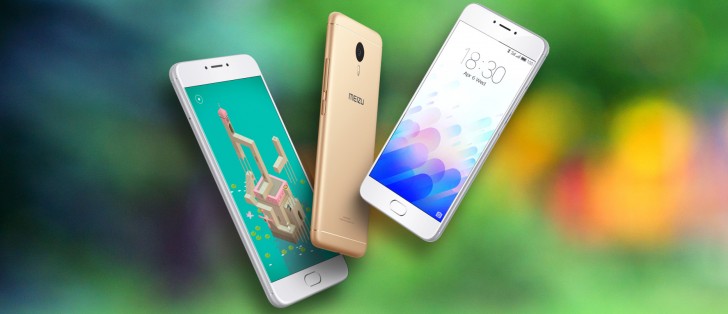 Telephony
At its core, the phonebook on the Meizu m3 note is a list of all contacts but you can view only a specific group or filter where contracts come from - phone contacts, email account or a Meizu account.
The dialer features smart dialing, which is nice. Otherwise it doesn't differ from any other in functionality.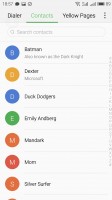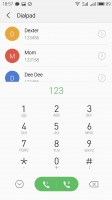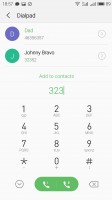 Phonebook • The dialer • Smart dial
The Meizu m3 note has all reception bars full and held onto signal great even in tighter spots. Call quality is very good. A dedicated mic for active noise cancellation makes sure the other party hears you loud and clear.
The phone supports dual-SIM with dual-standby. The second SIM supports GSM networks only, while the primary works on 3G and LTE. Managing the SIM cards is very easy as is initiating calls and sending texts.
The Meizu m3 note scored an Average mark at our loudspeaker test and outed similar results to its m1 metal and m2 note siblings. The speaker sound quality is also about average for a single-speaker setup with not that deep sound.
| | | | | |
| --- | --- | --- | --- | --- |
| Speakerphone test | Voice, dB | Pink noise/ Music, dB | Ringing phone, dB | Overall score |
| Oppo F1 Plus | 66.3 | 66.2 | 65.9 | Below Average |
| Meizu m3 note | 66.5 | 64.6 | 71.7 | Average |
| Meizu m2 note | 65.2 | 62.1 | 75.7 | Average |
| Meizu m1 metal | 68.3 | 66.6 | 73.7 | Good |
| Huawei P8lite | 66.5 | 66.6 | 75.7 | Good |
| Xiaomi Redmi Note 3 | 66.5 | 66.6 | 75.8 | Good |
| Meizu m1 note | 67.7 | 66.2 | 75.7 | Good |
| Lenovo Vibe K4 Note | 74.7 | 66.6 | 72.3 | Good |
| Lenovo Vibe K5 Plus | 72.8 | 71.3 | 81.9 | Very Good |
| Meizu MX5 | 75.7 | 73.5 | 79.5 | Excellent |
Messaging
The messaging department is quite straightforward: there are no folders here, just New message, Search and Settings buttons. Above is a list of all your messages organized into threads.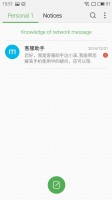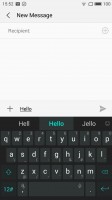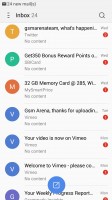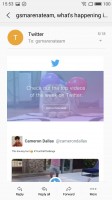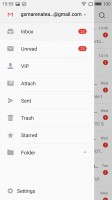 Messenger • Messenger • Email • Email • Email
Meizu has tweaked the generic email client. It supports multiple Exchange, POP or IMAP inboxes and you have access to the original folders that are created online, side by side with the standard local ones such as inbox, drafts and sent items.
The gallery
The Flyme gallery has two viewing modes - photo and gallery. The photo stacks images into months while the gallery puts them into folders. You can add or remove folders from the gallery and also search through it.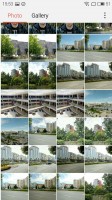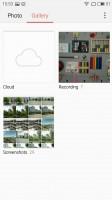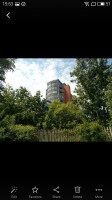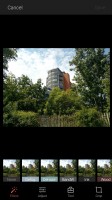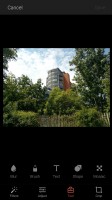 Gallery • Albums • Viewing an image • Editing an image • Editing an image
There's also a built-in editor that offers filters and all the basic controls for contrast, brightness and you can even add blur or vignette. You cannot use different editors from the stock gallery and would need to install a third-party gallery (like Google's Photos) to have different editors.
Music player
The music player can only find tracks located in the Music folder. You can browse your collection the traditional way or you can select to have it filtered by folders.
In the first case tracks are sorted into several playlists like All songs, Recently added, Folders and you have the option to create custom playlists. When viewing All songs you can choose between three types of sorting in a tabbed layout: song name, artist and album.
You can access the equalizer from the advanced menu. It features several presets, which you can edit manually - but you need to insert the headphones first.
Great video player
The Meizu m3 note comes with a dedicated Video app, but it expects videos to be placed in the video folder. You can use the file browser or gallery to get videos to play from elsewhere - it offers thumbnails and everything so we ended up using it more often than the Video app itself.
There's a pop-out option that allows you to view the video as an overlay to the OS.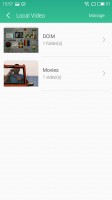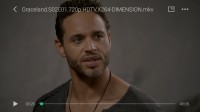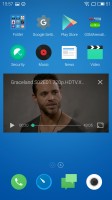 Video player • Playing a video • Pop-out view
The Meizu m3 note played everything we threw at it - Xvid, DivX, MP4, MOV, WMV and it supports the AC3 audio codec, too. Subtitles are supported, but it recognizes only Latin and Chinese characters.
Audio output is clear but quiet
The Meizu m3 note delivered flawlessly clean output with an active external amplifier. Its volume levels were rather disappointing though, so we can't give it full marks here.
Plugging in our standard headphones didn't cause too much damage - the stereo crosstalk rose signifacantly but that was about it. However with the volume starting point already low the m3 note remained below average even if it didn't lose any extra ground.
Here go the results so you can do your comparisons.
Test
Frequency response
Noise level
Dynamic range
THD
IMD + Noise
Stereo crosstalk
Meizu m3 note
+0.13, -0.00
-91.9
91.9
0.0021
0.0082
-91.3
Meizu m3 note (headphones)
+0.02, -0.20
-90.7
91.2
0.0028
0.050
-53.4
Lenovo Vibe K5 Plus
+0.02, -0.08
-93.8
92.8
0.0037
0.034
-91.3
Lenovo Vibe K5 Plus (headphones)
+0.09, -0.03
-93.5
92.6
0.070
0.075
-49.0
Huawei Honor 5X
+0.02, -0.08
-93.4
90.1
0.0028
0.012
-93.4
Huawei Honor 5X (headphones)
+0.10, -0.03
-92.9
89.8
0.0048
0.071
-78.2
Samsung Galaxy A5 (2016)
+0.02, -0.07
-94.3
92.2
0.0065
0.010
-95.0
Samsung Galaxy A5 (2016) (headphones)
+0.42, -0.01
-93.4
87.1
0.029
0.254
-53.0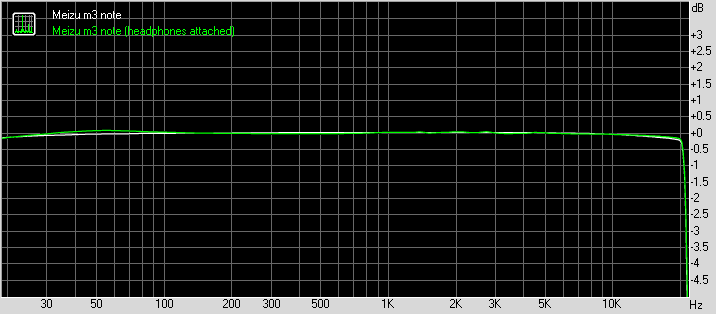 Meizu m3 note frequency response
You can learn more about the tested parameters and the whole testing process here.
Install flyme 6.3, root rights from settings,right afterwards install SuperSU always run mode ,install xposed, install fake gapps, install fdroid,install microg,use arora, enjoy play store free life for most apps,do install root cloak on xposed,sai i...
hae, I have a problem with my phone(meizum3 note) its locked how can I unlock it?its written in Chinese I can't understand it,need some help please
jeffversace
01 Dec 2016
tVr
Both simcard support 4G LTE, i dont know how you do the review... Shame...