Meizu MX4 Pro review: Sharpened up
Sharpened up
GSMArena team, 13 January 2015.
Good 20MP shooter
Like its smaller sibling, the Meizu MX4 Pro has a Sony 20.7MP sensor that's capable of capturing some huge 5248x3936px snaps in 4:3 aspect, matching the latest and greatest cameraphones from Sony themselves.
Meizu offers what it calls Super high ISO that will allow the phone to shoot at up to 1600 ISO in low light conditions.
There's also a dual-tone LED flash that should allow for more pleasing colors in low light flash photos. Both LEDs fire simultaneously. Meizu claims that the MX4 Pro can acquire focus within 0.3s, which sounds like there are some phase detect pixels on the sensor, although we have no way to confirm that.
Finally, the Meizu MX4 Pro can snap a 30 photos a second burst.
The camera interface by default launches into Auto mode where the camera determines the shooting parameters. You have the option to turn on HDR (but no automatic HDR), gridlines for the viewfinder and a level gauge so that your horizon isn't off tilt. There's also an option to enable a timer of either 3, 5 or 10 seconds.
There's a side-scrollable mode dial at the top of the camera UI but you can also tap it to get a full view of the shooting modes - all six of them. These are Auto, Manual (where you can set the shutter speed, ISO, exposure compensation and even the focus - from macro to infinity) that uses a Gmail-like icon, Beauty (which can make eyes bigger, faces slimmer, skin smoother and lighter), Panorama, Light field (which is Meizu's refocus app allowing you to defocus any part of the scene), Night mode, Scan (for QR and barcodes), Slowmotion and Microspur (macro).
Here's what manual mode looks like.
The Meizu MX4 Pro is using the absolute same hardware as the MX4 - a Sony IMX220 Exmor RS sensor, capable of 20.7MP photos with an aperture of f/2.2. However the processing of the images is very different here.
There isn't as much oversharpening as we saw on the MX4 and the processing is much more natural.
Detail is great - there's plenty of it in the images and even the tiniest of objects appear detailed through the lens. Colors are less saturated than on the MX4 and have a natural look.
We're glad to report that the excellent dynamic range of the Meizu MX4 has been preserved and the MX4 Pro captures the scene with a great overall exposure giving us great highlights and good shadows.
Noise is still evident, but has been subdued for the most part, compared to the MX4. The white balance was also spot on giving us balanced images.
Overall, it appears Meizu has made a step forward with the MX4 Pro camera, offering more detail, less noise and a more matured processing. We'd even go as far as saying that Sony's 20.7MP snappers can learn a few things from the MX4 Pro.
The MX4 Pro can automatically focus in macro mode and produces some stellar results with loads of detail up close and nice separation with a slightly blurred background.
HDR aims to get a more even exposure of a scene - bringing back detail in the highlights as well as the shadows.
Interestingly, the HDR mode of the Meizu MX4 Pro looks nothing like the one by its predecessor, the MX4. The HDR mode does okay to bring back some highlight detail but mostly leaves the shadows untouched. It's not the best way of doing things but does an okay job in the extreme conditions we tested at.
Panoramas aren't too impressive on the Meizu MX4 Pro. There is plenty of resolution and good overall exposure but the detail isn't as impressive as in the regular stills. There are some strange halos in the sky as well.
We've more or less exhausted the differences between the Meizu MX4 Pro and the MX4 but we still prepped a quick crop to show you the difference between the two. The MX4 uses higher color saturation and a lot more noticeable sharpening than the MX4 Pro does. As a result the MX4 Pro offers more detail and a less-processed look we prefer.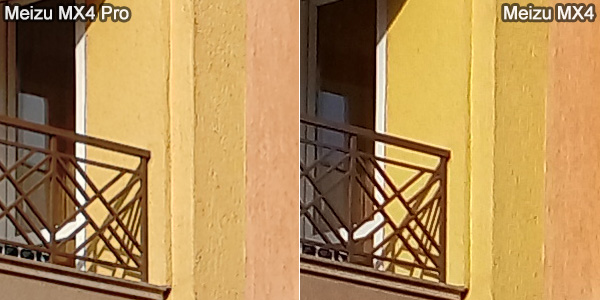 And if you want to check out the entire scene you can do so through the images below.
Finally you can check out a 5MP image taken with the front-facing camera of the device. It doesn't shine with too much detail but does fit great for selfie shots as the object in the center is nicely exposed for.
You can compare the Meizu MX4 Pro to its predecessor and all the smartphones we've tested in our photo quality comparison tool.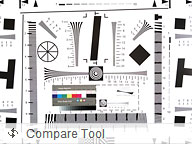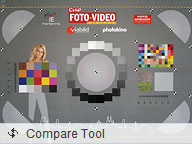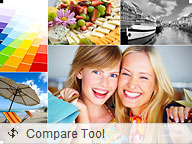 Meizu MX4 Pro in our photo compare tool
4K video is nice
The Meizu MX4 Pro shoots videos up to 4K resolution (3840 x 2160) at 30fps and 1080p videos at 30fps. There's no 60fps smooth motion option but you do get a 720p@100fps slow motion shooting mode that renders and plays back at 25fps.
Thankfully, Meizu moved away from the HEVC file format (H.265), which gave both PCs and YouTube trouble and decided to go with MP4 for the MX4 Pro. This way video files aren't as taxing on your PC (no real need for additional codec download) and you can freely upload them to YouTube. H.265 is the future without doubt but it seems that we're not there just yet.
Back to the task at hand - the Meizu MX4 Pro captures videos with great detail, great dynamic range and natural colors. The 4K video capture of the MX4 Pro is sharper than the one outputted from the MX4 but comes with some oversharpening halos, especially in lower light.
Framerate stays firmly at 30fps and we got almost no dropped frames. We observed that the MX4 Pro videos exhibited weird flashes in exposure - it seems the camera exposes for the object it focuses on - you can see that each car that passes in the video prompts a slight jump in the scene's exposure in the video.
You can also capture video in 1080p but the detail is nowhere near as impressive here. At least there were no dropped frames whatsoever.
720p slow motion videos are shot at 100 fps. The phone plays those videos back at 100fps but if you export them you get a 25fps sample. Motion is slowed down as advertised but the quality isn't too impressive.
You can directly download a 2160p@30fps (00:16s, 63.8MB) and 1080p@30fps (00:14s, 32.0MB).
And if you want to do some pixel peeping you can head over to our video comparison tool below. It will show you how the camcorder renders colors and textures and just how much resolution it resolves in these 4K videos.
My phone was broken display how i can get new one i am in Tanzanian
Any hint what to do? Sometimes wlan AND bluetooth don't work at all. While searching, phone is getting hot an hotter. Sometimes wlan and bluetooth start working correctly (often after battery was empty) Very frustrating, although a great phone ..... ...