Meizu Pro 5 Ubuntu Edition hands-on: Meizu at MWC 2016
Meizu at MWC 2016
GSMArena team, 20 February, 2016.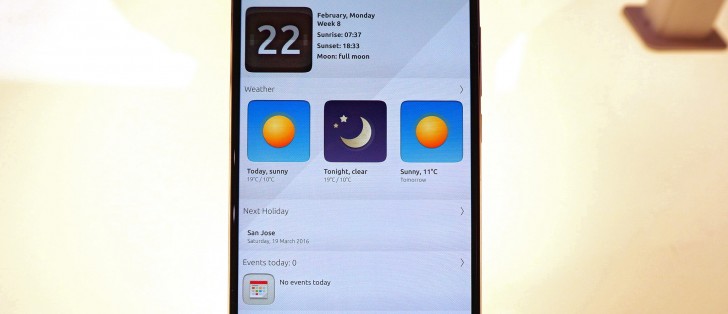 Meizu Pro 5 Ubuntu Edition hands-on
Last year Meizu and Canonical worked together to bring us the Meizu MX4 Ubuntu Edition. Recently the two companies gathered once again to introduce the Meizu Pro 5 Ubuntu Edition, and Ubuntu-treated flavor of the company's latest Pro 5 flagship.
Just like its original Android model, the Ubuntu Edition features the same 5.7" 1080p AMOLED display and Exynos 7420 chipset with 3GB of RAM. All specs are in fact identical, so we won't be getting into details, as we already did our Meizu Pro 5 review and we found it quite a capable fella.
But if you are interested into its Ubuntu Edition we've captured a short video to get you started with the OS.
Handling the devices is excellent, just like the last time we like the mixture of aluminum unibody with 2.5D glass.
The Meizu Pro 5 Ubuntu Edition will go on pre-order very soon, but the pricing is yet to be revealed.
Nothing yet. Be the first to comment.