Meizu Pro 6 Plus review: imPROved
imPROved
GSMArena team, 18 January 2017.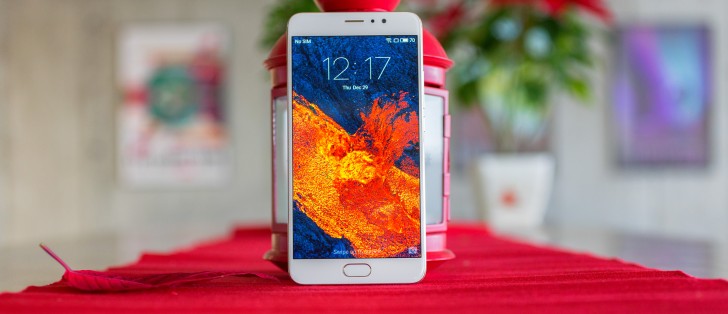 Flyme OS 5.2 with Marshmallow, Flyme 6 coming soon
The Meizu Pro 6 Plus runs on the latest Flyme 5.2 OS, which was built on top of an Android 6.0 Marshmallow core. Flyme 6 has already been unveiled, and there are Chinese builds available for testing. The international ROMs will be officially updated to Flyme 6.0 this February.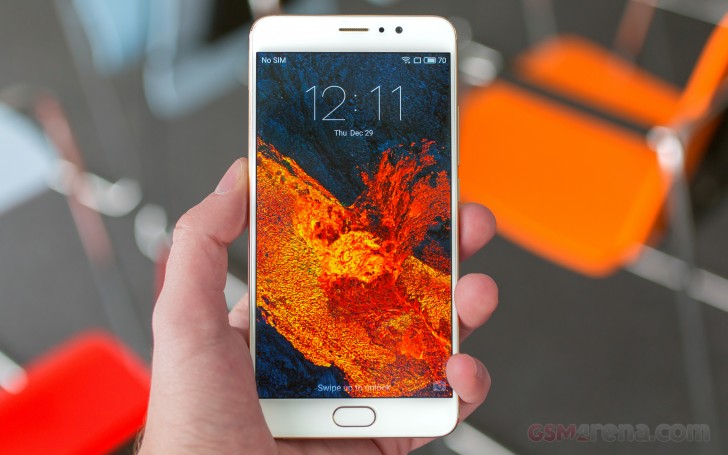 The international models lack the Chinese bloatware, but they also come without the must-have Google APIs and apps. Since Meizu is not a registered Google Services partner, it has found a workaround to give you those crucial apps - the Hot Apps application on your homescreen contains a Google Framework installer with everything you need.
The Flyme OS 5 lockscreen is a pretty simple affair - you drag upwards to unlock and have the option of securing it with a passcode, an unlock pattern, or use the fingerprint reader. The fingerprint reader is not always on so you have to press the Home button to wake up the phone and then keep your finger resting there for a split second until the reader does its job. There are no shortcuts on the lockscreen, but you get quick access to the camera.
On the other hand, you can also wake up the phone with a gesture you draw on the black screen. You can use pre-defined gestures to launch different apps while your phone is asleep. Double tap to wake and swipe to unlock work by default, but you can also use swipe down, or draw other gestures, such as random alphabet letters, to launch specific apps.
Meizu Pro 6 Plus also supports Always-on Display. Once enabled from settings, you will get a digital clock, the date, and battery percentage on your screen while it's asleep. According to Meizu, you should be able to see notifications, too, but those didn't work at out unit. Maybe the original Chinese ROM can do notifications on the AOD, but the international one can't.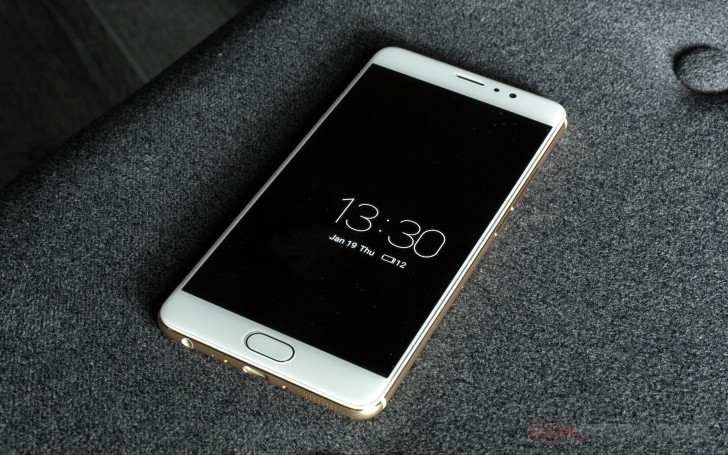 Holding down the home button will launch Meizu's Voice Search, but you can change this quick action if you want.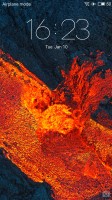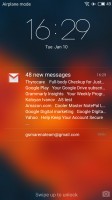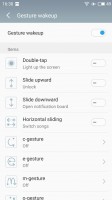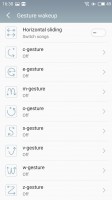 Lockscreen • Lockscreen with notifications • Configuring gestures wakeup
The homescreen is simple - you get two panes by default, but you can add new ones later on. The homescreen gathers all of your app icons as it's a single-tier UI and there is no app drawer like on stock Android.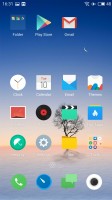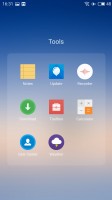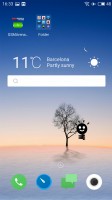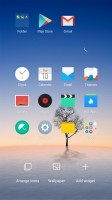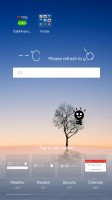 Homescreen • A folder with apps • The Homescreen • Organizing the homescreen • Widgets
The notification area comes down entirely every time you pull it down. The good thing is that you can start the swipe down motion anywhere on the screen. The first pull down get you the full notification shade along with four toggles, while the second pull reveals all the available toggles and the screen brightness control.
The rest of the notification area is a basic list or expandable, actionable notifications.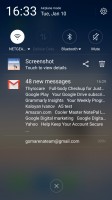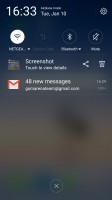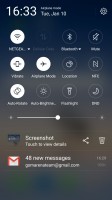 Notification area • Notification area • The toggles
Switching between tasks is done with a pull-up menu from the bottom of the screen. The task switcher is a 3D scrollable carousel, and there is an option to close all active/suspended apps. You also have the option to pin an app (tap and hold). The pinned app will stay in recent apps in the state you closed it in.
Flyme 5 supports multi-view, which is also managed via the task switching interface. The supported apps have a 'Multi' button, and you can activate a split-screen app right away. Unfortunately, the apps that support multi-view are only four - News, Video, Settings, and Maps. Hopefully, this list will grow bigger with the upcoming Flyme 6 update.
Finally, a system-wide search is also available.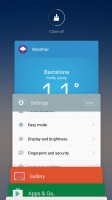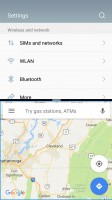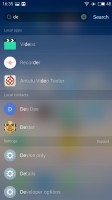 Task switcher • Multi-window • Search
You can customize the UI with various themes. You can download new ones from the App Center - some of them are paid, but there are many free ones and a lot to choose from. There's also a variety of built-in wallpapers.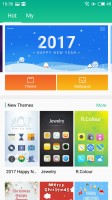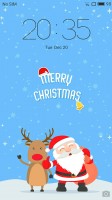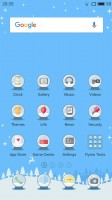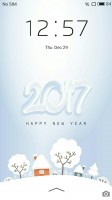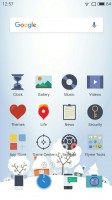 Themes Store • Applying a new theme • A new theme • A new theme • A new theme
There's a Do Not Disturb mode that will block notifications and calls, and you can choose a white list of numbers that can get through. It can be scheduled to run at specific time intervals or be set manually.
There is one more option - Scheduled Power On and Off - you can setup your Meizu Pro 6 Plus to shut down and boot up at a specific time on specific weekdays - just like alarms.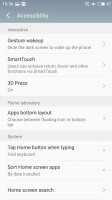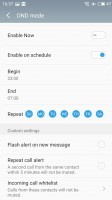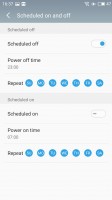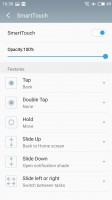 The accessibility settings • DND mode • Scheduled power on and power off • Smart Touch
Meizu provides a way for single-handed operations with the so-called Smart Touch. It's a movable virtual 4-way key, like a D-Pad, and you can assign functionalities to each of the directions, tap and hold, tap, and double tap.
For example, moving the key downwards brings down the notification area, moving it to the right acts as a Back action. If configured properly, it can very much allow you to control the large screen Meizu Pro 6 Plus with just one hand, while you are on the move.
Flyme OS can be tough to get around at first, but once you've gotten your bearings, it becomes a treat to work with. Meizu is keeping things as simple as possible, and everything works seamlessly without any hiccups.
3D Press
When it comes to features available via the pressure-sensitive screen on the Meizu Pro 6 Plus, Meizu has copied a lot of tricks from Apple's playbook. Of course, that's not necessarily a bad thing. Before we start checking the 3D Touch gestures, you should know you can turn the feature on/off from the Settings menu, and you can choose its intensity. The available options are Strong, Normal, and Soft.
So, 3D Press, just like on the iOS, provides some handy shortcuts, once you long press on a variety of system apps on your homescreen. You can get pop-ups for new messages on the Messages icon, a shortcut for new alarm on the Clock app, a new Memo options on the Memo icon, and so on.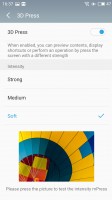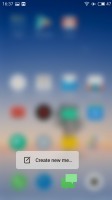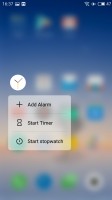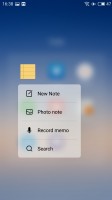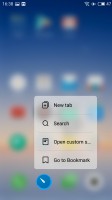 3D Press options • 3D Press on Messages • 3D Press on Clock • 3D Press on Notes • 3D press on Browser
If you press hard on an email within the Mail app, it will pop a preview into a balloon so you can preview it. From there you can swipe it upwards for more options, or downwards to mark it as 'read'.
You can do the same in Messages and the Gallery - a firm press opens a preview of the message/picture and you can get more options or dismiss it.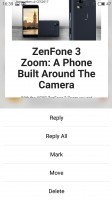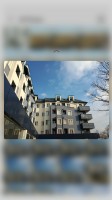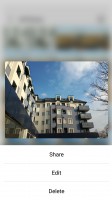 3D Press on an email • 3D Press in Mail app • 3D Press in the gallery • 3D Press in the gallery
The Browser app in addition to the pop-up shortcuts (New Tab, Search, Bookmarks) gets a very useful pop-up link preview. You just need to force press on a clickable link, and you'll get a preview of the page it's linked to. Then you can swipe up to open it or dismiss it by swiping it down.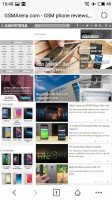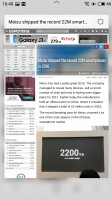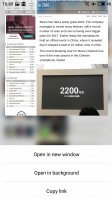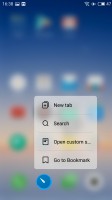 The web browser • Link preview • Preview options • Icon shortcuts
Those are pretty much the use cases for the 3D Press. A text on Meizu's website claims the 3D Press implementation in the Pro 6 Plus also supports 'linear gravity calibration,' which we understand as it being able to measure the weight of objects we put on the screen. Unfortunately, we couldn't find an app to test it with.
Since Android does not officially support Force Touch screens if you change the Flyme launcher with something else you'll lose those features altogether. What's even worse is the chance of Android developers embracing the company's custom SDK seems very low. Until Google brings official support for functionality it will likely remain limited to what Meizu itself delivers. And here is hoping it adds some new tricks with the upcoming Flyme 6 update.
Amer bader
30 Aug 2018
qJx
Do you know if it will work on 4g of Tmobile in the US?
Anonymous
23 Jun 2018
S2T
We are still waiting for your Helio X30 to blow everything out of the water
Anonymous
23 Jan 2017
n3Y
Don't have laptop, i use 32' widescreen bprderless screen on my PC.