Microsoft announces the all new Windows Phone 7 Series platform
15 February, 2010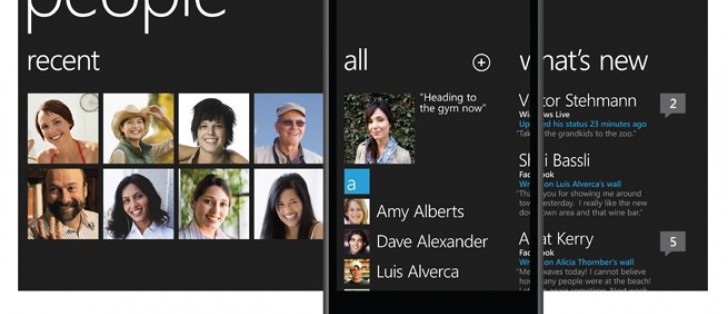 Well, the wait is over. Microsoft finally let the cat out of the bag and Windows Mobile 7 (or Windows Phone 7 Series) as MS calls it, is now official. The first phones should start selling by this year's holiday season.
Microsoft just announced their next mobile OS installment here at the MWC 2010. Meet the new Windows Phone 7 designed for "Life in Motion". Though called that way, the new Windows Phone is not really a phone. It's a new mobile OS. The best about it is that it breaks off with its roots and goes with completely different approach.
Windows Phone 7 is the next generation of the mobile Windows and it promises to deliver the ultimate experience. Windows Phone 7 combines all the today's demands - connecting people, games, multimedia and office - into one really tight, simple and pretty OS.
On the new Start screen there are now "dynamic tiles" that show up to date application information and can serve as shortcuts.
Content on the Windows Phone 7 is organized in the so-called hubs. They bring together both local and online content and services so they can be accessed more easily.
People /with social networking/
Pictures /including both your online and saved albums/
Games /including full access to your Xbox live profile and rankings/
Music+Video /rather self-explanatory/
Marketplace /a revamped version of Microsoft's app store/
Office /day to day notes, documents, agendas, and calendars/
Here's a demo video of the Windows Phone 7 platfrom:
People hub will be the connection with all your friends. Microsoft have shown only Facebook and Live service integration, but we suppose that may be expanded to Twitter and such. Other than that, all the usual SNS stuff is onboard - updating status, sending PMs, sharing links, etc. along with the dynamically updated info about your friends.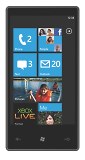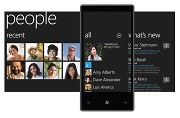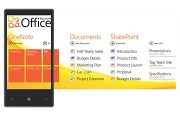 A look at Windows Phone Series 7: the homescreen, People Hub and Office Hub
The multimedia hubs - Pictures and Music + Video look the same as in Zune portable player. In fact the new Windows Phone 7 resembles Zune in almost every aspect - fonts, transitions, graphics, wallpapers, etc. Of course Microsoft managed to push the visual experience even further.
Games hub is where Xbox Live comes in help. Microsoft have integrated their game console service into the new OS. It will allow the gamers to play easily with their friends, share statistics, watch demo videos or trailers, view or participate in all kind of charts, collect points from unlocked achievements or just chat with their game buddies.
The last two hubs are Office and Marketplace. The first one will offer viewing, creating or editing all kind of notes, docs, presentations, agenda, calendar events, etc. - all of your work, documents and organizer in one place.
The Marketplace will be completely revamped and will offer huge number of apps. It will also be an app manager - you will install and update new programs only from here - just like the Apple AppStore (that kinda sucks!).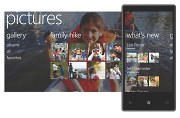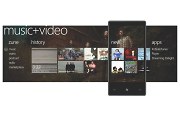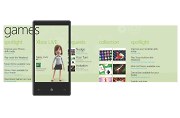 Three more hubs: Pictures, Music + Video, Games
The new Windows Phone 7 leaves no place for user or firmware customization, except the wallpapers. It's highly probable that Microsoft won't allow custom interfaces over their new OS (TouchWiz, TouchFLO 3D, etc.)
Finally, a few days ago Adobe confirmed that there will be no Flash support on Windows Phone 7. There is still no explanation on that decision, but we hope Microsoft will explain that soon.
So, there you have it - Windows Phone 7 platform. It's definitely the huge step Microsoft promised a long time ago, but it comes with a price - the simplified and unified interface and functionality lead to the logical conclusion - more restrictions. But for the first time from a really long period we think Microsoft are on the right track and we can't wait until the end of the year to see the first Windows Phone 7 handsets.
Related
Iphone 4g baby
01 May 2010
FEC
I'm gonna actually give a one up to Microsoft for not copying the iphone as far ui goes. Finally somebody's doing it, goodness gracious.
Hope MS are launching a free update for HTC HD2. Cant wait to get one....
simple user
22 Feb 2010
Sve
"...so why is Apple trying to take on the Internet? It's a silly and arrogant move on their part." ANSWER: Because all others want to take over the world (read as Internet). To name a few: Microsoft(+yahoo), Oracle(+Sun+MySQL), Adobe...
Popular articles
Popular devices
Electric Vehicles