Microsoft Lumia 650 review: Dress for less
Dress for less
GSMArena team, 30 March, 2016.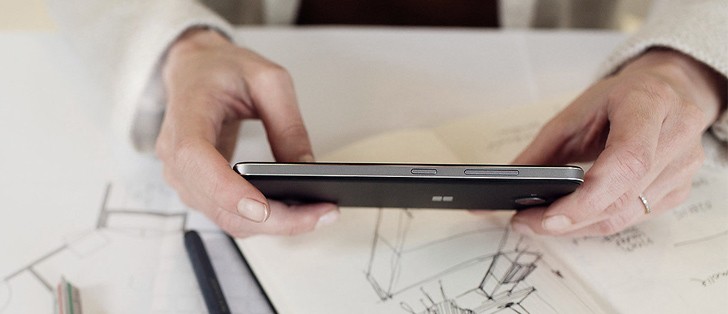 Windows 10 Mobile
The Lumia 650 is one of the select few devices (only the fourth, to be exact) to come with Windows 10 Mobile out of the box. As of writing this article, Microsoft has officially rolled out the platform to older eligible devices as well, but it is this fresh new batch of devices, which is designed to push it forward and, like we already said, the Lumia 650 has a very important place in the new lineup, between the high-end 950 family and the entry-level 550.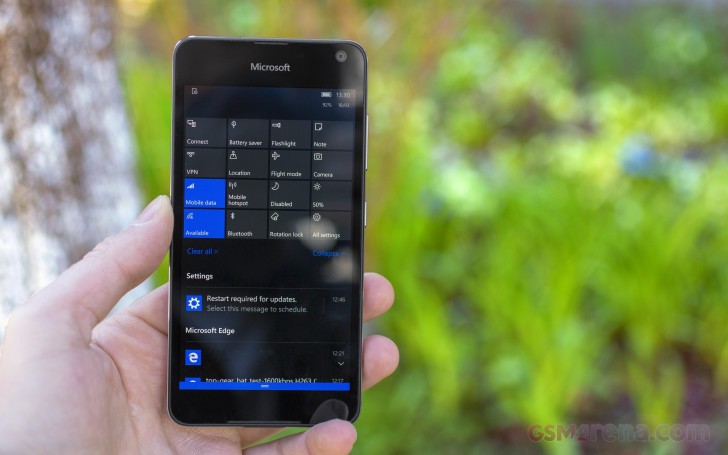 Frankly, however, the Lumia 650 is much closer to the latter and offers only a minor improvement in performance, while still sadly skipping on advanced features like Continuum and Hello iris recognition.
And this is the main dissonance that plagues the phone - it strives for a slicker new design with improved elegance and appeal, but definitely leaves you wanting on the performance side. We can't shake the feeling that the Lumia 650 is settling for the underachiever role, but still, it is not all bad and by Windows mobile standards, it offers a decent set of specs indeed. Plus, it will hopefully be a stepping stone for a future family of elegant Microsoft devices.
Keeping the above point in mind, on a software level, the Lumia 650 is almost, if not entirely identical to the Lumia 550. Windows 10 builds upon the established principles of Windows Phone 8, but comes with an entirely new OS core, very similar to the one inside the full-blown desktop Windows 10 and the Xbox One's Windows 10. Without going into too much detail, here are a few highlights form the OS.
The first thing you notice on the phone is the Glance Screen. It displays a monochrome clock, the date and number of missed notifications and content from apps like Facebook and makes quite a lot of sense on the device's OLED display. You can opt for night mode (warmer colors), display intervals or always on. Sadly, as already mentioned, there is no Windows Hello feature for face recognition unlocking, like on the Lumia 950 and 950 XL.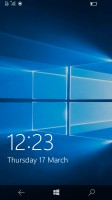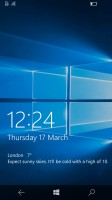 The Glance screen is as useful as ever • The lockscreen looks clean
The main interface consists of only two screens. The first is reserved for the signature live tiles launcher and in Windows 10 it comes with a lot of customization options. You can change the color there of the whole interface (while opting to exclude the navigation bar), you can also rearrange everything, change transparency level and even switch between two types of wallpapers - one that sits behind the icons and the other spanning across them. This can actually radically change the feel.
As for the second screen, it is an alphabetized list of all your apps with a convenient search bar.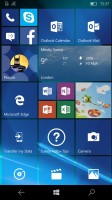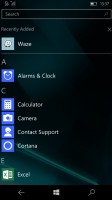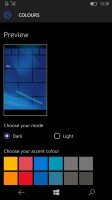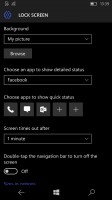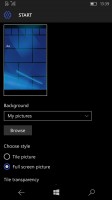 Tile Start Screen • App screen • Customization
As usual, the Action Center is your place for four customizable toggles and all notifications in Windows. It sits a swipe from the top away and works as it does on Android, for instance.
The recent apps menu is accessed by holding down the Back key under the screen. Here you can swipe apps away and kill them, unless they have a background service, like Navigation, Cortana and Battery. There is also a convenient one-handed operation mode.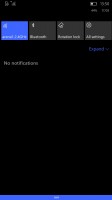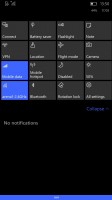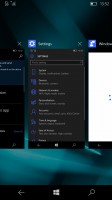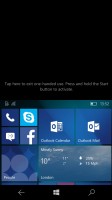 Action center is pulled down with a swipe • Task manager • One handed use
Having Microsoft's OS on your mobile also, naturally, gives you access to many of the company's signature applications, like the mobile office suite, including Word, Excel, PowerPoint and OneNote.
Cortana is another neat feature to have. It does what Apple's Siri and Google Now do - it recognizes your voice commands and questions in natural human language and gives you spoken replies and feedback. It shows a very nice summary of your day upon launch (the weather, events and meetings, important news, sports scores), based on your location, search history and predefined interests (in your Notebook, which you can edit any time).
Overall, Windows 10 Mobile is an excellent match with the Lumia 650, although stability issues are still very much a thing. The Snapdragon 212, isn't the best chipset to make the experience of the new OS as smooth as it should be, either. Follow along in the next section for more info on performance.
Performance
Let's consider the positive first. The Lumia 650 is equipped with a pretty nice OLED display. The 720p resolution might not sound like much, but, as already mentioned, it is quite sufficient and overall, the display is a perfect fit for the device. Sadly, the same can't really be said about the Snapdragon 212 SoC. We really don't think it does justice to the gorgeous exterior of the device or to its price tag either.
The lower-end specs sheet of the Lumia 650 is somewhat of a letdown, but, as usual, it all depends on what you expect from the device and whether or not you are judging it by Lumia standards.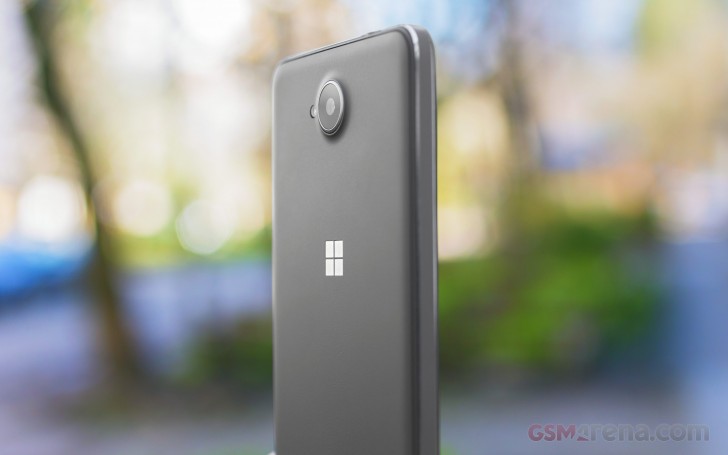 That being said, we have no doubt that the handset will meet the communication needs of many of its prospective buyers, but performance really isn't its strong suit. The still unpolished and lacking in stability Windows 10 build, currently running on the device doesn't help in this respect either. We barely managed to run a few synthetic benchmarks on the phone and had many problems throughout. Basemark X, for instance, crashed on launch, while Basemark OS II had a GUI issue that didn't allow us past the terms and conditions screen, so, you can definitely understand our problems with the current state of the OS.
Still, we did get through AnTuTu to see how the four 1.3 GHz Cortex-A7 cores inside the Snapdragon 212 fared with some raw computations, among other things. Long story short, it is not a pretty sight.
AnTuTu 5
Higher is better
Xiaomi Redmi Note 3 (Helio X10)
47816
Huawei P8lite
35205
Meizu m2 note
32054
Microsoft Lumia 650
31353
ZTE Blade S6
27198
Moto G (3rd gen) 2GB of RAM
24293
Samsung Galaxy J5
21422
Samsung Galaxy A3
20024
For graphics, we ran GFXBench. Typically, having a 720p display helps a device greatly in frame rates when rendering on-screen, but in the case of the Adreno 304 GPU inside the Lumia 650, it barely made a difference. Also, the only test the device managed to complete was the GFX 2.7 one, which is quickly becoming deprecated now that we are talking about things like Open GL ES 3.1 and Vulkan on mobile.
GFX 2.7 T-Rex (1080p offscreen)
Higher is better
ZTE Blade S6
15
Meizu m2 note
12
Huawei P8lite
10
Samsung Galaxy A3
5.3
Moto G (3rd gen) 2GB of RAM
5.3
Samsung Galaxy J5
5.2
Microsoft Lumia 650
3.25
GFX 2.7 T-Rex (onscreen)
Higher is better
ZTE Blade S6
24
Huawei P8lite
16
Samsung Galaxy A3
13
Meizu m2 note
12
Moto G (3rd gen) 2GB of RAM
9.7
Samsung Galaxy J5
9.3
Microsoft Lumia 650
5.63
We also gave it our best to test the web browsing capabilities of Microsoft Edge on the Lumia 650. While it opens up pages fine and handles things like pinch zooming and orientation changes with ease, it didn't exactly play well with Browsermark and only managed to run the Kraken 1.1 benchmark. Keeping this in mind, it seems not all current web technology works in the native browser.
Kraken 1.1
Lower is better
Microsoft Lumia 950 XL
6133
Microsoft Lumia 950
6856
Xiaomi Redmi Note 3 (Helio X10)
11374
Moto G (3rd gen) 2GB of RAM
12272
ZTE Blade S6
12865
Samsung Galaxy J5
14435
Meizu m2 note
14462
Huawei P8lite
16743
Samsung Galaxy A3
18323
Microsoft Lumia 650
18840
Microsoft Lumia 640 LTE
26647
Nokia Lumia 735
26913
Our numbers on performance all look pretty gloomy, but there is one other observation we feel obliged to make. Windows 10 might still have some rough edges to tend to, but there is no denying that it is optimized to work on lower-end hardware and its excels at that. Navigating through the GUI, using non-graphic intensive apps and doing other things like orientation switching or pinch zooming and panning all seems to work just as smooth on the Lumia 650 as it does on the Lumia 950.
For a moment we even suspected that the latter is somehow artificially delayed in its animations and gesture speeds for the sake of continuity in the experience. Whatever the case may be, Windows 10 really seems to feel comfy on the limited hardware at hand and arguably utilizes the limited hardware resources a lot better than any current Android build we've seen.
Microsoft however definitely has a lot of bugs to fix on the Lumia 650 as the retail unit we got for review crashed or simply froze many times a day without any specific reason and without a particular pattern in its use. Performance is one thing and system stability is another thing entirely. And while we may give a mid-ranger the benefit of a doubt when it comes to speediness, we are not so willing to put up with hangs and screen freezing, which cause the device to become unresponsive.
Build it and they will come.
Brings back memories of the terror called Windows Mobile 6.5. Battery thirsty, unreliable and unfriendly little things. And wheres the progress, win mobile 7 isvstill yhe best, it gets worse with every generation and is now dipping below the "useless...