Microsoft Surface review: Ripples of change
Ripples of change
GSMArena team, 19 November 2012.
Photos is RT for gallery
The Photos app handles, well, photos on Windows RT. It's very similar to what you'll find on Windows Phone. You can set a single photo as a background for the hub (it used to be the last photo viewed) or you can set it to shuffle different photos.
Photos is divided into the Pictures library, SkyDrive, Flickr and Devices where you'll see the public photos shared by the people in your Homegroup.
Pictures in an album will be displayed in a side-scrollable horizontal grid. By default, pictures are displayed in large thumbnails but you can opt for a more compressed grid by pinching to zoom out.
You can view photos in a slideshow or set the picture you're browsing as a lockscreen wallpaper, app tile or app background.
You can mark multiple photos in an album, which only lets you start a slideshow with them. You can't move or copy pictures from the Photos app.
The Microsoft Surface is a decent device for browsing photos - the 10.6" screen is big enough and offers good colors. However, the 16:9 aspect ratio of the screen doesn't get along too well with 4:3 photos, so you are getting lots of letterboxing or cropping.
Xbox handles music and videos
The music and video players are now incorporated into the Xbox Live app.
The music library is part of the music store. My music is where all of the songs you've imported are. Note that you'll need to place your music in the Music folder in your Libraries in order for Xbox Music to list them in the app.
The store is divided into featured artists, all music and top music. The latter two are broken down into categories.
Xbox offers unlimited streaming via Music Pass. The service is free to try for 30 days, but you'll have to subscribe for 1 or 12 months, costing you either $9.99 or $99.90 after that.
Now playing shows the artist and name of the song along with an overview with Album name, Genre, etc. The interface offers animated album art, pause/play and skip controls. A swipe from the top or bottom edge of the screen reveals the music controls.
The Xbox Video store shows all your videos on the left, a spotlight section with featured movies and TV shows on the right.
The movie and television stores are a swipe to the left away. They are divided into new releases, featured, top selling, genres, studios and network.
Some movies and TV shows can be rented, all can be bought.
Watching videos on the Surface is a real pleasure, thanks to the kickstand and 10.6"screen. The interface is rather limited though, offering only a time scroll, play/pause and a back button.
The context menu offers repeat, previous, play/pause, next and play to, which lets you wirelessly stream the video to any DLNA-enabled device.
The Microsoft Surface managed to deliver a full 9 hours of video playback - an impressive feat.
Video playback
Motorola RAZR MAXX (ICS)
16:35
Motorola DROID RAZR MAXX
14:17
Apple iPad mini
12:51
Samsung Galaxy Note II N7100
11:27
Apple iPhone 5
10:12
Samsung I9300 Galaxy S III
10:01
Nokia 808 PureView
9:53
Apple iPad 4
9:49
Samsung I8530 Galaxy Beam
9:42
Samsung Rugby Smart I847
9:34
HTC One S
9:28
Samsung I9300 Galaxy S III (JB)
9:27
Apple iPhone 4S
9:24
HTC Evo 4G LTE
9:07
Microsoft Surface RT
9:00
Nokia N9
8:40
Samsung Galaxy Note
8:25
HTC One X+
8:11
Motorola RAZR i
8:11
Samsung Galaxy S II
8:00
Samsung i937 Focus S
7:55
Samsung Wave 3 S8600
7:52
Sony Ericsson Xperia neo V
7:45
Huawei Ascend P1
7:38
Samsung Galaxy S Blaze 4G
7:33
Samsung Galaxy Note LTE
7:30
LG Optimus G
7:16
Meizu MX 4-core
6:33
HTC Windows Phone 8X
6:27
HTC Desire V
6:26
HTC One X (AT&T)
6:26
Samsung Galaxy Ace Duos
6:25
LG Optimus Vu
6:23
Samsung I9103 Galaxy R
6:21
HTC Sensation XL
6:12
Samsung Galaxy Pocket
6:06
Samsung Captivate Glide
6:04
Sony Xperia ion LTE
6:03
Samsung Galaxy Nexus
6:02
Sony Xperia T
6:01
Motorola Atrix HD
6:01
HTC Vivid
6:00
HTC Radar
5:54
Nokia Lumia 800
5:52
HTC Titan II
5:50
BlackBerry Bold 9790
5:47
HTC One X
5:45
Sony Ericsson Xperia Pro
5:44
Sony Xperia acro S
5:38
HTC Desire X
5:38
Pantech Burst
5:38
Meizu MX
5:27
HTC Rhyme
5:23
HTC One V
5:20
Nokia Lumia 900 for AT&T
5:18
BlackBerry Curve 9380
5:09
HTC Rezound
5:03
Samsung Galaxy S Duos
4:30
Sony Xperia P
4:30
LG Nitro HD
4:17
LG Optimus 4X HD
4:14
LG Optimus 3D Max P720
3:28
Nokia Lumia 710
3:27
Xbox Games
Xbox Games is the place to go for downloading games on the Surface. It carries over many features from the Xbox - from your avatar to your scores and achievements. The Spotlight feature is available too (it shows info on new stuff) and also Requests - which shows you game invites from your friends.
The store shows Windows games,divided into new releases and genres and an Xbox 360 store. It features games for Microsoft's gaming console and is separated into new releases, top selling, top rated and genres. Microsoft's idea is integrating Xbox into Music, Videos and Games making all of your devices - Windows 8, Windows RT and Xbox 360 - connected and offering the same content.
Each game has its own page complete with an overview and the option to buy.
Many games in the Windows game store can be tried for free before purchase. Not many major titles have made their way to the Windows Store yet but Angry Birds, Cut the Rope and a number of other popular games are there already.
Playing a game on the Surface is okay but far from the best in class. The Tegra 3 processor is far behind Apple's fourth-generation iPad or the Nexus 10 in terms of graphics performance. We did experience occasional lags, but that is partially due to the lack of optimizations too, we guess.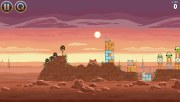 Playing a game on the Surface RT
The kickstand proved very useful, though, as it gives you a place to hold the device comfortably without losing grip.
Good audio quality
It's the first time we are reviewing Microsoft-made hardware and we were curious how it will fare in our audio quality test. Luckily, the Surface did impressively well in the first part (when connected to an active external amplifier).
The tablet posted some excellent scores and garnished them with high volume levels for an excellent performance.
Things weren't quite as impressive when we plugged in a pair of headphones as the stereo crosstalk spiked and a significant amount of intermodulation distortion crept in. The volume remained pretty high, though and the other readings weren't significantly affected, so it's a decent result.
Check out the table and see for yourself.
| | | | | | | |
| --- | --- | --- | --- | --- | --- | --- |
| Test | Frequency response | Noise level | Dynamic range | THD | IMD + Noise | Stereo crosstalk |
| Microsoft Surface | +0.03, -0.05 | -82.6 | 82.5 | 0.0057 | 0.019 | -81.7 |
| Microsoft Surface (headphones attached) | +0.26, -0.11 | -82.6 | 82.6 | 0.013 | 0.826 | -47.9 |
| Apple iPad 4 | +0.04, -0.00 | -85.7 | 85.7 | 0.0019 | 0.0017 | -85.2 |
| Apple iPad 4 (headphones attached) | +0.00, -0.07 | -85.7 | 85.6 | 0.0027 | 0.093 | -81.0 |
| Google Nexus 7 | +0.03, -0.11 | -69.8 | 70.5 | 0.024 | 0.069 | -72.1 |
| Google Nexus 7 (headphones attached) | +1.39, -0.28 | -86.4 | 67.9 | 0.011 | 0.723 | -52.9 |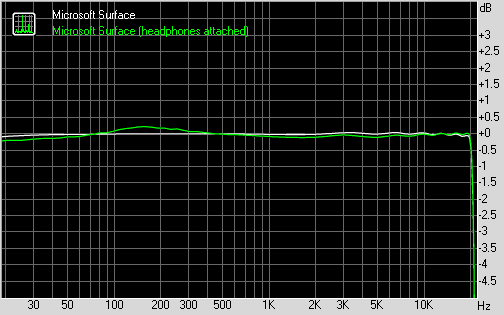 Microsoft Surface frequency response
You can learn more about the whole testing process here.
It has Powerful processing and beautiful design unite on Surface but is it worth for that price.
AnonD-10315
30 Dec 2012
fXw
Thanks.... Hope you are not being sarcastic....:)
i bought this yesterday nice table faster than all other tablet.