Mobvoi TicWatch Pro 3 GPS review
Enrique, 06 December 2020
Introduction
With the TicWatch Pro LTE last year, Mobvoi has certainly got my attention with its power-efficient layered dual-displays and arguably one of the smoothest Wear OS experiences of 2019. One year later and Mobvoi is back with the TicWatch Pro 3 GPS. The name "GPS" is there to differentiate the LTE variant that just landed in Europe.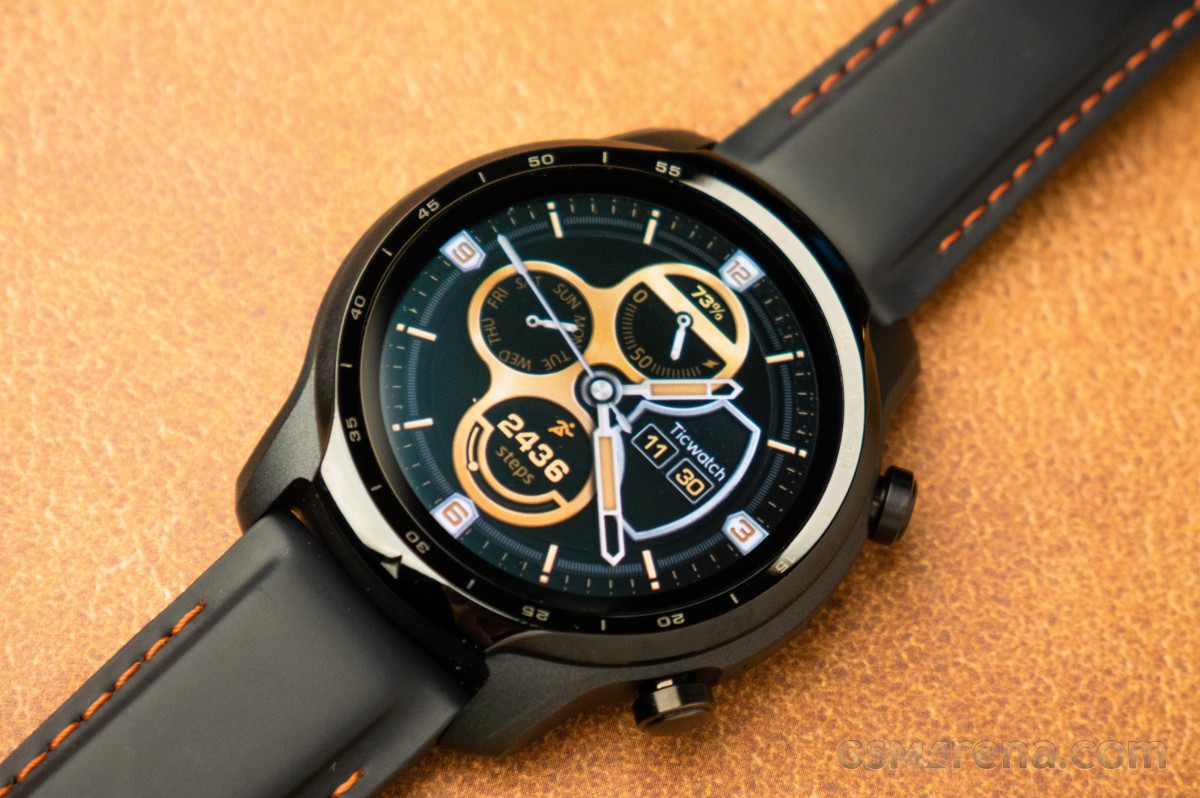 Mobvoi (formerly named TicWatch) is proud of its achievements with this new wearable. Although it does not offer the TicWatch Pro 3 in any other colors or sizes at the time of this writing, the watch does have much to offer to its main demographic in terms of sleep and fitness tracking, as well as stress and SpO2 monitoring.
TicWatch Pro 3 GPS Specs:
Body: 47mm Stainless steel and plastic, glossy bezel with minute markers; Shadow Black; standardized 22mm silicone watch strap with stitching; IP68 and "pool swimming suitable"; 41.9g, 47x48x12.2 mm
Screen(s): round 1.4" Retina AMOLED with 454x454 px resolution + secondary FSTN transflective display with dedicated backlight
Software: Wear OS version H, TicHealth apps
Chipset: Qualcomm Snapdragon Wear 4100 Platform based on 12nm process (4 x ARM Cortex A53 cores up to 1.7GHz)
Battery: 577 mAh battery, magnetic four-pin USB-A charger, 5V@1A
Memory: 1GB RAM LPDDR3 + 8GB storage eMMC 4.5
Sensors: accelerometer, gyroscope, barometer, SPO2, heart rate monitor, ambient light sensor,
Connectivity: GPS+Beidou+Glonass+Galileo+QZSS, Wi-Fi a/b/g/n, Bluetooth 4.2/5.0, NFC,
Misc: loudspeakers, microphone, 2 buttons, vibrate motor
The company has basically taken the design of last year's TicWatch Pro and added in some of the sleeker and slimmer features of the TicWatch C2. It did this while updating the tech inside the watch, including a larger capacity battery, updated displays, and more fitness monitoring features that can sense stress levels, SPO2, and there are additional exercise modes with the built-in Mobvoi app.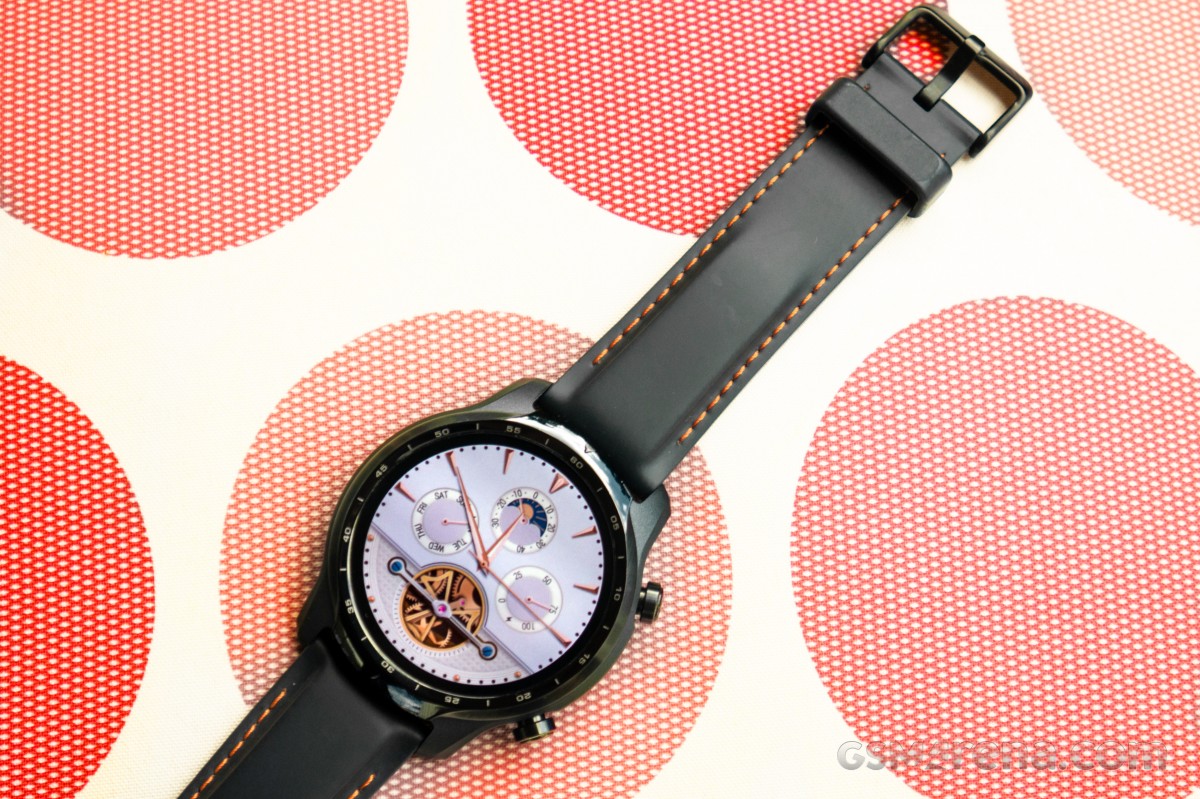 The TicWatch Pro 3 is one of the most well-equipped Wear OS smartwatches on the market right now, complete with the latest Qualcomm Snapdragon 4100 Wear Platform - a significant upgrade over the 3100. It also comes with 8GB of storage and 1GB of RAM.
This is one of the most important smartwatches for the future of Wear OS. Google is pushing an update to Wear OS that will optimize and make improvements behind the scenes before moving on to updating features and UI. The TicWatch Pro 3 is well equipped to handle the next iteration of Wear OS and we're here for it. Let's look at what's inside the box.
Unboxing
Inside the box you'll find the TicWatch Pro 3 with accent-stitched silicone wrist strap, and a magnetic four-pin charger. The charger is different from the TicWatch 2, it's got a much smaller footprint. It's worth noting the previous-gen charger won't work on the TicWatch Pro 3.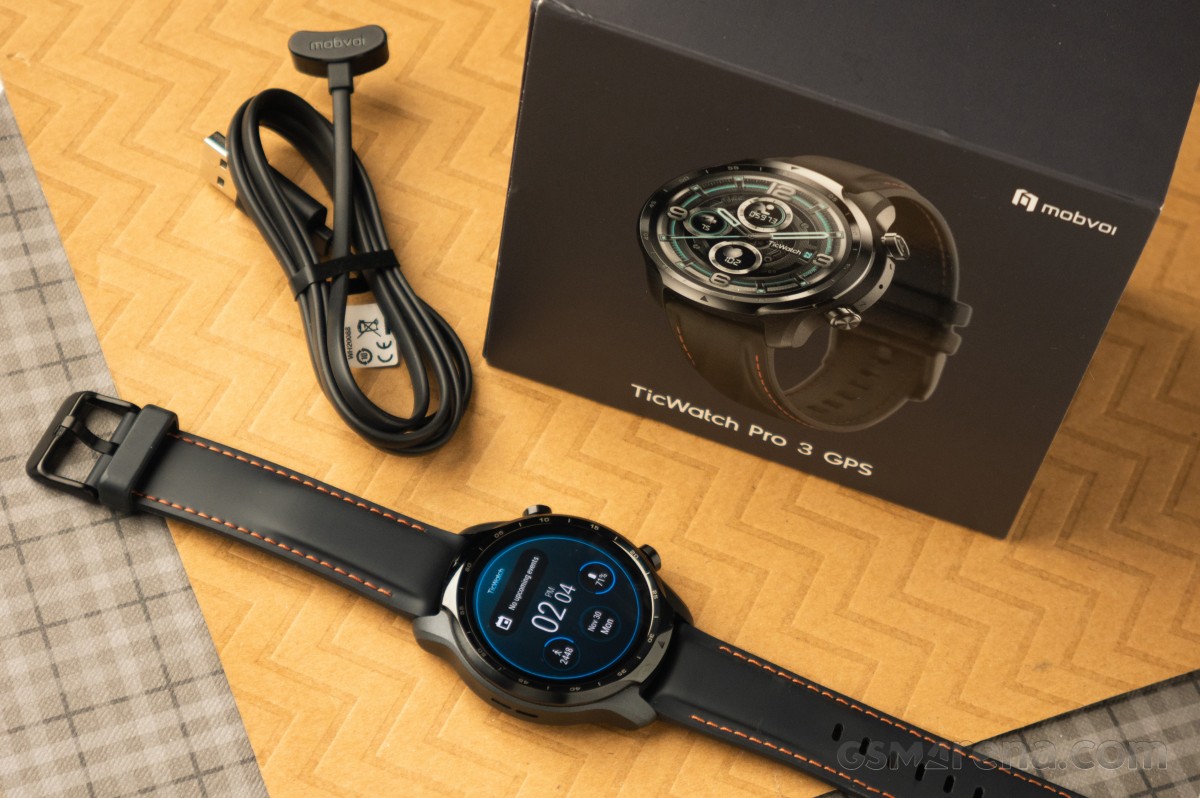 Design and fit
The overall aesthetic and styling of the TicWatch Pro 3 is not too different than its predecessor. It's a large watch body with bold curves and a dark, masculine color scheme. The Pro 3 does get some weight reduction this time around, despite having a larger display, beefier battery, and new features. Though the difference is easy to miss at first glance, the most significant reduction is in thickness, which resulted in some grams shaved off the overall weight.
The watch case measures 47 x 48 x 12.2 mm, which isn't that much thinner than the TicWatch Pro LTE's 12.6 mm thickness, but it's a step in the right direction considering all the added sensor hardware that we'll talk about in the next section.
On the right side there are two buttons, only one of which is customizable, with a mic-hole in the middle of the two keys. This side of the watch has more detailed features compared to the predecessor.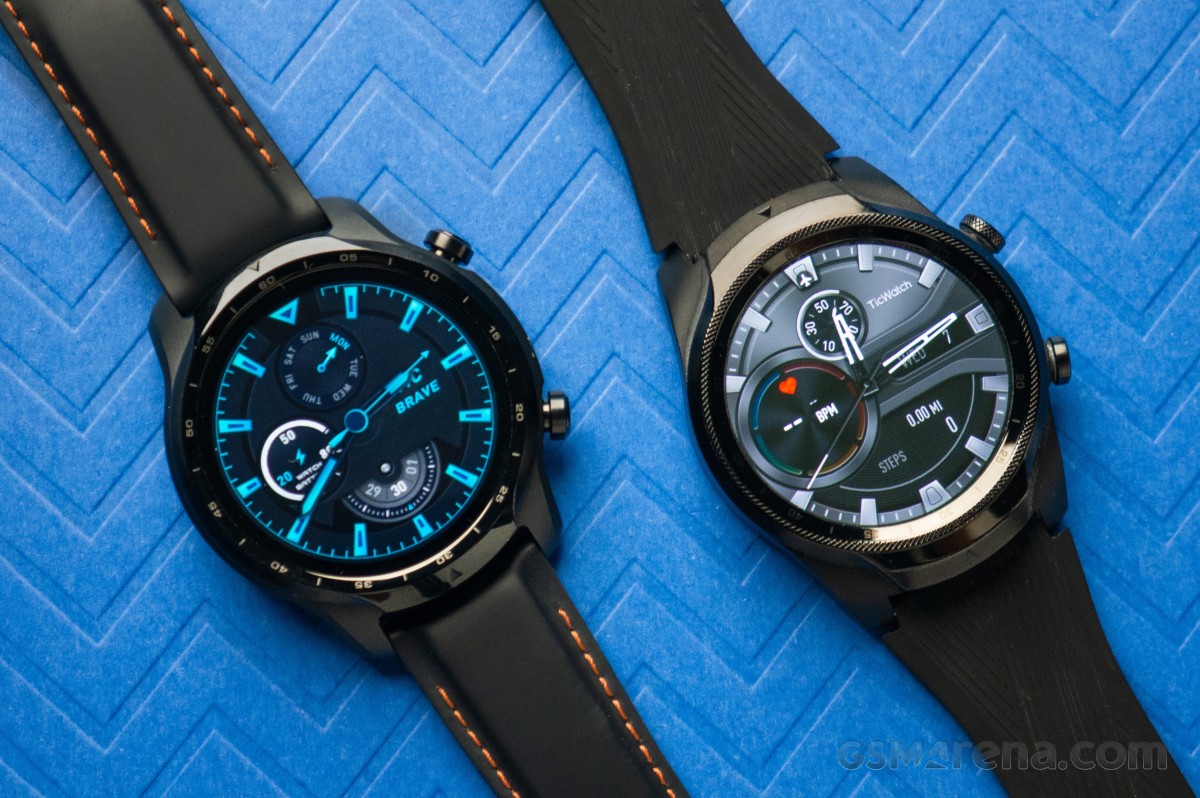 There's a loudspeaker port on the left side of the watch case, and the wrist-facing side of the watch is now made of durable plastic. We consider that Mobvoi probably switched the back plate to plastic for weight savings.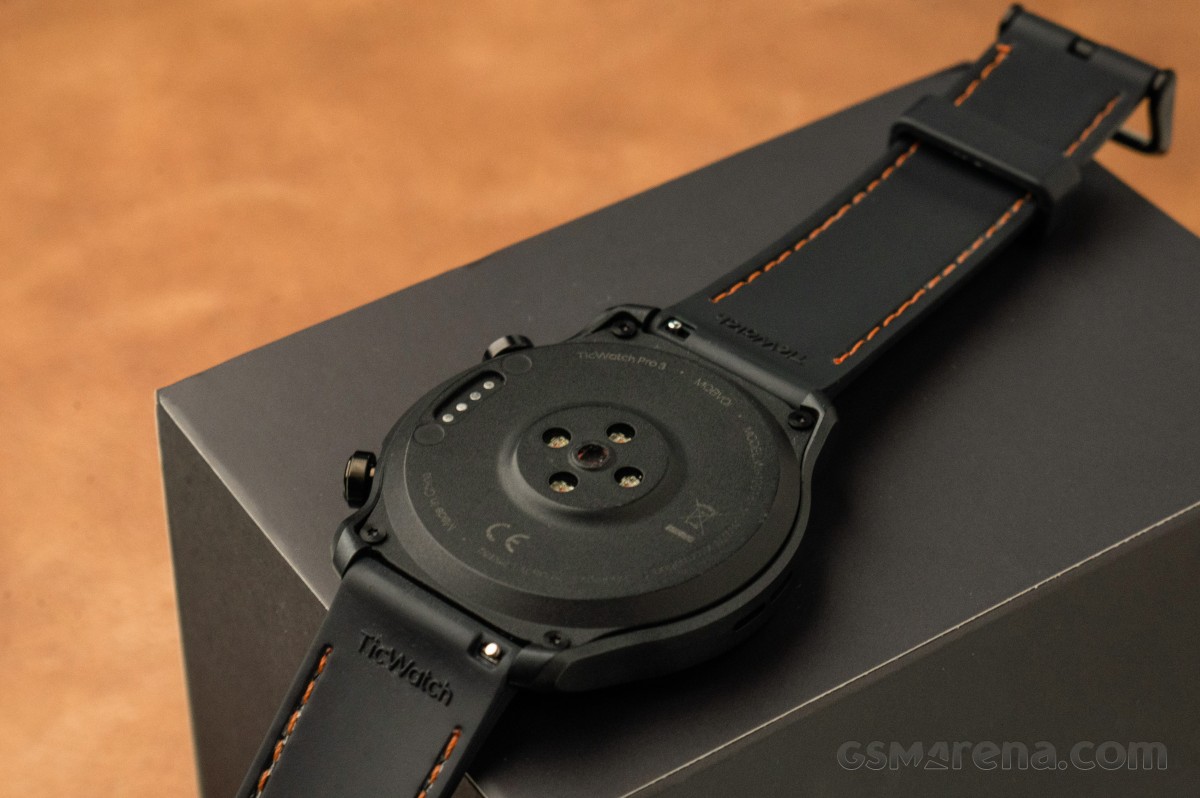 We really like the detailed accent stitches around the included wrist band. Although this strap is made of silicone, it's meant to mimic the look of leather - even though the silicone is smooth and black.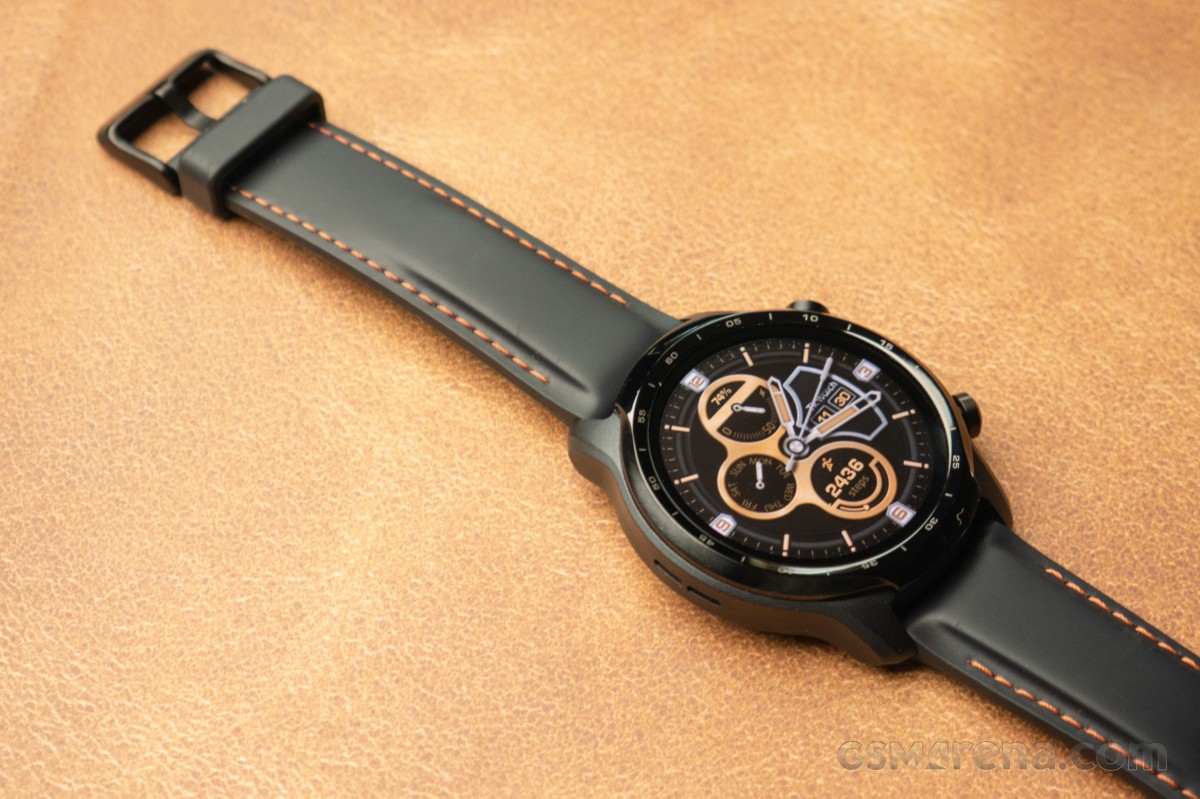 The wrist strap is soft, flexible, and comfortable. The orange stitching gives the strap an illusive appearance of being narrower than it is. Of course, if you don't love this strap, you can choose from any 22mm strap since the fit is universal.
The watch case is made of dual-texture stainless steel. The sides of the case have a matte finish while the bezel portion surrounding the display has a glossy sheen. The bezel no longer has a knurled ring around it like the TicWatch Pro LTE that we reviewed last year. Instead, it's printed with minute markings all the way around.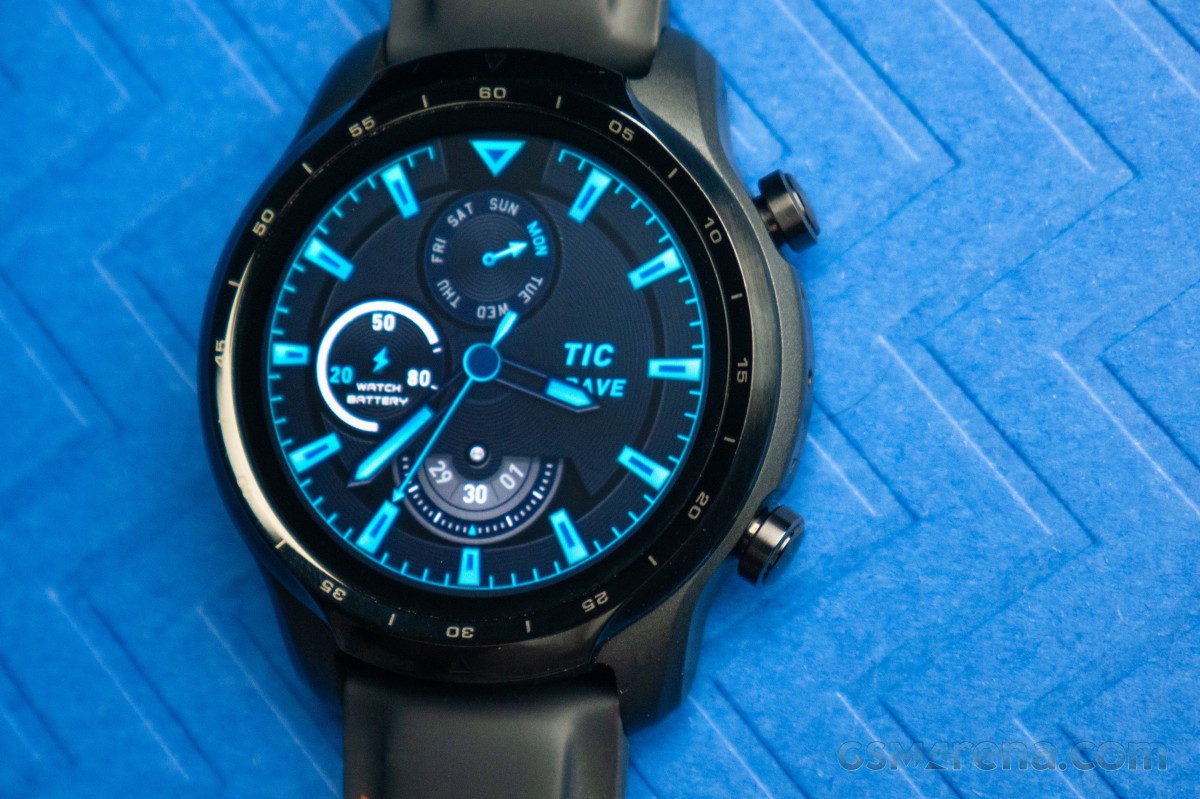 An attractive smartwatch design, the TicWatch Pro 3 is a refinement of its predecessor. Its keen and angular appearance does not suit dainty wrists. The watch is an easy accessory for both formal and casual occasions. The silicone strap makes it easy to wear to the gym in the morning before a business lunch meeting later in the day.
The fit is comfortable to wear all day, but if you're someone like me who sweats a lot, then a more breathable strap material or even a strap with holes in it are more in line with my preferences.
Updated Dual Displays
One of the TicWatch Pro 3's most attractive features is the dual display setup. This smartwatch has a round 1.39" AMOLED Retina screen with a resolution of 454 x 454 px. On top of this display is a low-power, always-on, secondary FSTN screen. This display can show time (hh:mm:ss), date, steps, battery, and some workout stats all while the main display is powered off.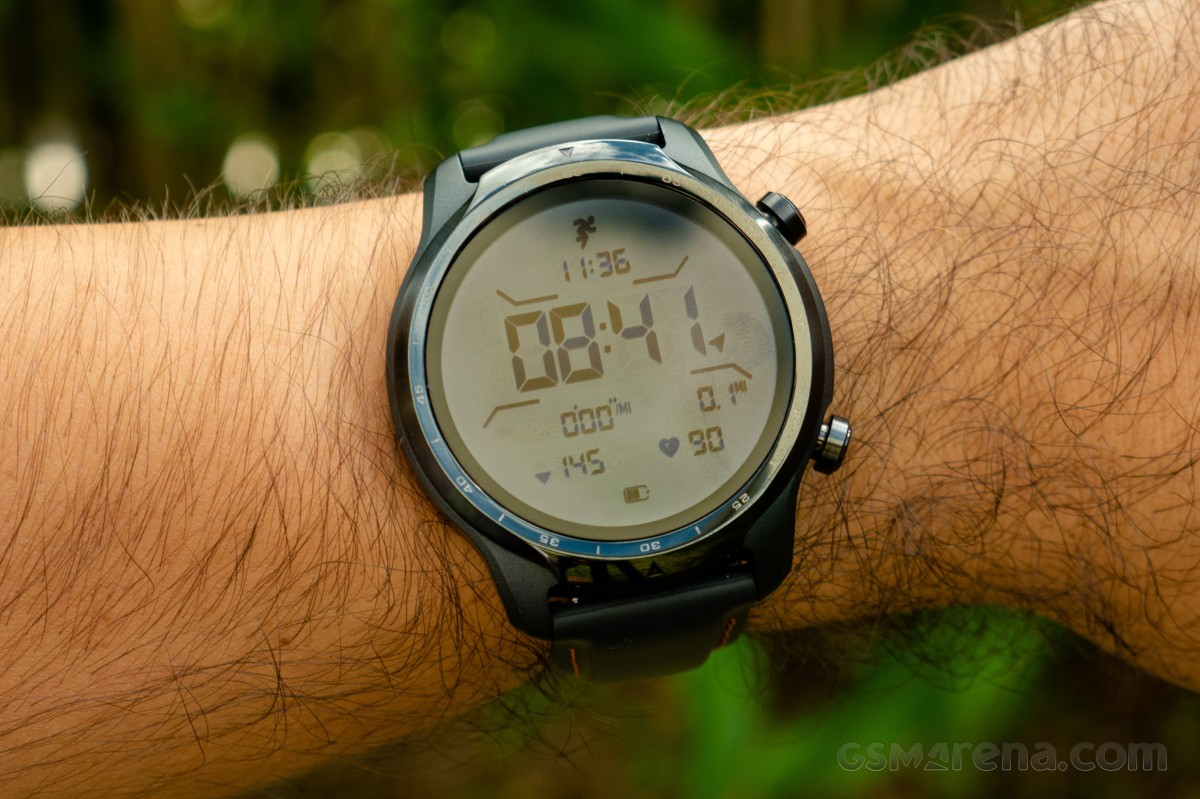 The secondary display on the TicWatch Pro 3 is transflective, which means it's visible under ambient light without needing a backlight. For the Pro 3, Mobvoi added a dedicated, low-powered backlight for this display so that you'll always be able to see this light without having to wake the main AMOLED screen.
If you set the wrist gesture to wake the display when you lift the wrist, it will turn the AMOLED screen on. If you leave this wrist gesture off, the FSTN's backlit display will illuminate, instead of the main display, when you lift your wrist.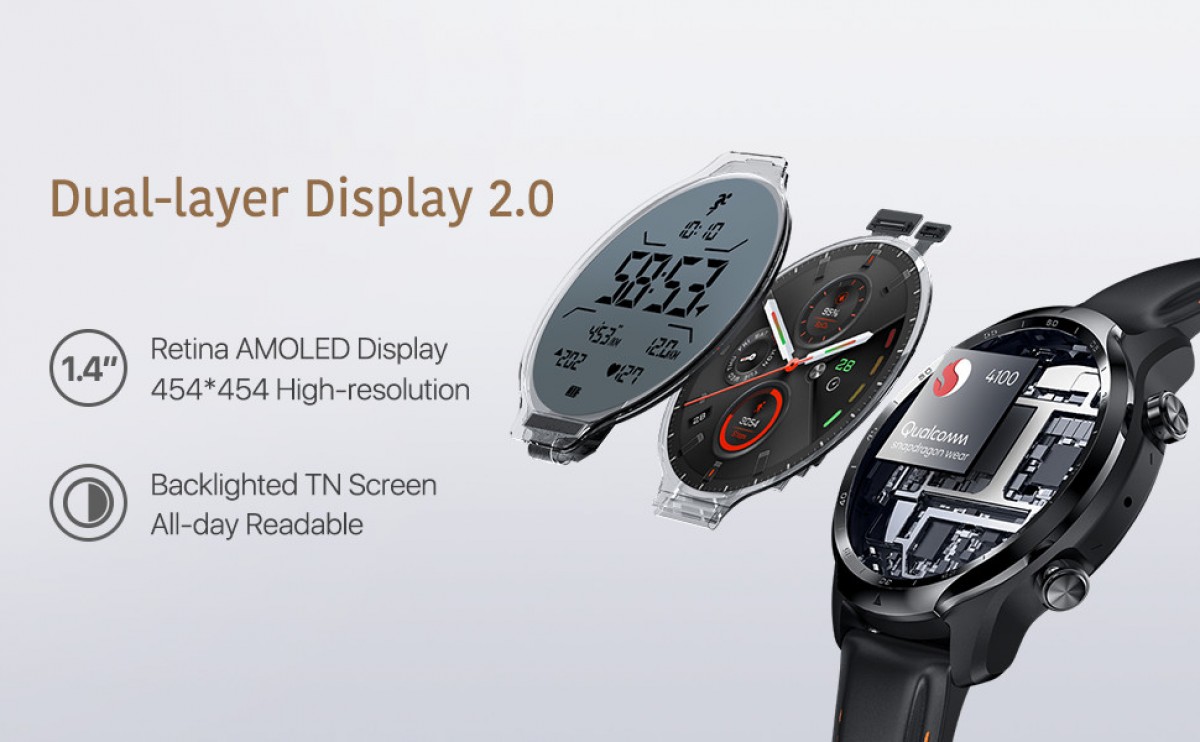 The FSTN screen on the TicWatch Pro LTE caused the OLED display underneath to be susceptible to glare, this is fixed with the TicWatch Pro 3 and the transition between display is seamless.
There's an adaptive brightness feature on the Pro 3, and there's even an option to let the auto brightness lean brighter or dimmer. If you've stepped outside and can't see the display because you have it set too dim, you can double-press the upper watch button for a temporary brightness boost - very convenient.
Wear OS features
The TicWatch Pro 3 runs the latest version of Wear OS based on version H MR1. Although Wear OS hasn't changed much over the last few years, there has been an optimistic amount of maintenance done to the OS, and the Snapdragon Wear 4100 Platform has significantly boosted the watch's performance over its predecessor.
Wear OS is expected to receive a significant update in the coming weeks, so we'll gloss over the main interface and focus on parts of the UI that Mobvoi has spruced up, as well as the TicHealth features.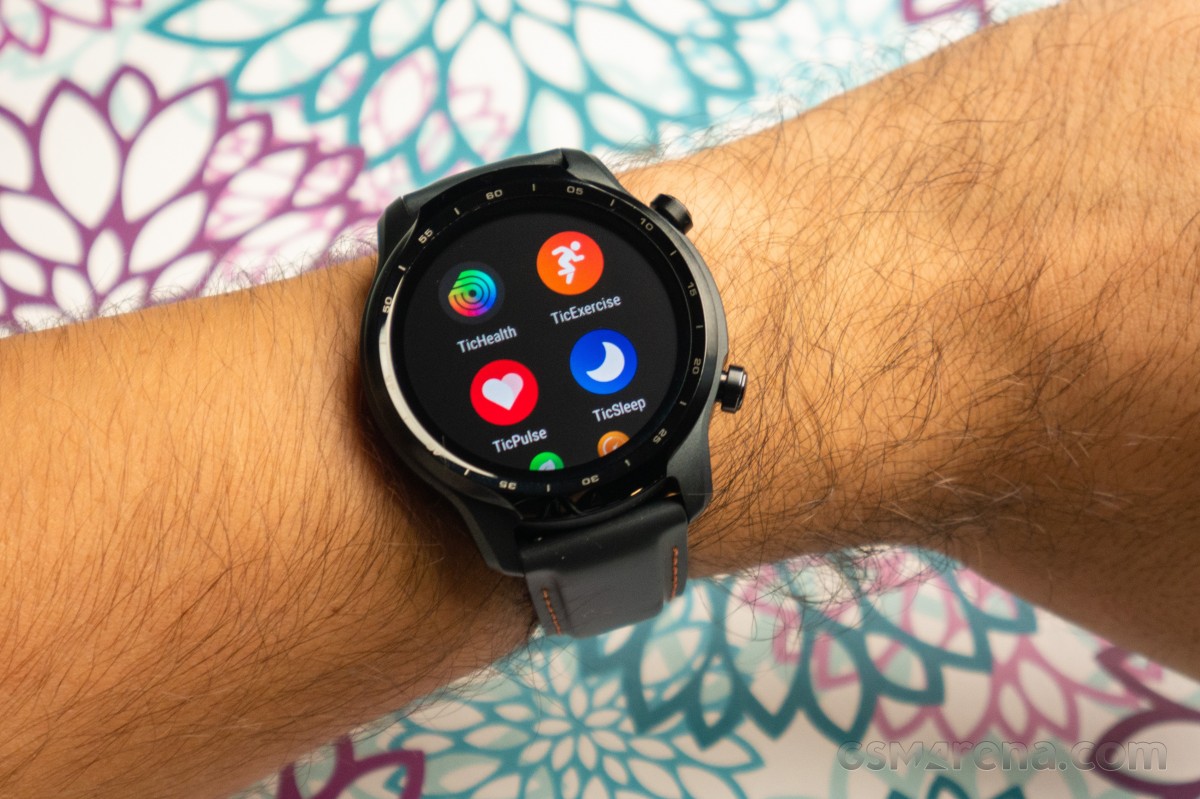 The paring process hasn't changed. Find the watch, pair it up, add your google accounts and confirm your passwords. Once setup, the Play Store will update itself and let you download Wear OS companion apps for those installed on the paired phone.
The location of the shortcuts hasn't changed: Swiping down shows shortcuts to Settings, swiping shows Google assistant, swiping up shows recent notifications, and swiping left shows your tiles (sort of like widgets for Wear OS).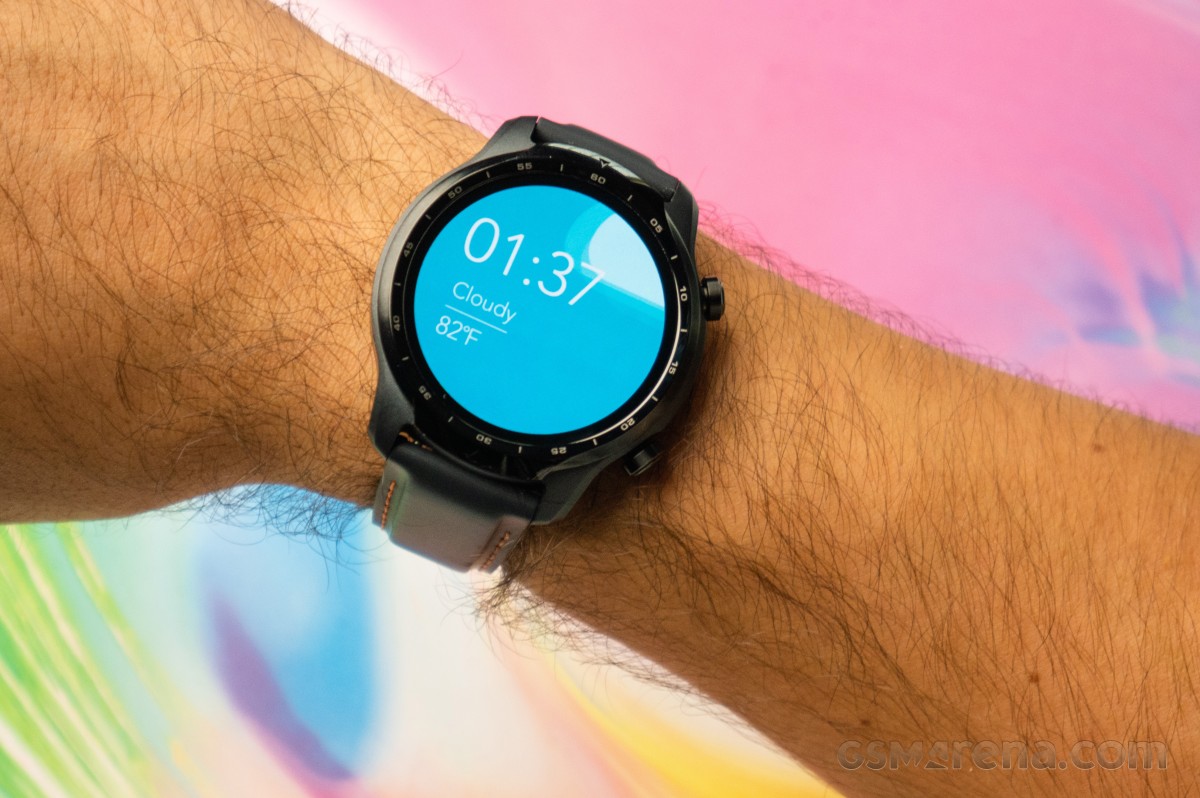 There are two physical buttons, though none of them have a rotating crown. The top button opens the app drawer, whose appearance Mobvoi has customized for this watch. The lower button is programmable to open an app of your choice. Press-holding (or double-pressing) the top button will prompt a Google Assistant query, and press-holding the bottom button opens a power menu where you can enter essential mode and drain the speaker port from moisture.
Though the app drawer isn't alphabetized, you can press-hold apps to move their position around.
There's a wide selection of watch faces from both TicWatch and Wear OS pre-loaded on the watch, but looking through the app on the phone reveals that many of these watchfaces are shortcuts to downloadable watch faces that no longer exist on the Play Store. We hope Mobvoi updates this.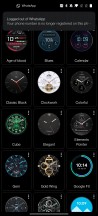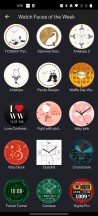 Watch faces: pre-loaded • some additional ones are broken links to the Play Store
Edit (December 11): Mobvoi has reached out to us to let us know that the above issue about dead watchface links in the Mobvoi app has been fixed.
The Snapdragon Wear 4100 is long overdue for Wear OS watches. It sees significant improvement in clock speed, power efficiency, and even GPU performance. Even by Apple and Samsung's own competitors in the wearables space, this chipset is still a bit behind. This aside, the Watch performs beautifully, and where the Play Store used to take upwards of 10 seconds to launch on its predecessor, it's less than three seconds now.
Google Maps is finally bearable to use on the wrist. Unfortunately, the integration with Google Assistant is a little wonky and asking it to walk somewhere won't immediately trigger the paired device to navigate there. Initiating the route on the phone first does work, though, and quite well.
Aside from using it to navigate anywhere, Google Assistant commands are otherwise much more responsive. There are no longer frustrating errors and hang-ups that were once routine when trying to process a voice command. There's still the occasional lag or missed command, so there's still work to be done here.
TicHealth features
When I first reviewed the TicWatch Pro LTE last year, the Mobvoi health features were limited, and the interface clearly mimicked Apple's fitness rings. Since then, Mobvoi's TicHealth has seen significant improvements, and the TicWatch Pro 3 has gained many new features.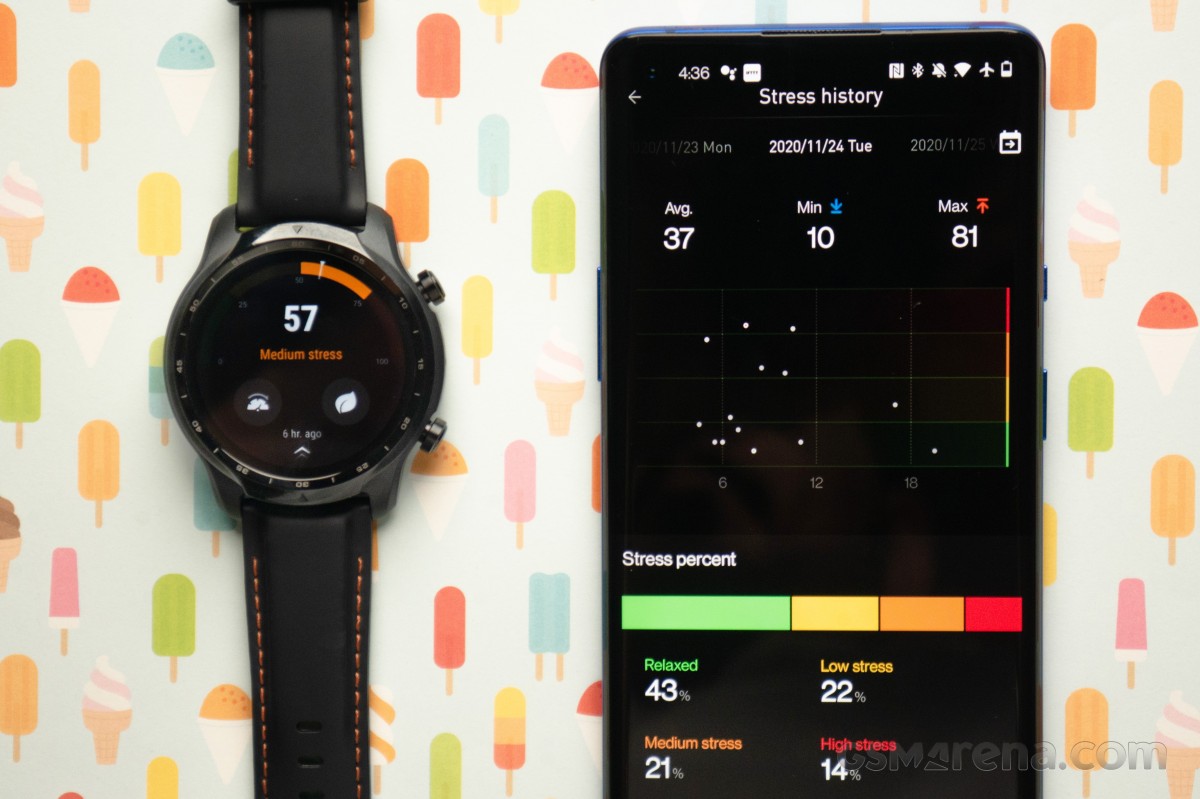 Aside from a beefed-up heart rate monitor, there are a few new TicHealth features, each of which have their own entry in the app drawer. TicOxygen measures your SPO2 levels and can monitor them throughout the day, TicZen monitors your stress levels, TicHearing can monitor sound levels, and TicBreathe offers a guided breathing session. Some of these other TicHealth features are more useful than others.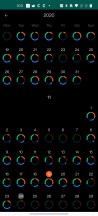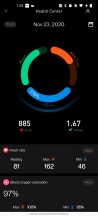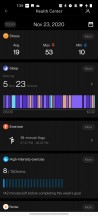 TicHealth: Calendar view • Day overview
The heart rate monitor has been updated from the LEDs, to the photodiodes, and the algorithm, so it's more accurate than before. As well, there are both green and red LEDs which, according to Mobvoi, are used simultaneously to compensate for noise, improving the signal to noise ratio.
TicHearing's perhaps the least useful addition to TicHealth and it's a "me too" feature from the Apple Watch (Since the Apple Watch Series 4, the Noise app can monitor noise levels and ping you with a warning if you're exposed to a loud environment for too long). What TicHearing is missing is a way to monitor noise in the background. In its current implementation, you need to open the app to check noise levels.
TicBreathe lets you start a guided breathing session for 1 to 5 minutes long. I find these guided breaths to be longer than Google Fit's - whose I find to be too short. TicBreathe's length of the breaths are more effective to me, and more conducive to deep breathing. This, coming from someone who breathes a lot through yoga.
TicSleep can monitor heart rate and SPO2 levels while you sleep, and the Mobvoi app on the paired Android phone will show you a breakdown of all the sleep stats. It even shows you a graph of how your heartrate fluctuated during your sleep. It does a good job of knowing when I might get up in the middle of the night for a few minutes.
The TicSleep app offers a smart alarm feature that lets you set a bedtime reminder, and it will wake you up in the optimal time of your sleep cycle, up to an hour before your set wake-up time.
TicExercise
With the TicWatch Pro 3, there are more trackable exercises in the TicExercise app. The exercises listed are: outdoor run, outdoor walk, indoor run, cycling, indoor cycling, free style, pool swilling, machine rowing, elliptical machine, body mechanics, trail running, mountaineering (hiking), and yoga. On another note, TicHealth syncs workout data with Google Fit (along with heart rate and sleep data) , Strava, and RunKeeper.
The TicWatch Pro 3 is equipped with GPS and a barometer, so the watch can track outdoor activities without the need to bring the paired phone along for the ride. I've been able to track a couple of hikes in the countryside and when you choose any outdoor exercise option, it will also track your change in elevation throughout the workout.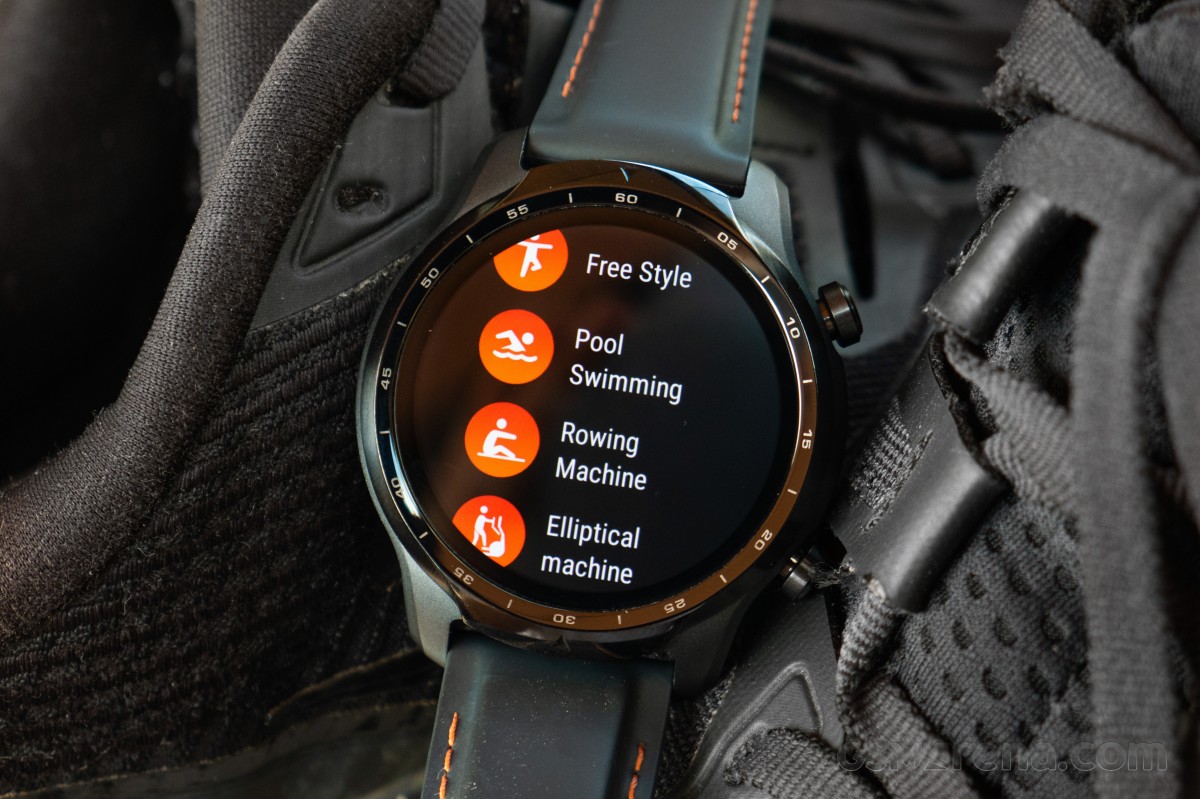 The FSTN display is great as displaying all the relevant information from a workout without having to fire up the AMOLED screen. This screen will show your current heart rate, the current time, elapsed time, battery life, distance traveled, current distance rate, calories burned, elevation climbed, elevation declined, and speed.
Of course, the stats displayed will depend on the workout you choose. With outdoor exercises, there is an auto-pause feature that will stop the workout when you stop moving. All stats are displayed in the Mobvoi app, along with nice visual graphs.
Battery life
This watch has the largest battery of any Wear OS smartwatch, and that's a feat considering it's slightly thinner than its predecessor. The 577 mAh battery lasts about three days off the charger in our experience. This is with all the monitoring features enabled, including sleep tracking, stress monitoring, SPO2 tracking, all-day heart rate monitoring, and an hour of workout logging.
To give you a scenario, after 24 hours off the charger going about my day, even slipping in more than an hour of workout tracking (with GPS), the watch sits comfortably at around 70% charge. If you didn't push it as hard as I did, you could easily breeze through three solid days of battery life.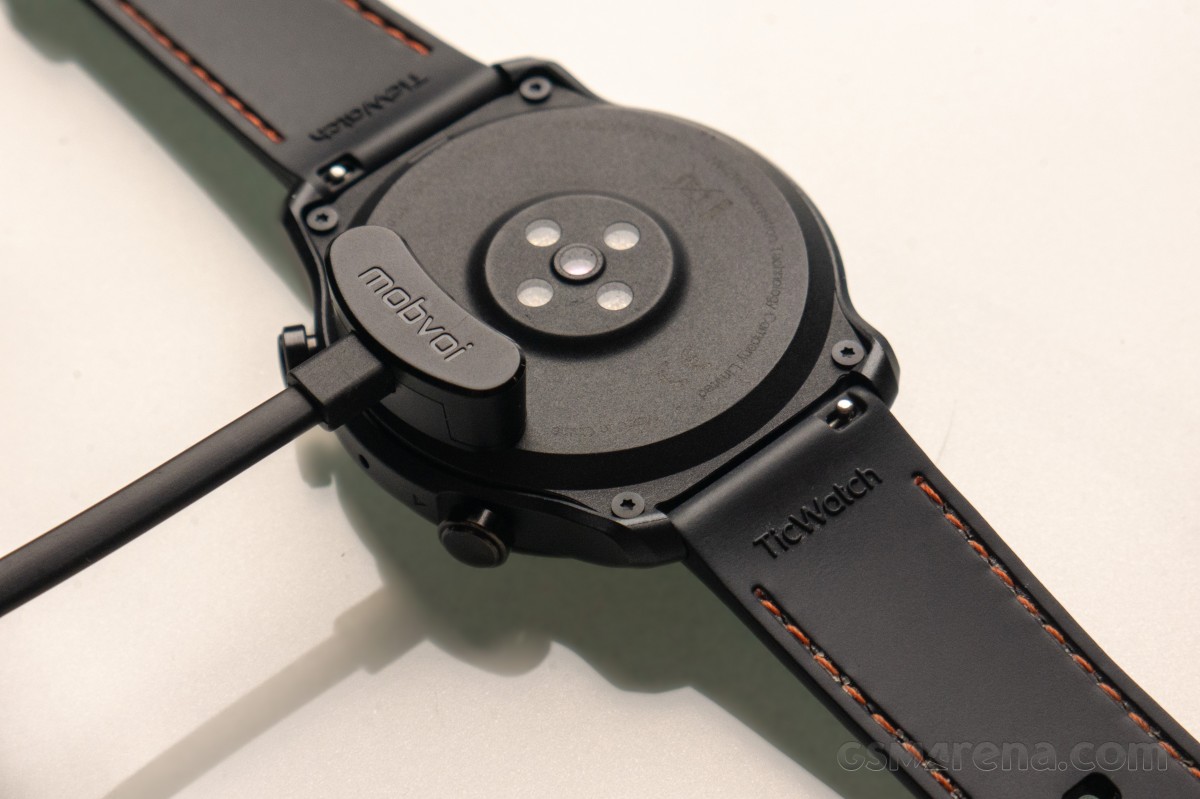 The watch features an impressive Essential Mode. It's a low-power mode that will only use the FTSN display with limited function. The buttons don't do anything in this mode, and only the FSTN display works, but the backlight still comes on when you raise your wrist. Meanwhile, the watch will still take heart rate measurements, track steps, and it will even still be able to track sleep. The watch will only be able to sync with the Mobvoi app once the watch is switched back to smartwatch mode.
It takes about an hour and a half to recharge the TicWatch Pro 3 from a depleted charge. By Mobvoi's 45-day Essential Mode claim, if you only have a 10% charge left, that should last you four and a half days in Essential Mode before you need to recharge.
Wrap-up, verdict
The TicWatch Pro 3 is a fully-equipped Wear OS smartwatch and it offers everything that any good smartwatch could. A full suite of exercise and tracking apps, multi-day battery life, snappy performance, and a large display with ample brightness for outdoor use. The secondary display takes the viewing experience to the next level and keep distractions out of sight until you want to see them.
Mobvoi is asking $299 for this smartwatch, which puts is higher than the starting prices of both the Apple Watch SE and the Galaxy Watch Active2. That price is also lower than the starting prices of both the Apple Watch Series 6 and the Galaxy Watch3. So, there are a few options to consider.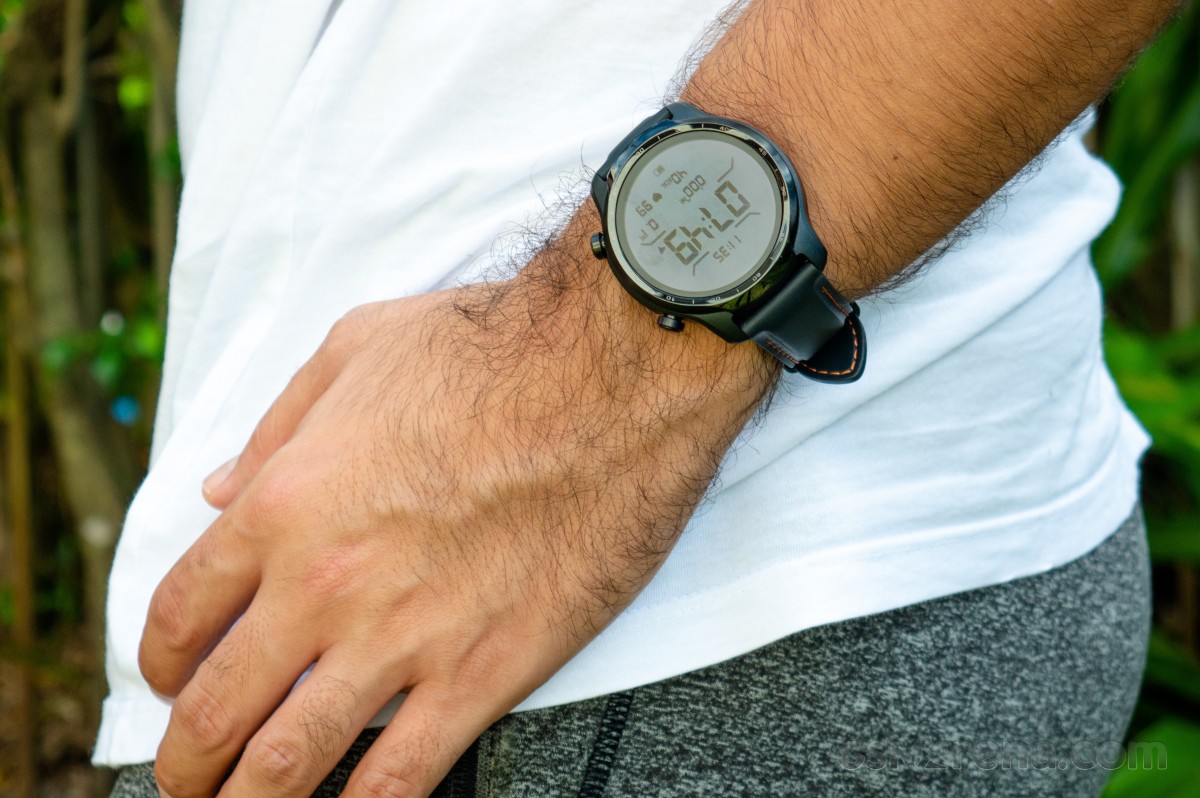 The obvious choice for iOS is an Apple Watch. If you have a Galaxy phone, however, the Galaxy Watches do feature better integration with those, and Samsung's Health apps have been around longer - their health app also has social features absent from Mobvoi.
Despite this, Mobvoi has come a long way with its TicHealth suite and the app's integration with Google Fit makes it easy to alternate between the two platforms. Granted, the Mobvoi app isn't the most intuitive one around, but if you don't mind poking around to figure things out, you'll get the hang of it.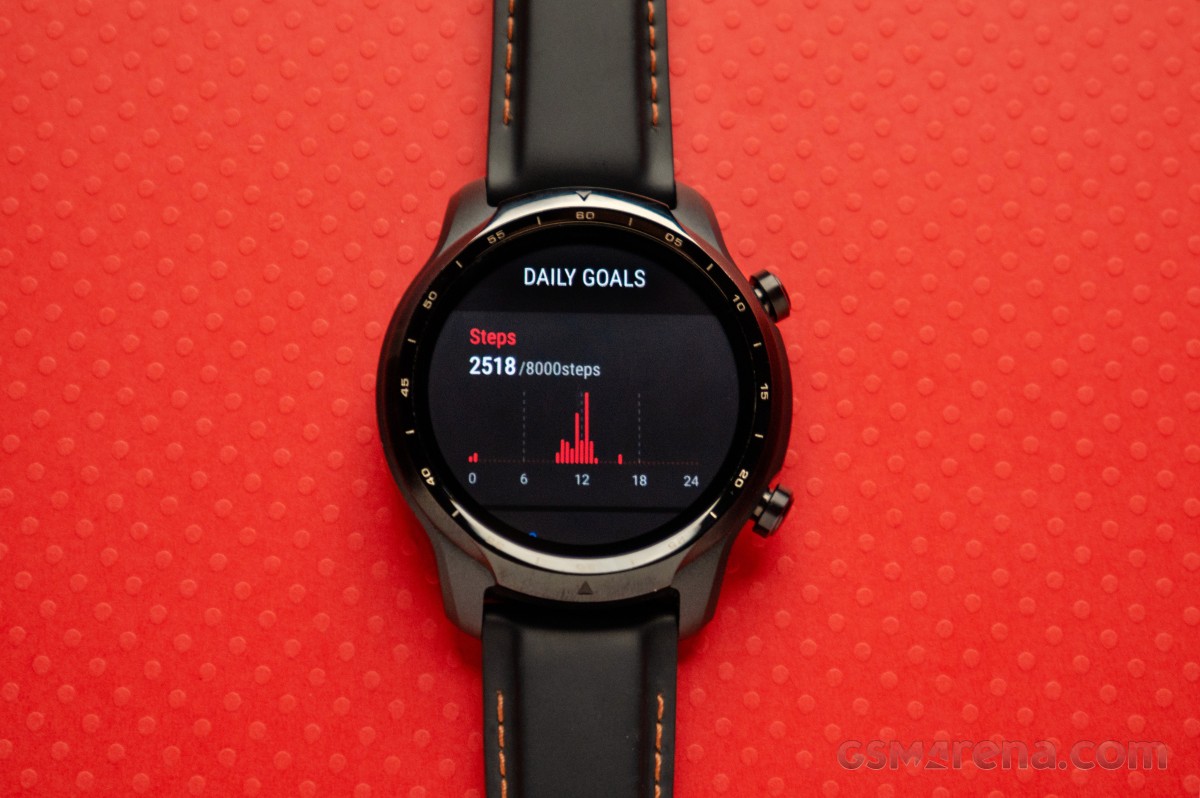 The TicWatch Pro 3 is a great fitness watch with a classy, rugged look, excellent battery life, and a fully rounded Wear OS experience with Google Assistant ready to help. It brings out the best in Wear OS and it shows what the smartwatch is capable of, even though the operating system has yet to reach its full potential.
Pros:
Bright AMOLED screen
Secondary FSTN display is a great way to minimize distraction
Stylish, rugged appearance
Battery life is excellent
Comes with the fastest/most-efficient chipset on a Wear OS watch
TicHealth has matured well
Cons:
Mobvoi app needs some polish
Wear OS needs a major update (though, it's coming soon)
Large size doesn't appeal to all styles
Weak vibrate motor
Related
The TicWatch Pro 3 GPS and WearOS could be desribed with one word: "Unreliable". The Watchface sometimes illuminates by itself - or not. You never know. And it turns off after the selected 5 seconds - or not. You never know. It varies i...
Samsung's new smartwatch - Galaxy Watch 4 battery doesn't last a day...
Popular articles
Popular devices
Electric Vehicles