Moto G4 Plus review: Tuned up
GSMArena team, 07 November 2016.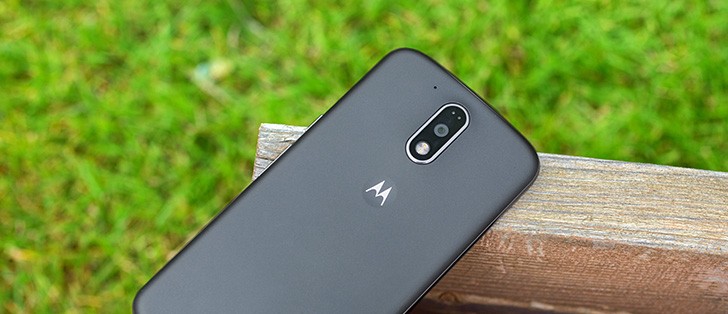 Telephony
It depends on the region, but the Moto G4 comes in single and dual-SIM versions. We have a dual-SIM model for testing and it seems to be the most commonly found variety currently out there. Since it has a dedicated microSD card slot, you might as well get that one, as you never have to sacrifice the extra slot for memory expansion. We definitely count that as a plus with all the hybrid tray solutions floating around.
The dialer should be quite familiar. It's split into three tabs - favorites (with big thumbnails), call log and all contacts. There's no mention of Wi-Fi calling, however (even though previous Motos supported it), there's only SIP calling.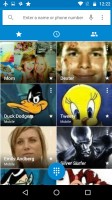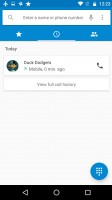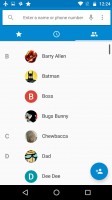 Favorite contacts • Call log • All contacts
Like its generic sibling, the Moto G4 Plus also has a single speaker, but it's positioned on the front. While not exactly as good as a stereo front-facing setup, this is definitely better than a rear or bottom mounted one. The speaker is decently strong and got a Good mark. That's still below the Very Good that the 3rd generation Moto G got. While not the loudest, the G4 Plus offers a strong and clean sound for listening to music.
In terms of loudness, we got consistent results with those on the regular G4, which, of course, was expected.
| | | | | |
| --- | --- | --- | --- | --- |
| Speakerphone test | Voice, dB | Pink noise/ Music, dB | Ringing phone, dB | Overall score |
| LG Nexus 5X | 61.2 | 65.8 | 61.7 | Below Average |
| Samsung Galaxy J5 (2016) | 66.0 | 64.3 | 70.1 | Below Average |
| Meizu m3 note | 66.5 | 64.6 | 71.7 | Average |
| Samsung Galaxy J7 (2016) | 64.5 | 71.0 | 68.9 | Average |
| Samsung Galaxy A7 | 64.8 | 66.3 | 73.5 | Average |
| Oppo F1 Plus | 67.9 | 71.9 | 66.5 | Average |
| Huawei Honor 5X | 71.1 | 65.6 | 70.7 | Average |
| Moto G4 Plus | 64.0 | 70.4 | 73.0 | Average |
| Xiaomi Mi 5 | 66.9 | 67.2 | 74.0 | Good |
| Lenovo Moto G4 | 64.7 | 70.8 | 72.8 | Good |
| Xiaomi Redmi Note 4 | 64.2 | 67.2 | 76.9 | Good |
| Xiaomi Redmi Note 3 | 66.5 | 66.6 | 75.8 | Good |
| Oppo F1s | 69.0 | 72.0 | 67.9 | Good |
| vivo V3Max | 74.7 | 75.8 | 68.0 | Good |
| Huawei P9 lite | 66.0 | 71.5 | 83.2 | Very Good |
| Motorola Moto G 3rd Gen | 75.7 | 69.6 | 75.9 | Very Good |
| LeEco Le Max 2 | 74.9 | 69.3 | 77.2 | Very Good |
| Meizu MX5 | 75.7 | 73.5 | 79.5 | Excellent |
Messaging and text input
The Moto G4 comes with Google Messenger pre-installed (it's the default SMS app) as well as Hangouts. Messenger behaves a lot like a modern IM app. You can snap a photo and send it in seconds or send short audio recordings, emojis and so on.
However, unlike Hangouts it does not support Gmail chat or voice calling, video calling or anything that doesn't fit into MMS. Also, Google now has Allo and Duo for texting/video chats so figuring out which Google app you're supposed to use is a puzzle.
Text input, naturally, is handled by the Google keyboard. It's fast, it's accurate, it's reliable and it has plenty of configuration options. You can enable one-handed mode by long-pressing the comma key, adjust the keyboard height, the layout (e.g. you may want QWERTZ), enable additional symbols on long-press and change the theme. Typing, swiping and voice dictation are available.
Other apps
Since a near-stock Android experience is what Motorola has typically been after for some time now, there aren't many other pre-installed apps to speak of. You do get a calculator and Google's calendar app. But the latter is technically part of the standard Google app suite anyway.
However, Motorola arguably took things a bit too far in its strive to maintain a clutter-free experience. Then again, it might be sort of Google's fault for not having a standard Android file manager app to offer. Regardless, there is no real solution for outright browsing your files on the Moto G4 Plus. Sure, Google Photos is there and it has access to your local storage, but that is limited to images and videos alone. Furthermore, the Photos app seems to have trouble with quite a few video and audio codecs. But more on that later.
So, back to the point, Photos might have that part of the multimedia browsing covered and Google Play music has you covered for audio files. However, if you want to download or save and work with most other file types out there, you are pretty helpless out-of-the-box. All you get is the Downloads app, which is nothing more than a historical list.
Still, this is more of a nuisance more than anything else, since third party file browsers are plentiful, with some really, really good options available for free.
My moto g4 plus not charging turbo only normal charging Charger is ok Pl tell solution of this problem
First your team had given a update and fix all the bugs like heating issues,screen jumping while charging,improve the phone performance,work on lagging, switch on notification led hidden feature and solve the bugs, replace atleast moto transparent ho...
Camera not working , When I press click button , whole the controlling buttons are disappered and I have to restart the cemera . I cant use I while charging as the screen is out of control if I unlock tge phone , ut starts operating itself while char...