Motorola Moto G Pro / G Stylus review
GSMArena team, 25 July 2020.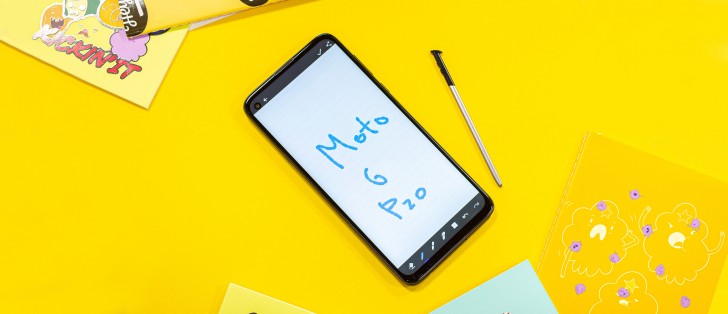 Squeaky clean Android One
The Moto G Pro is part of the Android One family, which is supposed to ensure swift updates whenever the next Android version gets out. That's not always the case, though, but there's another advantage of the Android One devices, and that's the pure, clutter-less Android experience. In case you are looking for a vanilla Android smartphone, this one will deliver. It's also important to note that the US variant called Moto G Stylus is not part of the Android One program.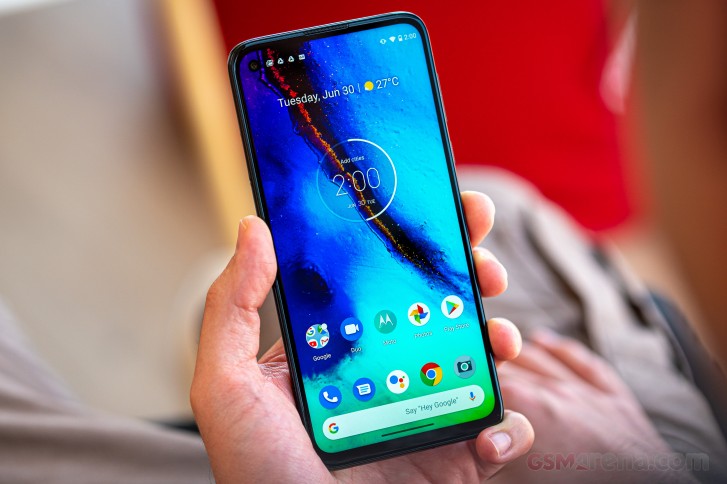 Still, Motorola did add a couple of customizations and features to the clean Android as it usually does. Once you setup the phone and open up the general settings menu, you will be prompted with two messages on the top - one will take you to a menu to choose your preferred navigation method and also explaining the new gestures while the other takes you through the neatly organized Moto-specific features.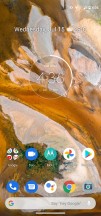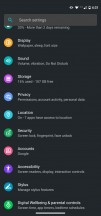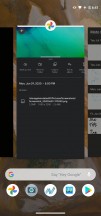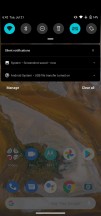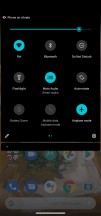 Home screen, general settings, recent apps, notification shade
The gestures are the usual ones from Google with the back gesture executed from either side of the display. There's also a slider for the back gesture sensitivity that determines how close to the edge you have to get for the system to register a back gesture. Or, you know, you can always stick to the good ol' software navigation buttons.
Back to the advanced Moto features now. They are split into several categories with the Moto actions one being the biggest one. Among the usual ones like launching the camera with a twisting motion of the wrist or turning on the flashlight with a double karate chop motion, there's one fairly new addition to the list and that's the one-handed mode, which you can activate with a single swipe from the center of the screen.
Two other screen-off gestures that are worth mentioning, although not new, are the lift-to-unlock and the media controls. If you have the face recognition unlock method set up, you can pick up the phone from the desk and once you raise it, the screen will turn on and the front-facing camera will start scanning for your face. That's a quick and easy way to unlock the device. Whereas the volume rocker can act as a media control button when the screen is off. That's probably the only OEM that lets you do that and we really like it.
The Moto Display section holds two more options - one called Attentive display, which you've probably guessed what that means. The screen will stay on and won't dim while you are looking at it. Assuming you are reading an article, you won't have to touch the display to prevent it from turning off.
Peek Display, on the other hand, is all about the locked screen. It lets you interact with notifications and even reply to messages from the locked screen. The UI is reminiscent of an Always-on display and you can check real quick if you have a notification or just see the time by tapping on the display or moving the phone altogether. The apps and notifications that let you interact with them will appear in small circles in the lower half of the display. It's a really neat feature if you want to do a quick reply or dismiss a notification without having to unlock the phone. And, of course, there's an option to ask for credentials when sending a reply to someone.
Speaking of the display, Motorola finally fixed its Dark Mode. Now all settings menus are in dark gray and the notification shade as well. Previous iterations of the software didn't change the color of the settings menus for some reason so it's good to see the Dark Mode up and running as it should. Sady, you won't be gaining any battery life in the process as this is an LCD panel. It will be much easier on your eyes at night, though.
Stylus pen options and software
Don't expect a lot of customizations surrounding the stylus pen. Once you pull it out, a small bubble will appear on the right side of the screen. This bubble contains four shortcuts. One will let you do a quick note with the usual customizations regarding the writing, the other one is Google Keep, the third one takes a screenshot and the fourth takes to to the Moto Note app where you will find all your previous notes.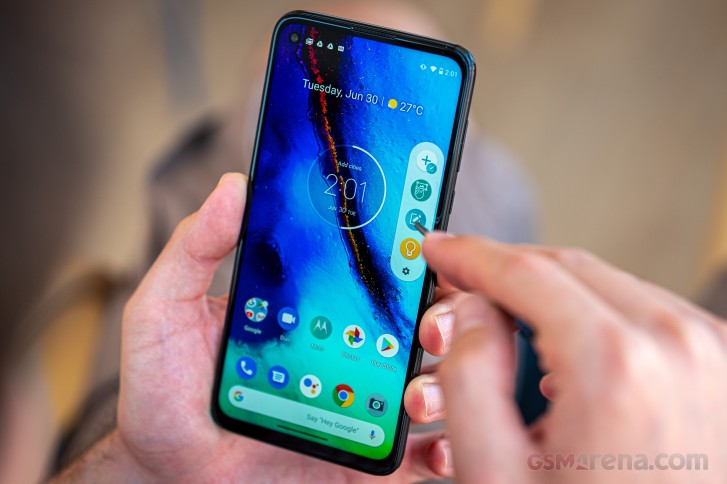 Unfortunately, there's no way to add more shortcuts to the said bubble but you can set a specific app to launch when you pull out the pen.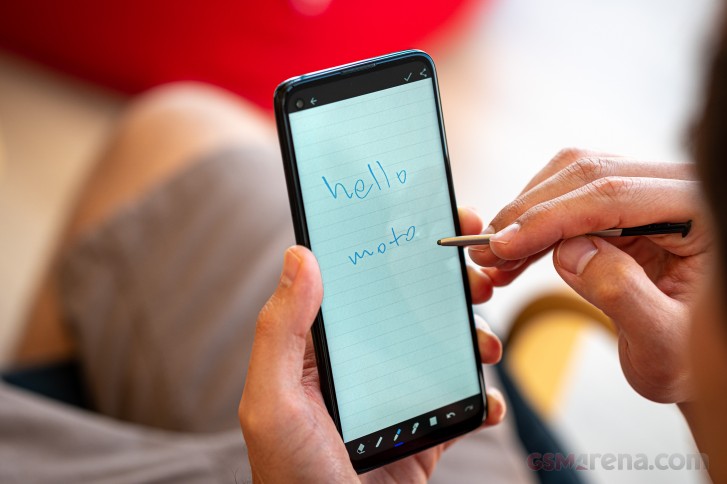 The pen itself works fine and consistently. Sure, it's nothing like the Galaxy Note's pen in terms of usability and accuracy, but we don't expect it to. It's definitely a useful tool for anyone looking for a budget, productivity-oriented smartphone.
Performance
The Moto G Pro comes with last year's Snapdragon 665 chipset based on the 11nm manufacturing process. The chip employs an octa-core CPU with 4x 2.0 GHz Kryo 260 Gold cores and 4x 1.8 GHz Kryo 260 Silver cores while the GPU-intensive tasks are handled by the Adreno 610.
There's only one memory configuration available, and that's 4GB of RAM with 128GB of internal storage. The latter seems to be more than sufficient considering that microSD card support is also at hand.
Additionally, the chipset is borderline acceptable at this price because there are a couple of alternatives with more powerful and newer Snapdragon 700-series chipsets. Here's how it holds against the similarly-priced competition.
GeekBench 4.4 (multi-core)
Higher is better
Xiaomi Mi 10 Lite 5G
7963
Realme 6
7815
Realme 6 Pro
7027
Xiaomi Mi Note 10 Lite
6639
Motorola One Zoom
5802
Motorola Moto G Pro
5687
Samsung Galaxy M31
5487
GeekBench 4.4 (single-core)
Higher is better
Xiaomi Mi 10 Lite 5G
2863
Realme 6 Pro
2643
Realme 6
2606
Xiaomi Mi Note 10 Lite
2429
Motorola One Zoom
2084
Motorola Moto G Pro
1516
Samsung Galaxy M31
1510
GeekBench 5.1 (multi-core)
Higher is better
Xiaomi Mi 10 Lite 5G
1927
Realme 6
1726
Motorola One Fusion+
1705
Xiaomi Mi Note 10 Lite
1694
Realme 6 Pro
1666
Motorola One Zoom
1534
Motorola Moto G Pro
1385
Samsung Galaxy M31
1315
GeekBench 5.1 (single-core)
Higher is better
Xiaomi Mi 10 Lite 5G
616
Realme 6 Pro
565
Realme 6
548
Motorola One Fusion+
542
Xiaomi Mi Note 10 Lite
521
Motorola One Zoom
509
Samsung Galaxy M31
349
Motorola Moto G Pro
311
AnTuTu 8
Higher is better
Xiaomi Mi 10 Lite 5G
318117
Realme 6
288931
Realme 6 Pro
268785
Motorola One Fusion+
267980
Xiaomi Mi Note 10 Lite
253271
Samsung Galaxy M31
195284
Motorola One Zoom
180000
Motorola Moto G Pro
173611
GFX 3.1 Manhattan (1080p offscreen)
Higher is better
Xiaomi Mi 10 Lite 5G
38
Realme 6
31
Xiaomi Mi Note 10 Lite
30
Realme 6 Pro
30
Motorola One Fusion+
27
Samsung Galaxy M31
16
Motorola One Zoom
15
Motorola Moto G Pro
13
GFX 3.1 Manhattan (onscreen)
Higher is better
Xiaomi Mi 10 Lite 5G
32
Realme 6 Pro
27
Realme 6
27
Xiaomi Mi Note 10 Lite
26
Motorola One Fusion+
25
Samsung Galaxy M31
14
Motorola One Zoom
13
Motorola Moto G Pro
12
GFX 3.1 Car scene (1080p offscreen)
Higher is better
Xiaomi Mi 10 Lite 5G
21
Realme 6 Pro
18
Realme 6
18
Xiaomi Mi Note 10 Lite
17
Motorola One Fusion+
16
Samsung Galaxy M31
10
Motorola One Zoom
8.1
Motorola Moto G Pro
7.1
GFX 3.1 Car scene (onscreen)
Higher is better
Xiaomi Mi 10 Lite 5G
17
Realme 6 Pro
16
Realme 6
16
Xiaomi Mi Note 10 Lite
15
Motorola One Fusion+
14
Samsung Galaxy M31
9.2
Motorola One Zoom
7.1
Motorola Moto G Pro
6.6
3DMark SSE OpenGL ES 3.1 1440p
Higher is better
Xiaomi Mi 10 Lite 5G
3294
Realme 6
2570
Realme 6 Pro
2506
Xiaomi Mi Note 10 Lite
2467
Samsung Galaxy M31
1599
Motorola Moto G Pro
1127
Motorola One Zoom
972
Amazon not only has cases for the Moto5G Stylus phone. It does have the (3 pack) "Tempered Glass" Protectors *Anti-scratch, Bubble Free* from the company "Supershieldz"
Itsjustkristi
23 Nov 2021
75K
Very disappointed in the phone. This is my 4th Moto g stylus due to my insurance. I cannot upgrade to a different phone until I have had this one for 3months unfortunately I have not been able to keep one that long. The screen is way too frag...