Moto Z Droid review: Birth of a new successor
Birth of a new successor
GSMArena team, 29 July 2016.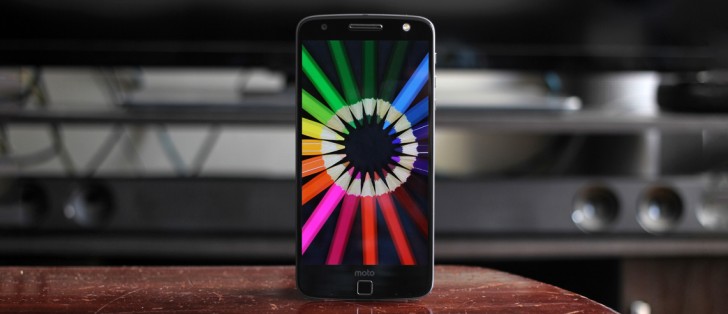 One step forward, two steps back
Hardware improvements can be seen on the camera with its f/1.8 aperture from last year's f/2.0, even though the resolution went down from last year's Moto X Style (Pure Edition in the US) from 21MP to 13MP on the Moto Z. Also, the camera went from phase-detection autofocus to laser-autofocus to help with low-light focusing with subjects in close range.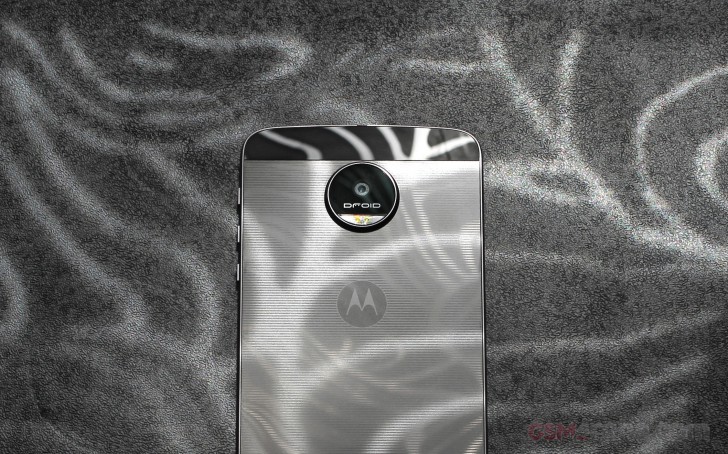 Pixel size hasn't changed since last year's Moto X at 1.12-µm and that could work against the Moto Z as other manufacturers have stopped pushing for higher pixel count and are, instead, focusing (no pun intended) on larger pixels that allow more light to enter the sensor. Here we're seeing less pixels but they are no bigger than before.
Camera interface
Remember how minimal and simple the Moto X's camera UI was? Well, that has been changed up a bit for the Moto Z. The camera UI has been revamped from the ground up. Lenovo took the style and feel of the Moto X's original camera UI and made a new UI based off of that. The result is a little disorienting, but not too bad.
There are many features in the camera including the native ability to scan barcodes and QR codes without needing to download 3rd party apps from the Play Store. There's also a Professional Mode which gives the user control over camera settings like shutter speed, manual focus, and ISO.
When you first start the camera, you'll have the option to choose the "tap anywhere" to take a photo or to have a dedicated on-screen camera button (we go for the latter). It's worth noting the volume button can be used as a physical shutter key as well.
Standard viewfinder and controls
HDR, flash, and timer shortcuts can be found at the top (when in portrait) or left (when in landscape) and the shortcuts expand to show you more choices for that option.
The 5MP front-facing camera adds one extra control to this menu and that is for beauty mode. There are three options: auto, manual, or off. The manual option lets you move a slider like most other smartphones that offer a beauty mode which blends the skin tones to hide imperfections.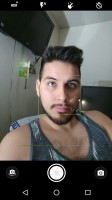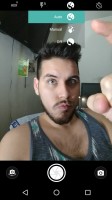 Selfie mode • Beauty mode options
To switch to another mode, you'll need to tap on the camera button next to the shutter button and choose the option. There is no longer a convenient shortcut to start recording video right away. You'll need to tap on this button and switch to the video mode.
Professional mode looks like many others we've seen before: You're given all the controls in an overlay over the viewfinder. There's also a small arrow under all the controls which conveniently expands them all at once.
The Moto Z's camera performance left a lot of room for improvement. While photos in well-lit environments look great with detail and color, we found that the camera tended to color shift sometimes, almost as if the camera was not sure how to set its white balance in auto mode.
Here are some comparison shots taken with the Samsung Galaxy S7 edge, as well.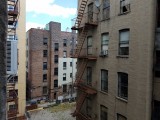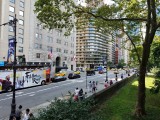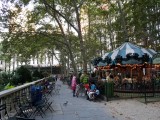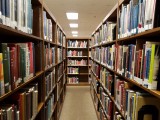 Comparison shots with Samsung Galaxy S7 edge
You'll notice the first bunch of sample photos above were taken at 16:9 aspect ratio. This is because the Moto Z defaults it to a cropped sensor mode, reducing the total resolution output from 13MP to 9.7MP. The average user might miss this and will then wonder why their photos are not appearing in 13MP.
Otherwise, the camera delivers great sharpness with the less occasional over-sharpening, resulting in washed out details. Color reproduction looks great, but only when faced with the best lighting scenarios as there were moments when the Moto Z was unsure of how to color-grade the scene.
At the first signs of the sun starting to set, the Moto Z struggled to keep up with the S7 edge. In the 7th sample photo with the carousel, you'll notice many moving objects start to blur. This is apparent in many other scenarios, more often that we'd hoped. The shutter speed is stretched longer in order to expose photos well, but the tradeoff is moving objects start to blur. By contrast, the S7 edge's carousel shot has significantly less motion blur.
In scenes with lower light, where the shutter speeds are significantly longer, the camera needs to be still in order to take a clearer photo. So, the viewfinder will display a message to "Hold camera steady". Thankfully, in all lighting situations, we didn't see any abnormal amount of noise in the images, skies look blue and colors stayed uniform.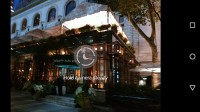 Message telling us to hold camera steady
HDR performance might be a bit over the top and we like our HDR images looking natural, for the most part. The Moto Z over exaggerates the colors when bringing out the shadows. While the Galaxy S7 edge also exaggerates these colors, this isn't to the extent of the Moto Z.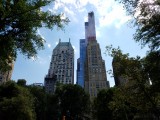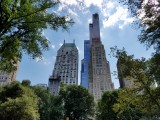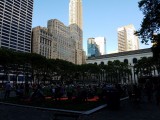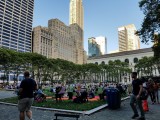 S7 edge HDR: off • on • off • on
Low light performance on the Moto Z is just above average. The effort made by image post-processing in order to make up for low light really shows in the Moto Z. In some cases, colors become splotchy and resemble water color paints. Details are lost in low-light scenarios, which contributes to the "water color effect". Also, if you try to take photos of moving objects in this type of lighting, you might have a bad time.
Otherwise, the S7 edge's low light comparison shots aren't too far apart from the Moto Z's. The Galaxy S7 edge tries to keep textures and details visible at the expense of more visible noise throughout.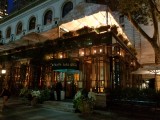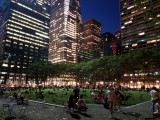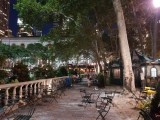 Low-light shots with S7 edge for comparison
You can also check how the Moto Z stacks up against other 13MP snappers in our database.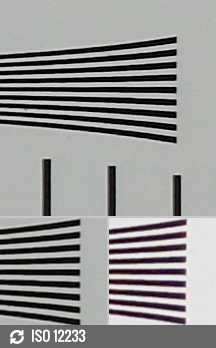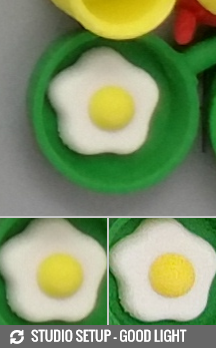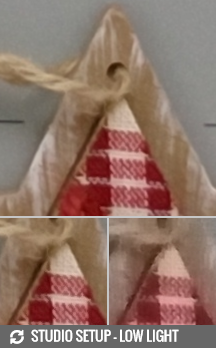 Motorola Moto Z: photo quality comparison
Taking a panorama photo works just as in many other devices: tap the shutter key and take a continuous pan of the scene in front of you. Strangely, the panorama mode didn't let us take a photo wider than about 100 degrees.
5MP front camera with selfie flash
The Moto Z carried on the front facing LED flash from last year's Moto X. The result is a selfie camera that performs rather well. This 5MP front facing camera makes up for any minor short-comings found with the rear-camera. The selfie camera exceeded our expectations.
In regular lighting, the camera shows plenty of detail and skin tones are on point. HDR brings an extra level of exposure and coloration, but its behavior is not quite predictable. Colors are a little oversaturated when using HDR (just like the rear camera).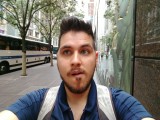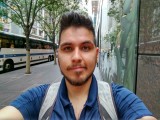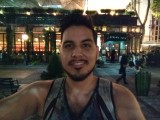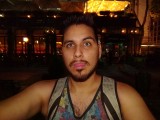 Selfie: • in regular lighting • HDR on • in low-light • with front flash
Selfies taken in low light look great among the other flagship offerings this year. The front facing LED flash is a great way to fill light where there is otherwise not enough of it.
Video
Appropriately, the Moto Z is capable of recording video in 1080p @ up to 60fps and 4K @ 30 fps. However, the mode that produces the smoothest looking video is 1080p @ 30fps since it's both optically and digitally stabilized. Videos recorded in 60fps or 4K will be shaky if you don't intend to use a tripod.
Videos at 60fps have the same bit rate as videos taken with 30fps. This is because the camera makes a compromise: in order to record in 60fps, the camera will capture images at a degraded quality. That's why the standard 30fps video looks much better and sharper than the 60fps clip.
When recording in 4K, the Moto Z found itself constantly hunting for focus. This problem was not apparent in either of the other two video modes.
The Moto Z also features an HDR toggle within the video mode. We accidentally set HDR mode to on when taking the 1080p@30fps clips and you can gather that it won't look good in all scenes. In this particular scene on 59th street, shadows were brought lower than they already were (as the scene was mostly out of the sun).
Audio recording is set to a standard 128kbps with stereo channels and a 48kHz sample rate. Video rates for 4K resolution are at about 50Mbps while 1080p videos are captured at about 17Mbps.
As always, we've got some samples for you to watch from YouTube below, or you can download them with the following links: 1080p @ 30fps HDR (~30MB) / 1080p @ 60fps (~30MB)/ 2160p (4K) @ 30fps (~90MB).
You can also check out our video compare tool for some pixel-peeping. We have included samples from both a 4K and a 1080p recording.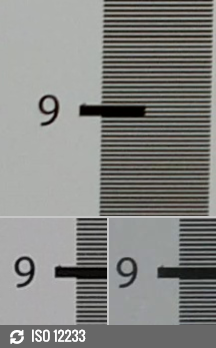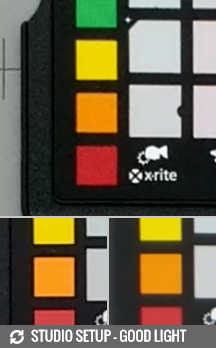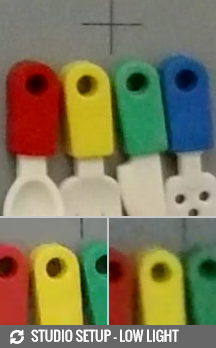 Motorola Moto Z: 4K video compare tool
hi, I have many of them (z, z play, z force) they all works great in a different speed, sorry to say but most of negative post on it are because I guess most of them don`t use the right cover when unplugging the phone, I had the same problem but I re...
Z4 has a 3.5mm jack again....so who was right?
After using this phone for 8 months this is what i know. -Phone i fast -Camera is good -Durability is not good -Batery is horible. U can't use phone for 4-5 hours withouth charge. For a price of battery pack addon you can buy Xiaomi A...