Motorola Atrix 4G review: Enter the Atrix
Enter the Atrix
GSMArena team, 15 April 2011.
MOTOBLUR'red Gallery
The Motorola Atrix 4G comes with the gallery, seen in the XT720, the Milestone 2 and the DEFY. It looks good and has basically the same functionality as the standard Android gallery, save for the downsizing of images, which is spared here.
Pictures are stacked into albums just as with the stock Android gallery. In terms of eye candy Motorola has done a good job, providing cool simple looks, fluid navigation and a 3D landscape mode, where you can view your photos in a sort of cover flow manner.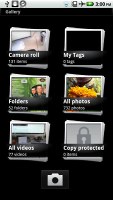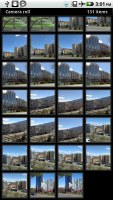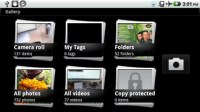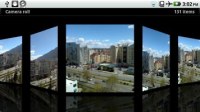 The Gallery on the Motorola Atrix 4G
What we didn't like on the Motorola Atrix 4G is the laggy pinch zooming and the pictures themselves take way too long to process at every zoom level . There's absolutely no smoothness effect added to zooming using multi-touch and that's a real downer when you consider that the phone has a dual-core processor and ample amount of RAM, along with a good graphics card inside.
On the positive side, double tap works great. And also the stock Android gallery (available for free from the Android market) offers a much smoother ride.
You can quickly upload photos to your Facebook and other accounts straight through the gallery – yet another social feature of the MOTOBLUR UI, implemented in the gallery.
Sharing photos through the Atrix 4G gallery is done the same way as in the standard one just hit the menu button and select share. You get the same Bluetooth, Email, Gmail, Picasa, Text messaging and Photo sharing, which is a function added by MOTOBLUR to sync with your Facebook, MySpace, Picasa or Photobucket account.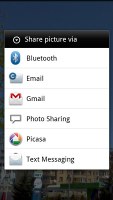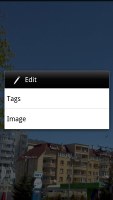 Share and edit options in the gallery
There's also an edit functionality built right into the Atrix 4G gallery. You can edit or add custom tags to your photos or edit the photo itself.
Editing is pretty basic, but allows you to rotate, crop, add effects, one-click optimizing, which enhances the colors of the picture, set brightness, color, flip or resize. It's no Photoshop substitute but does the job good enough for a basic editor.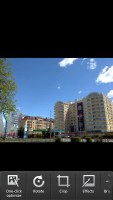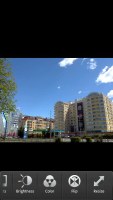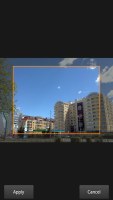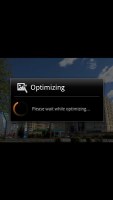 Editing gives you many built-in features
Video player supports XviD and DivX
The video player on the Motorola Atrix 4G is pretty basic in looks but add the support for XviD and DivX and FullHD mp4 video playback, and you know it means business.
It offers the same UI as the gallery and the same 3D landscape view.
We tried some DivX and XviD movies on it and they played smoothly and there was no trouble in opening them. FullHD 1080p videos also ran great on the Atrix 4G with no dropped frames hiccups whatsoever. All these serious video capabilities combined with the large 4-inch display, make the Atrix 4G a capable portable player (and not so portable too, with the multimedia dock).
We have to admit the options in the video player are limited to scrubbing the clip forward and backward and toggling between the original ratio or a cropped fullscreen version. No brightness settings or anything more complex has made its way in. This makes the experience a little more generic and doesn't exactly scream multimedia, but it's nothing to fuss about, just download a decent video player from the Android Market and you're good to go.
Average music player
Strangely enough the music player on the Motorola Atrix 4G isn't the MOTOBLUR one, like in the DEFY. It's a basic player close to the one the original Milestone.
The number of supported formats is good, including MP3/WAV/WMA/eAAC+ so you're pretty much set for listening to music on the Atrix 4G.
It organizes your music into artists, albums, genres, songs and playlists. The music you have on your SD card is automatically detected and imported alphabetically into the music app.
The cool features like automatic album art and lyrics download aren't available here. Nor did the feature that lets you see other people around the world, listening to the same track as you. It's a disappointment and we can't, for the life of us, understand why the Atrix 4G is left out of these cool features. Perhaps it's because we're using the 4G version for AT&T? We certainly hope the European version will be different. We'll just have to check up on this later on.
The Now playing screen gives you the Artist, song and album information to the track you're currently listening to. You also have the shuffle, repeat and audio effects options, just under the Album art of the song.
There are the play/pause virtual controls and the song timeline scrub bar. The Now playing screen works in landscape mode too but it doesn't offer an expanded album art or anything like that.
Popping the context menu up gives you the choice to go to library, enable party shuffle, add the current song to a playlist, use it as a ringtone and delete it.
Excellent audio quality
The Motorola Atrix 4G audio output is pretty good, as is to be expected from a device in this price range. However Motorola seems to have allowed for its volume levels to be pushed beyond what the smartphone can actually handle when there are no headphones attached.
If you punch in the volume level all the way up when you are connected to an active external amplifier you get really loud output but with loads and loads of distortion, which is not quite ideal.
That's why you would be better off lowering the volume a couple of steps down - you will be enjoying some of the cleanest output we have ever seen. The Atrix 4G won't be one of the loudest devices around, but it scored greatly in every part of our test.
When headphones come into play the volume is automatically limited so there's nothing to worry about. There's a notable increase in the stereo crosstalk and some intermodulation distortion creeps in, but those are hardly detectable in real life scenarios.
| | | | | | | |
| --- | --- | --- | --- | --- | --- | --- |
| Test | Frequency response | Noise level | Dynamic range | THD | IMD + Noise | Stereo crosstalk |
| Motorola Atrix 4G | +0.02, -0.12 | -89.1 | 88.9 | 0.015 | 0.021 | -88.5 |
| Motorola Atrix 4G at maximum volume | +0.03, -0.10 | -91.6 | 91.5 | 7.155 | 5.198 | -93.5 |
| Motorola Atrix 4G (headphones attached) | +0.51, -0.19 | -90.6 | 91.1 | 0.018 | 0.189 | -57.6 |
| LG Optimus 2X | +0.01, -0.03 | -90.1 | 90.1 | 0.011 | 0.016 | -89.2 |
| LG Optimus 2X (headphones attached) | +0.14,-0.04 | -89.8 | 89.9 | 0.0098 | 0.111 | -35.1 |
| Sony Ericsson XPERIA Arc | +0.12, -0.09 | -89.4 | 89.2 | 0.013 | 0.037 | -91.5 |
| Sony Ericsson XPERIA Arc (headphones attached) | +0.42, -0.12 | -89.1 | 88.8 | 0.179 | 0.314 | -46.6 |
| HTC Incredible S | +0.03, -0.18 | -82.4 | 82.2 | 0.018 | 0.058 | -71.3 |
| HTC Incredible S (headphones attached) | +0.61, -0.15 | -71.7 | 71.2 | 0.126 | 0.540 | -59.6 |
| HTC Desire HD | +0.09, -0.44 | -90.6 | 90.4 | 0.014 | 0.517 | -92.6 |
| HTC Desire HD (headphones attached) | +0.09, -0.44 | -93.2 | 92.9 | 0.020 | 0.728 | -17.9 |
| Samsung I9000 Galaxy S | +0.03 -0.04 | -90.7 | 90.6 | 0.014 | 0.019 | -90.6 |
| Samsung I9000 Galaxy S (headphones attached) | +0.40 -0.12 | -90.7 | 90.6 | 0.018 | 0.329 | -43.3 |
| Apple iPhone 4 | +0.01, -0.07 | -90.1 | 90.0 | 0.0068 | 0.012 | -89.6 |
| Apple iPhone 4 (headphones attached) | +0.01, -0.07 | -90.4 | 90.4 | 0.0036 | 0.092 | -68.4 |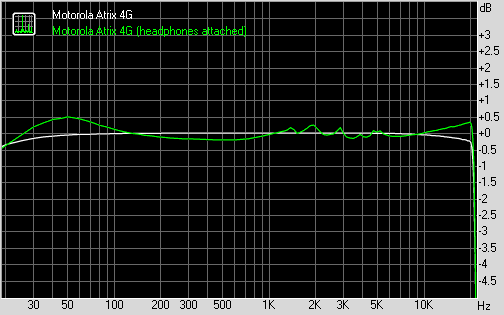 Motorola Atrix 4G frequency response
You can learn more about the whole testing process here.
fantastis phone. I have one of this in storage. Shame doesn't receive more new android versions
Simply the best, I have had this phone since June 2012, and it is the best phone ever, it does everything and is much better than a lot of more expensive phones, the one I have is finaly on its last legs wont ring anymore and wifi and bluethooth is n...
Mobile is simply superb...