Motorola BACKFLIP review: Back and forth
Back and forth
GSMArena team, 18 March 2010.
Refreshed image gallery
Motorola BACKFLIP brings a new gallery view mode, which looks pretty attractive. The 3D effects and smooth scrolling add to a pretty pleasing user experience in general.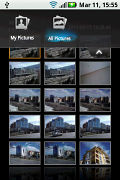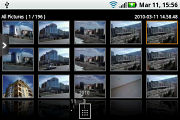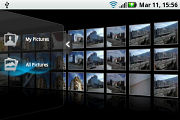 MOTOBLUR also comes with a refreshed gallery
You can scroll the calendar dates on the right (or at the bottom if we are talking landscape view) to browse longer list of images and there is a mark feature for multiple deletion or tagging.
The usual shortcut that allows you to share your images over email, MMS, MySpace or Picasa is now updated to support MOTOBLUR's own photo sharing service.
Unfortunately sharing multiple photos at a time isn't available nor is sending images via Bluetooth.
The Motorola BACKFLIP supports three zooming methods – you can use the onscreen virtual controls or you can zoom straight to 100% with a simple double tap on the screen. There is also a one-finger zoom using the trackpad at the back of the phone where you drag your finger upwards to zoom in and downwards to zoom out.
Zooming and panning is fast enough not to be a burden.
Video playback: troubling Androids since 2008
Video files can be accessed either by clicking the videos shortcut in the image gallery or by launching the dedicated app from the main menu. The video browser is identical to the image gallery and the player is pretty much standard Android stuff.
This is pretty bad news as video playback is probably the weakest point in the otherwise multimedia-friendly Android OS. The poor codec support maxes out at H.264 so DivX and XviD videos need to be converted for playback.
The performance is decent but the interface is as basic as it gets. You get a scrollable video timeline, fast-forward, rewind and play/pause keys and that's that. No aspect ratio settings, no subtitle support, no nothing.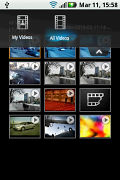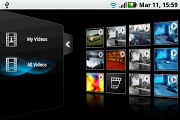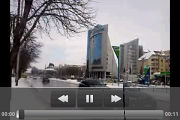 Despite the comfortable form factor video playback isn't the BACKFLIP's element
On the other hand, if you are willing to live with converting your videos for playback the BACKFLIP might do the trick as it is particularly easy to set the handset on a desk or table with the display facing you. Using half the phone for support beats any kickstand by a comfortable margin.
Music player does the job, barely
The music player on the Motorola BACKFLIP is hardly affected by the MOTOBLUR UI and this is another piece of bad news as the Android music player is anything but perfect. The core functionality is all there and the looks aren't half as bad as the video player either, but there is still some catching up to do before it matches the best in class.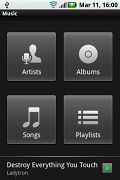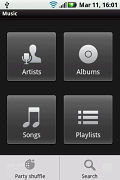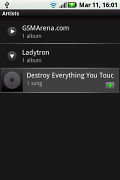 The music player needs an extra feature or two
The now playing user interface, though very sleek and more comfortable doesn't offer too many new features.
You can sort tracks by artist or album or you can browse them by playlists.
The best part is the built-in search functionality that allows you to search a specific song title in Google or YouTube.
Unfortunately, the well known weaknesses like no equalizer presets, and no alternative player skins are still there.
Poor audio quality
Unfortunately the Motorola BACKFLIP doesn't have particularly good audio output to boast about. Its loudness is decent and the frequency response is spot-on and the distortion levels are kept well under control but the noise levels (or otherwise said, the signal-to-noise ratio) and the dynamic range are plain poor.
The result is higher than usual background noise bringing us back in the days of analogue tapes. Of course the BACKFLIP isn't that bad (the usual signal/noise ratio of a tape is 40 to 50 dB) but it isn't much better either.
And here go the results so you can see for yourselves.
| | | | | | | |
| --- | --- | --- | --- | --- | --- | --- |
| Test | Frequency response | Noise level | Dynamic range | THD | IMD + Noise | Stereo crosstalk |
| Motorola BACKFLIP | +0.11 -0.48 | -63.1 | 63.4 | 0.042 | 0.165 | -59.9 |
| Nokia N97 mini | +0.05, -0.32 | -90.5 | 90.4 | 0.0049 | 0.487 | -91.0 |
| Motorola MILESTONE | +0.16 -0.06 | -74.1 | 74.7 | 0.014 | 0.040 | -73.1 |
| HTC Magic | +0.21 -2.20 | -85.6 | 88.8 | 0.025 | 0.220 | -86.0 |
| Apple iPhone 3GS | +0.01, -0.05 | -92.1 | 92.1 | 0.0035 | 0.011 | -95.0 |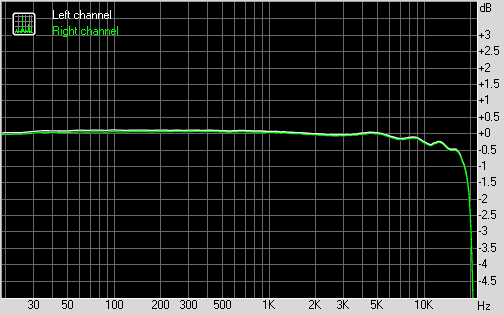 Motorola BACKFLIP frequency response graphs
You can learn more about the whole testing process here.
Don't throw out that old BackFlip, not just yet. I was in the market for a cheap, but, high capacity MP3 player when I remembered I had this old BackFlip laying around. By today's standards the camera isn't very good and the Qwerty pad has a glitch...
5mp front camera is better than any other front phone camera, even Xperia Z's 2.2mp. That said, it is also front camera.
Can u pay as u go? Buy card at store for monthly service?