Motorola DEFY review: Drag and drop
Drag and drop
GSMArena team, 10 December 2010.
MOTOBLUR spreads on the gallery too
The Motorola DEFY comes with a custom Gallery app (like the XT720 one) with cool 3D effects, reflections and smooth animations. In terms of eye candy, we have no complaints.
The Gallery is split into three sections – Camera roll (shows the most recent photos you've snapped), My tags (you tag photos to keep things organized), Folders (combines all folders from the memory that contain photos or videos), All Photos, All Videos and Copy Protected stuff.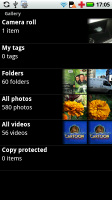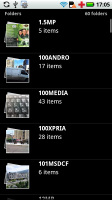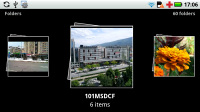 The gallery certainly is a looker
Viewing a folder (be it the camera roll or another), photos are displayed as one long line of photos (landscape mode) or as a grid of small thumbs (portrait mode). In the 3D landscape view you can scroll sideways to browse the photos and as you do, a label appears that shows when the photo (or video) was taken. From the menu option, you can set a specific point in time and the Gallery will scroll there automatically.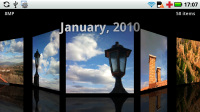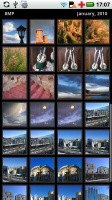 The landscape 3D view and the portrait thumb list
The smooth animations sure are eye-catching but a boring grid view is much better for browsing a large collection of photos. Turn the phone on its side and it will switch to grid view.
Of course, you can tag photos (including the automatic location tag), which will make viewing specific photos so much easier, even if you don't take the time to meticulously organize everything into folders.
Pinch zooming is also enabled here but you can use double tap too. The Quick upload and Share features offer quick sharing via MOTOBLUR Share (on Facebook, MySpace, Picasa, Photobucket, etc.) and also Email apps, Bluetooth and MMS.
There are tons of options for a picture – you can resize, crop or rotate it directly in the gallery. You can also add effects, adjust contrast, saturation and also text, clip art and others.
The quickest way to fix up a photo however is the Kodak Perfect Touch. It automatically fixes the photo – you don't have to do anything.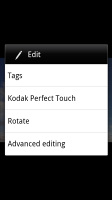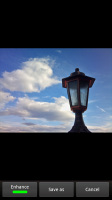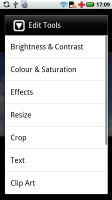 Basic editing tools • Kodak Perfect Touch
One thing still missing in the DEFY Gallery that we would have liked is support for, say, TwitPic or another easy way to send out a tweet with a link to a photo, without having to first upload the photo, manually copy its URL and then write your message.
Of course, the Android Market has many apps that do just that, but still.
Mixing social and music
The Music player on the Motorola DEFY takes the same approach as the Messaging app – it puts all the music related things in one place.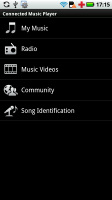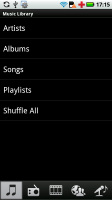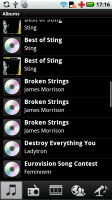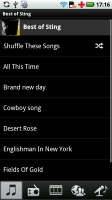 The Music app • filtering tracks
My Music is the basic music player – it plays songs from your memory card and it can filter tracks by artist, album, playlists and so on. A cool feature automatically pulls album art for the song and – get this – the song lyrics, which are displayed in sync with the song. This turns the DEFY into a mini karaoke (of course, it needs an Internet connection). But there is more – some non-English songs even have English subtitles under the original ones – an awesome feature!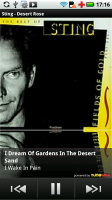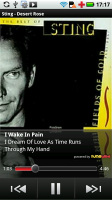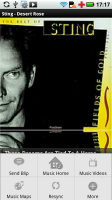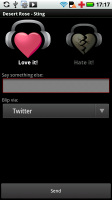 The Motorola DEFY music player is a mini karaoke • sending a blip
A tap on the screen reveals the scrubber. You can send a blip – a quick "Love it" or "Hate it" message on Twitter or Facebook.
There is another cool option too – you can see who is listening to your current track and where they are around the globe.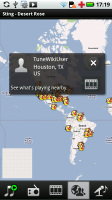 These people are listening to the same song as us
The Music Videos section of the Music app offers quick searches on YouTube or GoTV for the music videos (what else?). Community taps into the social networks to find you some new music.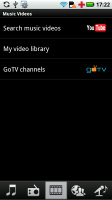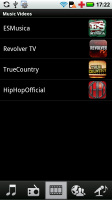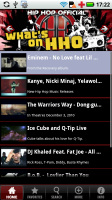 Finding music videos is simple
You can view TuneWiki charts, Music Maps (sort of location-aware "currently playing" feature) and HOT Playlists, which show the most popular songs on Facebook or Twitter.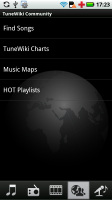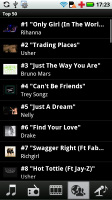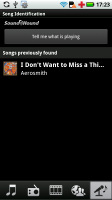 TuneWiki integration and song identification
There's a song ID feature of course – tap the button and in seconds you'll know the name of the song.
There are still some shortcomings of the music player that need addressing though. The equalizer presets are uncomfortably stored deep in the phone's setting menu, there's no Cover Flow-like Album Art view, and you can't set a favorite track from your playlist to repeat several times.
Audio quality doesn't disappoint
The Motorola DEFY did greatly in the first part of our audio quality test. When the handset is connected to an active external amplifier (such as a car or home stereo) it achieved excellent scores and showed no weaknesses whatsoever. And the device is pretty loud too. In this scenario the DEFY can easily rival the best among mobile phones (and even dedicated players).
When headphones come into play however there's noticeable degradation, mostly in terms of stereo crosstalk. Frequency response worsens a bit too, but it's still not too big a deal. The final components of the DEFY performance to lose some ground here are the inter-modulation distortion (which increases to average) and loudness (which drops from excellent to just good).
Overall, we would say that the DEFY did a very solid job, but audiophiles might still have a few better options.
| | | | | | | |
| --- | --- | --- | --- | --- | --- | --- |
| Test | Frequency response | Noise level | Dynamic range | THD | IMD + Noise | Stereo crosstalk |
| Motorola DEFY | +0.15 -0.05 | -88.7 | 89.6 | 0.0035 | 0.014 | -89.5 |
| Motorola DEFY (headphones attached) | +0.79 -0.27 | -84.1 | 84.6 | 0.031 | 0.654 | -56.5 |
| Motorola Flipout | +0.16 -0.05 | -89.0 | 90.0 | 0.455 | 0.325 | -89.9 |
| Motorola Flipout (headphones attached) | +0.79 -0.27 | -86.6 | 87.1 | 0.028 | 0.664 | -54.8 |
| LG Optimus One P500 | +0.17, -1.69 | -85.6 | 87.2 | 0.021 | 0.301 | -86.2 |
| LG Optimus One P500 (headphones attached) | +0.19, -1.36 | -85.4 | 86.9 | 0.021 | 0.643 | -46.5 |
| HTC Aria | +0.12, -0.58 | -84.5 | 86.9 | 0.022 | 0.172 | -85.4 |
| HTC Aria (headphones attached) | +0.37, -0.15 | -87.0 | 90.4 | 0.026 | 0.400 | -52.3 |
| Nokia C7 | +0.06 -0.33 | -88.1 | 88.0 | 0.0069 | 0.017 | -88.9 |
| Nokia C7 (headphones attached) | +0.46 -0.21 | -88.1 | 88.1 | 0.017 | 0.362 | -66.2 |
| Samsung S8530 Wave II | +0.02 -0.04 | -90.9 | 90.9 | 0.017 | 0.026 | -92.3 |
| Samsung S8530 Wave II (headphones attached) | +1.21 -0.27 | -90.7 | 90.5 | 0.021 | 0.701 | -49.7 |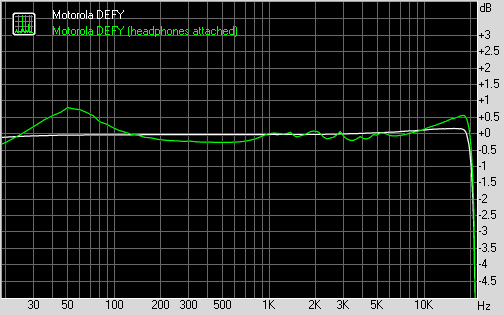 Motorola DEFY frequency response
You can learn more about the whole testing process here.
yellowbal
21 May 2013
qmc
If you're brave, you can update to CM10 or CM10.1 which is Jelly Bean. Any earpiece problem can be easily fix with a replacement part from ebay. If you like to tinker, this is a really fun phone with current ROM development.
HTC HD7 Windows Phone (T-Mobile)- The phone is incredibly quick btoiong.HTC HD7 Windows Phone (T-Mobile)- The phone is incredibly quick btoiong.- The UI is beautiful and so smooth to use in comparison to other smartphones.- The build quality is solid...
If you want a waterproof, shock proof, dust proof phone then the Motorola Defy is the one togo for. The Ace ships with Android 2.2 while the Defy will get upadetd to 2.2 so chances are that the Defy will stay at 2.2 while the Ace will atleast get 2.3...