Motorola drops UIQ, but slip word of Windows Mobile 6.5
31 Oct, 2008
Motorola finally announced their platforms plans as they declared that they would no longer be making phones powered by UIQ or their own Java-Linux platform (MOTOMAGX). Instead the company will concentrate on putting out an Android device by Christmas 2009 and a Windows Mobile 6.5 device by second half of 2009. Opps, was that Windows Mobile 6.5 you just said?
We already know that Microsoft are working on Windows Mobile 7 that should be out in 2009 and that should feature a revolutionary thumbable interface. But it's the first time we hear things about Windows Mobile 6.5. A quick guess is that WinMo 7 won't have a non-touch version keeping up the long tradition, but instead there will be WinMo 6.5 for non-touchable smartphone devices.
And as far as Symbian UIQ interface is concerned, the Motorola announcement is the final nail in the coffin of this mobile phone platform, after Sony Ericsson first turned their backs on it not long ago.
Ok, back to Motorola now, as PC Magazine reports, it seems that the company will be laying low with new mobile phone releases in the first part of 2009, so they can concentrate on developing their new products based on the new platforms.
"I think that will reduce the number of phones that will launch at least in the second or third quarters of next year, but I think thereafter, we expect that using Android and Windows Mobile, to be able to address larger portion of the mid- and high-tier market," pointed out Sanjay Jha, co-chief executive of Motorola and chief executive of mobile devices.
The first half of 2009 will be "challenging" for Motorola, he said. Reductions that are already underway will be global in nature and will affect all businesses, supply chains, and corporate functions, according to Motorola. Those moves will result in $800 million in savings for 2009.
We wonder whether those savings will have a strong negative impact on their market share in Q2 and Q3 2009 - perhaps large enough to take away their place in the Top 5 of global mobile manufacturers. LG are breathing in their necks this quarter and it can get even uglier around this year's Christmas holidays.
According to analyzers over at Abi Research "4Q 2008 will be a vital quarter for handset vendors and mobile operators."
"There are winners and losers in 3Q-2008", as Kevin Burden, research director at Abi Research points out. "Nokia stumbled slightly to see its market-share shrink to 37.7%. Motorola and LG were also net losers (total market-share: 8.1% and 7.4%) respectively. Winners include Samsung (16.6%), Apple (2.2%), and RIM (2.0%). Smartphones are truly capturing the imagination of the buying public which is benefitting vendors with highly desirable smartphones."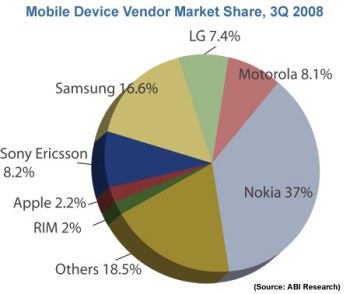 According to the analyzers, Nokia will probably regain some of its lost market share with their new batch of capable smartphones. And if it wasn't for its strong line up in the mid-tier and low-tier handset segments, which is where LG and Motorola felt the impact, Nokia would have fared even worse this year's Q3.
Quite surprisingly however, despite all the negative media attention that Sony Ericsson was getting this quarter, they managed to keep their market-share constant at 8.2% and that plunged them up to the Top 3 leapfrogging both LG and Motorola.
So once again, there seems to be some interesting market share shuffling in store for the upcoming holidays, and perhaps even more interesting in the beginning of 2009 when Motorola starts shrinking its expenses.
Related
Mohammad Zakria Bugt
23 Nov 2008
ijp
It is good decision made by Motorola, I comments about 2 years ago that Nokia should have turn their platform either Windows Mobile or Andriod OS instead of Symbian. I thing they should stop here and adopt Andriod OS. I think it will uplift Nokia...
In addition, users can easily modify and upgrade their Motorola phones with little hassle. All they need are the correct programs and of course a data cable. If ever Motorola users have an error in their phones, they can easily replace them with new ...
I do agree with the death of Symbian UIQ, which caused nothing but (if not HUGE!) trouble for Moto...not just for sales, but its reputation. I've used 2 Symbian based Moto phones: A1000 and Z8, both of which happen to offer "automatic reboot" f...
Popular articles
Popular devices
Electric Vehicles