Motorola Edge 30 Pro review
GSMArena Team, 04 April 2022.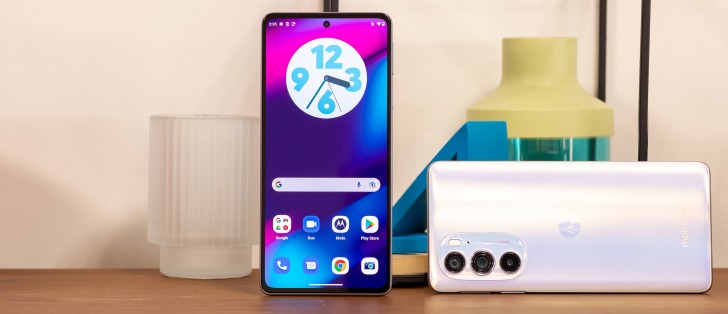 24Hz more than most, a few nits fewer
The Edge 30 Pro is equipped with a 6.7-inch OLED display that offers a couple of unique advantages over the bulk of rivals. For starters, there's the 144Hz refresh rate, when mainstream non-'gaming' smartphones tend to top out at 120Hz. Then there's the stylus support - outside of the Galaxy S22 Ultra that's hard to come by, though admittedly it's an optional accessory here and one you need to carry separately.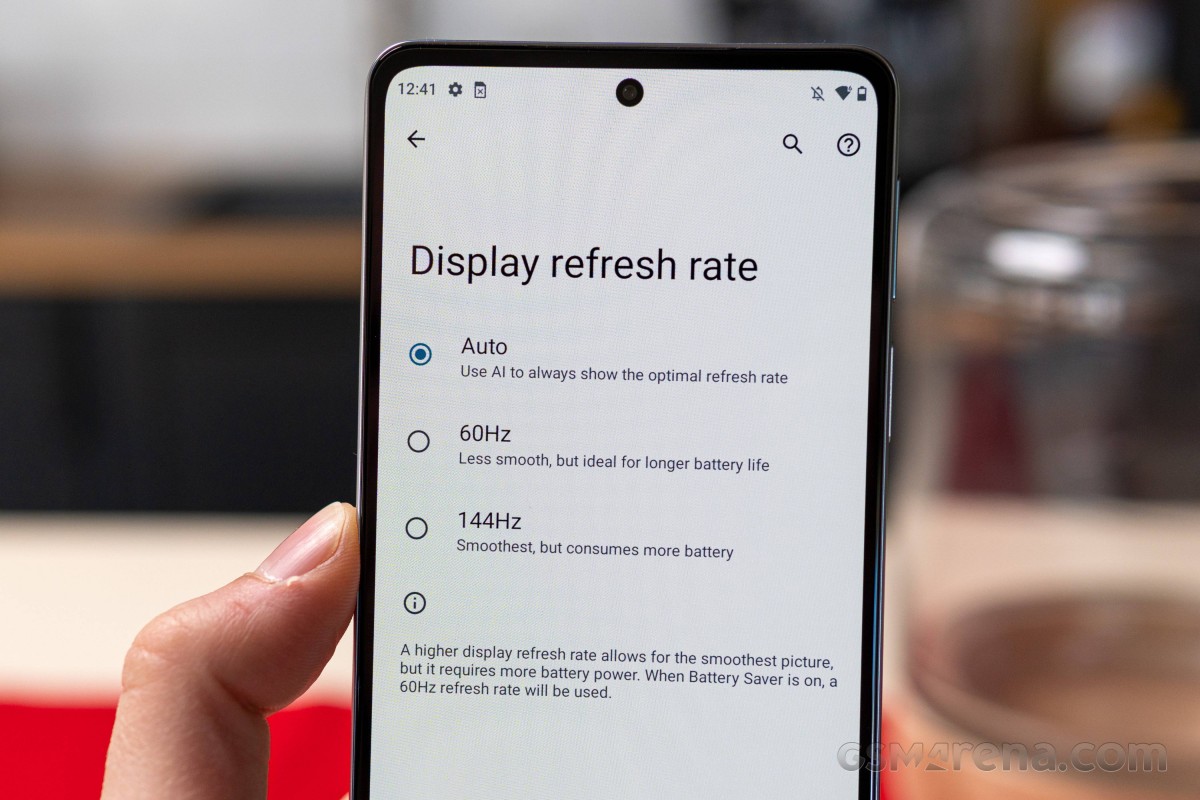 The display has a 1080x2400px resolution in a 20:9 aspect ratio for a pixel density of 393ppi - sharper options exist, but we reckon this is easily good enough.
That's what you can say about the maximum brightness we got out of the Moto - 685nits is what we measured when the phone was under direct light and adaptive brightness was enabled. Adjusting the slider manually, we got 200nits fewer.
These are virtually the same results as the ones we have from the Motorola Edge 20 Pro and while acceptable, they're behind the curve - even if you set aside the Galaxy S22+ and its 1200+ nits, phones like the Xiaomi 12 Pro and the iQOO 9 Pro can do 1000nits.
Display test
100% brightness
Black,cd/m2
White,cd/m2
Contrast ratio
Motorola Edge 30 Pro
0
485
∞
Motorola Edge 30 Pro (Max Auto)
0
685
∞
Motorola Edge 20 Pro (Max Auto)
0
673
∞
Motorola Edge 20 Pro
0
484
∞
Samsung Galaxy S22+ (Max Auto)
0
1214
∞
Samsung Galaxy S22+ (Extra brightness)
0
782
∞
Samsung Galaxy S22+
0
468
∞
Xiaomi 12 Pro
0
506
∞
Xiaomi 12 Pro (Max Auto)
0
1050
∞
OnePlus 10 Pro (Max Auto)
0
780
∞
OnePlus 10 Pro
0
498
∞
Realme GT2 Pro (Max Auto)
0
778
∞
Realme GT2 Pro
0
482
∞
vivo iQOO 9 Pro (Max Auto)
0
1000
∞
vivo iQOO 9 Pro
0
438
∞
Huawei P50 Pro
0
609
∞
Huawei P50 Pro (Max Auto)
0
754
∞
Samsung Galaxy S21 FE 5G
0
792
∞
The Edge 30 Pro has two color modes and temperature slider for some extra manual tweaking. The out-of-the-box Saturated mode covers a wide color gamut and delivers vivid output that is decently accurate for DCI-P3 content but has a noticeably cold white point. Bumping the temperature slider just one notch (out of three) towards warm improves things considerably and makes for a respectable average dE2000 of 2.1. Natural mode needs no tweaking - we measured an average dE2000 of 1.4 for the sRGB color swatches.
The phone is listed to support HDR10+ and indeed that's what hardware apps report it to be capable of. We got HDR streams from YouTube, but not from Netflix or Amazon Prime Video. It does have a Widevine L1 certification, so it's getting FullHD resolution in Netflix, and enabling HDR is likely up to the streaming platform deciding to whitelist it at some point in time.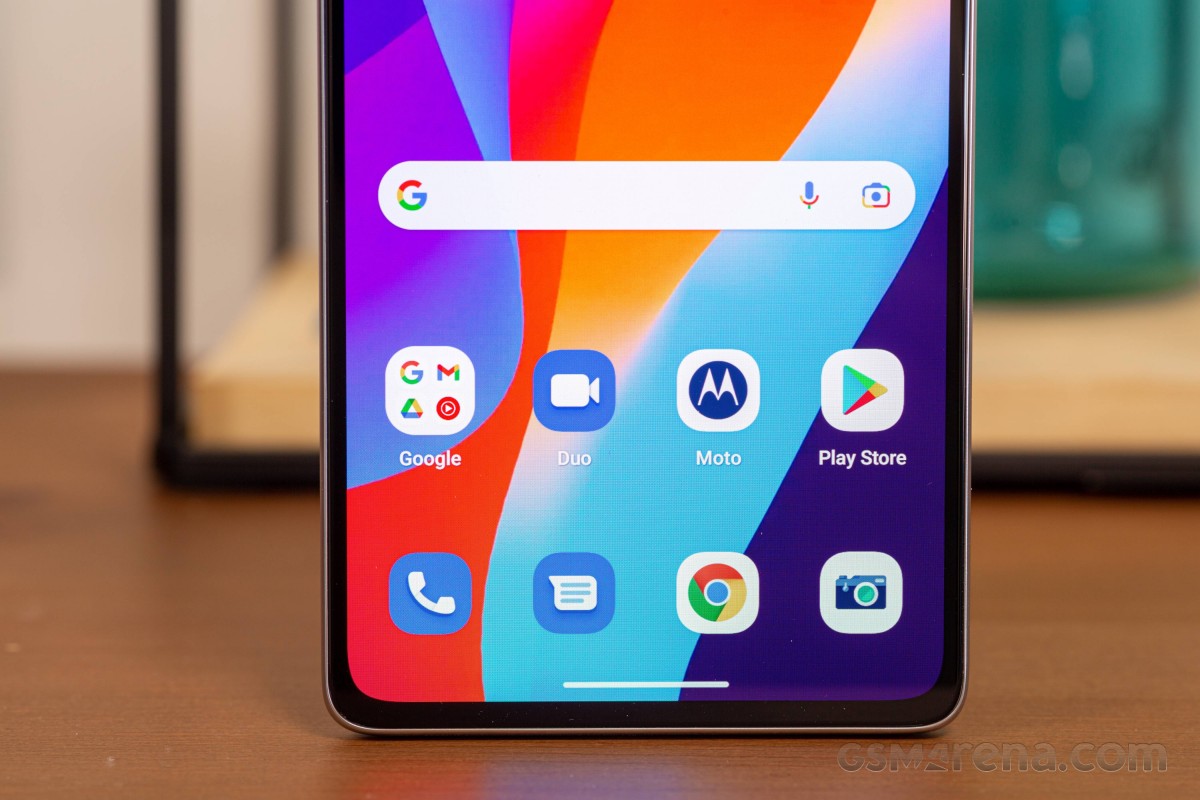 One of the Edge 30 Pro's defining features is its 144Hz refresh rate support. It's nice then that there's a dedicated 144Hz mode in the display settings that locks the panel at 144Hz for almost all apps and activities - one of the most honest approaches to refresh rate we're seen. There's also an Auto mode which has a 120Hz cap and does have some inactivity-based downswitching. Then there's the 60Hz mode if you don't want any of that high refresh rate smoothness.
High refresh rate gaming is also possible, and in Auto mode the phone will default to 120Hz for titles can go above 60fps, while in 144Hz mode it will stay at 144Hz. From within Motorola's Gametime utility you can set the display's refresh rate on a per-game basis irrespective of what the setting is outside of the game - we find this especially handy.
We didn't get to see the stylus that Motorola offers in a bundle with a folio case for the Edge 30 Pro and the specs they provide for it are nearly non-existent too. From the images, we gather that the pen will attach magnetically to the case on the back of the phone, but that's about everything we can come up with at this point.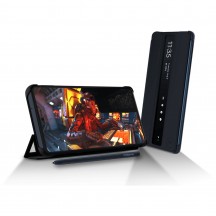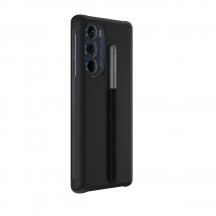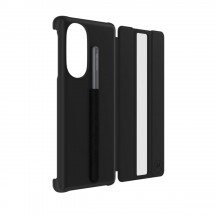 Motorola Edge 30 Pro folio case and stylus
Motorola Edge 30 Pro battery life
The Motorola Edge 30 Pro has a 4,800mAh battery inside, what you can call average capacity for the class. The Snapdragon 8 Gen 1 is hardly frugal and the 144Hz refresh rate isn't going to help, but the 1080p resolution should make things easier, hopefully.
The numbers we got for battery life out of the Moto aren't class-leading or anything, but they are respectable, all things considered. Perhaps most impressive is the 12h result in web browsing, achieved at a constant 144Hz - a lot of current flagships struggle to reach that even at 120Hz. The 16h of looping videos is a solid figure too.
The Edge 30 Pro didn't do particularly well with voice call longevity and standby consumption was higher than ideal, which ultimately lowered the overall result. In the end, the Endurance rating worked out to 80h - as high-end models go, that's a reasonably good result.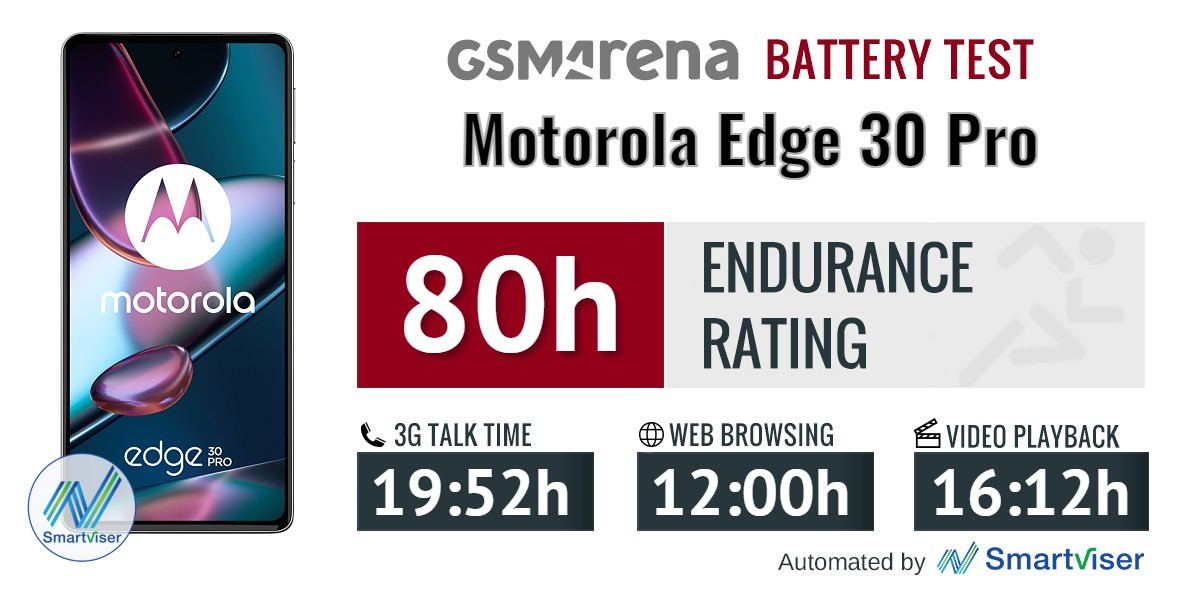 Our battery tests were automated thanks to SmartViser, using its viSerDevice app. The endurance rating denotes how long the battery charge will last you if you use the device for an hour of telephony, web browsing, and video playback daily. More details can be found here.
Video test carried out in 60Hz refresh rate mode. Web browsing test done at the display's highest refresh rate whenever possible. Refer to the respective reviews for specifics. To adjust the endurance rating formula to match your own usage - check out our all-time battery test results chart.
It's perhaps worth pointing out that if you keep the phone's refresh rate in Auto mode, you'd stand to gain a few extra minutes or run time. We clocked 13:16h in that mode with the phone spiking to 120Hz on page loads (every 10s) and settling to 60Hz a second later.
Charging speed
The Edge 30 Pro ships with a 68W TurboPower adapter (Motorola's fast charging branding). The US-bound Edge+ alter ego, on the other hand, only has a 30W power brick. Since we have the global version and its 68W unit, that's what we tested with.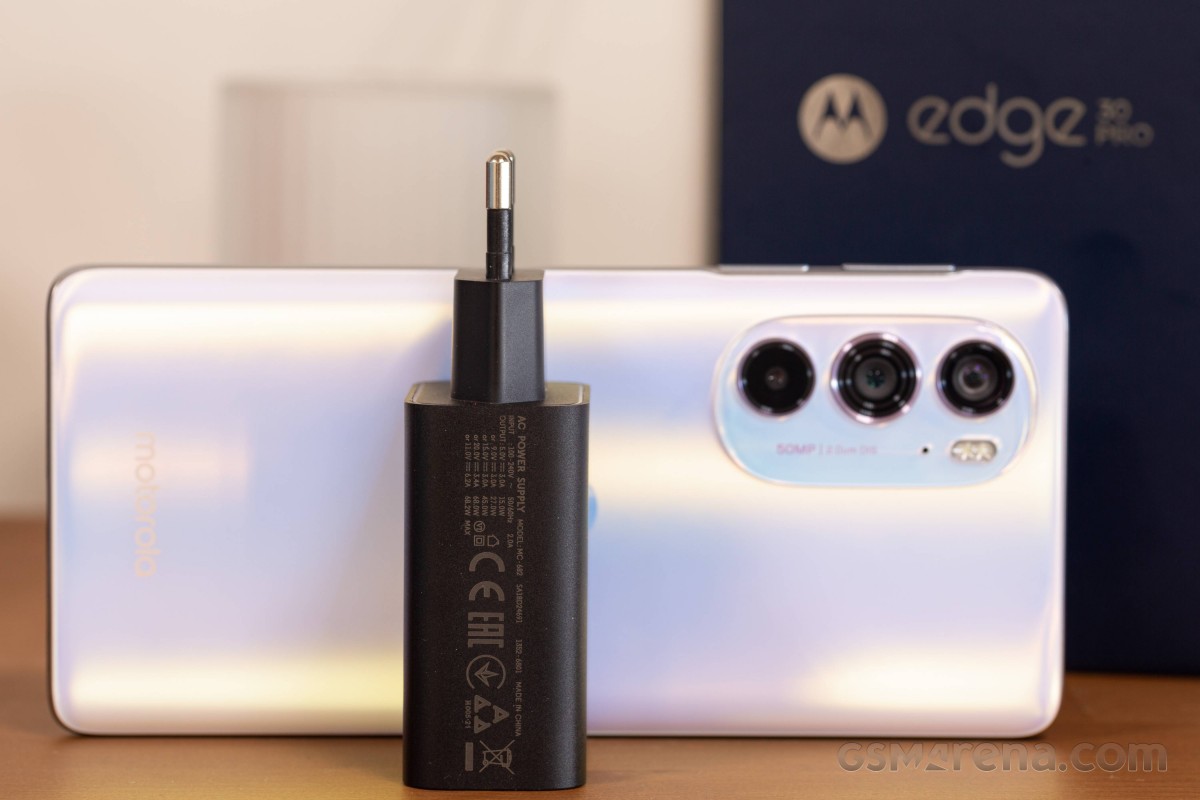 The Edge 30 Pro charges really fast for what appears to be a standard USB Power Delivery based implementation. A 30-minute charge from flat got us to 85% and it took 53min for the 100% number to appear in the status bar. We got very similar results with a third-party 65W USB Power Delivery adapter too.
A slew of BBK smartphones can charge notably faster, as can the Xiaomi 12 Pro with its included 120W brick, but those are all proprietary solutions with specifics on the charger end and/or the batteries themselves. You'll note that the Moto does comfortably outpace Galaxy and Pixel phones.
30min charging test (from 0%)
Higher is better
Xiaomi 12 Pro (120W)
100%
iQOO 9 Pro
100%
OnePlus 10 Pro
98%
Oppo Find X5 Pro
91%
Realme GT2 Pro
91%
Motorola Edge 30 Pro
85%
Huawei P50 Pro
73%
Xiaomi 12 Pro (65W PD)
62%
Samsung Galaxy S22+ (25W)
62%
Samsung Galaxy S21+ 5G
54%
Motorola Edge 20 Pro
53%
Motorola Moto G200 5G
52%
Samsung Galaxy S21 FE 5G
51%
Google Pixel 6 Pro
48%
Google Pixel 6 (65W)
48%
Google Pixel 6 (18W)
41%
Time to full charge (from 0%)
Lower is better
Xiaomi 12 Pro (120W)
0:21h
iQOO 9 Pro
0:21h
OnePlus 10 Pro
0:32h
Oppo Find X5 Pro
0:40h
Realme GT2 Pro
0:40h
Xiaomi 12 Pro (65W PD)
0:50h
Huawei P50 Pro
0:50h
Motorola Edge 30 Pro
0:53h
Samsung Galaxy S22+ (25W)
1:02h
Samsung Galaxy S21+ 5G
1:12h
Motorola Moto G200 5G
1:14h
Samsung Galaxy S21 FE 5G
1:15h
Motorola Edge 20 Pro
1:17h
Google Pixel 6 (65W)
1:50h
Google Pixel 6 Pro
1:52h
Google Pixel 6 (18W)
1:53h
The Edge 30 Pro also supports wireless charging and the WPC listing says it adheres to the Extended Power Profile and can take up to 15W of power. The Moto can also charge other devices of off its back - at up to 5W.
Speaker test
The Edge 30 Pro is equipped with stereo speakers of the standard variety - one's firing out of the bottom of the handset, the other is above the display and directed forward so it can also serve as an earpiece.
There's an always-on Dolby Atmos software utility that is in the Smart audio setting by default, the other options being Music, Movie, Game, and Podcast.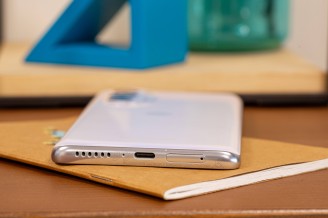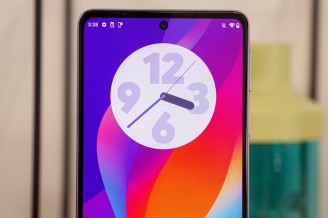 Bottom speaker • Top speaker (between the display glass and the frame)
In our testing, the Edge 30 Pro earned a 'Very Good' rating for loudness - a significant step up from the 'Average' of the Edge 20 Pro and generally louder than rivals. Its sound output does not stand out with any particular qualities, however - it does the job, has no apparent flaws, but no particlar strengths to get us all excited either.
Use the Playback controls to listen to the phone sample recordings (best use headphones). We measure the average loudness of the speakers in LUFS. A lower absolute value means a louder sound. A look at the frequency response chart will tell you how far off the ideal "0db" flat line is the reproduction of the bass, treble, and mid frequencies. You can add more phones to compare how they differ. The scores and ratings are not comparable with our older loudspeaker test. Learn more about how we test here.
Notyourdailyreplier
15 Apr 2023
rJh
Defective model ,replace it within warranty
How many OS upgrade Mtorola will give? And for how many years security upgrades will be given..
Anonymous
20 Jan 2023
Nue
I bought edge pro 256gb , have used only 11gb of the 256gb but it keeps saying storage full, what could be the problem?