Motorola Flipout review: Fair and square
Fair and square
GSMArena team, 29 September 2010.
3 megapixel camera – and hard to use
The Motorola Flipout packs a 3 megapixel camera with maximum resolution of 2048x1536 pixels. The small circle next to it that at first glance looks so much like an LED flash is just a self-portrait mirror.
The camera UI is perfectly simple – a resolution indicator, a counter with the remaining shots and a virtual shutter. A tap on the screen reveals the Gallery shortcut (with a preview of the last shot taken) and the zoom in and out keys.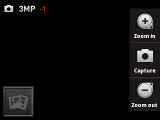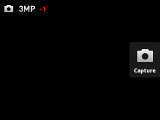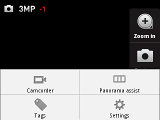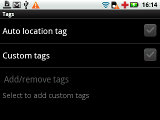 The camera UI • geotagging and custom tags
Custom tags are a handy feature to keep photos organized – you can add a tag, say, "holiday 2010" and it will remain active between sessions until you delete it (at the end of the holiday). Adding and removing tags is fast and easy. There's an automatic location tag too.
\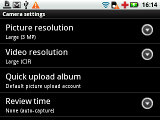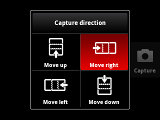 The available advanced settings
The Flipout has a pano assist feature too. It will help you with both horizontal and vertical panoramas.
The square shape of the Motorola Flipout makes it uncomfortable to take photos. First off, if it's closed it will take portrait shots only. To properly snap landscape shots, you'll have to open the Flipout but then it becomes tricky to hold and aim. On top of that, the virtual shutter on the screen is a bit hard to reach (you could use the Enter key instead).
Unfortunately, we ran into some trouble when testing the camera even though we used a retail unit for the tests. It may be that the lens is misaligned – the right and lower parts of the produced images are quite blurry.
Those issues aside, the color rendering was good and there was an average amount of noise. Signs of oversharpening were noticeable but you can't expect much out of a 3MP snapper. You could use the Flipout to snap the casual photo, but not for any serious photography.





Motorola Flipout camera samples
Synthetic resolution
We also snapped our resolution chart with the Motorola Flipout. You can check out what that test is all about here.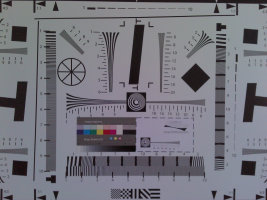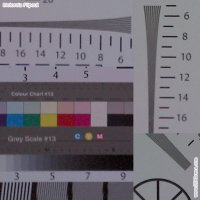 Motorola Flipout resolution chart photo • 100% crops
CIF video
The interface of the camcorder is similar to the still camera's, except that there are no zoom buttons.
Video capture is limited to CIF resolution (352x288) at 30 frames per second. Far from impressive but usable if you really don't have anything else at the moment (any point-and-shoot camera will do).
The image quality is not very good (detail gets smudged out by compression) but at least the motion is mostly smooth.
Check out the CIF@30fps video sample from the Motorola Flipout.
We had some issues playing the videos on a computer – the first couple of seconds have no video at all and Media Player Classic chocked on them. It could just be a problem with our unit or its firmware though.
All-round connectivity
The Motorola Flipout has great connectivity features – quad-band GSM/GPRS/EDGE fast dual-band 3G with 7.2Mbps downlink speeds and 2Mbps uplink thanks to HSPA.
Local connectivity is handled by Wi-Fi b/g/n and Bluetooth 2.1 with A2DP and a microUSB port. You can hook up the Flipout to a computer in several modes – memory card access, charge only (useful, the "memory card access" mode locks up the card, so you can't use many apps), Windows media sync and "Portal and tools".
There's a microSD card of course, if you need to do bulk data transfers – it will be faster than over USB.
The Phone portal app however was the most impressive part of the connectivity package. It practically transforms your browser into a capable PC Suite. You can connect over USB or via Wi-Fi – once you start it, the Flipout will give you an IP address to type into the browser and that's it.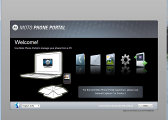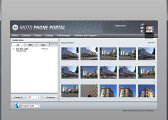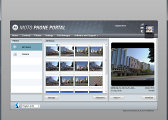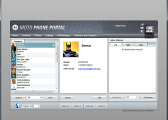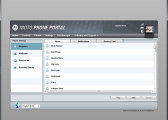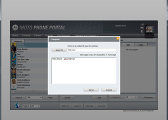 The Phone portal apps turns your browser into a PC Suite (seen here running on Firefox 3.6.10)
You can even put a user name and password to secure the access to your phone. From then on, you can browse photos and files (the file browser works only with Internet Explorer though), adjust settings and also manage contacts – including composing and sending messages.
The idea is great – you don't always need the full functionality of a PC Suite (Phone portal can do quite a bit) and you can't always have the PC Suite installed on the computer you're using.
Great web browser with Flash, but screen is too small
We've established time and again that Android has a good browser. On the Motorola Flipout it's even better because there's Flash included. But the screen is the weak link.
The user interface of the browser is completely minimalist (it's the Google way). All you get on the screen is an address bar and bookmarks shortcut.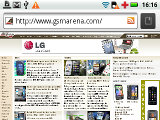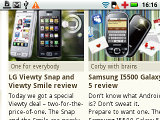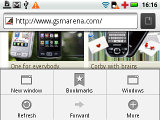 Browsing GSMArena.com on the Motorola Flipout
The Flipout supports two zoom methods in the browser: double tap and the multi-touch pinch zooming. Text reflow isn't available .
If you hit the menu key six new virtual buttons pop up. You can open a new tab, bookmarks, switch tabs, refresh the page, and go forward. The last button reveals even more options (text copying, find on page, etc.).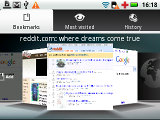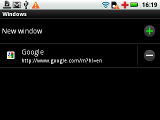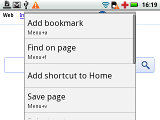 The other part of the interface and the bookmarks menu
The bookmark view shows a thumbnail of the bookmarked pages with the same cool 3D setup as the Gallery and you also get a "most visited" list in addition to the history.
The excellent multi-page support is of course still available and the rendering algorithm is basically flawless. Panning and zooming are pleasingly fast.
However, a 2.8" screen with QVGA resolution makes elaborate pages feel very cramped. You'll have to do plenty of panning to navigate the page and the low resolution makes text unsightly at low zoom levels.
But here's something we didn't expect – Flash support of Eclair. YouTube worked fine (if a bit slow), but the other video sharing site we tried didn't do so well. We tried a Flash game though it never made it past the "Loading..." stage.
At least it let us use sites that have Flash-based navigation. They are getting rare, but on a phone without Flash support they are nearly useless.
now it cost only 30 to 32 us dollars here in Philippines
It is super cool me and my friends think it is reali adoribal
Battery life can be extended by disabling motoblur use 2G and install battery saver you will charge on the 3rd day if screen.is set to 20percent bluetooth, wifi. gps,vibration,animations,haptic and un necessary warning sounds are set off.