Motorola MILESTONE 2 review: Landmark droid
Landmark droid
GSMArena team, 27 January 2011.
Video player plays 720p, codec support is shaky
The video player itself is pretty basic. You can pick a video from the Gallery (with the cool 3D wall and everything) and tap play, there's not dedicated app.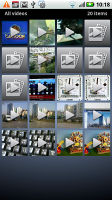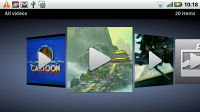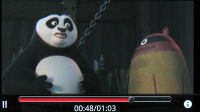 Browsing for videos • Watching a video
As for codec support, most XviD videos played (though a few didn't) and there was only one DivX video that would play fine – but it was a 720p video. Some bug caused it to stop playing and we had to restart the phone to fix it.
MP4 and 3GP files were not a problem, the Motorola MILESTONE 2 played them trouble free up to 720p.
There's also a simple video editor – you can add a title in the beginning and trim the video. You can also resize the video and remove the audio, but there's no option to string together several videos.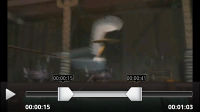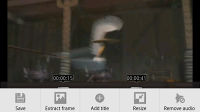 Trimming the video in the editor • Other editing options
Good 5 megapixel snapper
The Motorola MILESTONE 2 packs a 5 megapixel camera with a maximum resolution of 2592х1936 pixels. There is a dual-LED flash too, but don't expect miracles in low-light photography.
The camera UI is perfectly simple – a resolution indicator, a counter with the remaining shots and a virtual shutter. A tap on the screen reveals the Gallery shortcut (with a preview of the last shot taken), Scenes, Effects and Flash keys plus a camcorder switch.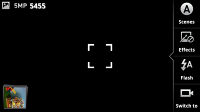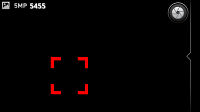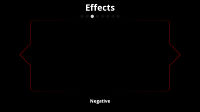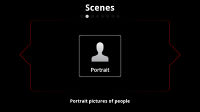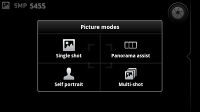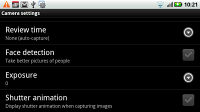 The camera UI • custom tags and settings
The focus point is initially on the center of the screen but you can drag it around to change the focus. It works similarly to touch focus but you have to drag the point, you can't just tap to move it to a new location.
There's face detection which can improve portrait shots and also a panorama mode.
Scenes and effects are selected from a cool menu – the name of the scene (or effect) along with its icon are displayed and you can change them by swiping left or right. As you do that, the viewfinder displays a live preview of the scene/effect results.
Custom tags are a handy feature to keep photos organized – you can add a tag, say "holiday 2010" and it will remain active between sessions until you delete it (at the end of the holiday). Adding and removing tags is fast and easy. There's an automatic location tag too.
Anyways, when it comes to the actual product of the Motorola MILESTONE 2 camera - the photos - we're quite pleased with the image quality. There's plenty of resolved detail, the colors are also nicely saturated and the images are quite punchy.
At the same time though, there's some aggressive noise reduction, often smearing fine detail away there and it even doesn't eliminate all of the chromatic noise.
And here go the samples for you to check out.





Motorola MILESTONE 2 camera samples
Photo quality comparison
We've also added the Motorola MILESTONE 2 to the database of our Photo Compare Tool. The Tool's page has a quick how-to-use guide and also what to look for.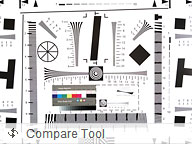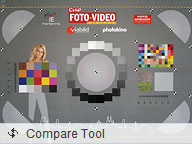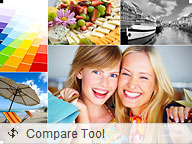 Motorola MILESTONE 2 in the Photo Compare Tool
720p video does the job
The Motorola MILESTONE 2 can record 720p at 30 frames per second. It doesn't quite reach 30fps (videos usually hover around 28fps) but more importantly they look very smooth.
Videos are recorded in .3GP format, which generally means poor quality, but the amount of captured detail is good. If the lighting of the scene is not constant, the MILESTONE 2 will try to adjust, which often results in annoying pulsation of lighter and darker exposure.
Another issue is that the focus is fixed – there's no autofocus before or during shooting – so shooting closer objects will be impossible. Overall, it's not perfect but the MILESTONE 2 video camera still produces very decent results.
The interface of the camcorder is similar to the still camera's. You have access to the same effects but only two scenes – auto and night.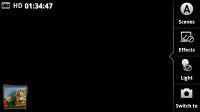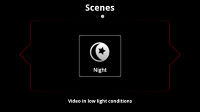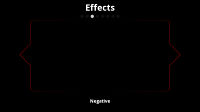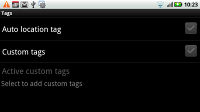 The MILESTONE 2 in camcorder mode
Check out the 720p@30fps video sample from the Motorola MILESTONE 2.
Video quality comparison
The Motorola MILESTONE 2 was also included in our Video Compare Tool database. Check it out – the Tool's page includes a quick walkthrough on how to use it and what to look for.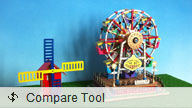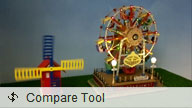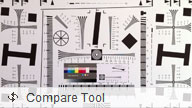 Motorola MILESTONE 2 in the Video Compare Tool
Impressive connectivity
The Motorola MILESTONE 2 has great connectivity features – quad-band GSM/GPRS/EDGE fast dual-band 3G with 7.2Mbps downlink speeds and 2Mbps HSPA.
The local connectivity features include Wi-Fi b/g/n (with DLNA support), Bluetooth 2.1 with A2DP and a microUSB port.
You can connect the MILESTONE 2 to a computer in several modes – USB Mass storage, None (useful, the Mass storage mode locks up the card, so you can't use many apps), Windows media sync and "Portal and tools".
Only the microSD card shows up in Mass storage mode, the internal memory is not accessible. As it turned out, that 8GB slab of an internal memory is only available as a system-reserved storage ofr installing third-party apps. Not that we mind the extra leg room, but generally anything more than 1GB can probably be considered as an overkill. And imagine having the rest 7GB of wasted internal storage, reserved for a use, you'd never need.
The Motorola MILESTONE 2 connectivity is bolstered by DLNA functionality, which lets you share media from the phone and play media from remote devices too. Also of importance (and standard for Android 2.2) is the Wi-Fi hotspot, which shares the phones 3G connection with Wi-Fi connected devices.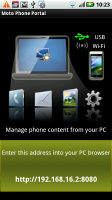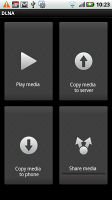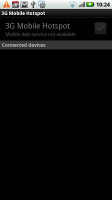 The Phone portal app • DLNA support • Wi-Fi hotspot
The Phone portal app however was the most impressive part of the connectivity package. It practically lets you browse the phone's contents on your desktop browser. You can connect over USB or via Wi-Fi – once you start it, the MILESTONE 2 will give you an IP address to type in the computer's browser and you're good to go.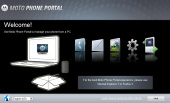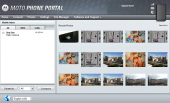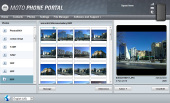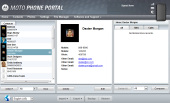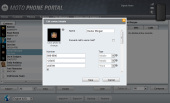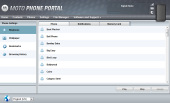 The Phone portal apps turns your browser into a PC Suite (seen here running on Chrome 7)
You can even password-protect the connection. From then on, you can browse photos and files (the file browser works only with Internet Explorer though), adjust settings and also manage contacts – including composing and sending messages.
The idea is great – you don't always need the full functionality of a PC Suite (the Phone portal can do quite a bit) and you can't always have the PC Suite installed on the computer you're using.
Recently Bought the milestone 2, This is a fantastic phone. Use of ease, fast, solid build, very easy to use. Qwerty great. Camera Great, DLNA works a treat. My favorite is motoblur. I heard alot of whinging about motoblur but i find it very useful a...
HD video-recording is very, very poor...
The milestone is a very nice phone.I have 1 rite now. Nice browser, nice messaging system, has a lot of glitches for example it would reboot on its own any random time whilst attempting to process a command. But that is expected w/ any first version ...