Motorola Moto G7 Play review
GSMArena team, 3 March 2019.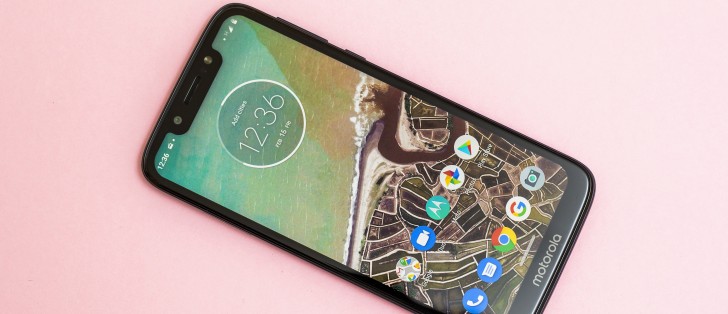 Clean Android Pie with a few Moto sprinkles
Motorola has always opted for a near-stock Android versions and the G7 series is no different.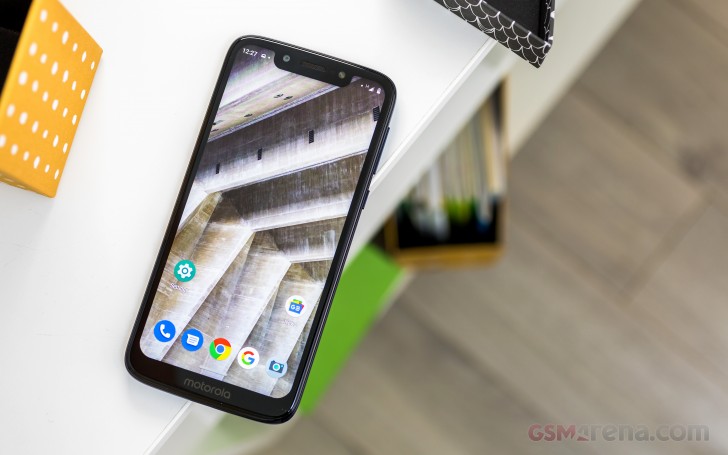 The Moto G7 Play continues the purist tradition with its Android 9 Pie ROM, that, for the most part, is almost identical to what you would find on a Google Pixel device.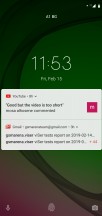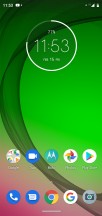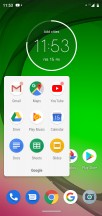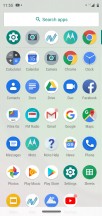 Lock screen • Home screen • Folder view • App drawer
We get a standard looking interface - the Pie notification shade, quick toggles area, the new Pie task switcher and its multi-windows capabilities, and even the list of recent apps in the task switcher that can be expanded into the app drawer - Android Pie through and through.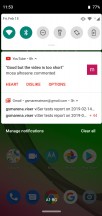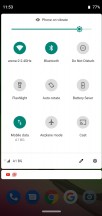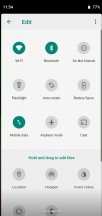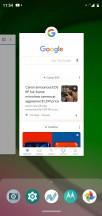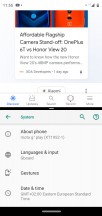 Notification shade • Quick toggles • Editing Quick toggles • Recent apps • Split screen
The launcher does also include an optional Google feed screen on the far left and lends itself to a certain degree of customization, like editing number or rows and columns and toggling things like notification dots, app suggestions and home screen rotation.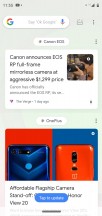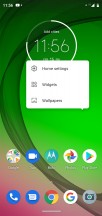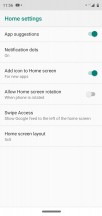 Google feed • Launcher settings
There are, however, some tweaks, sprinkled in a really subtle manner. We appreciate Motorola's efforts to keep the Moto assistant additions tidy and well organized under one roof - the Moto app.
The familiar customizations like Moto Display and Moto Actions are available all within the Moto app.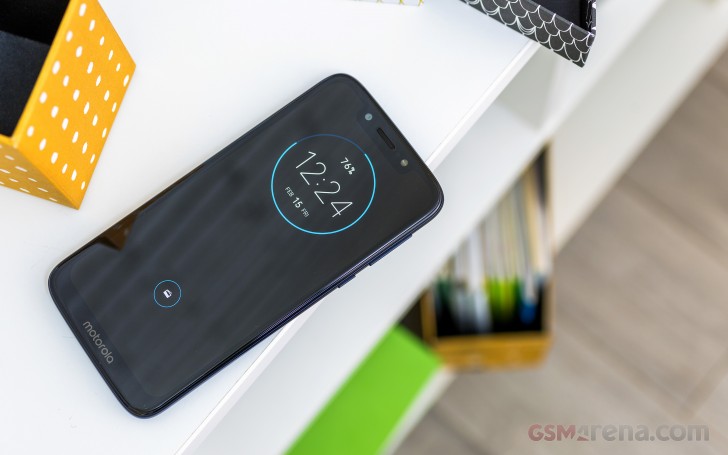 With Moto Display you can enable the Peek Display - it shows the clock and notifications upon lifting your Moto G7 Play. Attentive Display, when turned on, won't lock the screen while you are looking at it, but it may affect the battery life.
In Moto Actions you can enable Lift to unlock, Fast flashlight, Quick capture, Pick to silence, among other useful gestures. One-button nav is also available and it's closer to Google's own implementation than the full-screen gestures of other makers. Basically, you swipe left on the bar to go Back, swipe right to quickly switch between the last two apps, swipe up for the task switcher, tap the bar to go Home, and tap-hold for Google Assistant.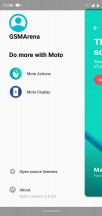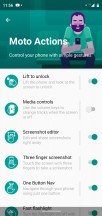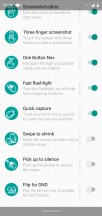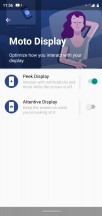 Moto app • Moto Actions • Moto Actions • Moto Display
The Moto G7 Play has an always-on fingerprint sensor on its back, but if Face Unlock is your thing, you can go for it but it's not as secure.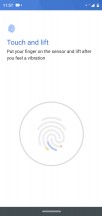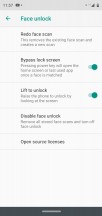 Fingerprint and security options
There are pretty much no additional pre-installed apps on the Motorola G7 Play which are worth mentioning, and that's the way we prefer it. You pretty much get the Google app package and if there is anything else you need, it is easily attainable via the Play Store.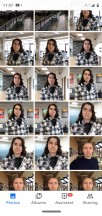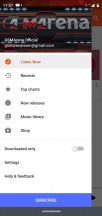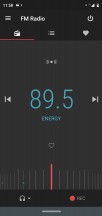 Photos • Play Music • FM radio
There is an FM radio receiver and an app to go with it.
Performance and benchmarks
The Motorola Moto G7 Play rely on the modest but still perfectly acceptable Snapdragon 632 chipset. It has an octa-core Kryo 250 CPU with 4x Gold and 4x Silver cores all working at 1.8GHz.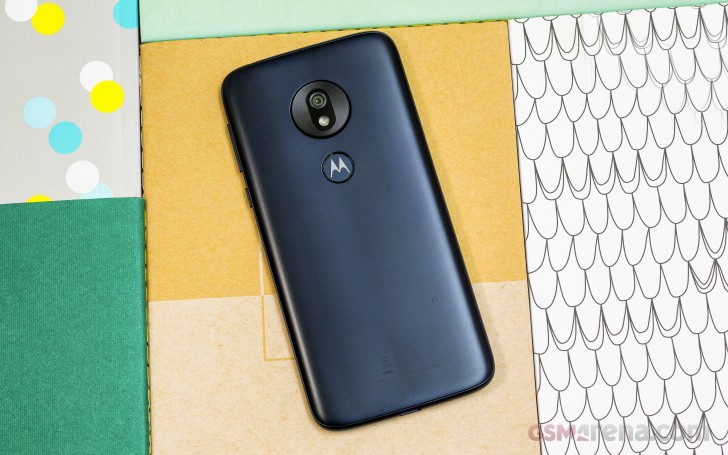 There is one very familiar Adreno 506 GPU to handle the graphics. The Play and the Power models have lower-res 720p displays to go with their Adreno 506, which will give them an edge in real-life onscreen performance, while the high-res 1080p Moto G7 Plus has the upgraded Adreno 509 GPU.
Finally, the G7 Play comes with just 2 gigs of RAM.
Now, let's see what the benchmarks tell us.
GeekBench is always our first stop and it shows that there is nothing worrisome about the G7 Play's processor. While both the single- and multi-core performance are trailing behind the Realme and Redmi competition - that's to be expected as the CPU has a lower clock than those. But the processor is still more than capable and seems future-proof enough.
GeekBench 4.1 (multi-core)
Higher is better
Realme 1
5741
Realme 2 Pro
5531
Xiaomi Redmi Note 7
5411
Motorola Moto G7 Plus
4927
Motorola Moto G7
4755
Xiaomi Mi A2
4625
Motorola Moto G7 Power
4534
Xiaomi Mi A2 Lite (Redmi 6 Pro)
4388
Motorola One (P30 Play)
4183
Motorola Moto G6 Plus
4160
Motorola Moto G7 Play
4154
Motorola Moto G6
3972
Xiaomi Redmi 6
3639
Motorola Moto G6 Play
2328
GeekBench 4.1 (single-core)
Higher is better
Xiaomi Redmi Note 7
1650
Xiaomi Mi A2
1617
Realme 1
1511
Realme 2 Pro
1462
Motorola Moto G7 Plus
1334
Motorola Moto G7
1255
Motorola Moto G7 Power
1252
Motorola Moto G7 Play
1199
Motorola Moto G6 Plus
882
Xiaomi Mi A2 Lite (Redmi 6 Pro)
881
Motorola One (P30 Play)
867
Xiaomi Redmi 6
820
Motorola Moto G6
754
Motorola Moto G6 Play
639
The Adreno 506 has been around since the dated Snapdragon 625 chipset and while it had some nice punch, it just can't keep up with the 1080p tasks today.
GFX 3.1 Manhattan (1080p offscreen)
Higher is better
Xiaomi Redmi Note 7
15
Xiaomi Mi A2
15
Realme 2 Pro
14
Realme 1
12
Motorola Moto G7 Plus
10
Motorola Moto G6 Plus
9.8
Motorola Moto G6
9.3
Motorola Moto G7 Power
6.9
Motorola Moto G7 Play
6.9
Motorola Moto G7
6.9
Xiaomi Mi A2 Lite (Redmi 6 Pro)
6.5
Motorola One (P30 Play)
6.4
Xiaomi Redmi 6
5.9
Motorola Moto G6 Play
4.6
3DMark SSE 3.1 Unlimited
Higher is better
Xiaomi Redmi Note 7
1409
Xiaomi Mi A2
1380
Realme 2 Pro
1291
Realme 1
1072
Motorola Moto G7
569
Motorola Moto G7 Power
567
Motorola Moto G7 Play
562
Luckily, the G7 Power and G7 Play have 720p screens and the GPU handles everything effortlessly, even some demanding games. Nice!
GFX 3.1 Manhattan (onscreen)
Higher is better
Motorola Moto G7 Power
14
Motorola Moto G7 Play
14
Xiaomi Mi A2
14
Xiaomi Redmi Note 7
13
Motorola One (P30 Play)
13
Realme 2 Pro
12
Realme 1
12
Xiaomi Redmi 6
11
Motorola Moto G6 Play
10
Motorola Moto G7 Plus
9.7
Motorola Moto G6 Plus
9.3
Motorola Moto G6
8.8
Motorola Moto G7
6.4
Xiaomi Mi A2 Lite (Redmi 6 Pro)
6.1
The Moto G7 Power scored a respectable score on the compound AnTuTu benchmark and it clearly shows the potential of the Snapdragon 632 when coupled with an HD screen. The G7 Play has less points than the G7 Play because of its halved RAM.
AnTuTu 7
Higher is better
Xiaomi Redmi Note 7
139075
Realme 1
138524
Realme 2 Pro
132958
Xiaomi Mi A2
130927
Motorola Moto G7 Plus
117829
Motorola Moto G7 Power
107495
Motorola Moto G7
106292
Motorola Moto G7 Play
97230
Motorola Moto G6 Plus
90263
Motorola One (P30 Play)
81024
Xiaomi Mi A2 Lite (Redmi 6 Pro)
77964
Xiaomi Redmi 6
75182
Motorola Moto G6
70845
Motorola Moto G6 Play
58757
The Moto G7 Play isn't as snappy as the Redmi Note 7 or Realme 2 Pro, which are some of its direct competitors. But it's powerful enough to last you a couple of years without worrying too much for the performance of upcoming apps and games. It's not a powerhouse, but it handles pressure very well and that's more than enough for its price.
We observed no warm spots on the G7 Play's body even in long benchmark sessions and there is no performance throttling at all.
Finally, Android Pie seemed to run fine on the Play and app startup times were okay. However, the 2GB of RAM turned to be insufficient at times and longer than usual loading times do happen, even stutter is possible here and there. Google Chrome crashed a couple of times, too.
The Snapdragon 632 whips through most games without issue. The lower level Adreno 506 kind of let's it down if you're getting it for games. Still it'll handle almost anything you throw at it.
does the phone support at&t HV Voice ?
I bought this phone Moto G7 play in Dec 2019. I don't mind the phone but find the volume sucks is there any way to "'boost the volume on this device???? Plz tell me there is!!! 🤬