Motorola Moto G8 Plus review
Orlin Milinov, 13 Dec 2019.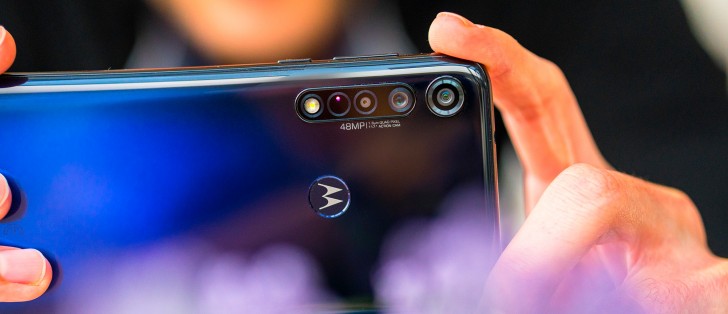 A few Moto custom bits over Android 9.0
The Moto G8 Plus isn't on the Android One branch like the phones in the One series, so it has a bunch more options in the Moto custom features app. Other than that, it's mostly a stock-ish looking affair. The software build is still based on Android 9.0 Pie, however - there's no 10 just yet.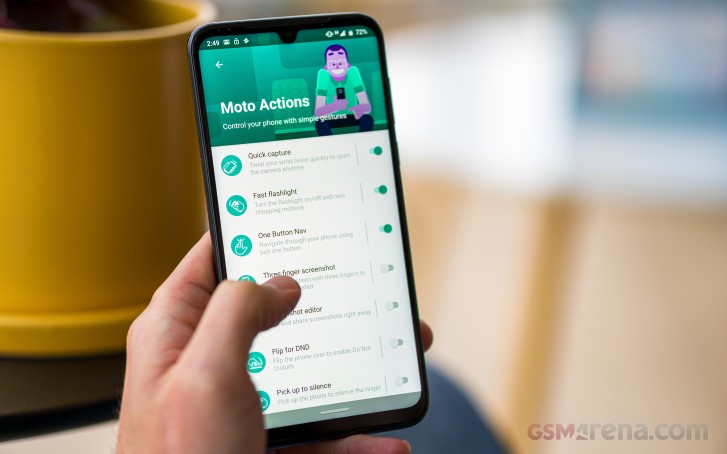 The G8 Plus has its own take on gesture navigation, same one Motos had since before Google came up with the pill. The Android 10's strip implementation now looks similar to the one on the Motos from 2018 - who's leading the way now, Google?
They call it One Button Nav, and it's a single elongated button in the center - tapping it once takes you to the home screen, a swipe up brings out the recent apps menu, swiping to the left acts as a back button while swiping to the right quickly switches back to the last opened app. The quick switch works pretty well, which is not always the case with Android's native implementations. If, on the other hand, you want to have the classic three-button navigation, you can switch One Button Nav off.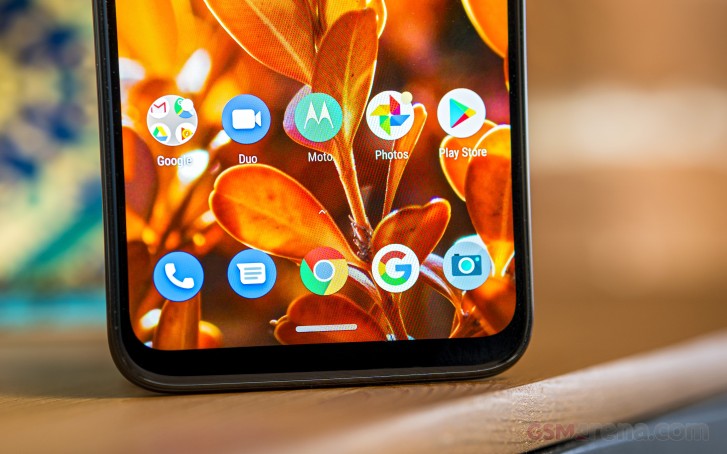 Other Moto actions include a karate chop for toggling the flashlight on or off, twist motion to launch the camera app, three-finger screenshot gesture, accelerometer-based ringtone silencing, and lift to unlock - if you have face recognition enabled.
Moto Display consists of just two options on the Moto One Actions, and the more important one is Peek Display - the not-always-on display. It'll display notifications and let you interact with them right there on the lockscreen plus it'll wake up when you pick up your phone. Another feature, Attentive display, will keep the screen on as long as you are looking at it.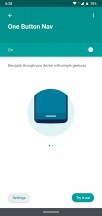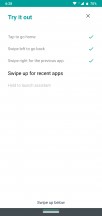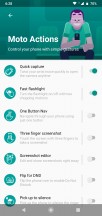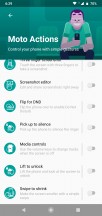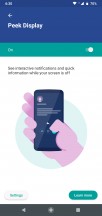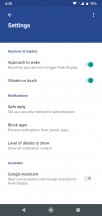 One Button Nav • Moto actions • Peek Display
All of these aside, the rest is pretty much Android 9.0 Pie as Google intended it to be - well, there's also the greenish hue of the quick toggles.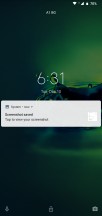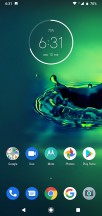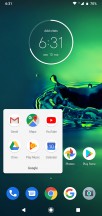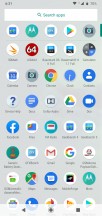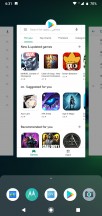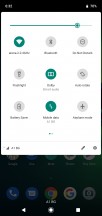 Lockscreen • Homescreen • Folder view • App drawer • Task switcher • Quick toggles
As you'd expect, the Security & location menu contains the available biometric features - fingerprint and face unlock. Both seem to work pretty well but keep in mind that the face unlock feature works only with the front-facing camera without any additional 3D scanning tech so the fingerprint remains the more secure biometric unlock method. Which is fine, because it's fast and reliable.
Synthetic benchmarks
The Moto G8 Plus is powered by the Snapdragon 665 - a midrange Qualcomm chip, made on an 11nm manufacturing process. It packs an octa-core CPU in a 4x2.0GHz Kryo 260 Gold & 4x1.8GHz Kryo 260 Silver arrangement and an Adreno 610 GPU. A single RAM and storage configuration is offered - 4GB and 64GB is what you get, and that's it.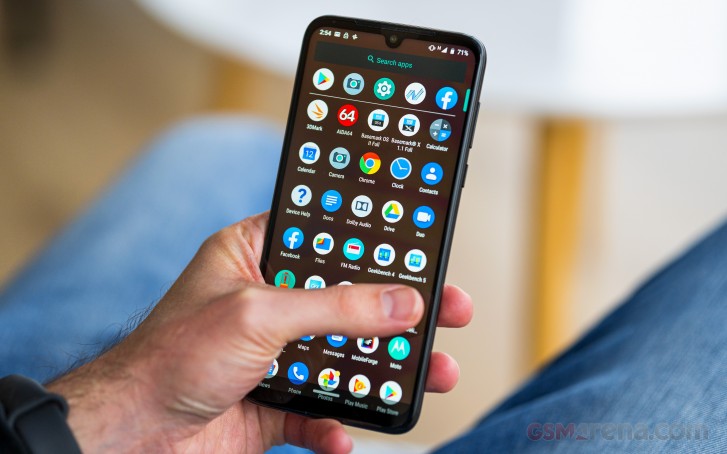 Running our usual set of benchmarks on the Moto G8 Plus, we got virtually the same results out of it for single-core CPU performance as we did from other phones with the Snapdragon 665. The Snapdragon 675-powered handsets do offer a considerable boost in single-core performance. They do also offer some improvement over the Moto G8 Plus under multi-core loads, but it's not as dramatic.
GeekBench 5 (single-core)
Higher is better
vivo V17 Pro
509
Samsung Galaxy A60
507
Motorola One Zoom
501
Nokia 7.2
336
Xiaomi Redmi Note 8
315
Xiaomi Redmi Note 8T
315
Motorola Moto G8 Plus
314
Realme 5s
314
Nokia 6.2
276
GeekBench 5 (multi-core)
Higher is better
vivo V17 Pro
1657
Nokia 7.2
1425
Samsung Galaxy A60
1410
Motorola One Zoom
1409
Xiaomi Redmi Note 8T
1402
Realme 5s
1373
Xiaomi Redmi Note 8
1339
Motorola Moto G8 Plus
1325
Nokia 6.2
1255
It's a similar distribution in Antutu, where the S665 bunch is relatively tightly grouped together, while the S675-equipped Moto One Zoom flies the S675 flag somewhat in front of them.
AnTuTu 8
Higher is better
Motorola One Zoom
180000
Motorola Moto G8 Plus
168699
Realme 5s
168635
Xiaomi Redmi Note 8T
167395
Nokia 7.2
164484
Xiaomi Redmi Note 8
161572
Nokia 6.2
140736
When it comes to graphics, the Moto G8 Plus delivers decent performance, though once again the Snapdragon 675's more powerful Adreno 612 GPU gives the phones that have it a bit of an edge over the Moto. And then the Snapdragon 670 devices (of which we've only seen the Pixel 3a XL) score even higher still. That's because the S670 has an even more powerful Adreno 615 GPU - yes, Qualcomm's product nomenclature makes all the sense.
GFX 3.1 Manhattan (1080p offscreen)
Higher is better
Google Pixel 3a XL
20
vivo V17 Pro
17
Motorola One Zoom
15
Samsung Galaxy A70
15
Motorola Moto Z4
15
Samsung Galaxy A60
15
Nokia 7.2
15
Motorola One Action
14
Samsung Galaxy A50
14
Motorola Moto G8 Plus
13
Xiaomi Mi A3
13
Realme 5s
13
Xiaomi Redmi Note 8
13
Xiaomi Redmi Note 8T
13
Motorola Moto G7 Plus
10
Nokia 6.2
10
GFX 3.1 Manhattan (onscreen)
Higher is better
Xiaomi Mi A3
27
Realme 5s
24
Google Pixel 3a XL
19
Motorola Moto Z4
14
vivo V17 Pro
14
Motorola One Action
13
Motorola One Zoom
13
Samsung Galaxy A70
13
Samsung Galaxy A60
13
Samsung Galaxy A50
13
Nokia 7.2
13
Motorola Moto G8 Plus
12
Xiaomi Redmi Note 8
11
Xiaomi Redmi Note 8T
11
Motorola Moto G7 Plus
9.7
Nokia 6.2
9.2
GFX 3.1 Car scene (1080p offscreen)
Higher is better
Google Pixel 3a XL
11
Samsung Galaxy A50
9.2
Nokia 7.2
9
vivo V17 Pro
8.8
Motorola One Zoom
8.1
Samsung Galaxy A60
8.1
Samsung Galaxy A70
8
Motorola Moto Z4
7.2
Motorola Moto G8 Plus
7.1
Xiaomi Mi A3
7.1
Realme 5s
7.1
Xiaomi Redmi Note 8
7
Xiaomi Redmi Note 8T
7
Motorola Moto G7 Plus
6.3
Nokia 6.2
6.3
GFX 3.1 Car scene (onscreen)
Higher is better
Xiaomi Mi A3
13
Realme 5s
12
Google Pixel 3a XL
11
Nokia 7.2
8.1
Motorola Moto Z4
8
Samsung Galaxy A50
8
Samsung Galaxy A60
7.3
vivo V17 Pro
7.3
Motorola One Zoom
7.1
Samsung Galaxy A70
7
Motorola Moto G8 Plus
6.5
Motorola Moto G7 Plus
5.9
Xiaomi Redmi Note 8
5.9
Xiaomi Redmi Note 8T
5.9
Nokia 6.2
5.7
3DMark SSE 3.1 Unlimited
Higher is better
Google Pixel 3a XL
1748
Nokia 7.2
1427
Samsung Galaxy A50
1353
vivo V17 Pro
1221
Realme 5s
1140
Xiaomi Mi A3
1131
Motorola Moto G8 Plus
1128
Xiaomi Redmi Note 8T
1128
Xiaomi Redmi Note 8
1126
Samsung Galaxy A60
1123
Samsung Galaxy A70
1112
Motorola One Zoom
1107
Motorola Moto Z4
1044
Nokia 6.2
998
All in all, the Moto G8 Plus is a noticeable performance upgrade over the Moto G7 Plus and sits well against key rivals. Having said that, there are Snapdragon 670 and 675 competitors, and those do offer some performance gains. And that's before taking into account the Snapdragon 700-series devices, which you can find for Moto G8 Plus money in some parts of the world. So if you're after the best performance for the price, perhaps this Moto shouldn't be on top of your list, but it's easily powerful enough.
I used to have a moto G5 which was one of the first phones that was released when they collaborated with Lenovo, and its now broken beyond repair but if it was still in a good condition, it would have probably been a bit slow but fine in general
I have Two Moto G3 mobile past from 4 years i am using it without any problem. Now i am worried to buy Moto G8 plus, bcoz of lenovo collaborated. Help me whether G8 plus is good to buy or no.
Is Moto G8 Plus working with car infotainment? I tried hard to connect my Moto G5 Plus (Android 8.1) to Skoda (VW group mark) infotainment without success. Probably there is some problem with mirrorlink, because phone's screen is not visible on ...