Moto G 5G review
GSMArena Team, 27 January 2021.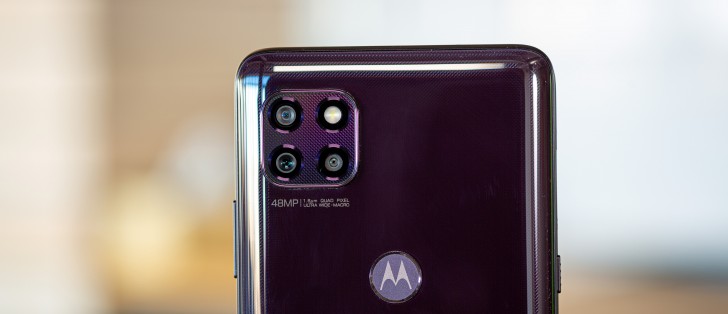 Still Android 10, still stock-ish
If you are looking for a stock Android experience, Motorola's should almost always show up on the top of the list. However, the update frequency and swiftness are less than stellar these days. Not only is our unit still running Android 10 five months after the release of Android 11, but the security patch is stuck at the November 2020 release. Nonetheless, you can still enjoy the clutter-less Android experience joined by a couple of Motorola-specific features, which we will go through now.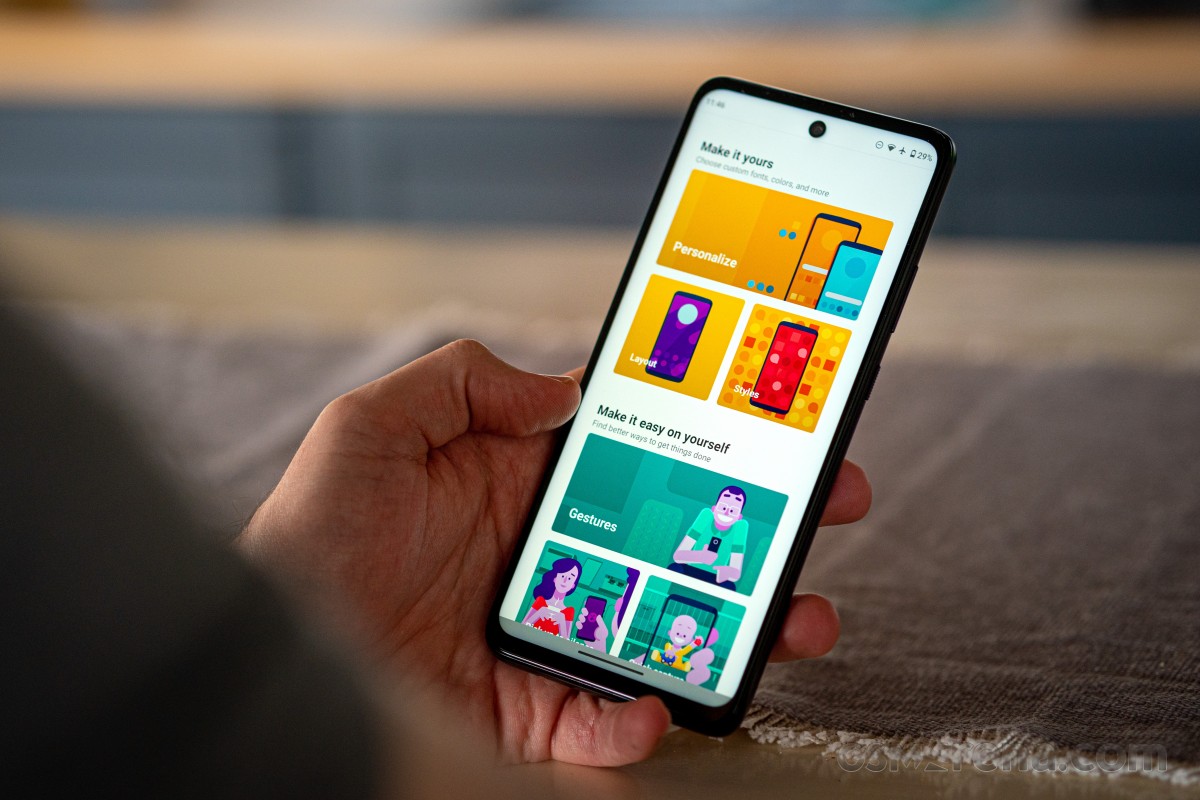 The features and the overall feel of the software is identical to the Moto G 5G Plus'. Once you boot up the phone for the first time, you will be greeted with a notification that walks you through the available Moto features and the so-called Moto Actions. Or at least that's what Motorola used to call them. Now, they are split into a couple of categories. Anyway, there's a quick tutorial on how the new gesture-based navigation system works. Sticking with the good old navigation keys is also an option.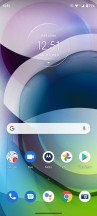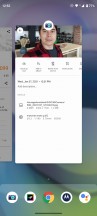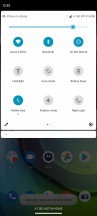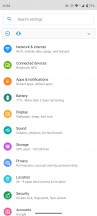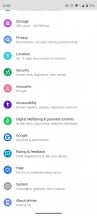 Home screen, recent apps, notification shade, general settings menu
The gestures are arguably the most important set of features that help the Moto handsets stand out. You can launch the camera with a twisting motion without even lighting up the screen, or you can turn on the flashlight with a karate chop motion. A quick unlocking of the phone can be done by combining the lift-to-unlock gesture, and the face unlock functionality. The phone's screen lights up when you pick up the phone, and the front-facing camera immediately starts looking for your face. A swift unlock is guaranteed.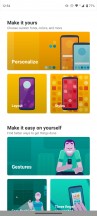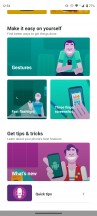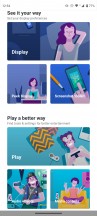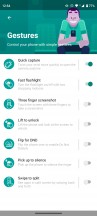 Moto gestures and other customizatons and features
Another screen-off feature worth mentioning is the media controls. By holding the volume rocker, you can skip to the next track or rewind - it's a great feature that appears to be unique to Motorola. It's way more convenient than the screen-off gesture music controls on Oppo, Realme and OnePlus devices. No need to get the phone out of your pocket; you just have to reach for the volume key without even looking.
Sadly, since there's no side-mounted fingerprint reader, the Power Touch feature has been axed here, but it won't be missed so much. This action can still be performed with a double-tap on the rear fingerprint scanner.
Customization options are rather new to Motorola phones. The company introduced the feature with one of its recent models and lets you choose your font, the toggles and sliders' color accent, etc. The shape of the quick toggles in the notification shade is also possible, and the same goes for the standard icons.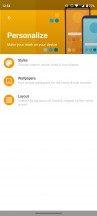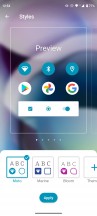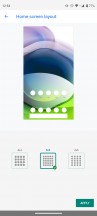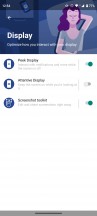 UI customization options and Moto Display features
Moto Display has a couple of neat features related to how you can interact with the handset when the screen is on or off. Attentive Display keeps the screen on while you read, while Peek Display lets you interact with notifications even when the screen is off. When you receive a notification or move the phone, the screen lights up, showing only the clock and notifications. The latter can be interacted with by holding your finger on the said icon. A short text will appear showing you part of the notification so you can see the gist of it. You can quick reply or dismiss a notification without going through the process of unlocking. And since this is a potential privacy breaching feature, you can block some of the apps to appear on the so-called Peek Display.
Speaking of unlocking, we can't say we had any trouble with the fingerprint reader. It was fast, accurate and responsive. Just a quick tap is all you need to unlock the device.
A new Gametime feature has also been introduced, but unlike most gaming tools, this one doesn't boost the device's performance. It just makes the whole gaming experience a tad better by removing all the distractions. A sidebar called Toolkit can be summoned by swiping in-game, and that will let you take control of some settings like notification and call handling, display brightness, etc.
When it comes to performance and overall feel, the navigation felt smooth, fast and responsive. There were no notable hiccups or hanging. The Snapdragon 750G seems to play well with Motorola's mostly clutter-free UI.
Performance
The Snapdragon 750G is a fairly new addition to Qualcomm's 700-series, and we've seen it run on a couple of phones now. It's still a mid-range SoC, and it's supposed to provide similar performance to the Snapdragon 765G while comfortably outperforming the Snapdragon 730G.
The SoC is built on the 8nm manufacturing process, and the CPU consists of 2x Kryo 570 Gold (Cortex-A77 derivative) @ 2.2 GHz and 6x Kryo 570 Silver (Cortex-A55 derivative) @ 1.8GHz cores while the GPU is Adreno 619.
As far as memory goes, the base Moto G 5G comes with 4GB of RAM and 64GB of storage by default, but the 128GB models get a bump of the RAM to 6GB, too. We have the 64GB model for review.
GeekBench 5 (multi-core)
Higher is better
Xiaomi Mi 10T Lite
2009
Motorola Moto G 5G
1980
Samsung Galaxy A42 5G
1910
Motorola Moto G 5G Plus
1898
Realme 7 Pro
1811
Realme 7 5G
1794
GeekBench 5 (single-core)
Higher is better
Xiaomi Mi 10T Lite
661
Motorola Moto G 5G
659
Samsung Galaxy A42 5G
643
Realme 7 5G
598
Motorola Moto G 5G Plus
589
Realme 7 Pro
576
AnTuTu 8
Higher is better
Samsung Galaxy A42 5G
324686
Xiaomi Mi 10T Lite
318882
Realme 7 5G
318535
Motorola Moto G 5G
312461
Motorola Moto G 5G Plus
299926
Realme 7 Pro
278414
GFX Car Chase ES 3.1 (offscreen 1080p)
Higher is better
Realme 7 5G
20
Motorola Moto G 5G Plus
19
Motorola Moto G 5G
19
Xiaomi Mi 10T Lite
19
Samsung Galaxy A42 5G
19
Realme 7 Pro
18
GFX Car Chase ES 3.1 (onscreen)
Higher is better
Samsung Galaxy A42 5G
33
Motorola Moto G 5G
17
Realme 7 5G
17
Motorola Moto G 5G Plus
16
Xiaomi Mi 10T Lite
16
Realme 7 Pro
14
3DMark SSE Vulkan 1.0 (offscreen 1440p)
Higher is better
Realme 7 5G
3028
Motorola Moto G 5G Plus
2821
Samsung Galaxy A42 5G
2609
Motorola Moto G 5G
2608
Xiaomi Mi 10T Lite
2595
Realme 7 Pro
2358
The Snapdragon 750G appears to be even faster than the Snapdragon 765G when it comes to raw compute performance in single and multi-threaded tasks, but in combined and GPU-only tests, the Snapdragon 765G still comes out on top, even if barely.
Does anyone know how to activate 5g in Motorola motog5g Indian version(XT2113-3) without accessing CSC mode through dialer app, means non invasively? Or, when will Motorola activate the option to choose 5g from mobile sim menu? Thank you for you ...
Specs are good in paper but real life Performance is not so good as expected, battery only lasts for 6-7 hrs with moderate use, changed battery and still battery performance not improved, I was a Motorola fan but now disappointed with this phone
Anonymous
12 Dec 2021
7}R
I also faceing same problem with battery.worst