Moto Z3 review
GSMArena team, 24 August 2018.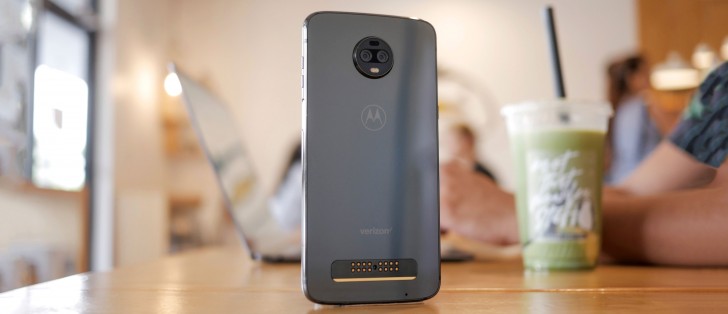 Android 8.1 with Moto Experiences
The Moto Z3 comes with Android 8.1 out of the box. Like all previous versions of the Moto Z, Moto's software is near-stock with added Moto Enhancements: Moto Actions, Moto Voice, and Moto Display.
Let's start with the fingerprint scanner, it's great. The sensor is quick and reliable and the its placement is right where the power button would be. However, the actual power key has been moved to the left side.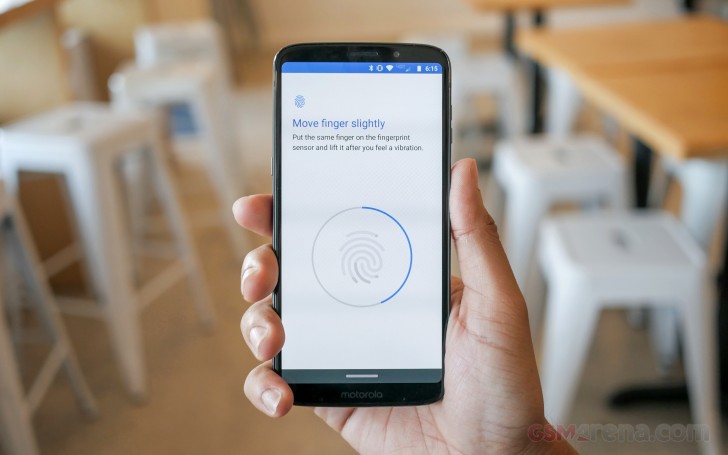 It wasn't really any inconvenience to have it on the other side. It takes maybe a day or two to get used to - press the right side with your thumb to unlock, and then use your index or middle finger to reach behind the phone to press the sleep key. This is assuming you're right-handed, of course.
Although it isn't until Android 9.0 Pie that Android implemented an official gesture navigation solution, Motorola has been using gesture navigation since the Moto Z2. Of course, it used the front-mounted fingerprint sensor to do this. Since the scanner is no longer on the front, Moto's One Button Navigation is now on-screen and looks a lot like the iPhone X's Home "bar".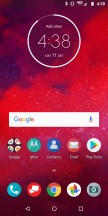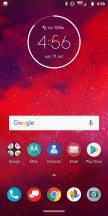 Standard Nav bar • One Button Nav
It's simpler than Google's Android 9 Pie controls in that it emulates the original three on-screen navigation keys: Swipe left on the bar to go Back, tap the bar to go Home, swipe right for Recents, swipe right again to quickly switch between the last two apps, and tap-hold for Google Assistant. We're pretty glad there is no "swipe up" gesture that emulates the iPhone X.
Aside from the change in navigation, not much has changed in the UI since the Z2. General navigation is the same: swipe up to access the app drawer, 5 dynamic app icons at the top of the drawer, and rotatable home-screens, all in a taller display. The taller display means it may be harder to reach the drawer, so you can swipe down from anywhere on the launcher to pull it down.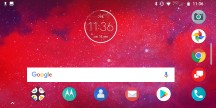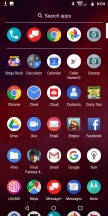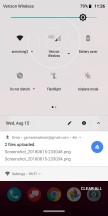 Rotated home screen • App drawer • Notification shade
The One Button Navigation feature is one of Moto's Experiences and can be controlled within the Moto App. The app has been updated with a new suggestions tab, which now shows a few cards of suggested tools like Night Display, a storage cleanup tool, and a power monitor tool to put power-chugging apps to sleep.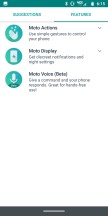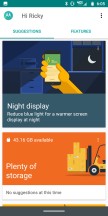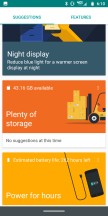 Moto app features • Suggestion cards in Moto App
The list of Moto Actions has grown from the Z2. Media controls, Lift to unlock, Screenshot editor, and Three finger screenshot.
There's a new feature called Attentive display. This will keep the display turned on as long as you're looking at it by looking for your attention through the front-facing camera.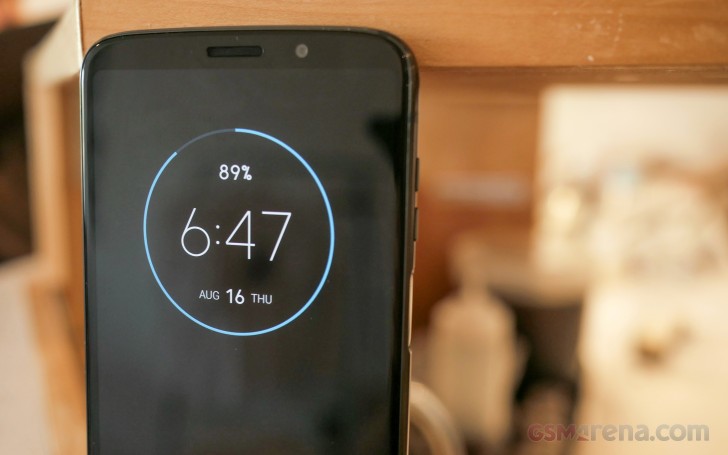 Moto Display has been around since the original Moto X (formerly known as Active Display) and will briefly show you the time and date, along with any notifications you may have missed. The bezels are embedded with motion sensors that will active Moto Display when you give the display a quick wave.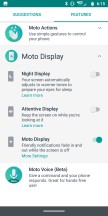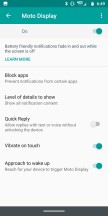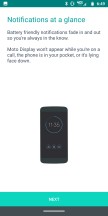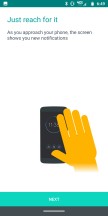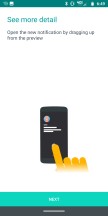 Moto Display: features • Settings • How it works
'Talk to me' is the feature that was first introduced with the original Moto X: when the phone detected it was in a moving vehicle. Text messages and incoming calls would be read aloud with prompts for the user to respond. This feature is still here and is a part of Moto Voice. Unfortunately, the feature is buried pretty deep in the Moto App.
The Z2 used simpler Moto Voice commands so that its features wouldn't overlap too much with Google Assistant. Most of them started with "Show me..." and you could follow that with things like "the weather", "my calendar", or "Google Maps". More glanceable things like the weather or upcoming events would appear and then fade out.
This updated version of Moto Voice doesn't work with any of the "Show me" commands. The majority of what it can do now overlaps with Google Assistant, so why bother using Moto Voice at all? Well, there might be a couple of reasons.
Moto Voice can perform certain actions within apps. For example, you can ask Moto to "view my favorite places" and it will take you to the appropriate screen within the Google Maps app, or you can say "pull up my drafts" and it will open the Gmail app to the drafts screen. These are things that Google Assistant can't do.
Unfortunately, since the new Moto Voice is half-baked (it is in Beta, after all), not all apps queries worked for us properly. Also, the replies from Moto Voice use the old robotic-sounding synthesized voice, so after hearing two lengthy replies, we proceeded to disable audial replies from Moto Voice.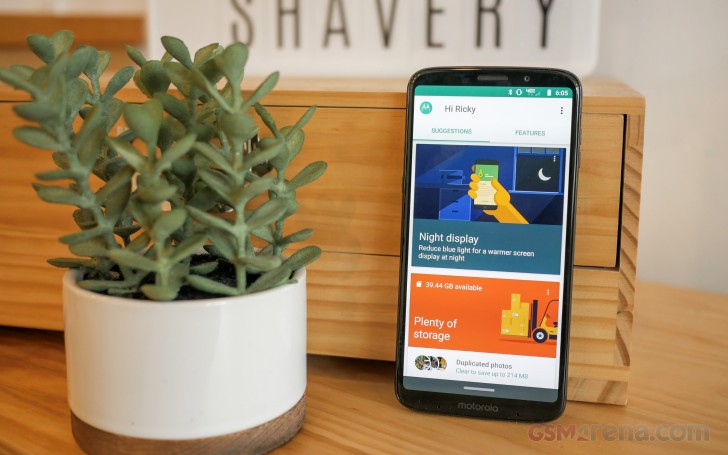 Until Moto Voice is updated with something more useful that isn't already possible on Google Assistant, we'll just stick to the latter.
Of course, since this is a Verizon device, we found plenty of useless bloatware that was installed after setting up. There were five games, two extra apps (Weather Bug and SmartNews), and eight Verizon apps. In all honesty, we've seen worse than this.
On the bright side, you can uninstall any unwanted apps.
Performance
The Moto Z3 is stuck with 2017's Qualcomm Snapdragon 835 CPU. Motorola didn't even think the Z3 was worth an upgrade in RAM - it comes with 4GB of RAM, which gives it the exact same performance as the Z2. This reminds us of when LG released the G6 with the Snapdragon 821.
Motorola's decision to use the same processing hardware as last year is partly justified due to the asking retail price for the Moto Z3, which is $480 on Verizon. The Snapdragon 835 and 4GB of RAM still go a long way even into 2019.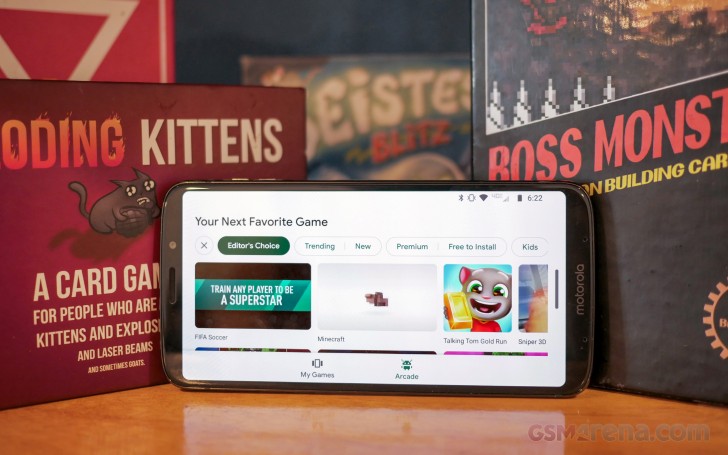 On the performance front, you can expect the exact same performance out of the Z3, expect for a couple of factors that could affect real-world performance. One of these is the resolution - which went from QHD on the Z2 to FHD+ on the Z3. Less pixels means less rendering required and higher frame rates.
GeekBench scores in the mulit-core sector show a significant gap between the 2018 devices and the 2017 devices. The Moto Z3 sits among all 2017 devices in performance while last year's iPhone 8 with the A11 Bionic chip still topped charts in GeekBench's single and multi-core scores.
GeekBench 4.1 (multi-core)
Higher is better
Xiaomi Mi MIx 2S
9158
OnePlus 6
9011
Samsung Galaxy S9+
8883
Samsung Galaxy S9+ (Snapdragon)
8349
Samsung Galaxy Note8
6784
Huawei Honor View 10
6738
Huawei P20
6722
Motorola Moto Z2 Force
6629
Motorola Moto Z3
6614
Samsung Galaxy Note8 (SD 835)
6590
Google Pixel 2
6437
Apple iPhone 7
5831
BlackBerry KEY2
5830
The iPhone 8's A11 Bionic chip is still unmatched in single-core scores while the Exynos 9810 in the Galaxy S9+ is not far behind. The Snapdragon 835's single core score was roughly half that of the iPhone 8's.
GeekBench 4.1 (single-core)
Higher is better
Samsung Galaxy S9+
3771
Apple iPhone 7
3459
Xiaomi Mi MIx 2S
2468
OnePlus 6
2450
Samsung Galaxy S9+ (Snapdragon)
2199
Samsung Galaxy Note8
1987
Motorola Moto Z3
1924
Motorola Moto Z2 Force
1915
Google Pixel 2
1912
Huawei Honor View 10
1902
Huawei P20
1897
Samsung Galaxy Note8 (SD 835)
1862
BlackBerry KEY2
1628
Antutu 7 ranks the CPUs a bit differently. The devices with the Snapdragon 845 were at the top of the list with the Exynos-powered S9+ just behind them. Antutu puts the Kirin 970 from the Huawei P20 right at the same level as the Snapdragon 835 devices.
AnTuTu 7
Higher is better
Xiaomi Mi MIx 2S
270814
OnePlus 6
264200
Samsung Galaxy S9+ (Snapdragon)
264044
Samsung Galaxy S9+
246660
Huawei Honor View 10
212708
Motorola Moto Z2 Force
209779
Motorola Moto Z3
207903
Huawei P20
206906
Samsung Galaxy Note8
201065
BlackBerry KEY2
140984
GFX lets us compare frame rates between devices since the rendering is leveled to 1080p resolution. Currently, the Snapdragon 845 dominates these frame rates, reaching past 60 frames with the Mi Mix 2S and the Galaxy S9+ in the Manhattan offscreen test.
GFX 3.1 Manhattan (1080p offscreen)
Higher is better
Samsung Galaxy S9+ (Snapdragon)
61
Xiaomi Mi MIx 2S
61
OnePlus 6
58
Samsung Galaxy S9+
47
Apple iPhone 7
43
Samsung Galaxy Note8 (SD 835)
43
Motorola Moto Z3
42
Motorola Moto Z2 Force
42
Samsung Galaxy Note8
42
Google Pixel 2
41
Huawei Honor View 10
38
Huawei P20
36
BlackBerry KEY2
15
Motorola Moto Z2 Play
6.5
GFX 3.1 Car scene (1080p offscreen)
Higher is better
Samsung Galaxy S9+ (Snapdragon)
35
OnePlus 6
35
Xiaomi Mi MIx 2S
35
Samsung Galaxy S9+
28
Motorola Moto Z3
25
Motorola Moto Z2 Force
25
Samsung Galaxy Note8 (SD 835)
25
Samsung Galaxy Note8
25
Google Pixel 2
24
Huawei P20
23
Huawei Honor View 10
22
BlackBerry KEY2
9
Motorola Moto Z2 Play
3.5
Of course, on-screen rendering will depend on the display's native resolution. You'll notice here that the Moto Z3 gets better frame rates than the Z2 Force due to its lower pixel density. The Z2 Force was 1440p while the Z3 has a less-dense resolution of 1080p+.
GFX 3.1 Manhattan (onscreen)
Higher is better
Apple iPhone 7
60
OnePlus 6
55
Xiaomi Mi MIx 2S
55
Google Pixel 2
43
Huawei P20
39
Motorola Moto Z3
37
Huawei Honor View 10
35
Samsung Galaxy S9+ (Snapdragon)
34
Samsung Galaxy S9+
24
Samsung Galaxy Note8
23
Motorola Moto Z2 Force
22
Samsung Galaxy Note8 (SD 835)
20
BlackBerry KEY2
17
Motorola Moto Z2 Play
6.9
GFX 3.1 Car scene (onscreen)
Higher is better
Xiaomi Mi MIx 2S
34
OnePlus 6
33
Google Pixel 2
26
Motorola Moto Z3
23
Huawei P20
23
Samsung Galaxy S9+ (Snapdragon)
20
Huawei Honor View 10
20
Motorola Moto Z2 Force
15
Samsung Galaxy S9+
14
Samsung Galaxy Note8 (SD 835)
13
Samsung Galaxy Note8
13
BlackBerry KEY2
11
Motorola Moto Z2 Play
3.8
You'd technically be getting improved performance on the Z3 over the Z2 since the latter has more pixels for the GPU to push around while the Z3's FHD+ display is not as graphic intensive.
Apart from the decrease in pixel density on the Z3, there is zero performance advantage to the Moto Z3 over the Moto Z2. The only true advantage for gaming is the taller display that will be able to show you a wider field-of-view of whatever game you are playing, assuming the game supports 2:1 displays.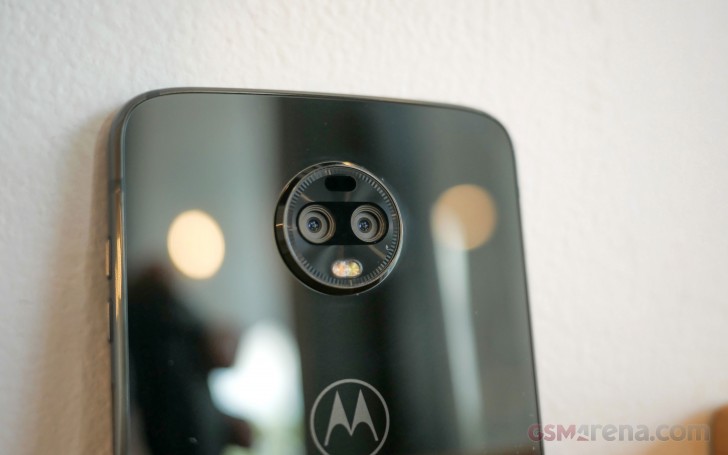 The back of the Moto Z is now glass, which affects how heat is transferred from within the phone's internals to the outside. The Z3's lower half of the phone is what gets warm under longer periods of use. Sweaty palms will be an enemy of this device - unless perhaps you use the Moto Mod Gamepad.
Coming back to this phone's review in 2022, I only noticed how impressive the battery endurance rating was. The 2016 Moto Z Force has a smaller and shorter 16:9 screen and an extra 500mAh of battery capacity, and yet the Z3 is only two hours beh...
Lol, I prefer to have the Moto Mods add-on instead of using a Bluetooth connection. No more BT lag when using the Moto Mods, especially for the Moto 360 camera and the Moto Gamepad, and that is a solid big win for me!