Motorola Moto Z4 review
Hristo Zlatanov, 21 June 2019.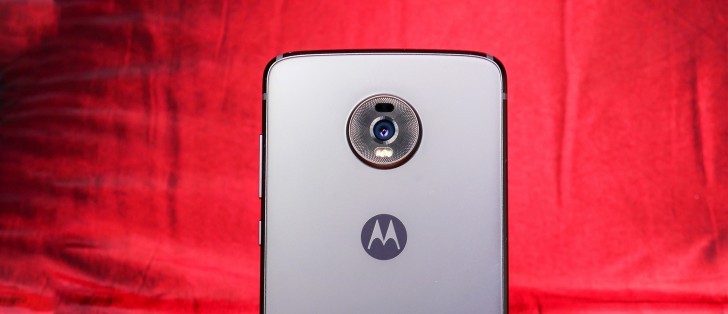 Slice of Pie with Moto Experiences
The Moto Z4 ships with the latest version of Android Pie with "Moto Experiences". If you've never used a Motorola phone before, the UI is based on stock Android with simple yet useful features, many of which are activated using some kind of motion gesture.
Moto's Experiences are largely based on the original (2013) Moto X's value-added features, but have since been refined. Many of the original features were eventually baked into Android so their redundant Moto versions were eventually removed.
The main software interface looks, feels, and behaves like vanilla Android. The overall look is simple, clean, and the phone comes with minimal bloatware apps. We did receive an unlocked unit, so we'd imagine you'll see a plethora of Verizon bloat if you opt for the Verizon-branded variant.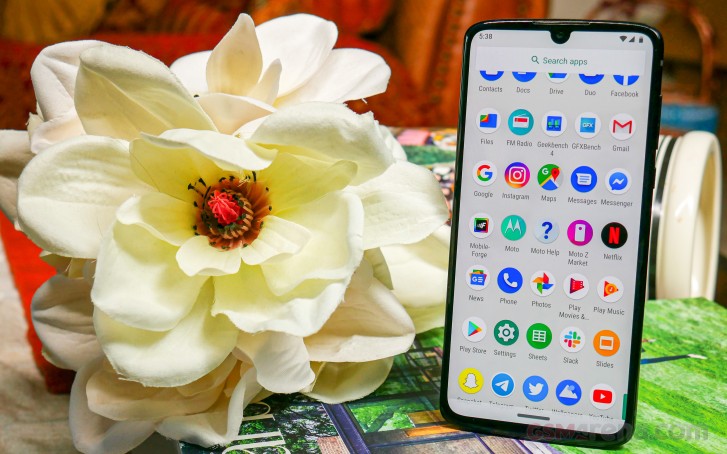 The lockscreen features a shortcut to speak to Google Assistant and a shortcut to the camera. It's worth noting that the default double-press of the power key as a shortcut to fire up the camera is actually used as a shortcut to summon Google Assistant. The double-twist shortcut has been Motorola's shortcut for the camera for several years now.
The default launcher is also very simple. It's identical to the Pixel launcher in that you have a number of homepages and a dock row. Swiping up on the dock will open the entire app drawer, and swiping past the leftmost homescreen shows your Google Feed.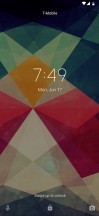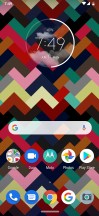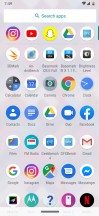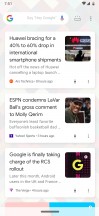 Lockscreen • Homescreen • App drawer • Google Feed
The Z4 uses the same Google Wallpaper selector as the Google Pixel. In fact, you might find some wallpapers that we've seen on the Pixel 3 before.
On the Moto Z4, many of the options that involve gestures and "actions" are found in the Moto App under "Moto Actions". So if you can't find a particular option in the Settings, chances are you'll find it in the Moto App. The other main category is Moto Display, and this pertains to all the settings that control how the ambient Moto Display behaves.
Let's start with Actions. There are a few gestures you can use to control the phone like double chop to toggle the flaghlight, double twist to launch the camera, pick up the phone to silence alerts, and flip down for DND.
You'll also find some actions for general UI tricks like a three-finger screenshot, swipe to shrink - which shifts the UI for one-handed use, and media controls - enable volume keys to change tracks with the screen off. You can also toggle whether you want an editor to pop up every time you take a screenshot.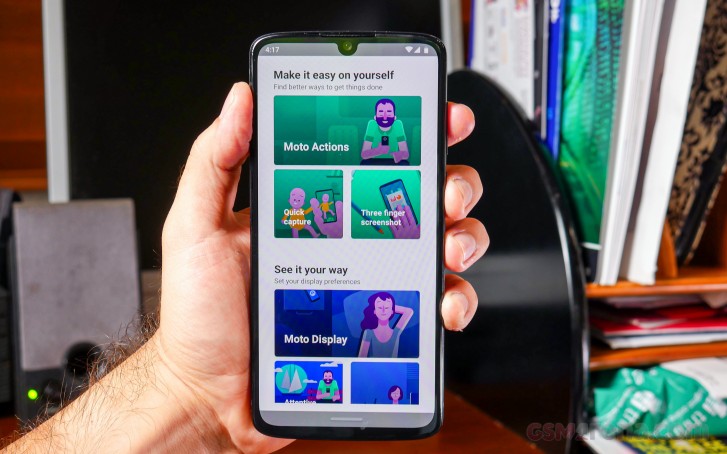 One useful Action for the Moto Z4 is the "Swipe to shrink" action, it shrinks the working area of the display to either lower corner of the phone for easier one-handed operation. This is a welcome feature considering the Moto Z has progressively grown from a 5.5-inch display to a tall 6.4-inch one.
Motorola's One Button Nav is one of the better attempts to change up the traditional nav bar. Unlike the Pixel's "Navigation pill" that takes up the same amount of space as the classic nav bar, Moto's One Button Nav is about half as thick as the traditional bar.
For this, one press is Home, flick left is back, flicking right switches between the two most recent apps, and swiping up on the button will open Recent apps. You can find the One Button Nav in the Moto App.
The Recent Apps screen is default Android behavior - it's a horizontally scrolling list of recently used applications. While just a simple flick of the gesture bar will bring you to Recents, if you keep swiping up, you'll see your app drawer - much like the gesture pill on the Google Pixel.
To initiate Split Screen, you can select an app within the Recents screen and select "Split Screen" after tapping on the app's icon. Then, you can choose a second app to share the Split Screen from your Recents, or choose a new app from the drawer.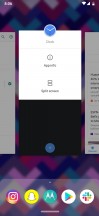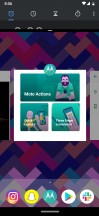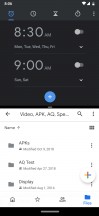 Starting a Split Screen session
Moto Display has two main features: "Peek Display", and "Attentive Display" which keeps the screen awake while you're looking at it. "Peek Display" is intended for glancing at notifications while the phone is face down on a table. Reaching for the phone or lighting bumping it wakes the Peek Display and shows any missed notifications.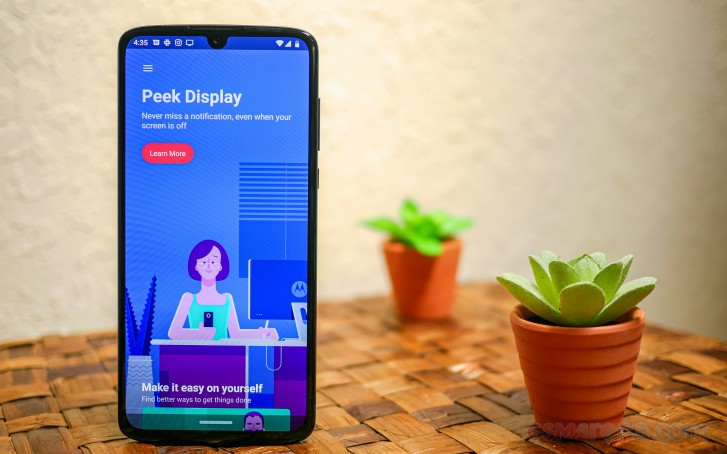 Below this cluster are large icons of any apps whose notifications you've missed. You can always wave over the screen when it's off to peek at Moto Display's notifications.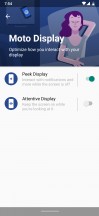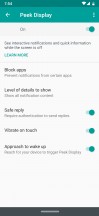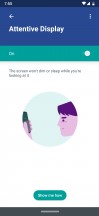 Moto Display • Peek Display • Attentive Display
In previous generations of the Moto Z, to open a notification, you'd need to drag the icon to an unlock symbol so you can enter the phone and check out the alert. Now, with the in-display scanner, you drag the icon directly to the fingerprint sensor to unlock the phone, but this is done in a single move, which often requires a second attempt before you can open the notification.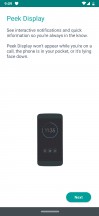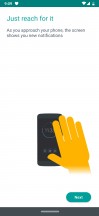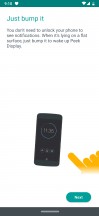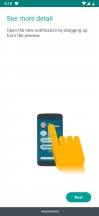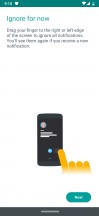 General controls for Peek Display
While we're on the topic of the in-display fingerprint sensor, we find that it works just fine overall. It isn't as quick and reliable as the OnePlus 7 Pro's in-display scanner, but it does unlock just fine 9 out of 10 times.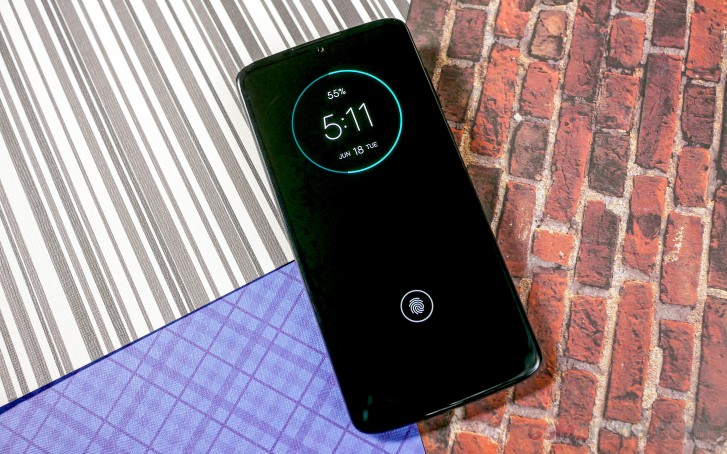 There are those rare occasions when you do need to re-swipe your finger. If you'd rather not use the fingerprint scanner, face unlock works quicker, although it is less secure.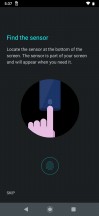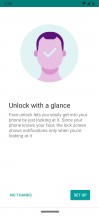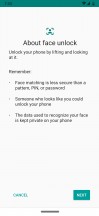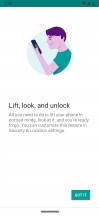 Setting up a fingerprint • Setting up face unlock
The overall software experience on the Moto Z4 is fluid and snappy. The software is well-optimized for both speed and power efficiency. We never felt the Moto Z4 was inadequate to perform tasks. Multitasking and general use of the phone is pleasant and quick.
The Moto Z4's operating system is clean and free of bloat. The features that Moto adds are generally useful and don't interfere with the stock Android experience.
Synthetic benchmarks and performance
With the Z4, it was the first time Motorola didn't launch a "Play" variant of its Z lineup. In essence, the Moto Z4 should have been the Moto Z4 Play with its average amount of 4GB of RAM and Snapdragon 675 chipset. We don't have a high-end Moto Z this year (we didn't have one last year, either) so we'll be taking an optimistic approach to the hardware that was placed in this device.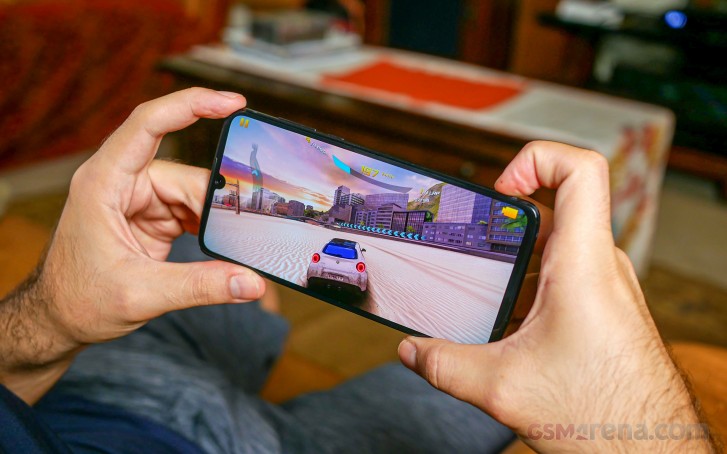 The Qualcomm Snapdragon 675 is by no means a slouch. It is an 11nm chipset for moderate performance with a battery endurance score than can attest to its efficiency. This is an octa-core chipset that uses six efficiency Kryo 460 cores clocked at 1.7GHz, and two performance Kryo 460 cores clocked at 2.0 GHz. There's an Adreno 612 GPU pushing the graphics of the phone.
We do think that 4GB of RAM is too low for this price range considering many mid to entry-level smartphones from China are starting to show up with a minimum of 6GB these days. Given that Motorola only plans to sell this phone in North America, 4GB of RAM seems to be enough for it to survive in this market.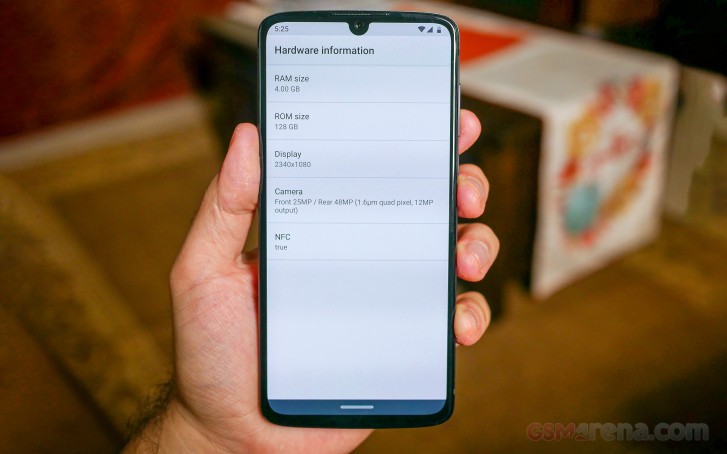 The CPU-only GeekBench test shows no surprises when it comes to raw performance between devices. Surprisingly, the Moto Z4 matched the performance of the Snapdragon 835-powered Moto Z3. Meanwhile, the single-core performance of the 675 exceeds that of the 835. It really shows how middle-of-the-range processors of today are matching the best chipsets of just a couple of years ago.
GeekBench 4.1 (multi-core)
Higher is better
Apple iPhone XR
11437
OnePlus 7
10768
Asus Zenfone 6
10721
OnePlus 6T
8977
Xiaomi Redmi Note 7 Pro
6620
Motorola Moto Z3
6614
Samsung Galaxy A70
6584
Motorola Moto Z4
6515
Realme X
5915
Google Pixel 3a XL
5176
Motorola Moto G7
4755
GeekBench 4.1 (single-core)
Higher is better
Apple iPhone XR
4818
Asus Zenfone 6
3505
OnePlus 7
3380
OnePlus 6T
2431
Xiaomi Redmi Note 7 Pro
2404
Samsung Galaxy A70
2391
Motorola Moto Z4
2371
Motorola Moto Z3
1924
Google Pixel 3a XL
1615
Realme X
1475
Motorola Moto G7
1255
Overall scores calculated by Antutu show the Z4 in line with the performance of the other two devices powered by the same CPU (Samsung Galaxy A70 and Redmi Note 7 Pro). Antutu shows the overall performance a bit inferior to that of the Z3.
AnTuTu 7
Higher is better
OnePlus 7
365085
Asus Zenfone 6
361679
Apple iPhone XR
341196
OnePlus 6T
293994
Motorola Moto Z3
207903
Xiaomi Redmi Note 7 Pro
180754
Motorola Moto Z4
173234
Samsung Galaxy A70
167750
Google Pixel 3a XL
159110
Motorola Moto G7
106292
With the graphic-intensive GFXBench test, we can see that the Z4 is towards the bottom of the list in frame rates. Still, the phone is capable of playing any of the popular game titles, many of which are well optimized for playing on numerous hardware configurations.
We notice that higher-end devices like the OnePlus 7 and the iPhone XR score significantly better in performance tests, as they should.
GFX 3.1 Car scene (1080p offscreen)
Higher is better
Apple iPhone XR
60
Asus Zenfone 6
42
OnePlus 7
41
OnePlus 6T
35
Motorola Moto Z3
25
Google Pixel 3a XL
11
Xiaomi Redmi Note 7 Pro
8.7
Samsung Galaxy A70
8
Motorola Moto Z4
7.2
Motorola Moto G7
3.8
GFX 3.1 Car scene (onscreen)
Higher is better
Apple iPhone XR
58
OnePlus 7
36
Asus Zenfone 6
36
OnePlus 6T
31
Motorola Moto Z3
23
Google Pixel 3a XL
11
Motorola Moto Z4
8
Xiaomi Redmi Note 7 Pro
7.9
Samsung Galaxy A70
7
Motorola Moto G7
3.5
3DMark SSE 3.1 Unlimited
Higher is better
Asus Zenfone 6
6263
OnePlus 7
6058
Google Pixel 3a XL
1748
Xiaomi Redmi Note 7 Pro
1220
Samsung Galaxy A70
1112
Motorola Moto Z4
1044
Motorola Moto G7
569
At the end of the day, performance of the Moto Z4 is excellent. There is excellent optimization and quick app loading times. It was nice to play games on this phone and it didn't warm up very much while playing either.
The only concern about the Z4's performance is that its price bracket is on the cusp of some other smartphones that come with a high-end CPU. For instance, the Zenfone 6 is just $100 more than the Z4 while the OnePlus 6T, although just succeeded by the 7 and 7 Pro, starts just $50 more than the Z4's $499 price tag and offers a superior Snapdragon 845 CPU.
That's not to say the Moto Z4's performance was inadequate, just that a significant bump in performance isn't much more expensive.
Pals, Please what's the difference between single SIM and the dual Sims in terms of performance. Thanks in advance.