Motorola Razr hands-on
GSMArena team, 18 Nov 2019.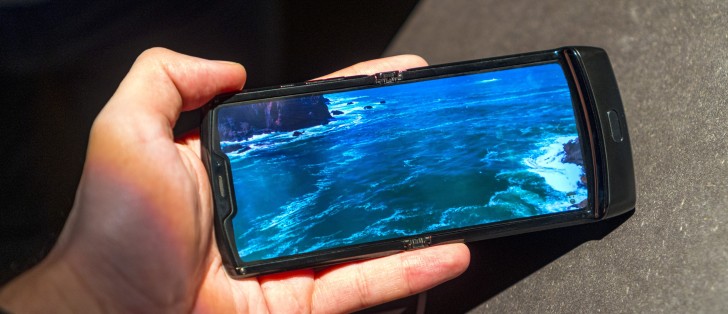 Motorola Razr hands-on
It was a while since we handled a flip phone and we literally had to rummage through our own warehouse full of old gear but it was worth it as we came prepared for the Razr event carrying our own Razr V3. Ah, the nostalgia!
Anyway, back to the present. The new Razr looks a lot like the old Razr, and that's just great. It's a flip, pardon, foldable phone, just like its predecessor and you can tell those two are related even though the new Razr is obviously wider and a lot heavier.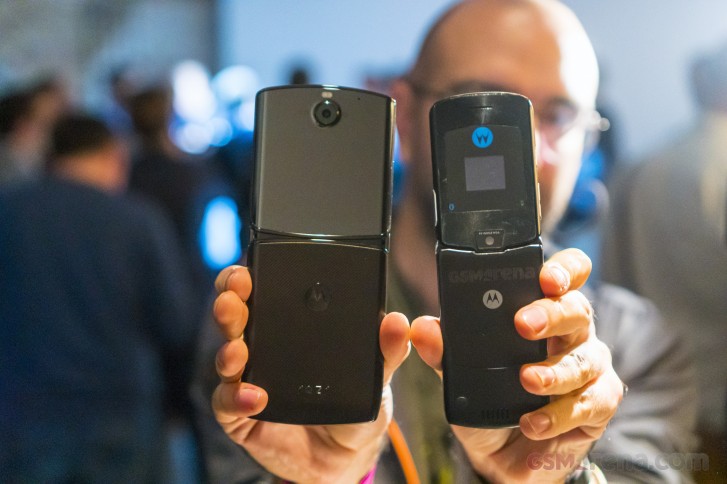 The two-piece battery is responsible for the extra weight. The V3 weighed just 95 g, while this Razr here is 205g. It contains batteries on both sides for balance and hopefully, longer endurance. We can't imagine Android Pie, or any Android, for that matter, to last a day with the 680mAh the Razr V3 has. So, the extra weight was unavoidable.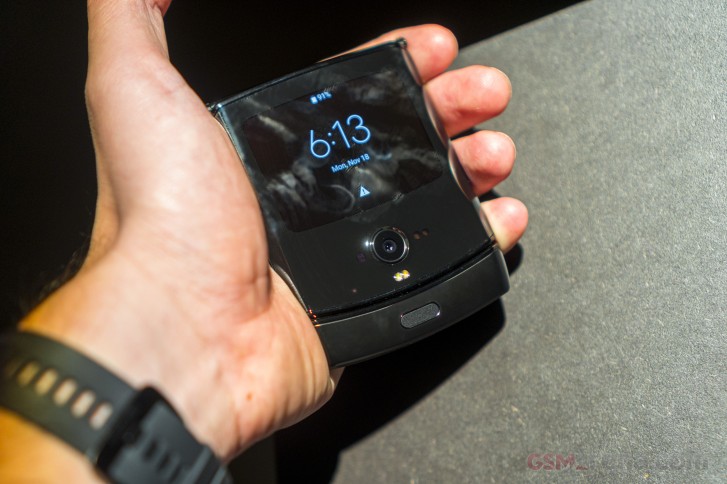 Another crucial part is the screen, and the Motorola Razr has two of those. When folded, the Razr offers a 2.7" OLED screen just below its main camera. It has 800 x 600 pixels (370ppi) resolution and it allows you to take calls, read messages and emails. You can't have a full-blown Android experience here, heck, you can't even launch the camera, but Motorola has implemented great continuity feature - reading messages and emails seamlessly goes to the main screen once you open the Razr.
Don't worry, you can open the camera when the Razr is in a folded state, but it's with a shake instead of an onscreen shortcut.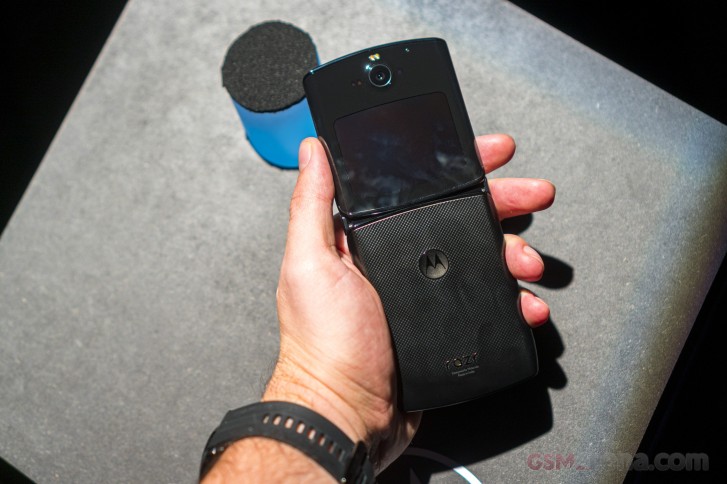 And speaking about the camera - it's a 16MP unit with f/1.7 lens and dual-pixel PDAF. It has dual-LED flash and what you can't see, but it's also there, is a ToF camera for the portraits. Motorola was keen to talk about the cool portraits the phone can take.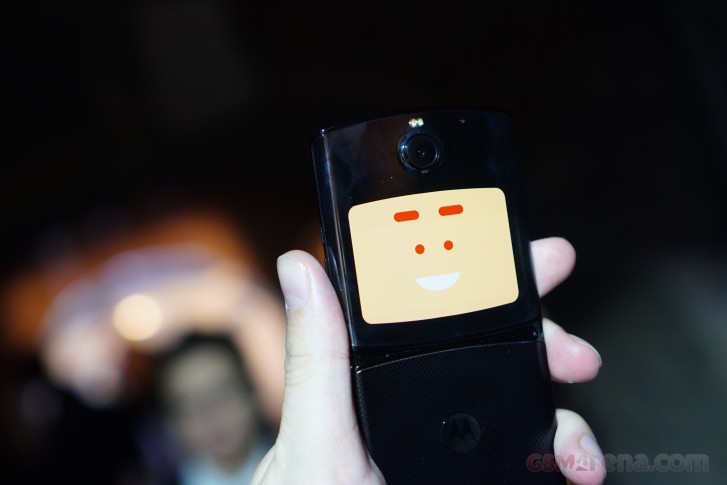 The part of the back which house the camera is covered with glass, while the other non-functional part is all metal with a grippy dotted pattern and the M logo. In-between is a hinge, which is probably the most important mechanism here and we hope Motorola has tested it thoroughly, and yes, we are watching you, Galaxy Fold.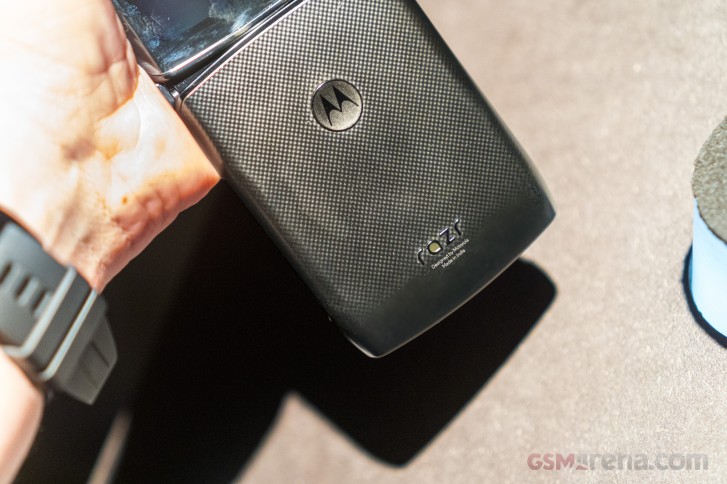 Opening the phone, or flipping as we used to say, reveals the large 6.2" OLED screen. Unfortunately, it's not an easy task to flip the upper piece - it is much heavier than the V3's because of the battery inclusion, and the hinge is much stronger.
You can either use pressure with your thumb, quite a bit at that, and pop the thing wide open, or use both of your hands. While you can certainly do it with one hand just like in the good ol' times, it's not the most pleasan experience, and we suspect two hands are what most people would use.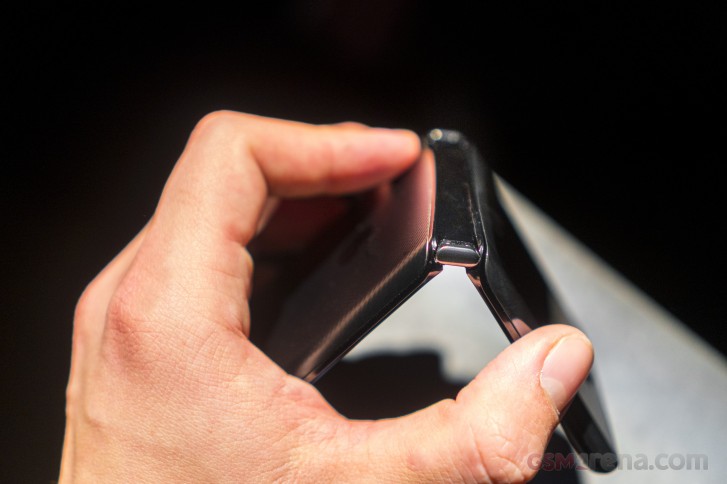 The main screen is the real treat - it folds well, is bright, and has nice 373ppi density for a sharp picture. It has a wide notch at the top for the earpiece and the 5MP cam for selfies and video calls, although the external 16MP cam is the better selfie shooter for sure.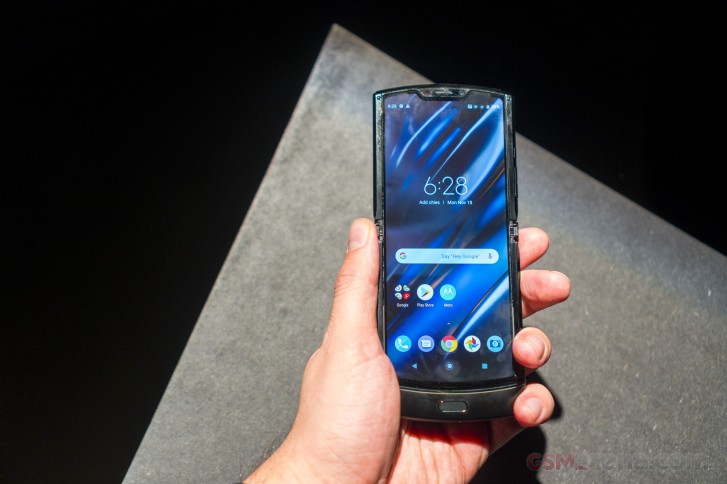 Over at the bottom is the same chunky piece as on the V3, which contains an always-on fingerprint sensor and beneath are all the antennas.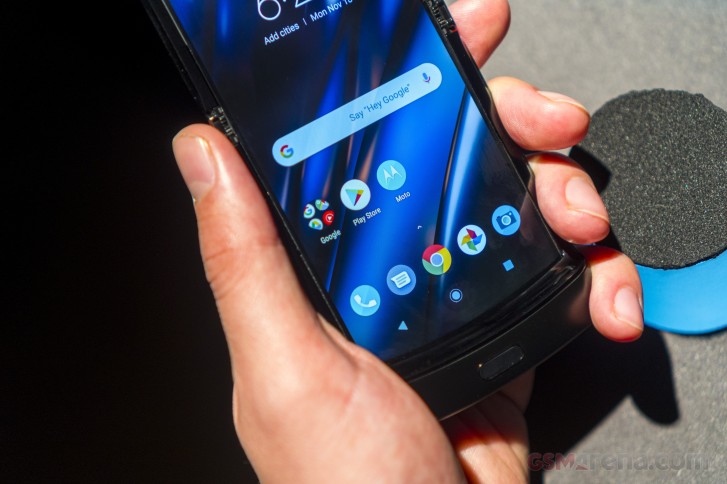 There is a crease on the screen, just like it there as on the Galaxy Fold, and it's inevitable. The screen folds around its center, and while the crease is not visible and readily felt, it's there, and it will probably get worse in time.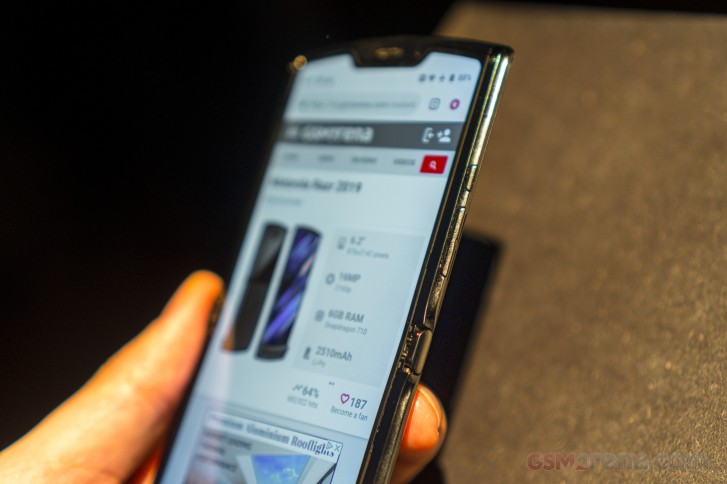 The hinge is a bit visible as there are gaps around its ends and dust and crumps can get in there. And if they do, in time they can destroy the screen from within. We hope Motorola has put some kind of protection to stop those from going under the screen, and while we are not getting our hopes high, Motorola claims it has tested it with clothes and cornstarch, and nothing went under. We sure hope so!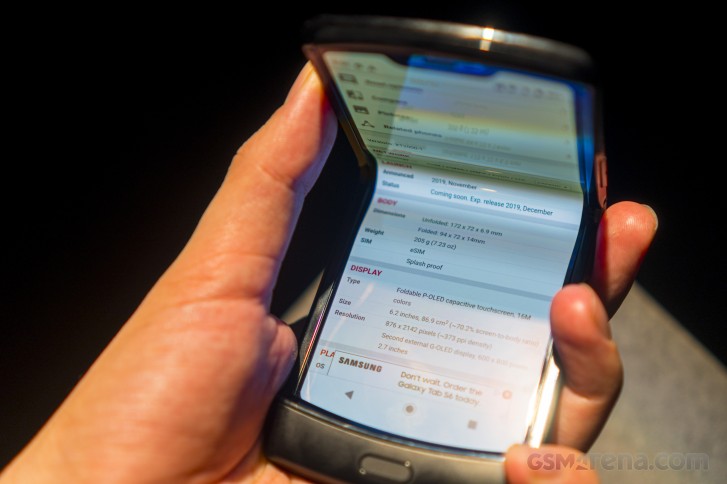 Also, opening and closing the Razr feels heavy - you can feel pressure when doing so and hear the loud click when you close it. There are rubbery dots on all ends though, so the two halves aren't smashing on each other without protection.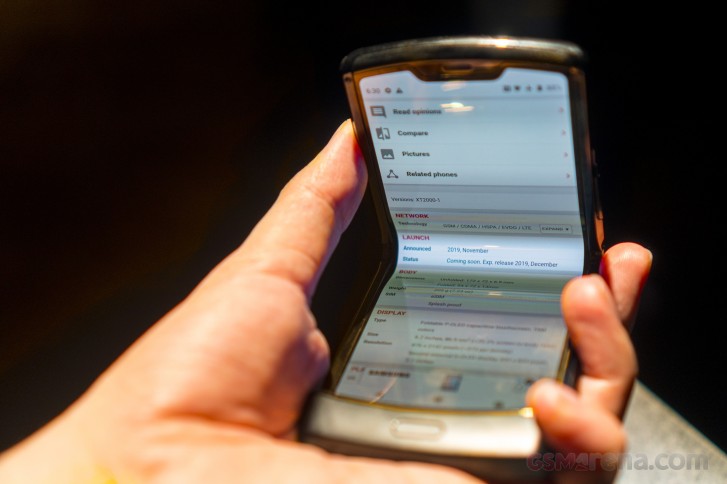 One interesting thing is that the bottom part of the screen tucks in under the bottom bezel when the Razr is closed. It was a necessary thing to prevent the foldable OLED from forming a sharp kink when folded and thus decreases the chances for a prominent screen crease over time. Oh, and it also allowed for a smaller hinge.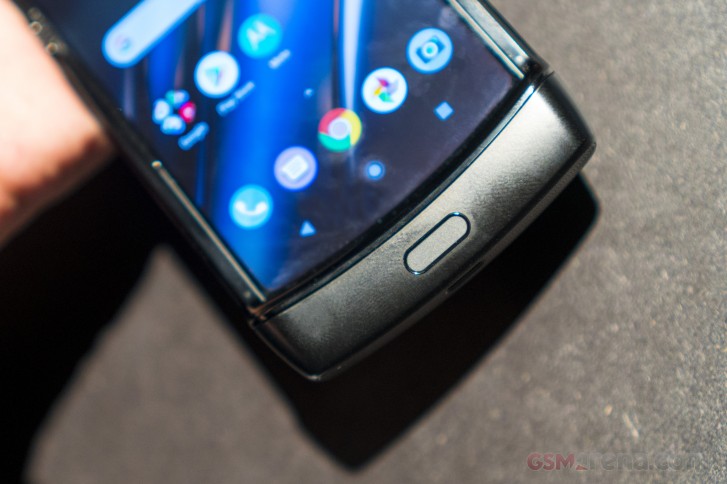 The Razr runs on vanilla Android Pie version with a couple of Moto apps and improvements. For example, you can get have a dialer that's similar to V3's old-school dialer app. Nice!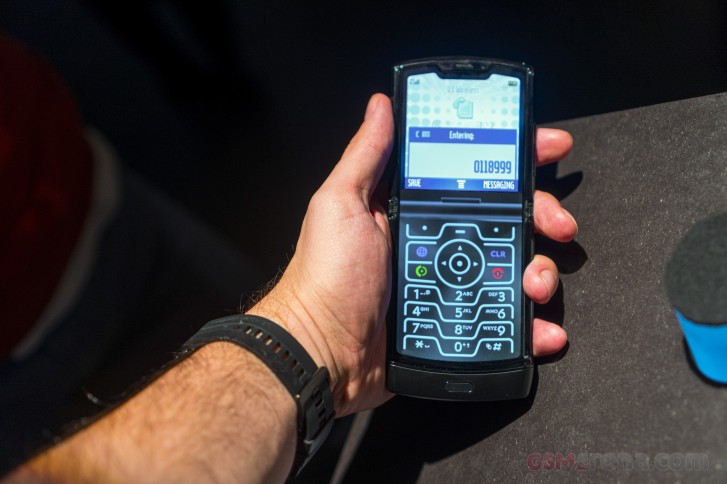 Here is the deal - nobody will be buying the new Razr for its processing prowess, so we can't hold the Snapdragon 710 chip against it. It was a necessary choice as Motorola claims it had heat concerns so the S710 was the right chip for the job as opposed to a flagship processor.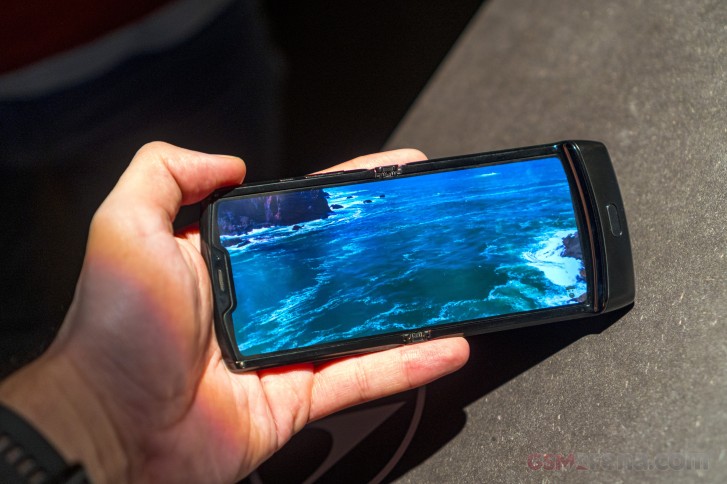 Final thoughts
With the eSIM limitations, the hefty price tag, and the scarce worldwide availability, we doubt many people will be getting the new Razr, and it is more a proof of concept rather than the next best-selling flagship. But in spite of its issues, imperfections, and concerns - the new Razr makes two things right. It plays with nostalgia very successfully and shows how a foldable phone, not a tablet, should look like. Three of these Razrs take up as much space as only one iPhone 11 Pro Max.
Handling the new Razr indeed brings back memories, but it is also one fresh experience among the rest of regular and even foldable phones. It's certainly something worth trying, and why not owning even if it's just for having the coolest phone on the market today? Because the Razr is the most interesting gadget right now and people will surely notice if that's what's important for you.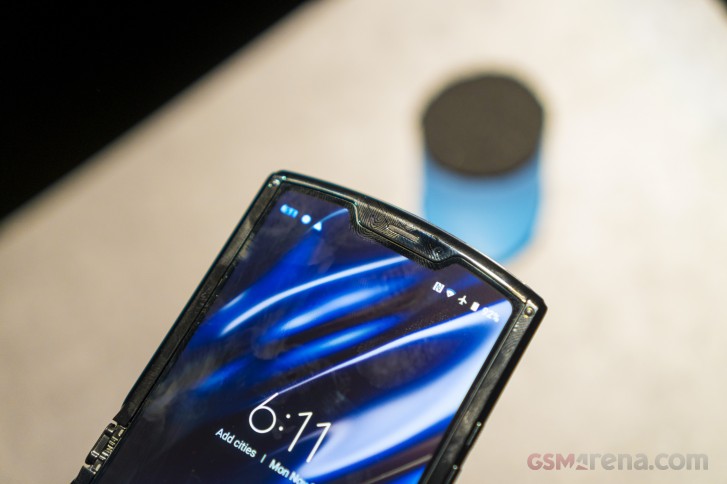 And just so you know the phone is a massive fingerprint magnet, but Motorola is not planning to offer it in anything other than Black color.
Bought a Razr, needed repairing 3 times. During ownership I have been without it, 94 days or 7 weeks! Don't buy a Motorola!
Motorola must launch budget razar phone...we are still missing old razer...but new one is too expensive..
Fiscavaig
13 Sep 2020
nEL
There is no issues to iron out! But you prob mean till the price comes down, I have RAZR and z flip and trust me all the negative reviews are having used RAZR for 6 months have no issues there is no negative it's far nicer to hold than z flip an...