MSI, Acer, Lenovo announce laptops with new Intel, Nvidia hardware
Victor, 03 April 2020
If you've been around tech publications today, then it should be pretty obvious that there is quite the stir going on. Mostly, due to Intel's release of the 10th Gen Core Comet Lake-H CPUs and Nvidia giving us RTX Super cards on mobile. The two announcements were followed by a flood of new and upgraded laptop models to premiere the new chips. We already covered Razer and Asus and their unorthodox offers, but here come a few more.
MSI
MSI has a solid reputation to uphold when in comes to cramming a lot of power inside sleek compact bodies. The new GS66 Stealth seems to live up nicely to that reputation. With a sandblasted body, and a total weight of just 2.1kg, including a 99.9W hour battery, pushing right against the legal limit for taking on a plane, it is certainly impressive if not exactly an ultrabook. That battery capacity is a major improvement over the GS65 Stealth generation. And MSI hasn't skipped on the bells and whistles either, like the excellent SteelSeries RGB keyboard or Thunderbolt 3.
In the CPU department, you can get either then new 10-th Gen Intel Core i7-10750H, or the Core i9-10980HK. The former packing 6 cores and 12 threads, while the latter – a whopping 8 cores and 16 threads, with an insane max single core turbo of 5.3 GHz. Our first-hand experience with the last GS65 Stealth and its 6-core 9th-gen i7 would suggest that the lower tier might make more sense here, since we doubt even MIS's advanced Cooler Boost Trinity+ simply will be able to keep up with this 14nm Intel beast. A concern apparently MSI shares to at least some degree, since it decided to opt for the Max-Q version of Nvidia's new RTX 2070 Super and 2080 Super GPU's for the GS66 Stealth. You can also get the older RTX 2070 Max-Q to save a few bucks or the still capable RTX 2060. The latter is the only non-Max-Q, full-fat card that fits in the laptop's chassis.
You get a choice of three panels on the GS66 – a 144Hz IPS unit, a 240H one or one of those new 300Hz screens. Resolution is 1080p regardless of refresh rate chosen. The MSI GS66 Stealth is now up for pre-order for $1,599 and will be shipping on April 15.
Alternatively, if you aren't quite as concerned about weight and prefer the over-designed gaming aesthetics, there is the GE line, which got the new 2.4kg GE66 Raider. Visually, it's quite a departure from the Stealth, with plenty of harsher angles and a huge MSI Mystic Light panoramic RGB light bar on the front. Not too much difference between the two in terms of power, though. You get the choice between the same two 10th Gen i7 and i9 CPUs, 16GB RAM in base, upgradable up to 32GB, 512GB base and up to 1TB of NVMe storage.
You also get the same 99.9W battery and two of the display choices. The GE66 can't be specked with the 144Hz sRGB panel of the GS66, though. That's just one of the creative market segmentation points MSI decided on. Another one is the interesting choice to skip on a Thunderbolt 3 port for the GE66 and instead opt for a simpler Gen2 USB Type-C, along with a dedicated mDP 1.4 port.
With the larger chassis comes more thermal allowance, which is why the GE66 can be specked with the older RTX 2070 or the 2070 Super, both in non-Max-Q variant. You can get an RTX 2080 Super, but this one is Max-Q. Just like the GS66, pre-orders for the GE66 Raider are already open, starting at $1,799 and units will start shipping on April 15.
Finally, there is the 17-inch MSI Creator 17. A slick and clean unit, with nearly the same proportions and horse power as the GE66, but on the polar-opposite in terms of aesthetics. Clearly an offering geared towards creators, it can be had with either a 1080p sRGB IPS panel or a 4K mini LED unit. The latter offers 240 local diming zones, up to 1,000 nits of brightness, 100,000:1 contrast ratio and a user-selectable choice of either DCI-P3 or P3 D65 color calibration. Both will be factory pre-calibrated and verified by CalMan for every unit.
The Creator 17 can only be had with the Core i7-10875H, but has the same selection of GPU's from the GS66. That means RTX 2060, RTX 2070 Max-Q, RTX 2070 Super Max-Q or RTX 2080 Super Max-Q. RAM and storage options are the same and battery is a bit smaller at 82W. Just like the others, availability for the MSI Creator 17 will kick-off on April 15, with an asking price of $1,799.
Acer
Acer has brought internal refreshes and sprinkled-in some extra tweaks and new features to two of its models. The Predator Triton 500 retains its sleek slim exterior from last year, as well as low weight at 2.1kg. However, sweetening the deal further, there is now per-key RGB illumination, in place of last year's zoned system. Also, Wi-Fi 6 is a new addition, thanks to the Killer AX1650i card. And, like so many others, Acer has also jumped on the 300Hz panel trend, including this as a new IPS option, on top of the existing 144Hz one.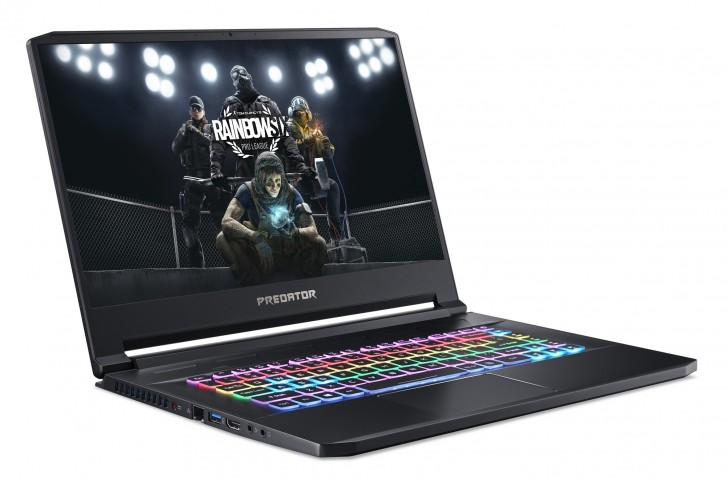 The big change, however, are the 10th Gen chips, as well as GPU options, up to the RTX 2080 Super Max-Q - there are plenty of combinations to choose from. To handle the extra thermal load, Acer has tweaked cooling with its Vortex Flow design, three fans and 4th generation AeroBlade tech, with a promise of 33% better thermals. The new Triton 500 will be available in May, starting at $2,199.99.
At the other end of the gaming laptop spectrum, we have the venerable Acer Nitro 5, which still remains one of the best and most popular value options. Externally, not much has changed on the 2020 revision. Also, unlike the Triton 500, the Acer 5 is not getting the new RTX Super cards, but it makes little difference since both new GPUs are outside of the Nitro 5's price range. Instead, you get a choice between the GTX 1650, 1650 Ti and RTX 2060.
Cooling has been tweaked slightly this generation, though, and promises a new dual-fan system that will deliver 25% better cooling than the 2019 setup. Another thing that has changed is the display selection, which has historically been one of the weak points of the Nitro 5. There are two new choices – 120Hz and 144Hz 1080p IPS panels. These claim 3ms response times and at least 300 nits of brightness. Hopefully a better color gamut than the current generation as well.
The 2020 Nitro 5 also gets Wi-Fi 6 and has two m.2 PCIe slots, as well as a 1TB 2.5-inch drive for storage and up to 32GB of non-soldered RAM. Not a bad deal at all for the $749.99 price tag. The new Acer Nitro 5 will be available in May.
Lenovo
Lenovo is a bit light on details for its new Intel 10th gen and Nvidia RTX Super laptops, but has shared a bit about the upcoming Legion 5i and Legion 7i. These will be replacing the Legion Y540 and Y740 and, like the names suggest, retain the 15 and 17-inch display sizes. Lenovo hasn't really indicated how far up the new Intel 10th Gen Core Comet Lake-H ladder it intends to climb with CPU options, but did confirm the Legion i5 will be available with up to an RTX 2060, while its 7i sibling will be able to go all the way up to an RTX 2080 Super Max-Q.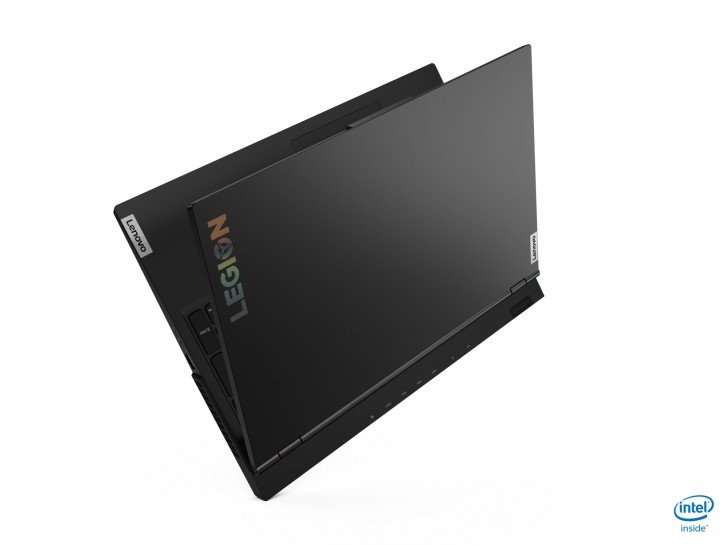 One new feature Lenovo is pretty adamant to advertise is the use of Nvidia's Advanced Optimus technology, alongside G-SYNC on its displays. We are still not sure exactly how widespread this tech will be among 2020 laptops, so this could turn out to be either a really major draw, or just a minor thing. The problem Advanced Optimus solves is the necessity for old-school G-SYNC laptop panels to be directly connected to the dedicated GPU on a laptop to work properly, eliminating the ability to switch over to the integrated GPU via Optimus for lighter tasks and battery savings. Hence, users can expect to reap the benefits of G-SYNC without killing their battery life.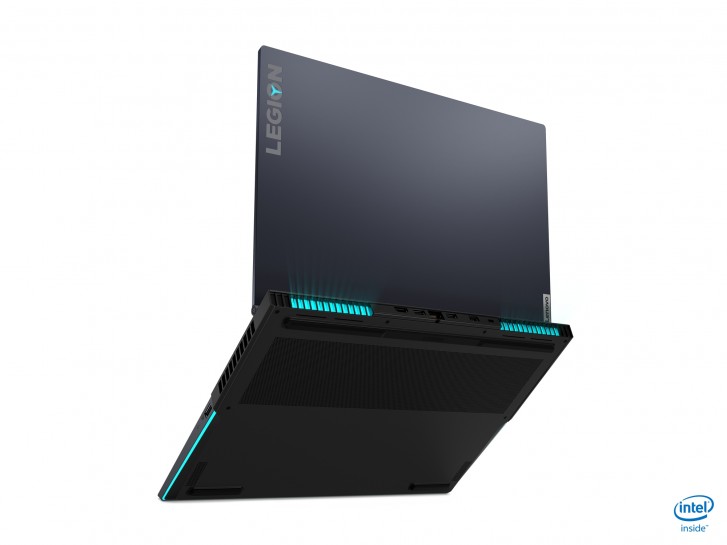 The Lenovo Legion 5i will start at $999, with the RTX 2060, while the Legion 7i, with an RTX 2070, will set you back a minimum of $1,199.
Related
From the vendor themselves. AMD CPU powered laptops tend to be cheaper than the intel Counterparts.
Popular articles
Popular devices
Electric Vehicles