Netflix launches fast.com, a simple speed test website
19 May, 2016
Netflix wants you to keep tabs on how fast your internet connection is. Thatís why it trademarked and launched a data speed test site that launches instantly as soon as you enter the website www.fast.com. This is likely to help customers who are having trouble with their internet connections to identify the issues fast.
While we still have speedtest.net, there are still many people who cannot understand what the speed test is actually measuring or how to even start a speed test using Speed Testís interface. Netflix has so much internet traffic already but believes itís still up to the task of launching such a speed test site.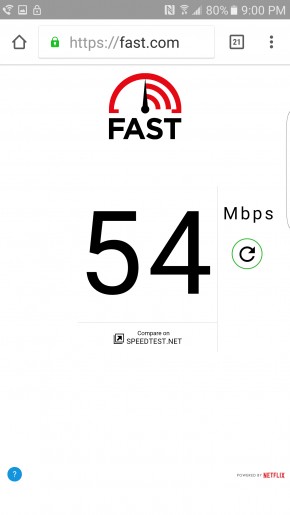 There is no ping, latency, jitter, or upload test result. Only download speeds are tested with fast.com. Netflix says the only number consumers are generally concerned with is the download speed and ďit is not a network engineerís analysis and diagnostic suite. We want our members to have a simple, quick, commercial-free way to estimate the speed their ISP is providing.Ē
The result appears in a simple to read, and large number. There is even a link to the legendary speedtest.net so you can compare your fast.com test results. Even when checking slower connections, fast.com is good at making speed tests quick.
Related