New iPhone 15 Pro and 15 Pro Max design makes replacing the rear glass panel much cheaper
Peter, 18 September 2023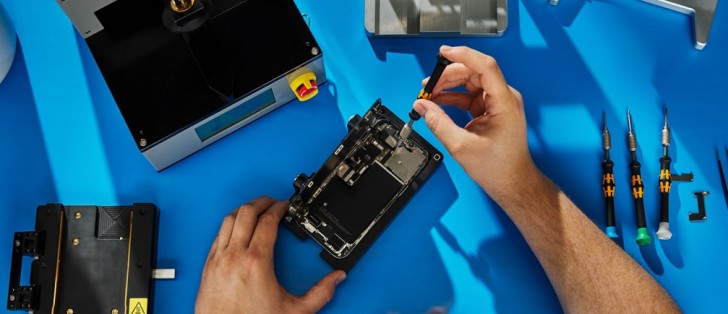 Apple recently did an about-face and started supporting Right To Repair laws. It has also done a lot to make its iPhones easier to repair – last year the iPhone 14 got a 7/10 repairability score, largely thanks to the new design that made the rear glass panel easier to replace. This design has now been adapted to the iPhone 15 Pro and iPhone 15 Pro Max.
This has very real benefits for consumers – changing a cracked rear glass panel went from insanely expensive to just regular expensive. Seriously, this repair for an iPhone 14 Pro Max costs $550! For a 15 Pro Max it is a far more reasonable $200. Here is a more detailed breakdown:
Cost to replace the rear glass panel
iPhone 14
$170
iPhone 15
$170
iPhone 14 Plus
$200
iPhone 15 Plus
$200
iPhone 14 Pro
$500
iPhone 15 Pro
$170
iPhone 14 Pro Max
$550
iPhone 15 Pro Max
$200
Note that these prices are for consumers that are not signed up for AppleCare+ (those that are will pay just $30, in addition to the subscription price).
It's not all good, though, replacing the batteries on the new Apple Watch Series 9 and Apple Watch Ultra 2 is now more expensive – it costs $100, up from $80 for previous models in the series. Replacing the battery on the iPhone 15 series costs the same $100 as before, though.
For more on how much it costs to repair components on Apple devices, check out the support page.
Related
so that warrents the price of a repair to be 6 times how much the part costs?
glad that theyre adopting this design, but $170 to replace a piece of glass is absolutely rediculous, especially when that piece of glass is worth at most $30
Anonymous
19 Sep 2023
0xU
Still not as cheap as the user experiance. Hey Apple (and google for killing the watchdog and giving no alternative) we're not 10 anymore, we don't need some company holding our hands when we use our phones. Heck a galaxy s3 with 4.4.4 was ...
Popular articles
Popular devices
Electric Vehicles