Nokia 3500 classic review: Classicaly simple
Classically simple
GSMArena team, 11 April 2008.
Display is a deal breaker
Nokia 3500 classic is equipped with a 262K-color 1.8" display with a resolution of 128 x 160 pixels. If the resolution seems rather low and outdated, it's not just you.
We are really unhappy with the display and find the pixel to size ratio inadequate. The pixels are painfully visible and we find that totally unacceptable, budget phone or not. Most of the Nokia 3500 classic market alternatives feature (much) better displays of resolution that doesn't yell 2002. In fact, the display is probably the thing in 3500 classic that we dislike the most.


The inadequate resolution ruins the display
We still need to mention the positives (as few as they might be). The brightness levels are good and the contrast is ok. Also, sunlight legibility is good, even if the colors appear a bit washed out. The 262K-color support is more than welcome but due to the low resolution the colors can't really shine through and the interface colors look rather washed out.
Good keypad
Nokia 3500 classic has an ample sized keypad and this is always an advantage. The keys are large enough and although the borders are very thin, they are relatively easy to distinguish. Tactility is also good enough.
Our main issue is the 0 key, which is a bit too rigid. In fact, all the keys on Nokia 3500 classic are on the hard side, but this does improve press feedback and helps prevent typos. Probably, the location of the 0 key is what makes it somewhat worse than the rest of the keypad.
The controls around the D-pad are also comfortable to work with and so is the D-pad itself. In all fairness, the frame around the D-pad is a bit too narrow for our taste. Wider and bulkier would have been better - after all it's used as a thumb-rest when you press the D-pad in all four directions.


The D-pad scroll keys are a bit too narrow
The backlighting is nice and even, and the backlit key borders are a pleasing accent that makes the keypad quite a looker. The glossy surface also counts here, on the rare occasions when it's not covered in smudges.



The backlighting is nice and even
Telephony
It is essential to handsets in this price range to be good at calling. Of course it's important for high-end phones too, but those budget handsets can't afford to compromise their main mission. We are not talking about some high-end voice features (although we do appreciate Motorola's CrystalTalk technology) - it is about getting the basics right.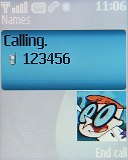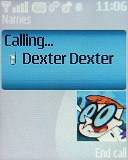 Calling Dexter on Nokia 3500 classic
We were pleased with Nokia 3500 classic. It lived up to the expectations with excellent reception and voice quality. We had no trouble with our conversations, voices loud and clear on both ends.
Nokia 3500 classic has six predefined ringing profiles plus a Flight mode, which turns all transceivers off. The number of profiles seems more than enough for practically any situation. In case you disagree, personalizing a profile is quick and simple so you can fix them to best suit your needs. The flight mode can be used without a SIM card inserted. This is something that not all companies are offering in non-smartphones.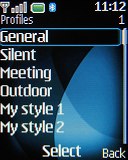 The six profiles should be enough for practically any situation
As far as the ringing volume is concerned Nokia 3500 classic is a decent performer. You are unlikely to miss a call even in the noisiest environments. The vibration isn't the strongest we have seen but is good enough in most cases. Its performance is at about the same level as the speakerphone. You can find more info about our speakerphone test as well as the complete list of tested handsets here.
| | | | | |
| --- | --- | --- | --- | --- |
| Speakerphone test | Voice, dB | Pink noise/ Music, dB | Ringing phone, dB | Overal score |
| Nokia 3500 classic | 65.9 | 65.7 | 75.7 | Average |
| LG KG800 | 70.7 | 71.7 | 75.7 | Good |
| Nokia 5310 XpressMusic | 64.8 | 62.0 | 75.9 | Average |
| Nokia 6233 | 76.2 | 69.5 | 70.7 | Good |
| Nokia 6500 classic | 74.7 | 75.7 | 83.8 | Excellent |
| Samsung E250 | 71.9 | 64.7 | 69.8 | Average |
| Sony Ericsson K660 | 74.5 | 66.6 | 75.7 | Good |
Anonymous
28 Sep 2009
vaM
i want that fone my class mate have it too....................................................
Tinoy A Jose
05 Jun 2009
kH@
It's a nice & cute handset.It's main disadvantage is it've only java software support.But most of the java softwares is not working in this phone.It's camera quality is so poor.
hi i have a 3500 but my java aplication dont work? say me u have first that inscribe to data package? what is that? anyone know,thanx