Nokia 515 review: Time machine
Time machine
GSMArena team, 20 November 2013.
Software overview
The Nokia 515 is a S40 6th edition device. It uses Active standby as its default homescreen layout - you might be familiar with it if you have used a Nokia phone of old.
It divides the screen into tiles that can be scrolled with the D-pad and edited as you see fit. They can be rearranged but the default layout makes sense.
The general indicators are on top, featuring date, time and missed events.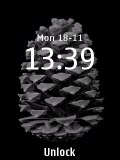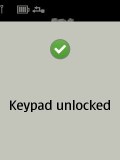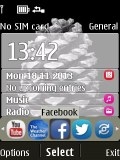 The lockscreen • the S40 Homescreen
Pressing the end key while the keypad is locked displays a lockscreen showing the time and date.
The main menu can be viewed in the traditional Grid, List or Single view modes. The left button is assigned to the Go To function by default, which brings up a list of shortcuts (you can choose which ones go up there), so that accessing the most common features is easy.
Also, as a Series 40 device, the Nokia 515 will run Java apps so you can extend the functionality. It's not as good as a fully featured smart platform, but it cover some of the basics like, say, a Facebook app.
The Nokia 515 handles messaging without a problem, though with no fanfare either. The supported formats are SMS, MMS, flash and audio messages and the phone handles email too. The keyboard of the 515 will give you reasonable typing speed. It's a good package in terms of software support too, with Nokia Messaging and Nokia Chat enabled.
The email client works with POP3, IMAP and SMTP protocols and allows you to setup multiple accounts. There's support for SSL too, which enables it to handle a Gmail account for example.
Anonymous
15 Jul 2020
gAn
What do you mean? Both SIM cards work together
Nokia freak
31 May 2020
Tun
Can i take calls and send messages with this phone when i have Dual sim or do i need to switch simcards all the time.? I want to be connected to 2 simcards all the time so People can call me. Plz answer.
The price is a bit higher