Nokia 5250 review: Back to basics
Back to basics
GSMArena team, 20 October 2010.
Messaging has everything
The Nokia 5250 supports all common message types - SMS, MMS and email. They all share a common intuitive editor which by this point should be quite familiar to everyone.
The email client is really nice, there to meet almost any emailing needs. The easy setup we found in the latest Nokia handsets is also available with the 5250. If you are using any public email service (it has to be among the over 1000 supported providers), all you have to do is enter your username and password to start enjoying email on the go. The phone downloads all the needed settings to get you going straight away.
Multiple email accounts and various security protocols are supported, so you can bet almost any mail service will run trouble-free on your Nokia 5250.
Here might just be the right time to mention the input options on Nokia 5250. The handset offers a standard alphanumeric on-screen keypad, which automatically turns into a full QWERTY keyboard when you tilt the handset thanks to the accelerometer.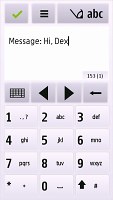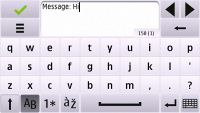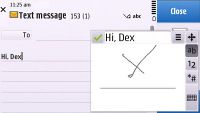 The on-screen text input options: numpad, QWERTY keyboard and handwriting recognition
Finally, the Nokia 5250 offers handwriting recognition, which did a rather decent job, recognizing almost all the letters we scribbled in the box. You can improve its performance by taking the handwriting training – where you actually show the handset how you write each different letter.
Sluggish image gallery
The gallery of Nokia 5250 is nicely touch optimized and there are sweep gestures enabled for flipping through photos displayed fullscreen.
You can sort images by date, title or size and you can also copy, move and delete them. Sending them via Bluetooth, email, MMS or sharing them online is also available straight from here.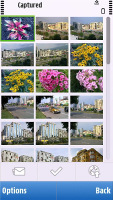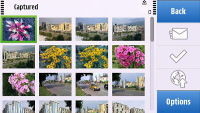 Browsing images on the Nokia 5250
The default view is portrait but you can go to landscape automatically thanks to the built-in accelerometer. A slide show is also available but it doesn't have as many customizable settings as on some Nseries handsets.
You can also zoom in the photos to see more detail. Zoom is controlled via either the volume rocker or an on-screen touch slider. In all other cases, images are displayed full screen.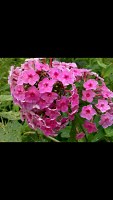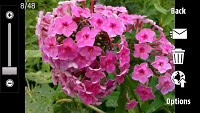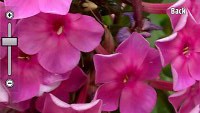 The transition from portrait to landscape is automatic
The gallery's problem is speed. Loading a picture takes a couple of seconds even for small images. If you have a large number of photos it might take ages before the thumbnails are generated. Zooming and panning are not that much faster either. On the other hand, kinetic scrolling has been vastly improved. The real nuisance though is that photos in a folder require a double tap to display – one to select, another to open.
Music player stays the same
The Nokia 5250 music player is pretty functional but its design could use a little freshening up – it hasn't changed since we first saw it in the Nokia 5800 XpressMusic. With user friendliness such a key aspect of full touch phones, it would be nice from Nokia to add some fun to the mix.
Your music library is automatically sorted by artist, album, genre and or composer and searching tracks by gradual typing is available. You can also create your own playlists in no time.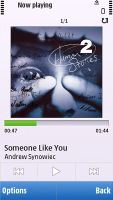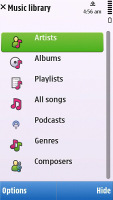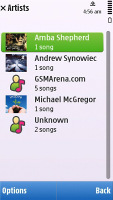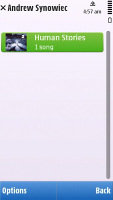 The music player does the job but could use a new skin
The process of adding tracks to the library is as simple as choosing the refresh option. You won't need to do that if you upload the music via the proprietary PC Suite application. With the huge number of supported formats you will hardly ever come across an audio file that the phone can't handle.
Album art is also supported and if you don't like the default sound of the device you can enhance it by applying one of the five equalizer presets. And if they're still not enough you can set new ones up in a matter of seconds.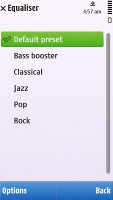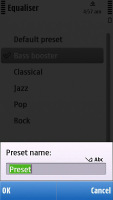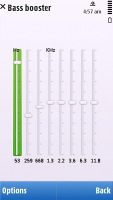 Creating a new equalizer preset is easy
Quite naturally, the player can also be minimized to play in background. However, if you haven't set the Music Player to appear on the standby screen, you will have no way to control it. Your only option would be to go back to the full music player app using the Task manager.
i cannot activate voice tags on my 5250 (even nokia helpline gave up ) & face book is so slow that i don't bother.......i think time to upgrade
nokia bangladesh
07 Sep 2011
P%%
great review!
michael88
05 Sep 2011
PGn
is this a good phone for facebook