Nokia 5.1, 3.1 and 2.1 hands-on review
GSMArena team, 29 May 2018.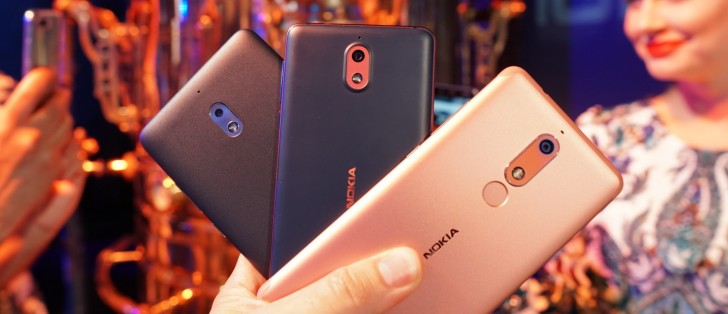 Nokia 5.1 hands-on review
Starting from the top of the newly-unveiled Nokia lineup, there is the Nokia 5.1. Or, if you prefer a more common annotation, we are sure the Nokia 5 (2018) moniker will be equally valid. We can't exactly put our finger on the reasoning behind the whole decimal notation in the first place. We guess it could still catch on in some markets. But, that's really beside the main point here.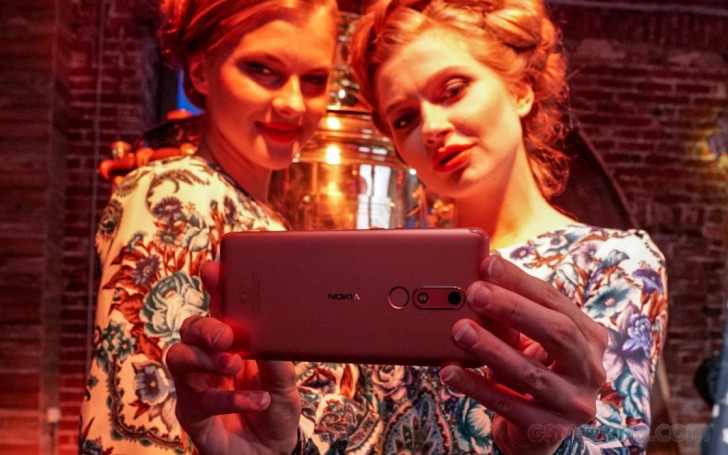 It was really interesting to look at the Nokia 5.1 and HMD's overall design choices. Comparing it to the likes of the original Nokia 5 and the Nokia 6 (2018), released a few months back, reveals a clear succession.
Last year's model stuck with a traditional 16:9 aspect ratio display and an even more traditional control layout, complete with capacitive controls and a front-facing fingerprint reader. The latter two are clearly gone in this year's Nokia 6, but the Nokia 5.1 is the one that really has the trendy current look all flushed-out.
It goes for an 18:9, extra-tall aspect on its 5.5-inch display. It's even complete with rounded corners, for some extra 2018 chic. The panel of choice is an IPS LCD - pretty expected on a budget offer. Still, it's native resolution is a cool FullHD+, which adds up to a pixel density of 443ppi. So it has that going for it.
Gone are the capacitive keys, which could be disappointing for some fans. The fingerprint reader has been moved around back, as well. The latter is likely a conscious decision, rather than a space constraint since there is still a very wide empty area underneath the display of the Nokia 5.1.
Speaking of controls, the rest of them don't appear to be rearranged, compared to the older Nokia 5. The power button and volume rocker still sit on the right-hand side, at a pretty convenient height. Opposite them - a duo of SIM and microSD card trays - also borrowed from the original design.
The same goes for the top and bottom of the phone. The former houses a trusty old 3.5mm audio jack, while the latter - a dated, but still usable microUSB 2.0 port, the main microphone and the Nokia 5.1's single, bottom-firing speaker. Exactly like the original. "If it ain't broke, don't fix it".
On that note, we can't fail to commend HMD yet again for its stellar build quality and choice of materials. The Nokia 5.1 has a 6000 series aluminum unibody design, with only a pair of plastic antenna inlays breaking the seamless surface apart near the top and bottom of the unit. It feels amazingly solid, like a tank and also quite premium.
We imagine HMD could have easily dialed back a bit on the build and invested that into more potent hardware. But we think that it's exactly this "externals first" approach that really sets the new wave of Nokia devices apart from the sea of competing offers. If pure performance for the buck is what you are after, there are plenty option out there.
Still, the Nokia 5.1, with its MediaTek Helio P18 chipset delivers ample number-crunching power to drive a really smooth Android experience. Navigating the menus, opening apps and games was a real pleasure and no small part of that is thanks to the continuing insistence on a pure Android experience.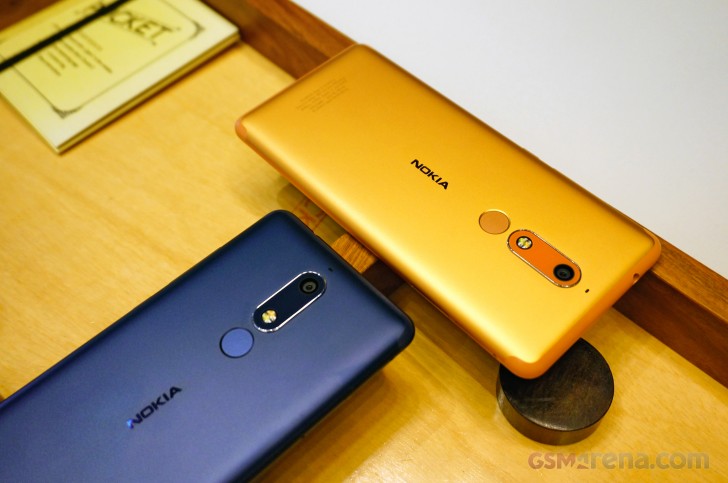 Just like it's predecessors and siblings, the Nokia 5 runs a stock Android 8.1 Oreo OS, with only a few minor visual tweaks applied. HMD sweetens the deal further for Android purists as well, offering free unlimited Google Photos storage to prospective buyers. But perhaps, more importantly, as part of the Android One program, the Nokia 5.1 will be receiving platform updates for two years and security updates for three, after it's initial release.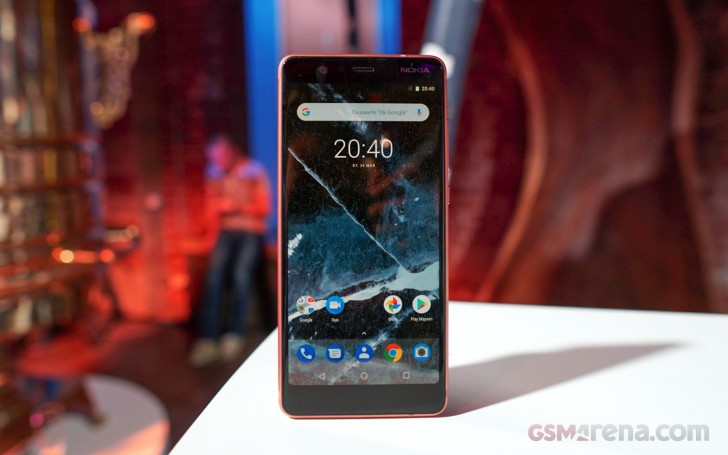 It is expected to start hitting shelves in July in a trio of color options - Black (available a few weeks later), Blue and Copper. The latter really stands out in person. Storage and ram options include 2GB, plus 16GB and 3GB, plus 32GB and are expected to retail at €189 and €219, respectively.
such a worst phone.i suggest everyone not to buy this bullsit.it does not give any kinda permission and the hang problem is the most biggest problem in this phone
I'm a long time Nokia fan, my last Nokia was the mighty N8, kept it for 6 years. A great camera with a Xenon flash, Incredible sound with a fantastic microphone. Since then even with HMDs attempt at revival they have not embodied the origin...
The storage is a mess even when I install a memory chip still can't down load anything