Nokia 5 and 3 go official, special edition Nokia 6 Arte Black joins them
Peter, 26 February 2017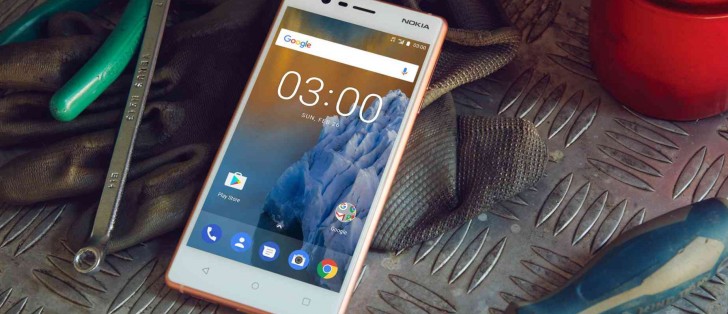 And they're back! Nokia phones are going global after the initial trial run of the Nokia 6 in China. Also announced today are the Nokia 5 and Nokia 3, both finely-crafted phones running pure Android. All three will come out in Q2 in single and dual-SIM forms.
Nokia 6
There's almost nothing new here other than the price - the Nokia 6 will cost €230 and will launch in Q2 this year. In fact, all three phones will come out in Q2.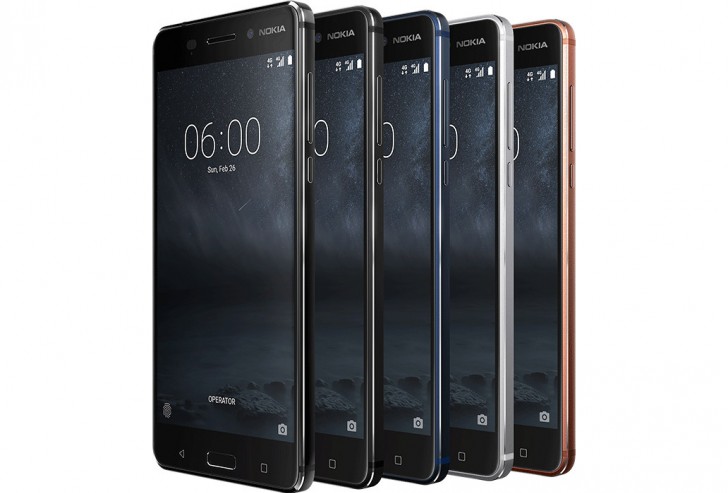 But there was a surprise - the special edition Nokia 6 Arte Black (remember the Artes?). It's distinguished by a piano black finish and extra memory.
And when we say "extra memory" we mean as much as you would expect - 4GB RAM and 64GB storage, same as the Chinese model. The non-Arte models drop down to 3GB and 32GB, something to keep in mind when choosing a color. Anyway, the Nokia 6 Arte Black will retail for €300.
Nokia 5
A bit lower on the size and price chart is the Nokia 5, which will launch at €190. Cast in a seamless aluminum unibody, this handset opts for a 5.2" HD screen. It promises great visibility with 500nits of brightness and Nokia's trademark polarizer that cuts down reflections.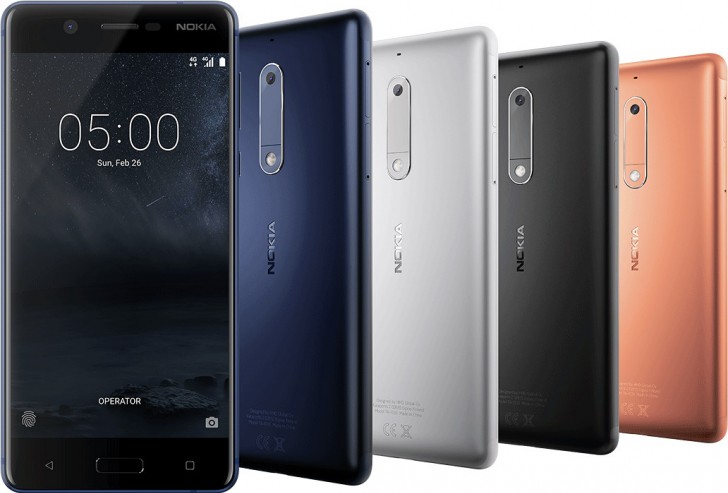 The 5 is powered by the same Snapdragon 430 chipset as the 6, but with less RAM and storage - 2GB and 16GB respectively. You may be pleased to hear that it runs pure Android 7.1 Nougat and Nokia made a strong commitment to keep the software up to date. There are few phones in this price range that can offer that (aside from a few middling Android Ones).
The camera department packs a 13MP main camera (f/2.0 lens, 1.12µm pixels) with Phase detection autofocus and a dual-tone flash. On the front is the 8MP 84° selfie camera from the Nokia 6 (with an f/2.0 lens and 1.12µpixels). A Google VP came on stage to say all the Android Nokias will get free Google Drive storage to keep their photos.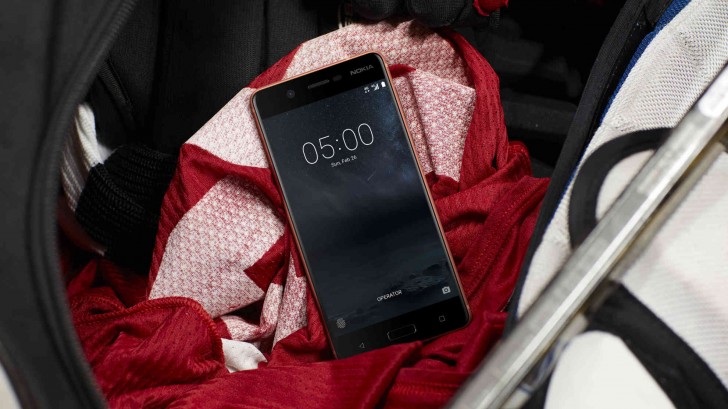 The Nokia 5 spec sheet is rounded off with a 3,000mAh battery and three color options: Tempered Blue, Silver, Matte Black, Copper.
Nokia 3
While the Nokia 3 drops down to a €140 price point, it has a body reminiscent of high-end Lumias in their heyday - an aluminum frame filled in with soft, sculpted polycarbonate and topped with Gorilla Glass.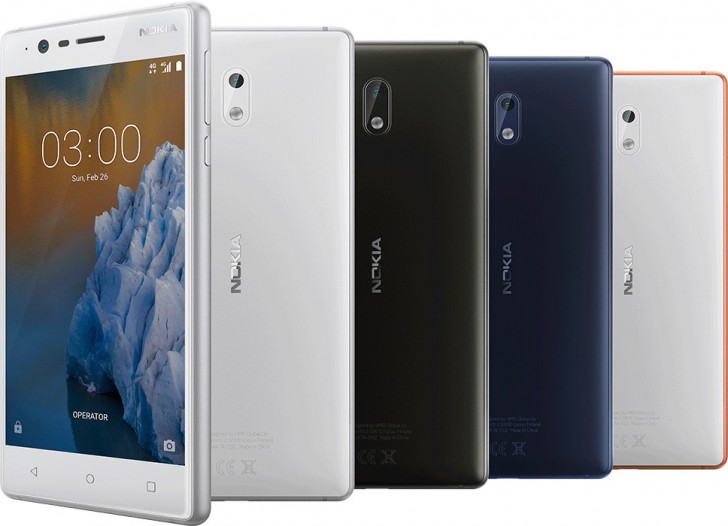 That glass guards a 5" HD display with its own polarizing filter and a promise of 450nits of brightness. Again you'll get to enjoy Android 7.1 Nougat on that screen, unspoiled with customizations. The model 3 does take a hit in processing power - at its heart is a MediaTek chipset with a quad-core processor. You get the same amount of RAM and storage as the model 5, though - 2GB and 16GB respectively.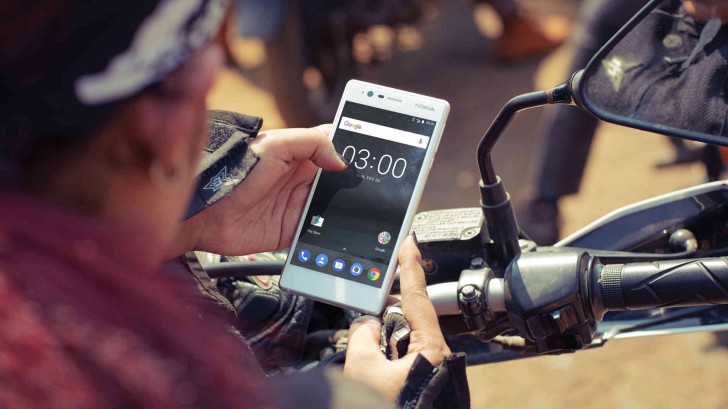 The Nokia 3 uses the same 8MP selfie camera as the other two, but its main camera is another 8MP shooter (with f/2.0 aperture and 1.12µm pixels again). It has a single LED flash and you can offload photos to Google Drive.
The phone is powered by a 2,650mAh battery and the same three color options. As a reminder, all three Nokias will launch globally in Q2.
Related
What happened to the return of the "N" series ???
LOL, the owner of the production plant is my dad's friend, u DARE to tell him that he's a "security guard"? U are REALLY DUMB, I see. J1, J2 are low-end phone, ofc Samsung will only equipped it with small display, the same thing that the my dad...
Popular articles
Popular devices