Nokia 5 survives scratch, burn, and bend test
Vlad, 18 December 2017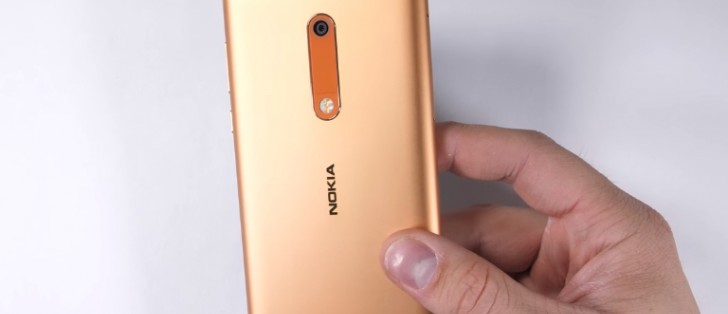 The latest phone to go through the standardized scratch, burn, and bend testing performed by Zack from YouTube channel JerryRigEverything is the Nokia 5. This is definitely set towards the lower-end of the mid-range in the brand's Android smartphone portfolio, but it still comes with a full metal body and a solid-looking build. It can also be had in the intriguing Copper color version, which is the one that stars in the video embedded below.
The Nokia 5 manages to pass the test with flying colors, which means Nokia's well known propensity for creating solid devices has been left intact even after HMD Global started to develop phones bearing the brand.
The handset's main camera and LED flash, as well as the front snapper and the fingerprint sensor all sit behind glass which means you're unlikely to get them scratched easily, while the plastic bits on the top and bottom sides serve two duties: making sure cell signals pass through and possibly helping when the phone is dropped, because the corners are usually the most fragile in such a situation. And since plastic is more forgiving than metal in that case, hopefully the Nokia 5 won't be all bent out of shape when it hits the pavement.
Speaking of bending, the device doesn't do that at all in this test - not when pushed from the front, not when pushed from the back. As for the burn test, it does exactly as good as any other phone with an LCD screen - the pixels the flame is reaching will only turn black after around ten seconds. The front of the phone only scratches at level six on the Mohs scale, which is standard for devices adorned with Gorilla Glass.
Related
As someone who drags around a Samsung Active series phone for a reason, I WANT to know if it can take the abuse. I'm rough on my phones and would like to know where the inherent failure points are before I drop the $$$ on one.
You talk not to shut up. So let me guess. When it comes About pc's their is really no competition, and that is why windows is the most spread? Nope my friend, windows is the most used cause it has what it takes. Everything for everybody. From adminis...
Popular articles
Popular devices
Electric Vehicles