Nokia 6303i classic review: Retro chic
Retro chic
GSMArena team, 20 April 2010.
Telephony doing well
Signal reception and in-call sound cause no concerns with the Nokia 6303i classic. Like almost all current S40 midrange phones this one also features Voice Clarity which is another way of saying that it applies some sort of background noise suppression during calls.
Sound is loud and clear on both ends and you will have zero trouble with your calls. Vibration strength on the 6303i classic is pretty decent too.
An application to mention here is the voice dial: no pre-recording of voice labels is necessary as it is fully speaker independent. The Nokia 6303i managed to recognize a large number of the commands we threw at it.
Nokia has not included any Smart dialing features, so all typing a number would give you is the "helpful" option to start a countdown timer (interpreting the numbers as hours, minutes and seconds) but won't search through your contacts.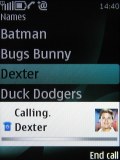 Calling Dexter on Nokia 6303i classic
We carried out our traditional loudspeaker test to find out Nokia 6303i classic is a Good performer. You can find more details about our test, as well as the results of all other tested handsets here.
| | | | | |
| --- | --- | --- | --- | --- |
| Speakerphone test | Voice, dB | Pink noise/ Music, dB | Ringing phone, dB | Overall score |
| Nokia X3 | 65.7 | 66.2 | 66.6 | Below Average |
| Nokia 6303 classic | 67.9 | 65.3 | 72.3 | Average |
| Nokia 6303i classic | 70.2 | 66.6 | 75.7 | Good |
| Nokia 6500 slide | 74.2 | 72.8 | 78.2 | Very Good |
| Samsung M3200 Beat s | 76.1 | 78.3 | 84.7 | Excellent |
Passable messaging
The messaging department is certainly up to the task. The Nokia 6303i classic is capable of handling all the common message types including SMS, MMS and email, as well as flash and audio messages.
Typing a SMS/MMS message is a nice experience with the Nokia 6303i classic well defined keys.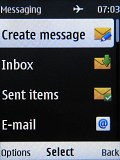 Nokia 6303i classic messaging app
The editor is well enough organized and you won't spend too much time finding your way around it. You enter a few letters of a contact's name and then click match. This brings up a list of matching contacts and selecting one prompts you to choose either a mobile number or an email address, then it will shift to the message body automatically where you can start typing.
The email client does pretty well to meet most user needs. It works with POP3, SMTP, and IMAP4 protocols and supports multiple email accounts. The email client supports SSL, which enables it to handle a Gmail account for example.
Setting up the email client was extremely easy. It just required an email address and entering and confirming the password, the 6303i classic took care of the rest.
Gallery is pretty boring
The S40 gallery is way behind what virtually all other platforms have to offer. The Nokia 6303i freshens it up a bit, but a new look and improved functionality are due if it is to look up-to-date.
In fact the Nokia 6303i offers only a single view mode, displaying a grid of 12 pictures on the screen. At least zooming in on a single picture is pretty comfortable now with the zoom in and out shortcuts placed on the middle and right soft keys. It's also faster and smoother than we are used to seeing from most of its predecessors.
Durga sahu
27 Aug 2016
rKG
My first Mobil is nokia6303 ilove to us this mobial but idont have now this Mobil but iam looking for the next my phone is Nokia 6303
AnonD-76297
11 Apr 2013
TL5
I'm using it since november,2010. i'm glad to have such a beautiful & metallic set. camera is fine for me as it deliver excellent photo in proper light. this metallic set is pure rough & tough. i've downloaded popular apps like NIMBUZZ,...
Yeah my ovi store not opened