Nokia 6303i classic review: Retro chic
Retro chic
GSMArena team, 20 April 2010.
The 3.2 MP camera has lost its autofocus
Much like its predecessor, the Nokia 6303i classic is armed with a 3.2 megapixel camera for image resolution of up to 2048 x 1536 pixels. However this time the auto-focus has been dropped for one of the recent extended-depth-of-field fixed focus units. The LED flash is also rather inadequate, only really usable with close range objects.
Typical Series 40, the camera settings are rather limited but reasonable given the mid-range spot. The available settings include white balance, three quality levels going from basic to high, and various effects. Sequence shots and shooting in both portrait and landscape mode are also among the available options.
The 6303i camera doesn't rank among the top 3.2 megapixel shooters in terms of image quality. In favorable lighting it produces decent images – a bit oversharpened, but with good contrast and acceptable color rendering. Noise levels are normally quite high and the aggressive noise reduction that kicks in takes its toll on resolved fine detail. The lack of detail in images is a major weakness, while darker areas can be troublesome as well.
The camera speed isn't remarkable and saving files is average too.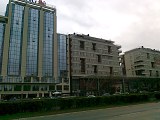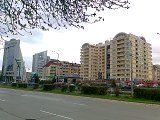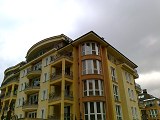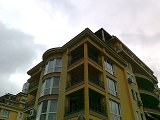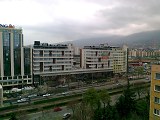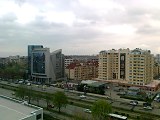 Nokia 6303i classic camera sample photos
Synthetic resolution
We also snapped our resolution chart with the Nokia 6303i classic. You can check out what that test is all about here. As we mentioned, you can easily see a pinkish spot in the center of the frame when you shoot lightly-colored subjects.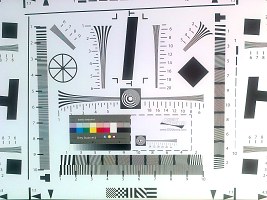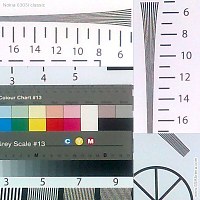 Nokia 6303i classic resolution chart photo • 100% crops
Video recording: why did they bother?
Things get even worse when we talk about video recording. The Nokia 6303i classic manages QVGA resolution at 8 fps which is simply unacceptable for any purpose, even for MMS.
Connectivity not the 6303i classic element
The Nokia 6303i classic connectivity options are somewhat limited by the lack of 3G support. GSM support is only tri-band as well.
At least EDGE and GPRS are here but there is no Wi-Fi nor GPS, which might be rare in this class but are pretty much standard in the one right above it. Bluetooth version 2.0 is supported.
Finally, the memory card slot, which can sometimes be the most convenient way of transferring data, is also present here but the lack of hot-swappability reduces its usability considerably.
Browser suffers from slow data speeds, lacks Flash
The Nokia 6303i classic has an integrated WebKit-based HTML web browser. We guess that rings a bell. Apple's Safari and Mobile Safari are based on WebKit, as well as the browser for the Android platform and the Palm Pre. It's safe to say that Nokia 6303i classic is in good company.
This is not to say however that you will get a similarly good user experience as those are very different devices we are talking about here. However the WebKit background helps the browser render pages accurately and that is a vital improvement over the previously used web browsers in S40 devices.
The Nokia 6303i native browser still has its shortcomings though. There are obvious indications that the hardware is not quite up to the job – for one, scrolling is quite slow. Flash is also not supported - there's some rudimentary support but it's just enough to display certain banners, not.
Like most other S40 phones recently, Nokia 6303i classic also comes with the Opera Mini browser preinstalled. It speed up that browsing with its "Up to 90% compression", which is vital when relying on slow non-3G connection.
Durga sahu
27 Aug 2016
rKG
My first Mobil is nokia6303 ilove to us this mobial but idont have now this Mobil but iam looking for the next my phone is Nokia 6303
AnonD-76297
11 Apr 2013
TL5
I'm using it since november,2010. i'm glad to have such a beautiful & metallic set. camera is fine for me as it deliver excellent photo in proper light. this metallic set is pure rough & tough. i've downloaded popular apps like NIMBUZZ,...
Yeah my ovi store not opened