Nokia 6.1 Plus (X6) review
GSMArena team, 21 August 2018.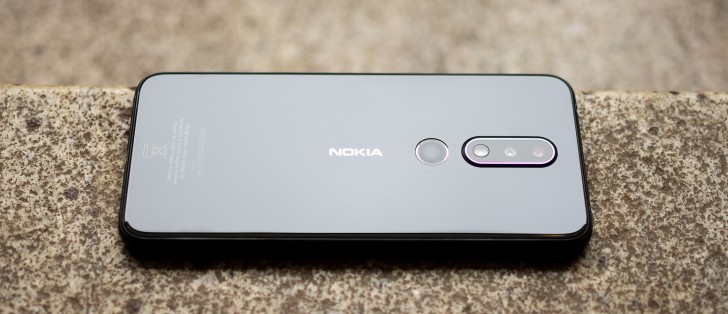 Software
The Nokia 6.1 Plus comes with Google's Android One experience out of the box. For now, it's only running Android 8.1 Oreo, but we suppose Android Pie should be coming at some point in the future.
Android One is about bringing Google's version of Android to devices from other OEMs. It's not quite the same as having stock Android, as OEMs are allowed some customizations, but the general look and feel is very reminiscent of Google's own Pixel and Nexus series of devices.
The Nokia 6.1 Plus mostly delivers on this promise, but with a few Nokia customizations along the way. The launcher seems to be a different version or at least a different version than the one on the Mi A2 and lacks the option not to add new app icons to the home screen. Every time we installed an app, we had to manually remove the icon from the homescreen every time. The launcher is similar to the Pixel Oreo launcher, wherein the app drawer and notification shade color depend upon your wallpaper, and you can't just force it to be light or dark, a feature that was added in the Android Pie launcher.
The phone comes with largely the standard set of Google apps with a handful of apps. There are a few third-party apps installed, but they can be uninstalled.
The list of Nokia apps includes a custom Camera app, an FM radio app, and a Support app that contains info regarding nearby service centers, support chat, user guide, FAQs and warranty information.
Inside the Settings app, things look pretty much stock, except for the addition of a Gestures menu, which includes options such as rejecting calls by turning over the phone, mute on pickup, swipe fingerprint sensor for notifications, double tap power button to open the camera and lift to wake the phone. Also, in the battery menu, is the aforementioned background activity manager that lets you prevent all or individual apps from running in the background.
The UI experience here is overwhelmingly stock, which is good and what you expect from an Android One device. However, sometimes it feels not everything is well thought out for this particular device type.
For example, the phone has settings to show or hide the notch by turning the status bar black. However, the phone lacks the same level of notch customization we see on other phones. On OxygenOS, for example, you can individually allow apps to have access to the notch area in fullscreen mode, but that's not possible on the Nokia 6.1 Plus. None of the apps can access the notch area in fullscreen mode, including apps such as the photo gallery. However, they can work in non-fullscreen mode. This causes a jarring transition every time an image goes in and out of fullscreen mode.
The notch also isn't fully considered while designing the UI. You can see the volume bar slider buttons partially go underneath the notch area. Nokia also didn't bother adding rounded corners for the top edges of the screen when the notch isn't being used, and it just looks cut off. The problem here is that stock Android Oreo wasn't designed with notches in mind, and Nokia either didn't or just couldn't do much to fix that.
It's also weird how the phone deals with making apps fullscreen to fill its entire 19:9 aspect ratio display. Again, stock Android Oreo has no option for this built-in. Other manufacturers provide an option in the Settings app to control this on a per-app basis. On the Nokia 6.1 Plus, you have to open the app, but if it's not designed to fill the entire screen, you won't see any option immediately to fix that as on other devices. You have to first go into multitasking or the Overview mode and then wait for a button to appear on that particular app window. When you tap that button, the app then reopens and fills the entire screen.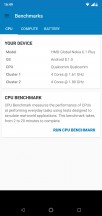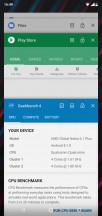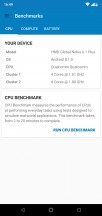 Apps can be made fullscreen using the button on app windows
None of these are deal breakers, but it does make the Nokia 6.1 Plus feel like a phone stuck between two worlds, where the software hasn't quite caught up with the hardware. Hopefully, these niggles will be fixed when the phone gets updated to Android Pie.
Apart from that, you are free to enjoy the Android One experience as is. For some, that's a boon as they prefer the operating system to get out of the way and just enjoy their apps and the hardware. But if you're coming from one of the other Android ecosystems, then you will find the experience here somewhat barebones and lacking.
Performance
The Nokia 6.1 Plus runs on the Qualcomm Snapdragon 636 platform, a reasonably powerful chipset that is popular in this price category. The 636 includes an octa-core CPU, with a combination of quad Kryo 260 Gold cores based on Cortex-A73 and quad Kryo 260 Silver cores, based on Cortex-A53. There's also the Adreno 509 GPU, good for FHD+ resolutions.
The phone also comes with 4GB of LPDDR4X memory and 64GB of eMMC 5.1 storage, which can be expanded up to 400GB with microSD.
In benchmarks, the phone performed on par with previous Snapdragon 636 devices, which is to say, it performed reasonably well.
However, benchmarks only tell part of the story. In the real world, the performance is respectable for a phone in this price range, but it does seem like Nokia could have done better.
The 636 is powerful enough to run everyday applications with ease. The phone can launch them quickly enough and the 4GB RAM is also sufficient for multitasking. The performance, in general, is satisfactory. However, there is the occasional hitching while scrolling in some apps. It's nothing uncharacteristic of devices in this class, however, and the overall performance in apps is exactly what we'd expect it to be.
In games, the performance again was as expected. Expectedly underwhelming, that is. This is not the class of devices you buy if absolute image quality and frame rates are what you're after. You can, of course, install and run something like PUBG or Asphalt 9 but only at the lowest setting. But if image quality isn't your concern and you just want a playable experience, then that's perfectly possible on the Nokia 6.1 Plus.
GeekBench 4.1 (multi-core)
Higher is better
Oppo F7
5901
Nokia 7 plus
5893
Oppo Realme 1
5741
Nokia 6.1 Plus
4929
ASUS ZenFone Max Pro
4910
Xiaomi Redmi Note 5 Pro
4696
Xiaomi Mi A2
4625
Xiaomi Mi A2 Lite
4388
Xiaomi Redmi S2 (Y2)
4313
Nokia 6 (2018)
4225
Huawei P20 Lite
3756
Motorola Moto G6 Play
2328
GeekBench 4.1 (single-core)
Higher is better
Nokia 7 plus
1634
Xiaomi Mi A2
1617
Oppo F7
1531
Oppo Realme 1
1511
ASUS ZenFone Max Pro
1340
Nokia 6.1 Plus
1331
Xiaomi Redmi Note 5 Pro
1327
Huawei P20 Lite
938
Nokia 6 (2018)
882
Xiaomi Mi A2 Lite
881
Xiaomi Redmi S2 (Y2)
848
Motorola Moto G6 Play
639
AnTuTu 7
Higher is better
Nokia 7 plus
140820
Oppo F7
139414
Oppo Realme 1
138524
Xiaomi Mi A2
130927
Nokia 6.1 Plus
115571
ASUS ZenFone Max Pro
115509
Xiaomi Redmi Note 5 Pro
107737
Nokia 6 (2018)
90918
Huawei P20 Lite
87431
Xiaomi Mi A2 Lite
77964
Xiaomi Redmi S2 (Y2)
77488
Motorola Moto G6 Play
58757
GFX 3.0 Manhattan (1080p offscreen)
Higher is better
Nokia 7 plus
23
Xiaomi Mi A2
22
Oppo F7
20
Oppo Realme 1
20
Nokia 6.1 Plus
16
ASUS ZenFone Max Pro
16
Nokia 6 (2018)
14
Xiaomi Mi A2 Lite
9.9
Xiaomi Redmi S2 (Y2)
9.7
Huawei P20 Lite
8.7
Motorola Moto G6 Play
7.1
GFX 3.0 Manhattan (onscreen)
Higher is better
Xiaomi Mi A2
21
Nokia 7 plus
21
Oppo Realme 1
20
Oppo F7
18
Xiaomi Redmi S2 (Y2)
18
Nokia 6 (2018)
15
Nokia 6.1 Plus
15
ASUS ZenFone Max Pro
15
Motorola Moto G6 Play
13
Xiaomi Mi A2 Lite
9.4
Huawei P20 Lite
8.1
Basemark X
Higher is better
Xiaomi Mi A2
21378
Nokia 7 plus
21063
Nokia 6.1 Plus
14903
Xiaomi Redmi Note 5 Pro
14897
Nokia 6 (2018)
14365
Oppo F7
11873
Oppo Realme 1
10880
Xiaomi Redmi S2 (Y2)
10453
Huawei P20 Lite
9090
Motorola Moto G6 Play
7620
Basemark OS 2.0
Higher is better
Nokia 7 plus
2376
Xiaomi Mi A2
2240
Xiaomi Redmi Note 5 Pro
2030
Oppo F7
1953
Nokia 6.1 Plus
1951
Oppo Realme 1
1940
ASUS ZenFone Max Pro
1893
Nokia 6 (2018)
1517
Huawei P20 Lite
1455
Xiaomi Redmi S2 (Y2)
1186
Motorola Moto G6 Play
922
Don't buy Nokia phones.. these are ruining my life everyday with missed alarms
Go for Honor not Nokia, performance of camera too worst.....
This Model Phones Camera Clearity Is Reduce